BloggingEclipse.com is A Webmaster and SEO Blog. BloggingEclipse shares every update about making money online.  This is a one stop blog for Bloggers + WordPress enthusiasts + SEO practitioners all over the world.
BloggingEclipse was started to help bloggers & internet marketers with resources, tips & industry news. This is the era of internet and in this era it's not that much difficult to make money online, if you know the right approach.
What BloggingEclipse Shares:
On BloggingEclipse I write about SEO Tips, Affiliate Marketing tips & tricks, Web Hosting reviews, Web hosting coupons to help my readers save money on their internet business investments and I do write on all topics related to Blogging & WordPress.
We inspire bloggers and webmasters around the world by providing resources, tips, tricks, snippets, latest trends and news about SEO, WordPress, and Blogging. Whether you are a technology enthusiast, or a social media junkie, or a webmaster; Bloggingeclipse is the place to check the latest NEWS & TRENDS.
Aliakbar – Founder Of BloggingEclipse
Hello, my name is Aliakbar Fakhri aka Ali. and I am the owner and Founder BloggingEclipse & several other blogs. I am an Internet Entrepreneur, blogger, writer, day dreamer and a visionary human being.
Sitting on a couch and weaving dreamy castles in the air didn't work for me and hence, Blogging was my stage to perform. I started my first blog TricksMe.in in may 2013 and then the days have changed. Here I am with my creative repertoire of thoughts.
 I have an experience of 4 + years in SEO & Digital Marketing field. With strong knowledge of Internet Marketing terms like Social Media Optimization (SMO), Search Engine Optimization (SEO), Blogging, Ecommerce SEO & WordPress.
How I Started:
I started to learn about blogging in early 2012. I was not having desktop & internet connection at my home but my interest made me sit daily 5-6 hours in Cyber cafe to do research about making money online as every new blogger Does these days. :p
I was not having any resources or financial sources to start or invest in blogging as I was unaware of results.
Like every new blogger I was also confused from where to start and should I continue Blogging for living? My schooling got completed in 2012, and my collage life started.
My Blogging Journey:
I started from blogger.com (BlogSpot) and used copy paste methods in the initial and was getting fail in every blog. Many of my websites got penalized on google and even my Google AdSense got banned several times.
In 2013 I launched my first blog TricksMe.in which was a huge success and in the middle of 2013 my Blog TricksMe.in used to get approx. 5k+ daily unique visits. I was earning between 200-300$ per month and gradually I stared to invest in buying Different domains & hosting to start other blogs too.
Even some of my blogs failed but having patience and trusting on myself was the best thing I did. I knew success comes after failure and hence I never quit from Blogging.
In 2013 end I Started my another Blog TweaksMe.com which is tech blog and in 2015 I started BloggingEclipse for helping other bloggers succeed.
Where am I standing today?
I started my journey in Blogging from part time and now I am a Full time professional blogger. I started earning $5 per day & now I am Making more than 2k$ per month from several Blogs. I have attended numerous of Blogging & Affiliate marketing conferences around the globe in last 2 years.
I find myself lucky I started Blogging & selected It as my full time profession. I quit my collage & didn't completed my graduation.
Now all my blogs are operated under Tweaks Media and I am having 4 full-time employees in my office who generates content, promotes blogs and do various coding stuff as I don't know any ABC of Coding. (I hate coding:p)
BloggingEclipse & TweaksMe has given me a lot of online exposure and many people in blogosphere know me just because of this blog.
What i have learned from Blogging
If you want to really make money from Blogging or affiliate marketing then you need to work in the right approach. If you will choose wrong methods, Un-ethical ways or shortcuts, you won't succeed. Blogging is an art and you need to showcase your best creativity talent via blog medium to users for driving more traffic.
When it comes to Affiliate marketing, Your marketing methods should be strong enough to turn a visitor into customer. All i can say is don't quit.
Some memorable pics from Blogging Events, With AM (Affiliate networks)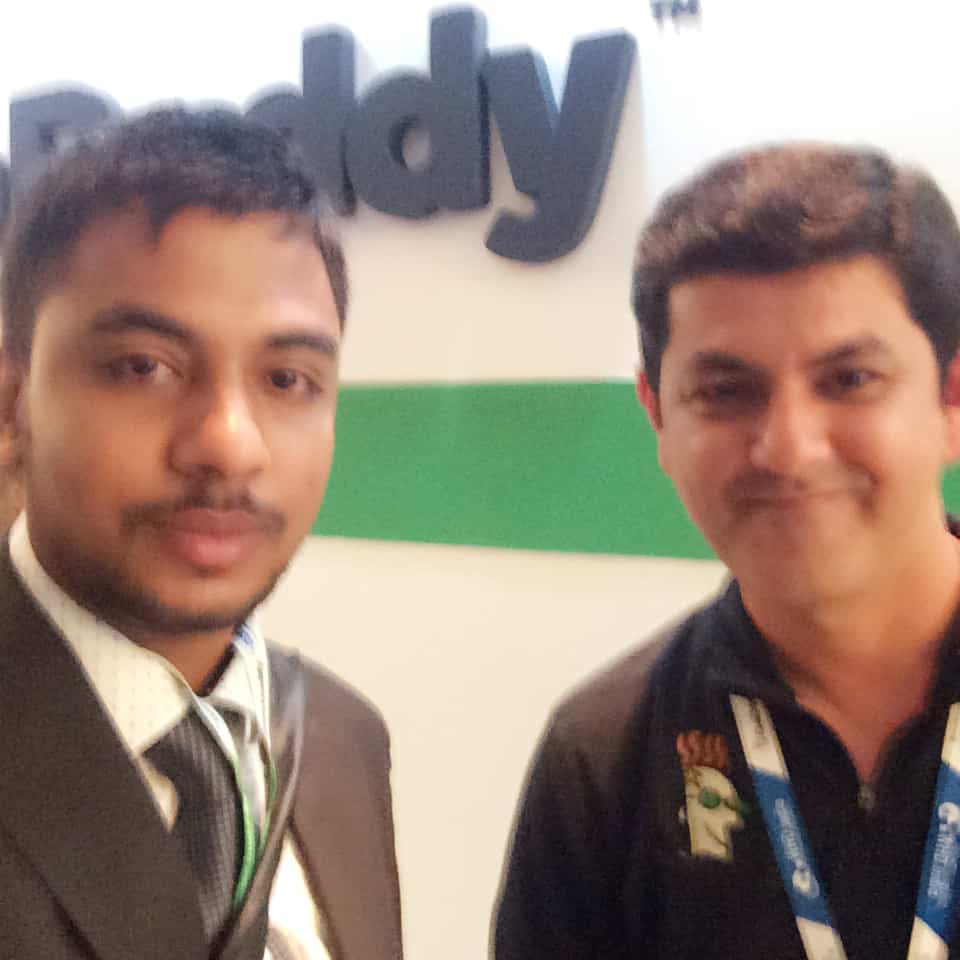 My Future Goals:
Currently my goal is to reach next level of Blogging & start online blogging courses in very cost effective prices for new bloggers who can't afford expensive blogging training.
Me & my team is working on our new projects and soon in the end of 2017 we will launch our Blogging Training module.
My other goals are to reach 10k$ monthly earnings & start offering professional E-commerce & search engine optimization solutions to companies with innovative ideas.
All I can say Blogging is freedom, you can work from any part of the world and believe me guys, this industry has lot of potential if you work ethically with patience.
Wish you Success in Blogging and Good Luck!
For your success
Aliakbar Fakhri.
I think Blogging can become lifetime profession, in Simple Words "I Blog for Living"
"I Believes in Quality, not in Quantity"