When it comes to website loading time then only web hosting is not enough. Content delivery network is required to provide website content at super fast speed to users.
Here is the BunnyCDN Review with personal experiences. CDN makes website speed almost double with caching all content on their high speed server and delivers it across the world. There are numerous of CDN companies from Amazon, BunnyCDN,  MaxCDN, cloudflare and many more but pricing plays an important role everywhere.
BunnyCDN : World's most cost effective CDN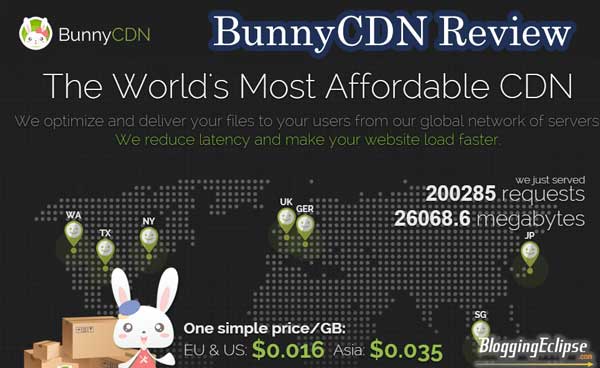 The best part of BunnyCDN is it has simple pricing and hence a user never gets confused on the plans or usage. They provide the best service in just $0.016 per GB. Isn't it cool? BunnyCDN optimizes your files and delivers it to users from their global servers.
What does Content Delivery Network (CDN) means: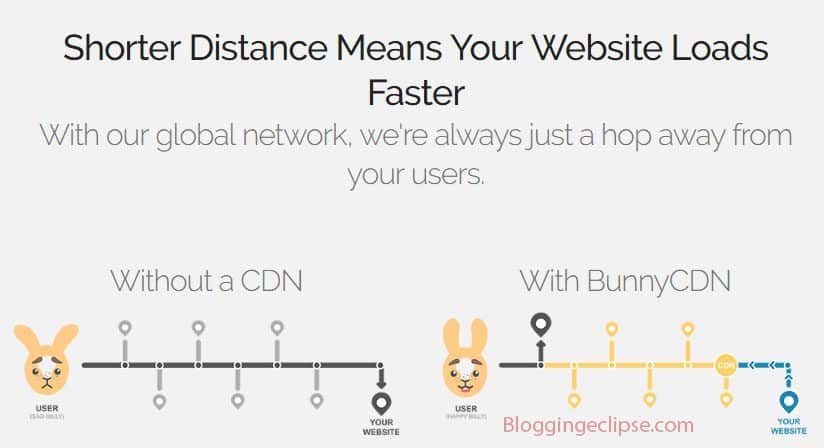 CDN was born just few years ago with the basic motto of caching the website files and providing it to users from the most nearest servers. Content Delivery network actually reduces the latency and make out website load faster.  A CDN network have their servers across the world and it caches out website content files in real time and make it deliver to the users from their nearest location. CDN also reduces Server load and bandwidth usage of web hosting.
Example: A website is hosted on United States Server and the maximum of website users are from India. Hence the website will load slower in India as compared to loading speed of United states because of latency.
But
If the Same Website is using a CDN service then the CDN network will deliver the website content from the nearest location, may be from India or any other servers in Asia. making the website load faster by gradually reducing the latency.
How Does BunnyCDN Work?
BunnyCDN will take your files optimize and will distribute across their network of servers across the globe So when a users request the file, it will be loaded for the closest server to the user. BunnyCDN also reduces server load and bandwidth cost which enables in more savings. BunnyCDN provides content delivery on a budget which anyone can afford with the help of our bunnies
BunnyCDN Features:
Global Server Network: Content delivery here is provided by Global server network with 7 premium data centers worldwide , each with gigabits of connectivity optimized to offer the best performance around the world.
Dual Stack Anycast: Users are routed to bunnies server by a state of the art dual stack anycast DNS network with 41 servers located in countries around the world. This technology is optimized for maximum performance and minimal latency.
SSD Accelerated: All of the bunnies servers are powered by solid state drive (SSD) hard drive to provide super latency access to your files.
Self Healing: The innovative BunnyCDN network is completely self haling without any single point of failure.
Flexible Payments: You may pay using credit card, paypal and bitcoin.
No Overages: You pay for what you use, BunyCDN will never place any giant overages on your account. Ever.
Friendly Support: Their staff is cute, friendly and always ready to have a chat… and we like bunnies too.
Free Instant SSL: Instantly get free HTTPS support on your CDN with free SSL certificate in just a click of button.
Cheapest Pricing:  BunnyCDN pricing structure is unbeatable and it is far more cheaper than other competttors in the market. Their rates starts from $0.01 per GB & also have pay as you go plan making it most cost efficient powerful CDN all over the globe.
100% SSD hardware: All servers are powered by SSD drives to offer 2x load speeds and super low latency to all your files hosted on CDN.
Pricing:
BunnySpeed CDN bandwidth pricing is based on pay only pricing. So you do not have to pay any storage, optimizations or yearly fees.  Here is the simple and most cheapest pricing structure.
Europe: $0.016/GB
United States: $0.016/GB
Asia: $0.035/GB
For latest pricing structure, visit here
Using CDN on WordPress
To SpeedUp WordPress blog, Almost all pro bloggers including me use CDN for their blog. You may use any caching plugin like WP-Rocket or WP-Total cache and just configure the CDN in a click. With CDN your WP blog loads 10 times faster as all the images, css files are being served by CDN Network and hence you save on your web hosting bandwidth usage and server load on your web host is reduced. I will strongly recommend to use CDN as the more better speed, more visitors on your Blog.
Over to you!
For online business and bloggers it is always better to use the best web hosting and CDN to make your blog/website load fast across the globe. Page loading time is an important factor in SEO and hence if the page loading time is slow your website will not rank higher in Search engines.  Their are tons of CDN companies scattered over the web but I will personally recommend bunny speed for bloggers because of its performance and affordable pricing. This BunnyCDN review is total on my personal experience. This is NOT any paid post nor any affiliate links are enabled in this article.
Do you already use CDN? or have any CDN experience to share ? we love to hear So shoot your suggestions or questions in comment section below and spread the love by sharing this post with your friends.