For Indians getting business online is the trend now. Thousands of local business are entering their foot in online space to promote their products & services. We are sharing this latest Godaddy Web hosting coupon India which gives you flat 77% discount along with a free top level domain name.
To build brand online Web hosting & Domain is first brick to setup your business or name online professionally.
Here we are with biggest Godaddy web hosting coupon which enables you to buy Godaddy Web hosting in ₹99/Mo with free domain name registration.
Godaddy Web hosting coupon India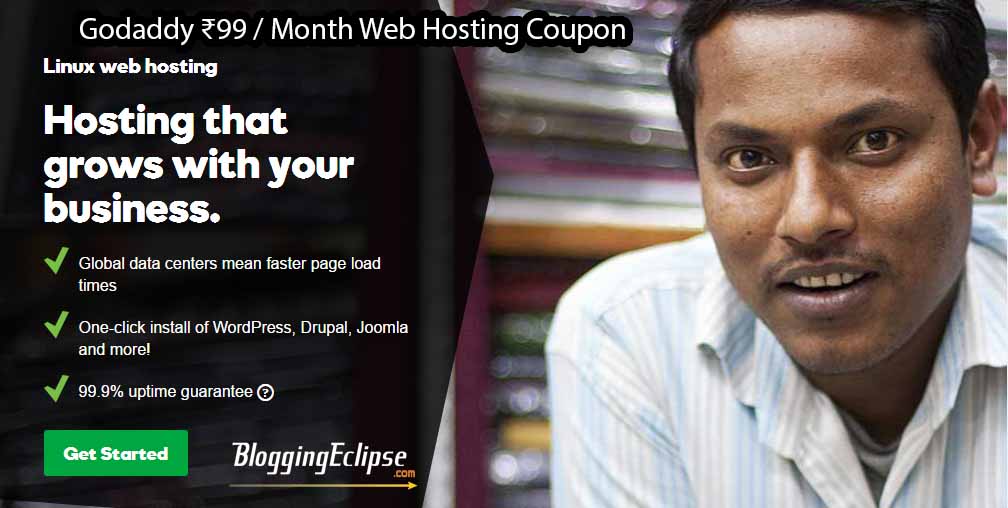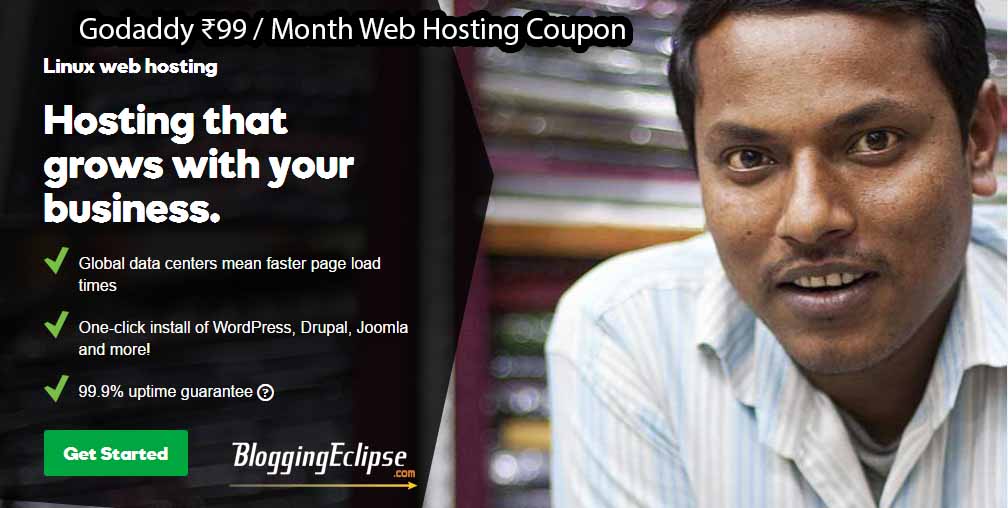 Godaddy is biggest name in web hosting & domain industry. All webmaster and internet marketers are somewhat connected with Godaddy, Maximum use to register their domain with Godaddy because of cheapest price and best service and millions of webmasters/bloggers use Godaddy web hosting for their website/blogs.
Let's see what are the benefits of purchasing web hosting from Godaddy using this latest Godaddy web hosting coupon for India and how much money you are savings?
Why I should choose Godaddy India Web hosting?
Let  the giant daddy take care of your online business. Since 1997 Godaddy is providing best world class web services. They initially started with selling domains to all the part of the world and now they are biggest brand in Domain registrations, Web hosting, servers and much more. From personal to enterprises all types of businesses trust Godaddy.
Godaddy is famous because they love their customers. They have already provided maximum number of discount coupons and deals which any other player in this industry can never give. 
With technical support all over the world, Local phone numbers for almost all countries, offices based in India, World class service, money back guarantee on each hosting plan, Godaddy is #1 brand to choose for your online business.
How much you can save by using Godaddy Web Hosting Coupon India?
Using this deal, you are saving more than ₹4199 for a year. If you purchase Godaddy economy web hosting directly which is priced ₹449.00 for one month which equals to ₹5388 for one year (12 months)
By using this Godaddy ₹99/Mo web hosting coupon you are getting economy web hosting at 77% OFF. You have to pay just ₹99 per month or ₹1188 for 12 months (₹99 x 12) along with a free domain worth Rs.599
You can choose free domain from .COM, .NET, .IN, .CO or .ORG
Godaddy Economy Linux Web hosting features:
Their economy plan is bestselling plan for small to medium scale business owners. It comes with unlimited bandwidth, 100 gigs of disk space, 100 email address which is more than enough or entry level or medium websites. Their economy plan can handle 3k+ daily traffic without any issues.
Here are some conman features of economy web hosting plan:
Free domain with annual plan
100 Gb Disk space, Unlimited bandwidth
100 Email address, 50 FTP user's
One click apps install including WordPress
Award winning security with 24/7 monitoring.
Global data centers (faster page loading)
30 days' risk free money back guarantee.
Steps to buy Godaddy web hosting in ₹99/Mo
Here come the simple steps to buy web hosting using Godaddy coupon India. You are getting free domain with any annual plan. Just follow the below steps to avail this maximum savings Godaddy web hosting deal for India.
At first you need to visit the Godaddy ₹99 Hosting special deal page.
Make sure you create a new account, as this is for new customers
Click GET Started Button to add economy hosting in your cart for 1 year.
You will see that a special offer has been applied to your cart of 12 months Economy hosting at ₹99 per month.
Now search and add your free domain name if you want it, or skip it.
In the cart you will see that discount have been automatically applied.
Just pay ₹1188 or $12 via any of the online payment options.
Done! You have successfully availed unlimited Godaddy Hosting at cheapest price.
Conclusion
To be honest this is the best deal to get your website online. In just ₹1188 for 1 year you get the best web hosting along with free domain name. Other company's charges just Rs.239 per month for web hosting but you will be lucky enough if you grab the this Godaddy Web hosting coupon before it expires.
Happy Savings on your online business and we wish you success in your online career. To clear any of your doubts, shoot your questions in comments section below and we will be glad to answer it. Stay tuned with BloggingEclipse for much such exciting updates.