Start your online presence in just $1 by using this Godaddy $1 domain discount coupon which enables you to register .COM or other domains at cheapest price ever. Normally .COM domain costs around $10 and other domain registrar are now providing it in $3-$6 by promotional codes but Godaddy is giving most biggest discount on domain registrations.
Godaddy $1 Domain discount coupon
For entrepreneurs, bloggers and affiliate marketers, domain name plays and important role. Thousands of webmaster and bloggers occupy domain for their idea, though they will start creating website later but as soon as they think any new initiative they register domain for it.
Why Choose Godaddy ?
Godaddy is biggest domain register and almost every blogger, webmaster and affiliate marketer buys domain name from Godaddy because of its simple and superior service. They have expertise in domain name registrations.
I have been buying domain from Godaddy since 2013. Usually godaddy provided domains deals of $1-$2 and i have been benefited from those promo codes several times but now discounts are raining more as they are offering domains in $1 which is most cheapest price ever.
It is always better to grab your desired domain as soon as possible because in this competitive field thousands of domains are registered daily. With this most cheapest ever deal for domain name registrations you can use below discount link (coupon) to grab your .COM domain in $1 or Rs.66 for Indian users.
Things to remember:

Change your Currency to US dollars.
This  deal is valid for new customers only.
$1 discount is valid for first year registrations.
After 1 year domain will renew at normal price.
This offer cannot be clubbed wit any other promo.
Payment can be done via PayTM & mobile wallets also.
All visa/master debit/credit cards and net banking accepted.
How to buy Domain in $1  from Godaddy
We have shared the direct deal link which will enable Godaddy $1 domain discount coupon automatically. Hence click on this link or below button to activate godaddy domain discount.
Click on above button to activate Godaddy $1 domain discount coupon.
coupon code is automatically enabled in the link, however if you have any issues you can manually enter coupon code "CJC99com" in godaddy
Make sure you set the currency to U.SD from top right corner to avail this deal.
You need to select 1 year duration to get domain in $1.
There is 0.18$ ICCAN fees. So total it will be $1.17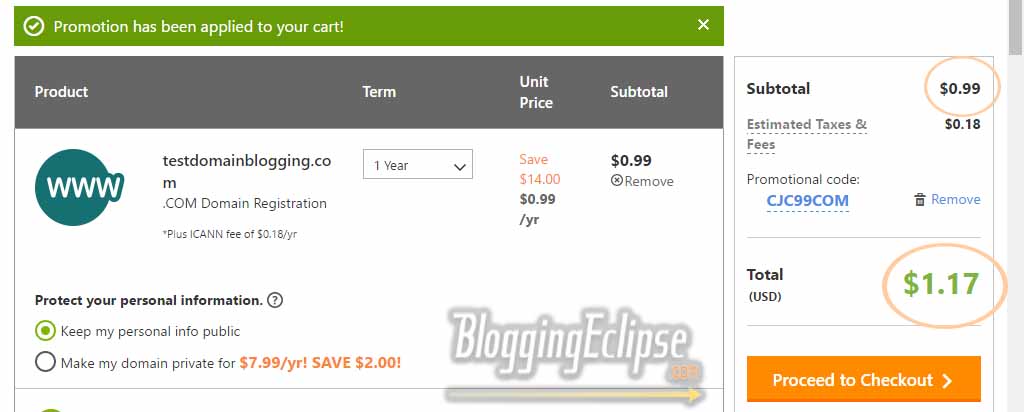 Domain registered. What next…?
Without web hosting domains are of no use. The next step after registering domain is to select web hosting for it.
If you are already having any multi domain web hosting plan then you can use the domain on your hosting account but if you want to purchase any web hosting in your budget then i will suggest you to buy any of the below web hosting using ongoing Discount
Click on any of the link to check discount.
Buy Godaddy Web hosting @$1.Mo+ free domain (86% Off)
 Conclusion:
We will keep you updated with more latest godaddy domain and hosting coupon codes, you may subscribe to our email newsletter or like our Facebook page to get updated. You may check our deals section to check all deals and coupons related Blogging/webmaster tools.