Are you looking for free web hosting with excellent features to host your website? No need to pay for hosting services if you don't have some. Do continue reading our honest 000WebHost review.
Host your website for free on 000Webhost and design your site using WordPress without spending a penny and get a wow from your customers.
If you are a software student looking to complete your engineering or master's project but do not have money to build a website, then don't be disappointed, as you can complete your project without investing your pocket money. Complete your project and score the highest marks without asking for any money from your parents for project completion.
000WebHost Review: 100% Free Website Hosting with cPanel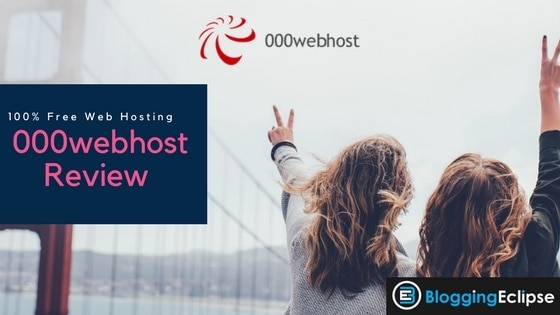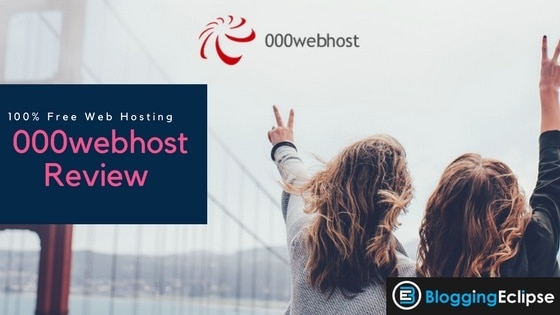 "Search on the Google "Free web hosting," and numerous results will pop up, but on the first page of Google rankings, there is one name that starts with 0 but has endless features called 000WebHost".
000WebHost started providing free hosting services in 2007 and paid hosting services in 2008 and has been delivering quality services thereafter. Its top ranking on the Google search engine proves it to be the most trusted among the millions of users worldwide looking for free hosting services. 000WebHost is the best platform to host your site for free with a bunch of features and sleeps only 1 hour per day. If you want to run more than one website, then it is definitely possible, as, with the free plan, you are allowed to run 2 websites.
Suppose you are a novice without any technical expertise to design your website, then there is no need to worry as 000WebHost offers an easy Website Builder with a drag & drop option. Designing your site without paying a penny is simple and money-saving. The best part about 000WebHost's free hosting services is its no ads policy with an intuitive control panel, PHP, and MySQL.
000WebHost is not just for hosting your site but also for affiliates who want to earn big with 5 figure income. It offers Free Hosting, Premium Hosting, Free Website Builder, Earn Money Online with Affiliate Programs, Free WordPress Hosting, Free PHP Hosting, Free MySQL Hosting, Free cPanel Hosting, Free Website Templates, Billing Software and many more.
Choose any service offered by 000WebHost, and you won't have to look back. Once you are satisfied with the free hosting services, you can upgrade your plan to a paid one to get access to more premium features that are not available with the free plan.
Why Choose 000WebHost?
There are numerous reasons to choose 000WebHost as your free hosting service provider. Listed out are some of the reasons that ensure it has been a world-class leader in providing free and paid hosting services for more than a decade.
Sign-up for free without paying a single penny; no credit card is required. Millions of users around the world use its free services with no ads policy, and that is what makes 000WebHost a leader & a pioneer in providing free web hosting services.
Sign-up for free without paying a single penny. No credit card is required. Millions of users around the world use its free services with no ads policy, and that is what makes 000WebHost a leader & a pioneer in providing free hosting services.
Other free web-hosts do not support PHP & MySQL, but 000WebHost understands the need for these essential features and therefore supports unrestricted PHP, MySQL, Curl, GD2, Zend, XML, fopen(), PHP sockets, Ioncube Loader, access and many more.
Unmetered Bandwidth & Disc Space
Although the free hosting package has a limited bandwidth of 10GB and disc space of 1000 MB, the paid hosting package gives access to unlimited & unrestrained bandwidth & disc space with the latest version of PHP and MySQL. More exciting features are lined up in different pro plans at Hostinger.com.
Yes, most of the companies do offer 1-click installation of third-party apps, but 000WebHost is the first company to offer 1-click installation in a free account. With the 1-click installation of apps like WordPress, Joomla, Drupal, and over 50+ scripts, your site can be transformed into an awe-inspiring one.
If you are a novice with no knowledge about designing a website, then don't purchase a paid website builder from other web providers, as you will get it for free at 000WebHost.
Choose from 100s of ready templates and edit the contents accordingly in a few clicks. Create a gallery and put up your photos to showcase your team and talent, create a contact form to connect with your customers and do much more easily in toddler steps.
Built-in Firewalls and DDoS Protection
000Webhost's hosting packages include a built-in firewall and DDoS protection, which means that your site will always be safe and secure. The company also has a dedicated administration team that monitors its servers around the clock, so if you ever have an issue with your site, you can quickly contact them. Even though the hosting is free, you can relax, so you do have someone who looks after the server.
In our 000webhost review, we found that you also get "advanced capabilities from it. Some of the features you get are:
At 000WebHost, you get new accounts that are activated instantly. You can also upgrade and process instantly. So with no waiting, you can get started straight away, even if you're on the free plan.
Along with the cPanel, you also get a custom control panel with a range of additional administration tools that includes various bunch of one-click installers that you can use to get your new website started. You can also park domains, manage domain names and also carry out the essential administrative task.
000WebHost Control Panel
000WebHost uses a custom-built modern control panel. It features main management modules such as domain and file manager. However, the interface is a bit slow compared to some of the more popular hosting providers on the market but is still usable by all skill levels.

After you install WordPress, you can see it on the main interface itself. The menu on the left side has all the settings which you normally see in a control panel. Right under the tools section, you can find items like file manager, domain management, email and database. Also, you get each tool with its explanation which can help you better manage your website. You have the website settings menu option as well.
You can also choose the PHP version, which surprisingly has the lasted PHP 8 option as well. Using it can better manage security, redirects and various other aspects. If you don't wish to change anything, the interface takes slightly longer.
So we can say that the 000WebHost control panel is very well put together. It has functions that you can easily navigate, and everything does look great as well. The only thing we did not like is the waiting time which is taken for all the actions which are to be applied.
Features Offered in Free Web Hosting Package
With no ads policy and zero penny to be paid, 000WebHost is still the best free web hosting service provider that is reliable and trustworthy. The free package includes standard features that are rich in class and enough for you to go online. Listed below are the standard free features:
1000MB disc space and 10GB bandwidth.
Run up to 2 websites.
Display your own ads whilst blocking others.
Sleeps 1 hour per day.
Free Website Builder, 1-click Autoinstaller (WordPress, Joomla), PHP, FTP & MySQL support, Impulsive backup, Web File manager, 99.9% uptime guaranteed and immediate site activation, zero cost.
Supports Cron Jobs, Curl, and GD.
The easy and intuitive control panel includes Free templates, 1-click WordPress installer, Getting Started Wizard, Multilingual support, Hotlink protection, IP Deny Manager, Redirect URL, password protected directories, Web-based File Manager, and phpMyAdmin.
There are many free web hosting service providers, but the services offered by 000WebHost are unmatched and ultimate beat others in the marketplace. To avail of these features, you need to sign-up, and no credit card is required, completely free of charge. If you upgrade to a premium plan and do not receive the services you expected, then your money will be reimbursed.
---
Few Reasons to Upgrade Your Free Hosting Plan to Paid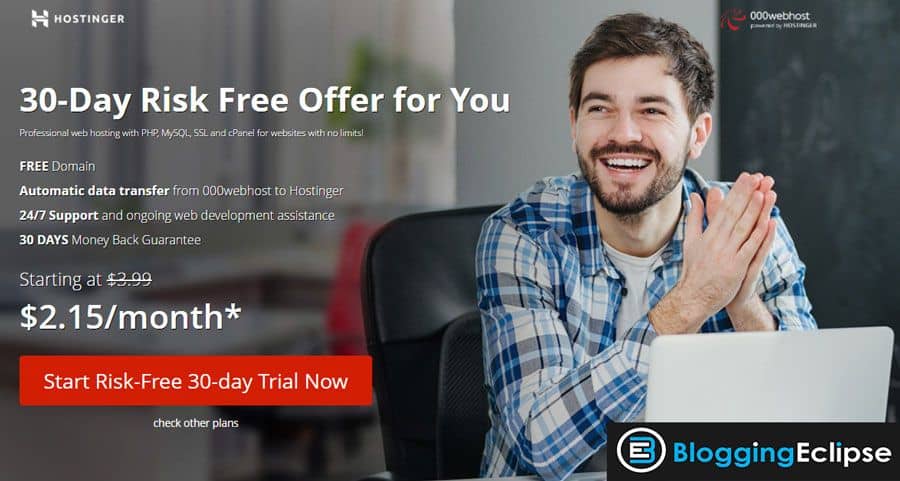 There are no legal contracts in the free plan, so if you cross the limit or do some unethical practices with their free plan, then your account can be suspended, but that's not the case with premium plans. In paid hosting, your data is backed up timely, and there is a service level agreement which means if your site is facing downtime, then you will be compensated.
The paid plan is more reliable and secured as you get added features to protect your site from the bad guys. Also, since free hosting has over 30,000 accounts, hence there is a huge load on the servers, and sometimes a message is displayed like "Server is busy" or "Server Outage.
This results in losing your valuable customers and a drop in sales. In the paid plan, your site is hosted on a premium server with over 300 clients and 99.9% uptime guaranteed or money back assurance.
Obviously, sharing the same server with massive users will create a problem someday or the other. Still, with paid plans, only a few clients share the same server, which allows you to run more security tools and software and keep your site protected from any mishap or unconditional events.
000WebHost is known for providing affordable hosting to its customers, so they don't need to worry about budgeting when purchasing a new hosting package. The company provides powerful hosting packages with various features and benefits, so there's something for everyone! The transfer is simple, quick, and seamless, and upgrading unlocks additional perks like access to live support.
The chances that you will want to register your own domain name and point it to your 000WebHost server are very high. If you don't wish to, you can still make use of the free subdomains by hosting your site at [YOURNAME]000webhostapp.com.
This can be a beneficial way to access your site while you're developing it before finalizing the URL that is to be used.
Numerous Website Creation Tools
As a 000webhost customer, you are offered an excellent choice of using either the one-click installers for popular content management systems or making use of the drag-and-drop website builder. If none of this works for you, you can connect via FTP and upload your own installers.
Paid hosting servers run on a 100mbps line, whereas free hosting servers run on a 10mbps line. Moreover, paid hosting servers use advanced hardware and software like Dual core processors and reliable SCSI disc drives (RAID 1). Unlimited EverythingPaid hosting has limited features and resources that don't provide optimum performance to your site, whereas paid hosting has unlimited PHP, unlimited MySQL and unlimited everything that doesn't cause any hindrance to your site, and you can enjoy hassle-free hosting.
If you are concerned about the price, then leave out the stress as the prices are affordable. It is better to enjoy hassle-free services by paying a dime instead of zero with limited resources that might cause the problem to your site.
---
👉 Steps to Upgrade to Premium Hosting
It's easy to upgrade your free hosting to a premium one with just a few clicks.
Click on the Order Now button listed on the Premium plan and wait for the site to be redirected to the paid hosting platform. A new site Hostinger will open up where you can find cheap web hosting services.
Choose the paid plan and click on Order Now once again and complete the payment process by registering yourself with Hostinger.
Your new account will be set up in minutes with ultra-fast, reliable and secure servers leading to the best performance. If you do not get what has been promised, then your money will be refunded. Start designing your website without any coding skills or technical experience required.
---
000WebHost Pricing Plans | 000WebHost Discount Coupon
000WebHost free hosting is for those who don't have money to start a site, like students who want to complete their project. Free web hosting comes with limited resources but is sufficient for starting your own site, but if you are an enterprise, then you should upgrade to a premium hosting package.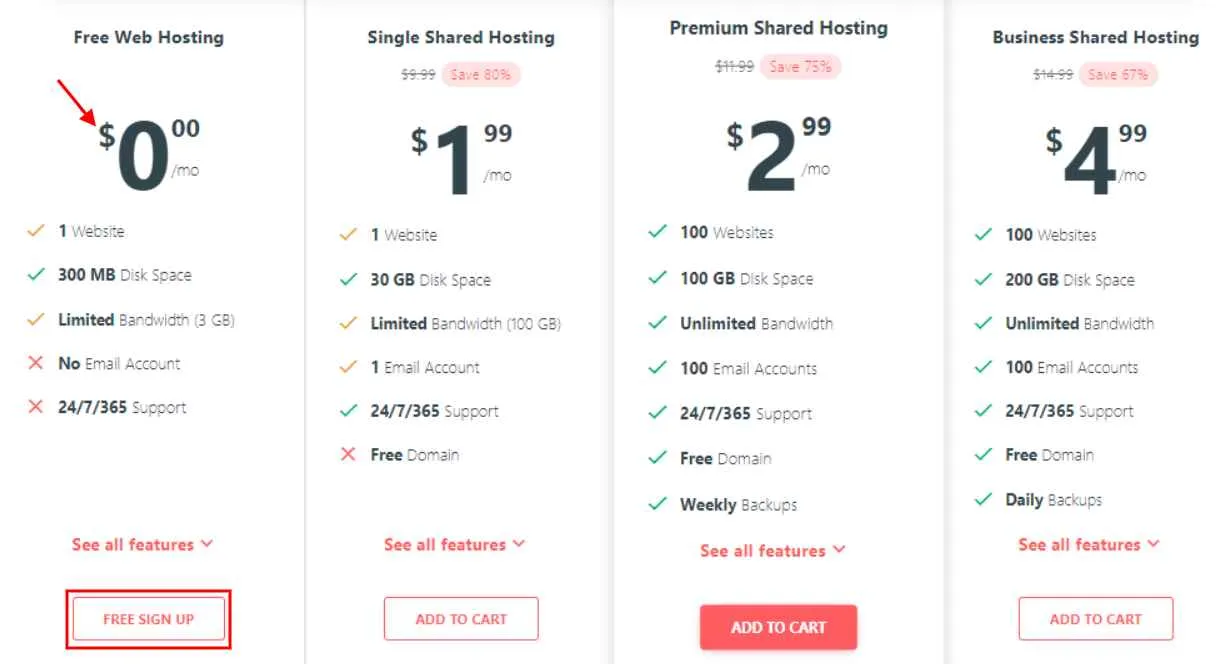 The basic plan of 000WebHost is absolutely free. The company also promises that it will be free forever. You also don't have to provide any payment details unless you wish to upgrade to the paid plan. You get payment options like Visa, MasterCard, PayPal and even Bitcoin there.
The core offerings of 000WebHost are free, but also the add-ons are reasonably priced too. The problems arise when you start adding so many add-ons or if you upgrade your hosting package, which can end up costing more than it would if you go with more premium web host that already offers all of these features as standard.
The free package of 000WebHost gives you a shared hosting infrastructure with guaranteed stability and security in mind; your website will share the same server space as dozens of other websites belonging to different owners, but you can expect it to be very reliable.
Free Web Hosting – $0/mo
With every free web hosting plan, you get:
300MB disk space
99% Uptime Guarantee
1 Website
Limited Bandwidth (3 GB)
1 MySQL Database
1 FTP Account
Option to connect a Custom Domain
Cloudflare protected nameservers.
So as you can see that with the free plan, you don't get email addresses or SSL certificates. Also, 000WebHost will show its own ads on your website. Also, if we see the features on this free plan, it is only suitable for the minimal essential website as most websites have pages heavier than 300MB.
If you require some extra resources, you need to upgrade to one of the premium plans with its partner company which are as follows:
Single Shared Hosting Plan – $1.99/mo
30 GB Disk Space
100 GB Bandwidth
30-Days Risk-Free
More Server Resources
99.9% Uptime
Personal Email Account
Live 24/7/365 Support
FREE $1000 Learning Courses
Weekly Backups
Premium Hosting Plan – $2.99/mo
100 GB Disk Space
30-Days Risk-Free
Unlimited Email Accounts
Unlimited Databases
Unlimited Bandwidth
Weekly Backups
100 Websites
FREE Domain
Live 24/7/365 Support
SSH Access
Just click on Order Now button, and you will be redirected to another site Hostinger. Click again on Order Now button and complete the payment process to enjoy cheap & hassle-free web hosting services.
Hostinger is leading cheap web hosting service provider with affordable hosting packages and reliable support. It offers free BitNinja Smart Security, SSL certificate, and SpamAssassin Protection.
If safety is your priority and concern when choosing a paid backup is a smart move as it protects your site data in case the files get corrupted, affected by viruses or some bad guys like hackers bring your site down. Automatic daily backups are a vital feature to back up your data in any of the circumstances and then restore it at just 1-click.
You can try Hostinger services for 30 days risk-free and decide for yourself whether you want to continue hosting your site with them or cancel the plan, in which case your money will be refunded instantly.
It offers 99.9% uptime guaranteed with powerful servers located in India and if you have any concerns or issues then you can contact the support team available with real humans 24/7.
000WebHost Customer Service
If you choose the free plan from 000WebHost, you will be left to fend for yourself, and this is yet another reason why you'll want to upgrade your plan. The best news is that there is a discussion forum where you can get in touch with other customers. But to have access to a 24/7 support team, you have to be a paid customer. The live chat option is disabled for non-customers, and as per our experience, the team does not respond to social networking sites.
So we decided to test the support team, but our experience was not as smooth as it should have been.
Also, we found that their agents were friendly and supportive enough we finally contacted them as paid customers. We were pleasantly surprised to find that the customer service representatives were online and ready to answer our questions each time we had a live chat session as a paying client. Each time we needed assistance, they quickly connected with me, clearly listened to my situation, and took care of it in a few minutes.
000WebHost Refund & Cancellation Policy
If you wish to cancel your 000WebHost account, it is easy and simple. You just need to log in to your dashboard, select Deactivate Account, and provide the reason for your cancellation. If you are a paid customer, you can expect to receive a refund within seven days. So users, though, found that they have to contact customer service in order to cancel it.
Although 000WebHost's cancellation and refund policies are pretty standard for the industry, where it really shines is in its uptime and server stability. While it did try to upsell us a VPS package, we did not really fault 000WebHost for wanting to hold on to its paying customers.
Is 000WebHost Secure?
Talking about how secure is 000WebHost, well, it is among those hosting providers you can find. They do not offer SSL certificates and only offer the most basic security features.
In terms of security features, it offers:
DDoS protection
Basic level firewalls
24/7 Server monitoring
You have the ability to enable hotlink protection and block specific IP addresses. However, you do not have SSL certificates or advanced security features designed to protect website software.
So all together, as you can see from our 000WebHost review, the security offered is only suitable for basic personal projects, and if you wish to store any sensitive or personal information on it, we will not recommend you to do so.
Top FAQ on 000WebHost Review
Is 000WebHost safe?
In our 000WebHost honest review, we did not find it the safest provider you can find. Because it is a free option, you also do not get many features. However, it has several benefits worth considering, such as unlimited bandwidth, disk space, and an easy-to-use interface. Plus, there are some instances of leaks of customers' data that are also reported.
Is 000WebHost free for a lifetime?
Yes! 000WebHost is free for a lifetime, and the company also promises to keep it free.
Does 000WebHost offer a cPanel?
Yes, 000WebHost does offer a cPanel along with a custom control panel with a range of additional administration tools. You get one-click installers by which you can get your website started. You also get park domains and manage domain names.
Do you need to pay extra for backups with 000WebHost?
Well, Sort of! 000WebHost being the daughter company of Hostinger offers you limited resources. To get better features and backups, you would have to upgrade your plan and shift to higher plans. But in those plans as well, you don't get a daily backups option; instead, a weekly one.
Is 000WebHost good for WordPress?
000WebHost is a good choice for running WordPress, where you get features like automatic setup and installation for the CMS as well as the latest PHP version to make it quicker.
How can you get your website on 000WebHost?
You can get your website on 000WebHost simply by uploading your files via the web hosting control panel and setting up a database or WordPress.
Is 000WebHost good enough?
As a free hosting option, 000WebHost offers a reliable service that doesn't require you to give away your personal data and is capable of supporting most small website needs. Also, it is good to use for learning purposes.
What are the alternatives to 000WebHost?
Well, it does have many alternatives, which include hosting providers like BlueHost, SiteGround, Hostinger, A2 Hosting and many more.
Does 000WebHost support Python?
When we did our 000WebHost Review, we found that it does not support Python.
Does 000WebHost support PHP?
Yes, new websites are now including the latest PHP version by default, and you can also downgrade to an earlier PHP version at any time if necessary.
Conclusion: 000WebHost Review 2023 | Is 000WebHost reliable?
After doing our honest 000WebHost review, we feel that you can't compare 000WebHost free hosting with other paid hosting providers as that would be unfair. But looking at the features offered in free hosting compared to other free hosting providers, 000WebHost is commendable and outstanding. Some users were not satisfied with its 4-hour sleep per day, but now the sleep has been reduced to only 1 hour per day.
Pay zero, enjoy maximum hosting services only at 000WebHost!
000WebHost lets you share your website with the world for free. This web hosting provider gives you the tools and services to create, market, and manage your site. If you're looking for a free web hosting service that won't limit your creativity, then get started with the 000WebHost free plan today. No more paying for hosting, no more spammy ads, and no more worrying if your site will be down. 000WebHost gives you an opportunity to build a beautiful website and share it with the world.
Also read:
Affiliate Disclosure: This post may contain some affiliate links, which means we may receive a commission if you purchase something that we recommend at no additional cost for you (none whatsoever!)