Are you looking out for an honest AAWP plugin review? Have you been wondering what Amazon Affiliate WordPress Plugin is all about for over months now? Well, we have got you covered. Check out this amazing AAWP review, and yes, don't miss out on AAWP's Comparison Tables review (because we have tested it for ourselves, to the best)!
Affiliate Marketing is at great peaks now; marketers are earning millions from the comforts of their homes. And when it comes to joining the Affiliate Marketing Industry as a newbie, Amazon Affiliate Program can never go wrong. If you have been wondering why just Amazon? Let us tell you, Amazon runs the biggest affiliate programs in the world, it has millions of products to be marketed, and it is just so:
Renowned
Novice-friendly
Reliable
Powerful
Profitable
The massive size of the Amazon marketplace is known to everyone; in simpler words, one can say blindly that Amazon has now become a home to millions of products. But can you advertise any product from Amazon? The answer is yes, but the trick here is that not every product will help you generate profits.
Yes, you heard that right!
That being said, for an affiliate marketer, it's difficult to find the right product. And more importantly, the most difficult part here is to market the picked product so creatively that you stand different from other marketers. Here's where Amazon Affiliate WordPress Plugin (AAWP) comes into the picture!
Still, wondering how this plugin will simply help you gain profits with bare minimum efforts? Wonder no more, and just read this in-depth AAWP review. In this review, we will make you walk through some of the best features of AAWP, some tricks to increase Amazon sales through AAWP (tried and tested), and lastly, an unbiased conclusion to help you make a better decision!
---
Detailed AAWP Review (Amazon Affiliate WordPress Plugin)
Amazon Affiliate WordPress Plugin, also named/known as AAWP, is an amazing plugin allowing users to pull Amazon product information into their WordPress site all within a few clicks. The plugin also comes with all necessary features for Amazon Affiliate marketers to excel and improve their affiliate page performance.
Outdated information about a product on an affiliate market page can be a major disappointment for users. Think like a viewer hopped into your page for a deal, and boom, the discounts you were offering are unavailable or expired. The best part is that all the links generated by the AAWP plugin are cached so that viewers always get access to updated pricing only. Not just pricing, the plugin even updates product descriptions, images, etc.
The plugin also comes power-packed with multiple tools helping users create interesting layouts to display Amazon products creatively. These layouts are designed to improve the website's overall user experience. Moreover, the AAWP plugin also helps users create simple text links to products, product boxes with product descriptions, bestseller lists, and comparison tables, all within a few seconds. Users can even place the items using the shortcode system or the widget included.
All the designs and outputs available in AAWP are customizable. Hence users can tailor the plugin according to their needs, like changing buttons, HTML, CSS, and more. The list just doesn't end here; the AAWP has more to offer its users; check it in the AAWP features section below!
---
AAWP Features at a Glance | AAWP Reviews
Over here, we will be giving you a sneak peek into some of the basic functionalities of the AAWP plugin; readout till the very next section to explore the best features of AAWP!
Text Links
Amazon text links are something every Amazon affiliate would care about the most, and AAWP helps users create amazing links. Links created by AAWP can be included anywhere with or without the Amazon Logo. And since these links are a 'nofollow' one, they'll never affect your search engine rankings. Users can even customize each link to a line that would act as the best CTA for their blog!
Product Boxes
Viewers are more attracted to product boxes, this is not us saying, but analytics speaking for itself. For this reason, AAWP offers banners of products that are designed to boost conversion rates. These boxes are customizable and clickable; thus, your customer can reach the product directly with just a click. Moreover, AAWP doesn't restrict users to just a product box type; you can create a unique one for your blog and simply use it everywhere!
Bestseller Lists
Bestsellers products on Amazon are more in demand as compared to other products. The sole reason behind this is that customers trust products that other consumers trust. This feature thus helps affiliates put all the best-selling products of a specific niche all in one post. Affiliates will only have to enter the product keyword, and AAWP will instantly give the whole list of best-selling products. You can thus display these products in the form of boxes or just links. You can even make a comparison table to make the blog more readable!
Bestseller Lists
Bestsellers products on Amazon are more in demand as compared to other products. The sole reason behind this is that customers trust products that other consumers trust. This feature thus helps affiliates put all the best-selling products of a specific niche all in one post.
Affiliates will only have to enter the product keyword, and AAWP will instantly give the whole list of best-selling products. You can thus display these products in the form of boxes or just links. You can even make a comparison table to make the blog more readable!
Data Fields
Data fields are somehow not as important as text fields and product boxes, but you should never underestimate them. With this functionality, you can feature specific details about a product much more creatively. You can even create a "Shop Now" button as a direct CTA for the products. Additionally, since there are several customizations offers available, you can use data fields in comparison tables also.
Widgets
Widgets by AAWP are highly customizable; you can tailor them anyway to match your blog layout. And since these widgets are always based on product categories, it always stays relevant to the content.
---
AAWP Review | Other Best Features of AAWP
Google Accelerated Mobile Pages
Today, consumers prefer shopping online through mobile phones on the Amazon app more than on the Amazon web store. Hence, they even tend to compare products on the app itself. Thus, as an affiliate, your site must be responsive enough for all smartphones if you truly want to earn huge profits.
Web developers often take the best care about blogs, but what about page loading speed?
For this reason, Amazon Affiliate WordPress Plugin has added layers that work well with Google Accelerated Mobile Pages. It minimizes the CSS and JS elements on the page. Therefore, pages load much faster. They even have a dedicated template well optimized to load faster on any mobile version.
Yet another best feature of AAWP is Geo-targeting, which basically helps users improve their earnings by offering the best customer experience. No customers like getting hooked on a product that doesn't belong to their country. For that reason, the Geo-targeting feature by AAWP redirects users to their respective country's Amazon pages. It's a brilliant feature that has already helped hundreds of affiliates monetize foreign visitors and make more profits through conversion.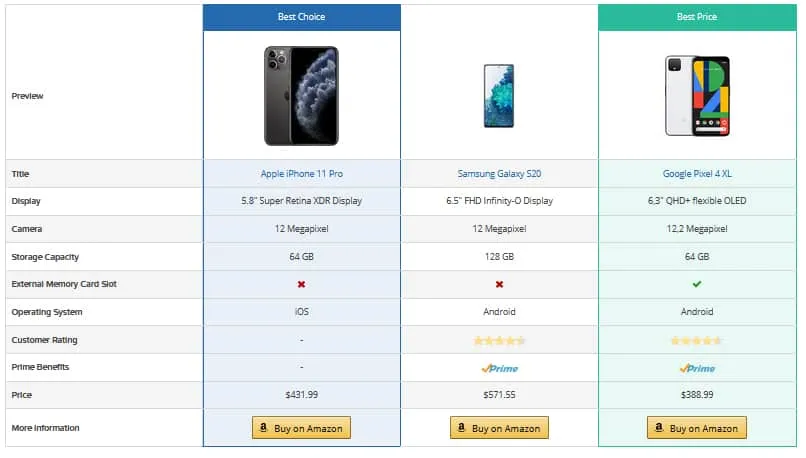 Here comes the best part, Comparison Tables feature by AAWP! The feature is extremely useful for affiliates wishing to get more traffic. The tables created by this plugin are highly engaging and encourage customers to click on the links without thinking twice. In fact, if you have been doing product review articles and building listicles, a comparison table by AAWP can benefit you much. The tables will basically help your customers make wiser and quicker decisions about their next purchase.
As compared to other plugins available in the market, the AAWP comparison table truly offers many customization options. The best part? You can easily make changes to individual columns and rows with just a few clicks. You can also customize the table even after you have posted it and the blog has gone live. AAWP offers multiple descriptions to marketers to include in the table, like more detailed product information, reviews, and more.
For example, if you are doing a smartphone comparison blog, then you can insert additional rows like display, storage capacity, operating system, prime benefits, price, and customer ratings. All the data in these columns are retrieved via the Amazon API key and can also be changed to blend with the rest of the website's content. Basically, AAWP creates Amazon comparison tables on WordPress that truly attract customers. And we are truly impressed by this feature by AAWP; that's the reason why we have listed out some of the major advantages an Amazon affiliate can get by using the comparison tables builder:
---
Major Advantages of Using AAWP Comparison Tables
Saves Time
Building a table, entering product details one by one, refreshing the details after every few weeks, and customizing the tables takes a lot of time. But this won't be the case with AAWP comparison tables. The table builder here will save your time by helping you create attractive and optimized tables in just a minute with just a few clicks.
Amazon Compliant
The product data retrieved from the AAWP plugin is from the Amazon Product Advertising API itself. Hence, the data mentioned in the table are always up to date and Amazon compliant.
No Programming Knowledge Required
Many comparison table customization tools are available in the market, but not many can access all these tools easily. However, with AAWP, affiliates will not have to get into technicalities, even for a bit. Just with a few mouse clicks, affiliates can design tables all according to themselves with the help of the table builder. They can even copy the finished table, save it, and use it for future purposes.
Opportunity to Increase Affiliate Link Clicks
AAWP comes with a table builder feature through which users can automatically link each table row to Amazon tracking ID. Affiliates can link details such as image, manufacturer name, rating, and pricing directly to Amazon, which will, as a result, increase their affiliate link clicks.
Better Buying Experience for Buyers
The sole reason behind this plugin entering the market was to improve the buyer's buying experience. That's the reason why AAWP comparison tables offer multiple customization options. Affiliates can even facilitate users with purchase decisions by giving the best information about the product on the table.
User-Friendly
AAWP's comparison tables are highly compatible with any mobile version or any kind of device the viewer reads blogs in. The table smartly responds and adapts to any device, no matter what the screen size is.
Great Edge Over Competitors
Not many Amazon affiliates give much importance to table layouts, and surprisingly that's the sole reason why they are not getting many conversions. Even if a few affiliates do, they simply offer a very basic table with little optimization. But, if only you are the one using highly optimized tables in your niche, then chances are, many viewers will be attracted to your layout and thus more conversions.
---
AAWP Pricing Plans
The AAWP plugin offers four different pricing plans to its users, each coming with a different set of features. You can pick up a plan for yourself according to the number of affiliate sites you own and the features you want. The best part, AAWP also offers a 30 day no question asked money-back guarantee. So, if you are not happy at all with the services offered by AAWP, you can get your whole money back. The pricing plans offered by AAWP are:
All core features included
It can be used for just a site
1 year of priority customer support
Access to 1 year of updates
All core features included
It can be used for 3 sites
1 year of priority support is available
Access to 1 year of constant updates
All core features included
Can be used for 10 sites
1 year of multiside support is available
Access to 1 year of constant updates
All core features included
Can be used for 25 affiliate sites
1 year of multiside, priority support available
Access to 1 year of constant updates
These pricing plans are billed annually; after the completion of a year, the plans will renew automatically. Further, if you are not happy with the services offered by the team, you can contact the customer support team, and they will help you with the cancellation process.
---
👉 How to Install the AAWP Plugin?
The installation of the AAWP plugin is not as similar to installing other plugins. Because to use this plugin, users will need to have an official Amazon Application Programming Interface, also called Amazon API. Without this API, the plugin will not be able to retrieve any data from Amazon or even connect to the server.
Still, struggling to get an API from Amazon? Here's how you can get it!
Get your Amazon account verified (simple process, more details are available at the official website)
Generate at least three sales, more than three works best. Once you have met the above demands, your will API will automatically start functioning after 48 hours. But also make sure to generate a good amount of sales even after API installation to get better results. AAWP also asks users to test their API keys before investing in the plugin. And that's the sole reason why they have provided a 30-day money-back guarantee. Further, the technical requirements for this plugin to run smoothly are as follows:
WordPress 3.4 version or more
SOAP, PHP REST, and curl extensions were both installed and enabled
Once you have downloaded the plugin after selecting the best pricing package, it automatically gets activated. You just have to visit the plugin settings page available at your WordPress site and enter the license key obtained in the welcome email by AAWP. After completing all these processes, you can now visit the "General" tab to configure options for the plugin. Over here, you can choose the cache duration, type of shortcode to use, type of affiliate link you would need, and more. There's even a cloaked feature mentioned on this page, but it's not available as of now and will probably be released in future updates.
---
AAWP Customer Support Review
One of the best things about using AAWP for the Amazon affiliate site's growth is the customer support itself. The plugin has dedicatedly offered a section, "Customer Dashboard," for customers to manage their downloads, licenses, and account information. Coming to the help and support part, the team has made sure to go the extra mile and help customers with detailed blogs and tutorials. They have made sure to cover each plugin feature in their blogs and what best a user can do to make the most out of the available features. There are guides available, tips and tricks available, and you name it, they have it all.
As far as dedicated support is concerned, AAWP offers support through contact forms, live chat, and email. When we were using this tool, we got stuck with a problem, and then and there, we contacted the team through their mail service. Their turnaround time at that moment was 16 hours, but many users claim that the team now resolves issues within 2-5 hours. (If this is true, then it's truly awesome)
---
AAWP Reviews & Customers Testimonials
---
🌟 FAQ related to AAWP
✔How to create a product comparison table in WordPress?
Product comparison tables often attract readers quickly. You can make one for your blog with the help of the AAWP plugin. Tables by this plugin are highly customizable and are Amazon Compliant.
✔What is the AAWP plugin?
AAWP plugin is a unique plugin created for affiliates to create product comparison tables for Amazon products to help readers quickly compare the features of products.
✔Can I use AAWP for free?
No, as of now, AAWP doesn't offer any free plan. However, they do offer a 30-day money-back guarantee. Their packages are highly affordable too.
✔What can I do with the AAWP plugin?
You can create attractive and detailed Amazon Product Comparison Tables with AAWP, all within just a few minutes.
✔How to create comparison tables with AAWP?
Creating comparison tables with AAWP is very easy. You simply have to go to the tables section available on the dashboard and enter all the required details there.
✔Do I need to renew my license?
From the date of purchase, your AAWP license key is valid for 1 year only. The user needs to have an active license key for continuing access to AAWP.
✔Does AAWP allow me to upgrade my existing license?
Yes, You have full access to upgrade your license key at any time. You can even pay the remaining amount through PayPal or Credit Card.
✔Does AAWP offer any refund policy?
Yes, it offers a 30-day money-back guarantee to all its users. If you are unhappy with the plugin, you will get your money back within 30 days of purchase.
---
AAWP Facebook Group
---
AAWP Twitter Group
---
Conclusion: Can AAWP truly build the best Amazon product comparison table?
To come to conclusion, AAWP is truly the best plugin for Amazon affiliate marketers. What we liked the most about this plugin are the customization options it offers to the users, which are typically not available in other plugins. For example, when it comes to building a comparison table with AAWP, the resulting output users get is highly attractive and has the capability to increase sales quickly.
The best part, if you do have a unique theme for your website, a little tweaking with custom CSS can do your work instantly. We personally were on a quest for such plugins for our own Amazon Associate's Program websites, and to be honest, the result we got here was amazing. More specifically, sales days have become the best days of our lives in terms of gaining profit, and AAWP has truly helped us a lot in those days.
The AAWP Comparison Tables are just a boon in disguise when it comes to bringing up the best product comparisons. And that's the reason why this review was wholly about the tables. If you liked it as much as we liked this specific feature by AAWP, do let us know in the comments below. And, make sure to stay tuned to BloggingEclipse to explore more such amazing WordPress plugins to boost your sales!
AAWP Review – Increase your affiliate sales with this ultimate WordPress plugin!!
Running a WordPress site as an Amazon affiliate and want to monetize your affiliate page? AAWP is the ultimate WordPress plugin specially designed for Amazon affiliates. It has all the advanced features, an improved interface and additional functionality which helps you to increase your Amazon commissions. By using this WordPress plugin, you can increase your CTR and revenue, and it does not require any coding or technical knowledge.
Positive
Amazon compliant product comparison table.
No programming skills are required to use the tool.
Option to geo-target visitors to Amazon stores near to them available.
Option to place ads wherever the marketers wish the ad to appear on the site.
Glitch-free plugin.
Automated updates on product information.
Features are well optimized for the best conversions.
Designed for both experienced and beginner affiliates.
Negatives
The UI of the plugin is not as beginner-friendly as said by the developers. You have to invest a bit of your time, like five or six days to the max, to learn how every feature works.
The basic plan would get a bit expensive for first-time users, however, it can be discounted a bit through coupons.
No option available to do searches within the plugin.
AAWP – Best WordPress Plugin for Amazon Affiliates
Get started with AAWP for just €49 only and start promoting your Amazon products profitably.