Ecommerce industry is growing drastically popular and millions of internet marketers & bloggers are selling products & services online. Here in this post I will show you the top 5 methods to accept credit & debit cards payment online without paying any setup fees.
There are numerous of international payment gateway companies which offers online payments solutions for businesses & individuals. Some of them charges heavy initial setup fees & some are initial free to join but charges commission on every single transaction.
Here in this post, I have mentioned Top 5 Payment Gateway companies which will allow you to enable Online credit & debit card payments on your website or blog.
Note: Two of the companies from these 5 list are for Indian users only. InstaMojo & PayuMoney are for users living in India. These both company allows you to accept Debit/Credit cards, Net Banking payments on your website.
---
Best payment Gateway for Small Business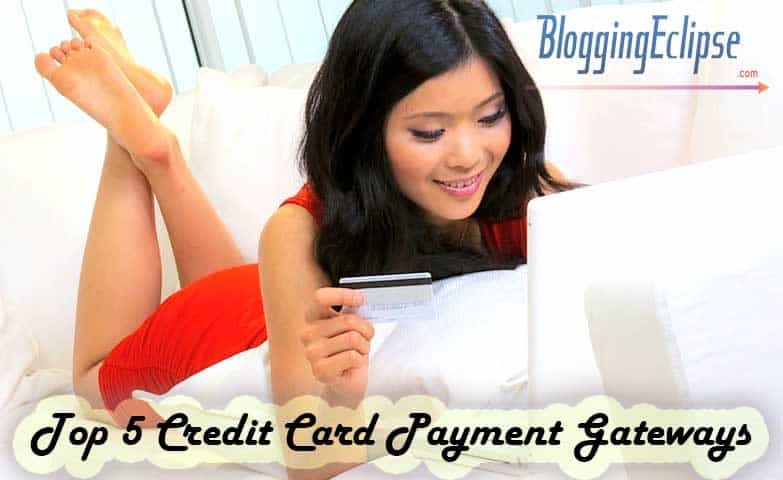 Before proceeding towards the list of top 5 ways to  accept credit card payments online, lets see some of the measures & precautions, you should keep in mind before doing E-commerce business online.
There are numerous of payment gateways scattered over the web. Very less are popular on international level which includes PayPal , 2checkout, etc and most of the payment gateway offers complete white label support for merchants hence their name doesn't come in spotlight.
Checklist before accepting credit cards payments in your website.
Make sure online payment checkout process is easier for your users
If you are enabling your readers to enter credit card number on your webpage, make sure your website has SSL certificate (HTTPS protection)which encrypts and give extra layer of security.
If you don't have HTTPS, redirect your users to the payment gateway websites for entering their confidential payment info.
Make sure the payment gateway is perfect for your geographic users and have accepts all major cards and internet banking
Clear your refund rules to the user before enabling them for Payments.
Make sure your payment gateway is not charging you heavy fees, compare with others.
---
The rise of Online Payments
This is the time of Internet marketplace and it has become an multi billion dollar industry and millions of E-commerce giants, bloggers, affiliate marketers are making huge dollars in E-commerce industries.
I have seen many renowned bloggers who just focus to write content for their blog earlier are now entering into selling their product's, services and SEO courses online directly to their audience. This is clear indication of potential in online business and its the right time to act now. So start selling your products and service online now.
You can create free E-commerce store using WordPress & WooCommerce together. Only you need to have a ethical payment processor or Payment gateway for collecting funds online directly on your website.
The top Payment Gateway in the list are completely compatible with WordPress and numerous plugins such as Woo commerce. they offer easy API integration with WordPress and other platform such as PHP,magneto , etc…
All the Payment gateways listed below doesn't have any setup fees or monthly fees. Its free to register & they charges on each transactions.
#1. 2Checkout
2Checkout enables you to accept payments globally via credit card, PayPal & Debit cards. They have over 15 years of experience with more than 50 thousand merchants served.
2Cehckout is free to register and they have simple implementation process. The local familiarity of 2 Checkout enables you to collect payments in 87 currencies with 15 languages & cultures. maximum of small businesses & enterprise uses 2checkout for collecting payments online with ease.
They have multiple payment method which lets your customer to pay from any corner of the world & in any currency which makes easier for the user. They also have the best fraud deduction which verifies Address of credit card and CVV before deducting funds from the respective card.
On the pricing terms for 2Checkout they have different pricing for different countries and you can check its pricing structure for your country here.
#2. PayPal for Business
PayPal is biggest brand in cross border payment solution for freelances, bloggers and companies and now it has become favorite choice for E+commerce & internet marketers.
PayPal has tightest security and have their footsteps in maximum countries The major benefit of PayPal is, it don't charge any setup fees , easy integration , Web based invoicing from PayPal dashboard, easy user interface, Wider acceptance and many more.
Do you know: maximum of Internet shoppers in U.S , U.K and Australia already have their paypal account, hence customers can directly pay you with their paypal account or linked credit card easily which will make whole checkout procedure fast & easy.
PayPal for Business or business paypal account lets you to accept credit card and debit card payment on your website without forcing end users to register for PayPal account.
If you are using personal PayPal account, then user's can only get paid with PayPal account or linked credit card with a PayPal account but if you want to remove the limitations and want to accept credit card payments via PayPal, then you should upgrade your account to business for free or create a new PayPal business account.
Time doesn't allow me to guide you with steps for creating or upgrading PayPal Business account from a personal PayPal account, but i will write another post next week for this detailed step by step tutorial.
#3. Stripe
Stripe is another popular payment gateway company which has innovative features and is cheaper than 2Checkout. Their checkout forms are innovative and apart from Credit & debit cards, it also allows users to pay via ACH Deposit & Bitcoin.
I am personally using Stripe Payment gateway since 2 years. They offer simple pay as you go plan which charges just 2.9% Fees + 30¢ for each transaction.
The 'Pay as you go' plan on stripe has NO setup, monthly or any hidden fees. You just need to pay for what you use.
They have excellent real time tracking, So you can generate & view reports in real time.
When you signup on Stripe, you get hundreds of free features which are:
Simple PCI compliance
Smarter saved cards
Integrated fraud tools
Apple Pay, Android Pay
iOS Dashboard
Web Hook
Built for developers
Full data portability
Currency conversions
Recurring billing (Subscriptions)
Atlas by Stripe (beta)
Stripe can easily be integrated in any website, E-commerce or WordPress by its plugins & documentation. If you need an international payment gateway for your Business then Stripe is right choice for you.
#4. Instamojo
Instamojo is India's largest multi channel payment solution company which is growing very popular in short span of time because of their innovative features , technology and honest pricing.
Instamojo allows you to receive payments via multi platform like web based Payments , SMS payments , payments via WhatsApp and other social platforms.
Instamojo offers very honest pricing which is OK for initial level e- commerce. The best thing is you can start selling with Instamojo even if you don't have website.
It allows you to create your own Digital store and you may upload your digital content such as eBooks which you want to sell.
It also allows you to collect any type of payments online such as tuition fees , freelancing payments, gifts, event tickets, etc via their unique system.
Instamojo can be completely integrated with WordPress and other apps as they provide API. You also get your unique Instamojo username, so you can share only your unique instamojo link with your username to customers for collecting payments.
They have excellent Tracking and allows you to send Free bulk payment request via SMS to your customers and can even track payments.
Instamojo is free to join and they charge industry standard 1.9% fees on each single transaction.
#5. PayuMoney
Payumoney is subsidiary if Payu.in which is most popular premium payment gateway in India & used by thousands of major online shopping websites in India.
Payumoney is developed for merchants and seller both. They allow sellers to sell products & services online same as Instamojo. They have their inbuilt refund management system which enables the buyer to claim refund or raise dispute for the product or service they paid through payumoney.
Maximum user love to Pay via Payumoney because they provides incentives, cashback & coupons.
Funds are not withdrawn to seller account till then Buyer doesn't release payment After receiving the product or service buyer can enable to release the payment to seller or seller can himself ask him to do.
There is no charges in creating account with Payumoney, they also offer website integration free of cost with great support so you can enable credit cards/debit card payments on your website using PayU technologies.
These were the top 5 payment Gateway which are free to join and is excluded form setup fees or registration charges. There are numerous of companies which allows you to collect payments online but they are for heavy volume E-commerce websites and hence if you are at small business owner or initial stage then I would recommend you to start from any of these Five companies.
The last two companies, Instamojo & PayuMoney are for Indian users. PayPal, 2Checkout & stripe an be used Globally even in India.
Bottom Line:
Start your online business with more professionalism using Online payment gateway & collect money directly in your bank account for stuff & service you sell online. If you are using any of the Payment gateway now then share your experience with us via comments section below.