Would you like to join a CPA affiliate network that helps you scale your monetizing by 300%? Here we bring you Adcombo review, which is one of the best CPA networks in the world.
CPA marketing is a form of affiliate marketing where consumers are paid a commission for completing tasks such as filling out surveys, watching videos, or selling products. In this type of marketing, compensation is typically based on the number of sales generated by consumers rather than how many people click on the advertisement in question.
CPA marketing will never be the same as before. Get ready for the all-new exciting CPA marketing offered by AdCombo. Well, the tag line of AdCombo itself says that it has changed CPA marketing forever. With a dedicated team of professionals, AdCombo serves the best of its features at your doorstep. They are promised to provide the advertisers with some prominent features and custom-developed software.
AdCombo is one of the best CPA Ad networks for publishers, enabling them to generate better revenue than other CPA Ad Networks. Let's see how AdCombo is different from other players in the industry and how it is simply the best CPA network for publishers in this AdCombo review.
It also includes more than 80% exclusive offers making it something to look out for. It offers various services that include affiliated programs, CPA marketing, affiliated marketing, telemarketing, and much more. In this Adcombo review, we will give you an in-depth overview of all of this platform's features and benefits. Read on!
Detailed AdCombo Review – AdCombo has changed the CPA marketing forever!!
AdCombo is a group of like-minded people, it has its headquarters in Canada, and it aims to provide quality ads with infinite traffic. Founded in 2013, it is a CPA affiliate network that helps users or customers easily monetize their traffic.
AdCombo works in 5 cities scattered around the world. This allows you to benefit from proper advertisement around the globe and reach your target audience. The AdCombo company offers many unique marketing programs, including CPA marketing, affiliate programs, telemarketing offers, etc. They are dedicated to providing the best customer support possible for their clients.
They also offer users features like designing your own stunning ads & publishing them, traffic-building, and multi-aspect visual analytics. Also worth mentioning is their payout option, which you have to get confirmed by a call center. Even the order form which you got to fill takes two lines and just one minute. It is also one of the best CPA affiliate networks, which provides the best payout rates with high conversions.
AdCombo builds a solid partnership between the advertisers and the publishers, resulting in overwhelming traffic as per the requirement.
AdCombo Features at a Glance – What makes AdCombo different from other CPA Affiliate Networks?
Both i.e., advertisers and publishers can use AdCombo to earn profit equally. We will learn how both the publisher and the advertiser can make money using AdCombo. Its not just about making a profit. With AdCombo, you benefit from various departments like the web design team, financial team, technical and support team, etc.
As discussed earlier, AdCombo has a specialized team in different sections ready to help you day and night without any hesitation.
Following are the AdCombo dedicated team of professionals offering quality service.
Specialized account management team.
Affiliate manager and support team
Web designing & development team
AdCombo offers a wide range of unique high conversion offers that are exclusive and present across many geos, including Latin America, South Asia, and Eastern Europe.
It also offers a localized funnel. Get pre-sales and landing pages in more than 40 languages and 24/7 support from 44 native speakers.
AdCombo offers weekly payment with no hold set. It offers various payment methods, including PayPal, Paxum, WebMoney, ePayments, Payoneer and Bank Wire Transfer and many more, where the minimum payment done is $50. Its in-house platform is quick, efficient, and reliable. It also offers seamless integration with a lot of popular platforms. Also, the types of traffic they accept are Email, Social Media, Display, PPC, Contextual and also InApp. They deal in adult traffic as well.
Another noteworthy feature is that most of their advertisers are their long-term business partners and from their inception, none of the payments have they missed. This is simply incredible. After knowing about some of the overall features and the dedicated team that AdCombo has for its publishers & advertisers, let us now look at how the publishers can make a profit.
👉 Click Here to know more details about Adcombo teams.
How does AdCombo Work?
AdCombo does have a specific way of operation where it works straight with the advertisers. Baring the top CPA networks, most of them use a CPA network with Re-brokering CPA offers. What this does is that those CPA networks get access to only those offers from other CPA or affiliate networks. By doing so, you eventually get lower pay rates.
In short, AdCombo removes the middle man and works directly with the Advertisers. Because of this, they offer good pay rates to all its publishers. You can better hope to have good conversion rates and better payout.
AdCombo Benefits for Publishers | AdCombo Review
AdCombo works differently for advertisers and publishers and steers away from the usual way of affiliate marketing. Using AdCombo, you don't have to wait for a long time for the Ads and campaign to go on consistently.
You will enjoy a hassle-free service and no more waiting long nights.
As discussed earlier, that AdCombo CPA marketing network will give you profit only after confirming sales conversion. Therefore, we need to visualize the ultimate features that offer the maximum benefit to the publishers.
AdCombo offers a localized team and a web design available in more than 40 languages, enabling your ads to run smoothly and hassle-free in coordination with them.
As we said earlier, this is a CPA network. Hence, you will receive money only after a confirmed sales or lead, but this doesn't mean you have to wait long to receive this profit into your account. The AdCombo affiliate network offers pay-outs twice a week, which is more than any network out there!
Focusing on low competition tier-2 GEOs with lower CPC and higher ROI, AdCombo includes a unique "Cash on Delivery" conversion scheme. This, combined with excellent Search engine optimization tactics, would lead to successful results across your favorite traffic sources like Facebook, PPC ads, banners, popunder networks, and more!
Due to this, you can concentrate on your campaign and save budget for other aspects, such as marketing & advertising, landing & pre-landing pages localization by their team of professionals, which can help your business thrive.
Translation of extra texts can be ordered through its in-built interface. Translators will be happy to help you.
You can find a reliable platform for all your eCommerce needs with our in-built features that make your life easier. They offer plenty of stats, domain parking & more.
Other benefits include Multiple shared localized funnels for each offer, a personal affiliate manager, and a special tutorial section.
AdCombo has its own DNS servers to provide a faster response time. This means that when a website visitor lands on your website, they will see it instantly. Sonar systems monitor the condition of each server in every country it's present in. If a connection goes offline, the system automatically switches to another live server you're connecting to.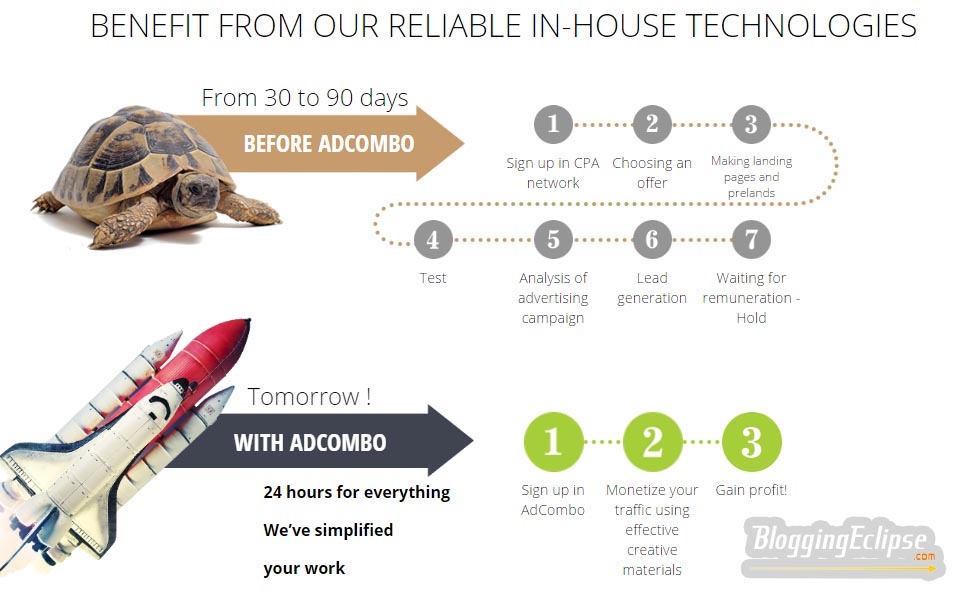 This international CDN search engine is optimized for the countries like India, Indonesia, etc., which means that you'll have fast-loading content even at peak times. It provides publishers with reliable statistics that allow them to quickly & easily gauge results. The software also yields data in multiple sections, giving publishers the necessary info.
If you face any problem, then don't hesitate to take help from the specialized team that AdCombo has. Monetizing the traffic gets easier by the statistics panel that reduces your workload up to a great extent. Suppose you feel that you are not able to understand anything at any point in time. In that case, you can watch the video tutorials or take help from the reference materials to enjoy uninterrupted ads and campaigns.
Adcombo has won the Affiliate network of the year award by AffiliateFix. In this celebration, Adcombo has increased their pay-outs rates of all offers by 5%.
How can Publishers Sign Up on AdCombo CPA Affiliate Network?
Many publishers and even experienced marketers face the problem of not getting accepted in some networks. Well, this might be due to various reasons that eventually take up to a week. But with AdCombo, you can easily cut short this time of account approval. You would not have to wait for so long as you can get your account approved within less than 24 working hours if you answer a few questions correctly while filling out the application form. If you already are an Affiliatefix member, you can contact AdCombo affiliate managers and get your account approved even faster.
The process is pretty straightforward: You first need to fill in a simple and straightforward request form.
After that, an affiliate representative will get in touch with you within a few hours through email and ask you specifically how you would benefit the network and what you do.
If your answers are what they are looking for, the rep will schedule a meeting with you. After the meeting is conducted through Skype, the representative will finalize your membership within a day if you match what they are looking for.
Bear in mind that not everyone gets approved. You got to meet their requirements to get approved on their network. Only reliable and suitable publishers get approved and then made a part of the CPA affiliate network to ensure quality. Some specific requirements are listed below:
The publisher has to be upfront about what they do and what market they cater to.
They should not have been or still be hosting prohibited or illegal content.
The publisher should not have several accounts on a particular platform.
Few steps are useful for using AdCombo tools for Publishers.
First, you need to sign up in AdCombo
Monetize your online traffic with any form of creative content that will convert the most people.
Directly gain the profits
🚀 How to get easily approved by AdCombo?
Few quick points which you should follow to get your approval in less time.
You should not lie in any aspect to them, whether while filling out the application form or during a Skype interview or email.
Make sure that your account does not have any prohibited or illegal content.
You should research a bit about AdCombo and affiliate marketing before you apply.
Please ensure that you don't have multiple accounts on the same platform. If you're having, first delete them and then apply for AdCombo.
Finally, just be polite and confident in your replies.
We hope that you can easily earn your approval by following these few quick points.
AdCombo Benefits for Advertisers | AdCombo Review
In the previous section, we discussed how a publisher could benefit from AdCombo. This section will see how an advertiser can take maximum benefit from AdCombo's quality features. So let us get down to business and look at what AdCombo offers for an advertiser.
Adcombo connects you with over 40000 active affiliates responsible for generating over 200 000 leads each day. It has gained a lot of experience and forged many valuable partnerships in nearly every country in the world. It is always ready to provide quality leads in your database.
Get exclusive landing pages for every offer. AdCombo has a huge in-house creative team that works nonstop on increasing conversions by optimizing the quality of marketing content.
Adcombo has its own DNS servers placed worldwide to ensure that customers in any location receive their content quickly and securely with minimal discrepancies.
Their team of internal and external affiliates provides you with traffic of all sorts from all over the world. The affiliates can promote offers via top websites, social networks, and search engines.
They provide 100% uptime for your website, ensuring that no one will lose traffic due to downtimes. They have a unique anti-fraud system in place, providing you with the best leads from their advanced tracking API.
How to Maximize Your Earnings with a CPA Ad Network?
A CPA ad network is a different type of advertising campaign in which the advertiser pays for traffic and conversions that are delivered by an affiliate.
The following are some ways to maximize your earnings with CPA networks:
Choose a network that has high conversion rates.
Focus on landing pages that convert well and ensure your website has good quality content.
Use content marketing to drive traffic to the ads and get more visitors to the website.
Keep track of how much you earn per day, week, month, or year and make adjustments to this number as needed.
AdCombo is still a relatively new entrant in the affiliate marketing industry and has yet to be recognized as the elite player it deserves to be. They nevertheless have a reputation for excellent customer service and access to new markets. The company offers professional payment options as well as competitive perks.
These benefits make their system desirable for those looking for fresh perspectives on getting started with affiliate marketing.
Latest CPA campaign by AdCombo
Just recently, AdCombo launched a comprehensive guide on free traffic.
Well, every marketer dreams of running traffic without spending a cent. And yes, AdCombo certainly has turned this dream into a reality. The brand had been working for two long years about "how to launch a CPA campaign with no money?" And in their article, they have posted a detailed review about how one with a relatively low budget can go ahead. In their latest campaign, they have described further how to find a free resource for TikTok, SEO, Telegram, Online Selling Sites, Q&A sites, and Twitter.
Advantages of AdCombo
With AdCombo, you get complete personal marketing assistance by which you can excel.
AdCombo comes along with a whole new and effective traffic strategy
It has a simple yet user-friendly interface.
It offers very good support along with a personal affiliate manager.
You also have a quick and easy pay-out option offered by it.
And last but not least, You would see an increase in your sales turnover.
Top FAQ on AdCombo Review
What is AdCombo?
AdCombo is the leading CPA ad network that provides thousands of offers that helps you to take your income to the next height. It can also be the Cost per Action network specifically designed for affiliate marketing. It has a commendable reputation and has got very good reviews in the market for giving high payouts compared to most of the other platforms. It also has a unique cash-on-delivery conversion scheme, which would ensure a higher ROI.
What niches does AdCombo support?
Currently, AdCombo provides thousands of amazing offers in 12+ niches that allows you to maximize your ROI. AdCombo is constantly revising and optimizing its offer base, which would ensure that you only get those that convert well.
Do I require to make landing pages?
The answer to that question is both Yes and No – Their team can work with you, or even their professional creative team can design a new landing page that would suit your chosen strategy. They have developed landing pages in more than 40 different languages, so the translation will not be an issue.
Can I promote AdCombo offers by my own domain?
Yes, AdCombo enables you to promote its offers using your own domain. It also provides an easy dashboard to park your domain in just a few simple clicks for any offers.
Is AdCombo secure and reliable?
AdCombo is the most robust CPA network that is very reliable and secure to use. It is also a legal partner network that is most stable and efficient. In every part of the world, our network of over 40,000 members can serve your needs by connecting to people and producing large amounts of clicks a day.
What are the integration types offered by AdCombo?
Adcombo offers both Postback URL and API integration for its advertisers. With both integrations, one can be sure that they won't lose any leads in their systems. They have a unique and custom-built system that is exceptionally reliable. It also gives a stable performance even when there is a down-period of the advertiser's site.
How much experience is required to be a successful AdCombo affiliate?
AdCombo does not set any barriers for its affiliates. Even those who are less experienced and relatively new can avail their services. Even their excellent team of affiliate managers can provide guidance and lend their support in every step so that you are on your way to earning big profits.
Conclusion: AdCombo Review 2023 | Should you go for this CPA Ad network?
After such a comprehensive review, it's pretty clear that AdCombo offers high-quality service and is simply the best option available in the market for a CPA affiliate network that would effectively monetize your traffic. It also gives you a secure and reliable network that entrusts your faith. Even their support team and their affiliate managers are polite and supportive. Also, AdCombo is suitable for beginners or those targeting tier 2 counties or a lower competitive market. In short, AdCombo has revolutionized CPA marketing and brought in a new and improved way of running an affiliate network.
Publishers should give the AdCombo platform a shot.
So affiliate marketers? Do try AdComobo and let us know about your money-making results.
If you have any doubts about Adcombo or CPA marketing, comment below your query, and we will help you in the best way we can.
Happy Monetizing 🙂
AdCombo Review – Powerful CPA network made by affiliates for affiliates!!
As we all know, affiliates don't have access to the best conversion offers. AdCombo has changed the game for CPA marketing with its exclusive deals and offers on a unique business model. AdCombo is the powerful CPA affiliate network that provides exclusive offers that pay the best as compared to the other CPA network in the market. With AdCombo, you can make a living while you sleep while enjoying the freedom of having many different offers to choose from!
Positive
It focuses on tier 2 countries.
It has an excellent customer support team.
East account set-up.
It offers the best payment options.
Negatives
It doesn't enable you to run a global campaign.
AdCombo – Best CPA Affiliate Network
Sign up on Adcombo, a unique online advertising network that helps you to drive more sales for your business.
Quick Links: