CPA marketing will never be the same as before. Get ready for the all new exciting CPA marketing offered by AdCombo. Well the tag line of AdCombo itself says that it has changed CPA marketing forever.
With a dedicated team of professionals AdCombo serves the best of its features at your doorstep. They are promised to provide quality sales to the advertisers with some prominent features and custom developed software.
AdCombo is one of the best CPA Ad network for publishers which enable them to generate better revenue than other CPA Ad Networks. Lets see how AdCombo is different from other players in the industry and how it is simply the best CPA network for publishers.
In this post I will be sharing a review on Adcombo and will elaborate its features which in turn will help you gain knowledge by which you can make handsome profit in your business
About AdCombo:
AdCombo is headquartered in Canada which is determined to provide quality ads with infinite traffic and this is the reason why they call themselves as a group of like-minded people. AdCombo works in 5 cities allowing you to take complete benefit by proper advertisement around the globe and reaching your target audience.
AdCombo build a solid partnership between the advertisers and the publishers resulting in overwhelming traffic as per the requirement.
What is AdCombo – features & highlights
CPA i.e. Cost per acquisition means that whenever a sale conversion is confirmed only then you get your money in your account deposited.
AdCombo can be used by both i.e. Advertisers as well as publishers to earn profit equally. We will learn how both the publisher and the advertiser can make money using AdCombo. Its not just about making profit, with AdCombo you get benefits from various departments like the web design team, financial team, technical and support team etc.
As discussed earlier, AdCombo has a specialized team in different sections ready to help you day and night without any hesitation.
Following are the AdCombo dedicated team of professionals offering quality service.
Specialized Account management team.
Financial team
PR & communication team
Affiliate management and support team
Web designing & development team
IT & translation team.
Click Here to know more details about Adcombo teams.
After knowing about the dedicated team that AdCombo has for its publishers & advertises, let us now take a look at how the publishers can make profit.
Adcombo benefits for Publishers : Review
AdCombo works in a different manner for advertisers and publishers and not the way an affiliate marketing works. By using AdCombo you don't have to wait for a long time for the Ads and campaign to consistently go on.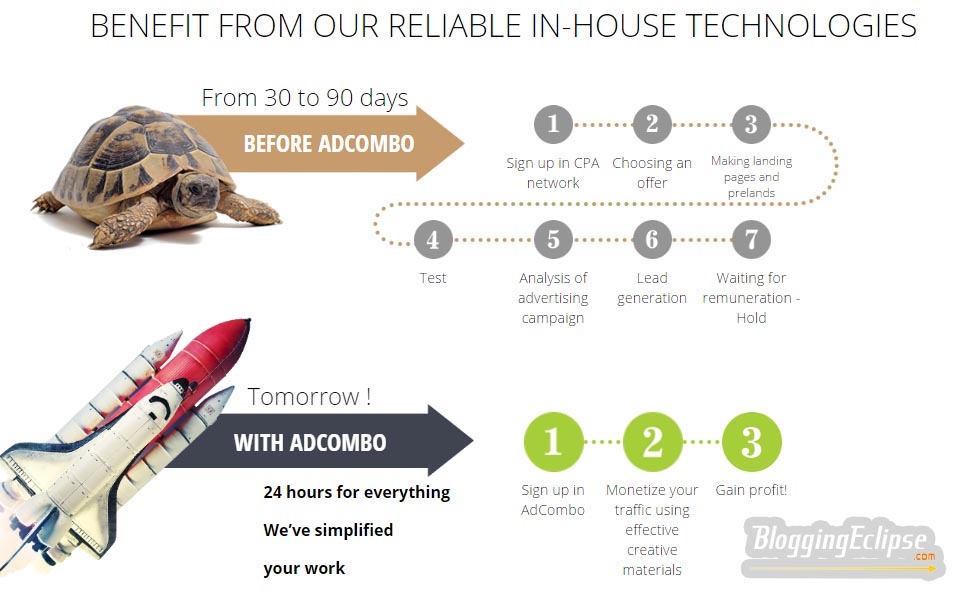 You will enjoy a hassle free service and no more long nights wait. This can be achieved in few simple and easy steps. These steps are as follows:
Step 1: Visit AdCombo.com and Sign Up as a publisher.
Step 2: Start monetizing your traffic.
Step 3: That's it, money is all yours.
As discussed earlier that AdCombo CPA marketing network will give you profit only after confirm sales conversion therefore we need to visualize at the ultimate features that offers maximum benefit to the publishers.
AdCombo offers a localized team and a web design available in more than 40 languages which enables your ads to run smoothly and hassle free in coordination with them.
As we said earlier this is a CPA Network, hence you will receive money only after a confirm sales or lead but this doesn't mean that you have to wait long for receiving this profit into your account. The moment sales is confirmed you will get the money transferred into your account.
In case you face any problem then don't hesitate to take help from the specialized team that AdCombo has. Monetizing the traffic gets easier by the statistics panel that reduces your work load up to a great extent.
If you feel that you are not able to understand anything at any point of time then you can watch the video tutorials or take help from the reference materials to enjoy uninterrupted ads and campaign.
Adcombo has won Affiliate network of the year award by AffiliateFix. In this celebration, Adcombo has increased their payouts rates of all offers by 5%.
AdCombo Review for Advertisers
In the previous section we discussed how a publisher can take benefit from AdCombo. In this section we will see how an advertiser can take maximum benefit from AdCombo quality features. So let us get down to business and look at what AdCombo has to offer for an advertiser.
As an advertiser you just need to sign up on AdCombo which is pretty easy and requires quite simple steps. Once sign up is done, you can enjoy the ads and campaign running smoothly without waiting for a long time.
The same way that a publisher can take advantage from the localized team available in 40 native languages, the same way an advertiser can also take maximum benefit and if your needs are still not fulfilled then you can take help from the translation team.
You won't feel cheated as the stats are real.
Since AdCombo is on a global network hence you can target the audience all around the world.
To brief you with the proper marketing you get a personal account manager who would give you advice as and when required.
After knowing how you can take benefit from AdCombo it is worth giving a try as it is gaining popularity day by day. There are numerous of CPA Ad networks scattered over the web but it is better to try unique networks which pays on time, have better payout rates with personal account manager.
Adcombo is one such network which is completely free, transparent and best ad rates in the CPA industry. Its defiantly worth a try. So affiliate marketers? Do try Adcomobo and let us know about your money making results.
If you have any doubts about Adcombo or CPA marketing, comment below your query an we will help you in the best way we can. Happy Monetizing 🙂