Looking for the best Facebook spy tool for your online business? Here is the honest Adheart review 2023! ADheart is one of the best spy tools for affiliate marketing with a huge selection of creatives. If you are looking for the right Facebook spy tool, then this guide will be really helpful for you!
Using ADheart you will find eye-popping ad creatives and this spy tool collects all the app creatives, media files, and unique applications. Moreover, the Adheart spy tool provides unlimited search for different creatives from various social media platforms which includes FaceBook, Instagram, Messenger, and Audience  Network. What we liked the most is they provide cost-effective pricing plans starting from $53 per month and also offer demo mode once you complete their registration process!
So, here in this ADheart review, we will cover every possible parameter such as ADheart pricing, ADheart features, how this tool works, and AdHeart pros and cons that will help you to decide whether this Facebook spy tool is the right fit for your online business! Let's get started!
ADheart Review | What is ADheart in a Nutshell?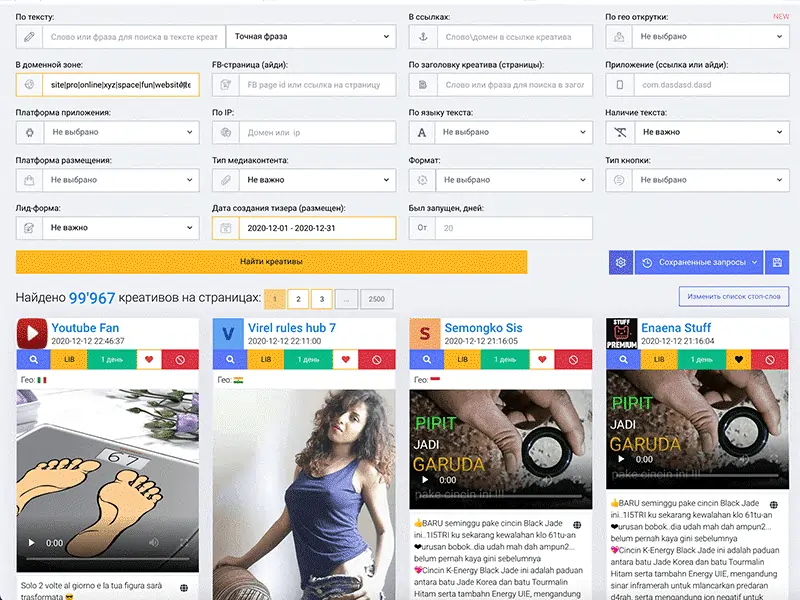 ADheart is one of the best ad spy tools for Facebook and other social media platforms such as FB Messenger, Instagram, and Audience Network. You can also collect and analyze ad creatives and how your competitors are creating ads for any GEO location.
This spy tool provides various filter options that allow you to search by domain IP, geo promotions, text, links, and more, plus you can also download high-resolution media files.
ADheart lets you search by top promoted apps which includes application search, and various sorting options. Moreover, you can also have a detailed analysis of all the creative applications for a given time period, and view statistics of daily promoted app creatives.
Using this ADheart spy tool, you can now monitor the most winning ad creatives for Facebook and Instagram ad campaigns. In this way, you can create unique ad campaigns with various filter options such as language, ad type, domain IP, the format of media content, and more.
And what more? Well, ADheart also works with media download, text translation, and Geo locations and also helps you to view statistics for your last creative!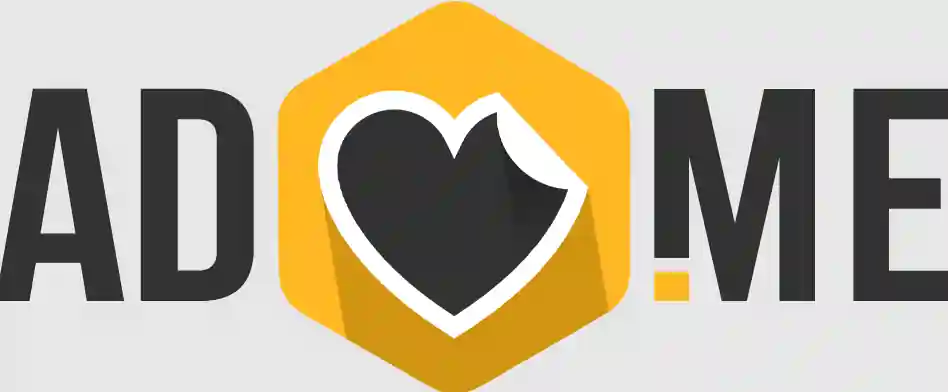 Use our exclusive ADheart coupon code and get an additional 17% OFF on the ADheart subscription plan. Hurry up!
Exclusive Coupon Code for Additional Discount
How does ADheart Work?
ADheart offers you in-built filter options that give you refined data if you apply them properly. It includes Promoted Geo filter where you can search results for more than one specific country, you can also filter by device type such as Android/iOS, set the type of media according to your needs, and also select the format type of the ad creatives.
Here are the simple steps, that you need to follow for searching ad creatives on ADheart:
Step 1: First, you have to click on the "Registration" button where you have to enter your login details with the password
Step 2: In the next step, the homepage will open and you have to click on the "Move to Creatives" tab
Step 3: Here you can adjust the filter options such as geolocation, domain zone, IP, text language, media type, and format, and provide URL links. Moreover, you can also sort by active days and category.
Step 4: Now you will get the desired results according to your needs and you can download the right creatives and use them for creating new creatives.
Step 5: In order to analyze the ADheart fan page you just have to click on the top of the ad creatives for a detailed analysis of the creative usage. And you have to choose your plan such as for one month of access it costs $53, for 2 months it costs $96, for 3 months it costs $134, and for 6 months it costs $250.
Who should use the ADheart FB spy tool?
ADheart is a perfect tool for webmasters marketers and store owners who can now spy on their competitors' winning ad creatives and promote their online business to the next level! Get innovative ad ideas and boost your profitability with ADheart. Let's how this spy tool can help you out:
1. Marketers
With this FB spy tool, now you can easily manage your projects by yourself and also discover fresh and innovative ideas to promote your products! You can also spy on your rivals to analyze their ad strategy and increase your revenue!
2. Webmasters
Are you looking for search creatives for your niche? ADheart has got you covered! Say goodbye to all your designers and get a complete database of search creatives for any niche you want. Moreover, you can also track your competitor's profitable campaigns and also discover offers and creative matches for any geo locations to skyrocket your business profit!
3. Shop Owners
It is the most useful tool for store owners to let them spy on the hottest and trending products or services from all over the world! In this way, you can have a complete idea of what are the most popular products people are selling, where they are selling, and what approaches they are using to sell the product. Get the latest ad creatives for any business niche.
ADheart Features & Benefits
ADheart offers an extensive range of features that helps you to create outstanding creatives and spy on your competitors' campaigns. Here are the unique features of ADheart:
1. Search and Selection of Creatives
This feature helps you to search and select the most innovative ad creatives for your campaigns. It includes:
Selection of creatives: It allows you to search in a huge database of creatives which includes 1,107,732,400+ ad creatives, 2,545,000,000+ media files, and 358,000+ unique applications.
Deep Search Filters: With this search filter you can adjust your search results by links, texts, domain zone, domain IP, placement platform, media content format, the creation date of your promotion, and the total time and duration of your promotion.
Downloading media files: Now you can download any media files and creatives which includes photos and videos in high resolution, such as 2,545,004,100+ media files.
My selections: This helps you to add the highly desired creatives to your ad selection so that you can quickly access them for future use!
Creative statistics: This implies the launch date and time of your creative campaign.
2. Top Promoted Applications
This features offers the top promoted applications, which include:
Application Search: With this feature, you can search by name, and placement platform, for a specific period. It shows you a detailed report of creatives for the period, first experience, and latest appearance for a specific month. You can also filter by platform using both Android and iOS devices.
Top promoted apps: Get a list of the top promoted applications for a specified period of time with first and last appearance and updated details by the number of creatives used.
Sorting: You can also sort the application by first and lastest appearance date with updated details.
1. Application Analysis
With this spy tool, you can detailed analysis of the application, which includes:
Promotion Statistics: This helps you to get a detailed view of all the creative applications for a specified period of time. Moreover, you can also have detailed promotion statistics for the number of creatives per week, month, and total.
Promotion Dynamics: It shows the detailed analysis and statistics on the number of promoted app creatives on a daily basis.
Latest found creatives: Now you can quickly view the details of how your application is performing to get a better preview or idea.
2. Working with Creatives
This feature helps you to work with different creatives and boost your revenue like never before! This includes:
Media Download: With the media downloading tool you can easily download any image or video of a creative and view its preview.
Text Translation: Now you can easily translate any creative text into the Russian language with just a click of a button
Blacklists: You can easily add FB pages, any applications, or domains to your personal "blacklist".
Search from Creatives: It allows you to search for different creatives which lead to a specific domain IP. You can also search creative from the same Facebook page, the same application, or the same domain!
Geography of Unscrewing: This shows the countries which you can easily target by ad creatives
View Statistics: You can get a detailed view of when was the creative launched, the last time the creative was spinning, and the total duration.
3. Excellent Support
ADheart provides 24/7 support in both Telegram and email support. You can reach them anytime you want and get your issues solved within seconds! From our personal experience, this FB spy tool is really helpful and provides prompt support, especially for site issues or technical problems.
ADheart Pricing
Well, you must be thinking is this spy tool really cost-effective as they claim? Yes, absolutely! ADheart offers flexible pricing plans which users can easily view to decide and select the right pricing plan that suits their business model!
In fact, compared to other Facebook spy tools, they provide an extra level of benefits and you can start using the "Demo mode" by clicking on the option "register and try".
Let's see the ADheart pricing plans below and what are the features you are getting with each plan:
1. ADheart Monthly Plan ($53/mo)
ADheart monthly plan starts at $53 per month and gives you access to all premium features which are discussed below:
Offers unlimited flexible search from various social media accounts such as Facebook, Instagram, Messenger, and Audience Network for 1,107,732,400+ creatives.
No restrictions on any creative search results
Allows you to download 2,545,004,100+ creative media files
Provides you full access to the analysis of 358,640+ mobile applications and 57,933,700+ creatives for them.
2. Demo Mode (Free)
The demo mode is completely free to use and you can access it only after you complete the registration process. This plan has some limitations, if you want to access the premium features you have to buy the subscription plan.
Limitations on the number of search queries
Restrictions on the query results limit
No option to download creative
ADheart Pros And Cons
ADheart is an amazing Facebook spy tool compared to its competitors. Using this tool, you can get the most innovative ad creatives for your Facebook and Instagram campaigns. Here are the ADheart pros and cons that you must consider:
Provides built-in filters options that match your niche

Allows you to set any type of media content such as photo or video

Helps you to find the right creatives that suit your new creative options

Allows you to boost your traffic with profitable ad campaigns

Discover fresh ideas to promote profitable products

Enables you to download media files in high resolutions

Allows you to sort data by first, and last appearance with updated details

View promotion statistics for the number of creatives on the basis of week and month

Text translation option available

Helps you to display countries that are targeted by creatives

Affordable pricing options are available

24/7 customer support by email and telegram

Demo mode is available for free usage
Demo mode is available for free usage

Other social media platforms are not available
FAQs on ADheart Review 2023
Does Adheart have any free plan available?
Yes, the website has got a free plan called 'Demo Mode' available that you can use by simply registering yourself.
Who can use ADhearts?
The FB spy tool is best for Arbitrators, Marketers, webmasters, and dropshippers as well.
What application analysis features are available on ADhearts?
Promotion Stats, Promotion Dynamics, and the Latest found creatives are the tools available for application analysis.
Can I download media files or the ad creative using ADhearts.me?
Yes, you can download ad creatives using ADHeart, but remember if you wish to use them for your ads, the copyright issues are something you need to look forward to.
Can I perform searches based on ad creatives used on Facebook?
You can search for ad creatives from the same Facebook page, same application, or same domain and look out for all creatives that lead to domains on a specific IP. This as a result can help you get the best analysis across different parameters for ad creatives.
Conclusion on ADheart Review
To conclude with this ADheart review, you must be thinking about whether you should try this Facebook spy tool. The answer is YES!!
ADheart is an impressive FB spy tool that helps online businesses to boost their brand visibility like never before! If you are looking for a simple and easy-to-use ad spy tool then we will highly recommend you to get started with ADheart. The best part is you will get excellent customer support service at an affordable price.
Compared to other spy tools available on the market, ADheart is highly impressive with premium features and the level of transparency they provide. Another vital point is, the price of the tool is affordable for beginners as well. So, overall ADheart is a great choice for all levels of marketers who are looking for profitable Facebook ad campaigns to boost their revenue.
Thanks again, for reading this review. And if you have any queries, feel free to leave them in the comment section below! We are happy to respond to you all.