Are you an affiliate marketer or a drop shipper, trying to find the best ads spy tools in the market? Great! Because we have got you covered with all your spy needs right here.
But is it just a matter of searching a tool on different search engines and picking anyone randomly? It's wrong because you can get into the trap of several promotional claims and promises. Having said this, I do understand that there are a plethora of ad spy tools available in the market. And to help you not wander in oblivion, here is an in-depth review of some of the popular ads spy tools.
We would never suggest you a time-consuming and costly tool, especially if you are doing well in your business and don't have much time to spend. Hence to eliminate the hassle, let's understand what is adplexity and the ✅Best Adplexity Alternatives tools?
---
What is Adplexity?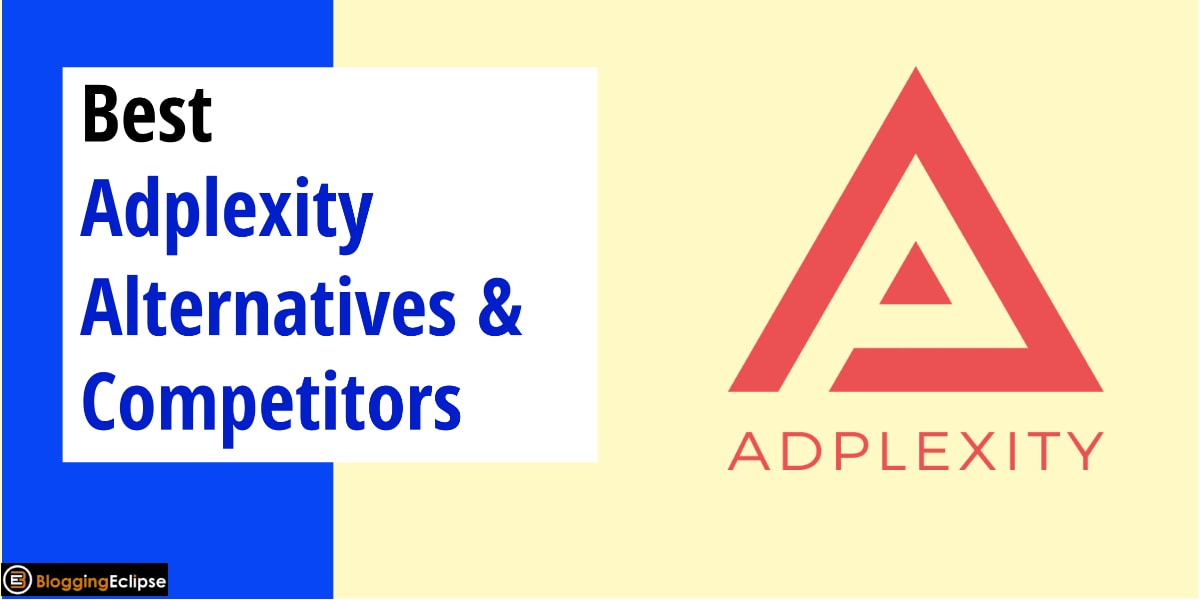 You might have heard a lot about the native ads spy tool Adplexity that helps users monitor and track their business. As advertising is one of the fastest evolving industries globally, it is essential to keep the tracks updated. And if, in any case, if one fails to get that competitive intelligence, even the most important campaign can turn into a big failure.
But what Adplexity does is it gives the user right and real-time insights into their competitors to save both time and money during any campaign. Adplexity follows a simple pattern of delivering comprehensive data to its customers to make better decisions. Here are some of the main benefits of the Adplexity tool, if you haven't used it yet:
It helps in finding ads from thousands of networks in a click.
Allows searching through keywords, affiliate networks, publishers, and advertiser's name
Analyses campaign from more than 32 countries.
Discovers profitable campaign from different traffic sources, be it desktop, mobile, or any other platform.
Allows users to download landing pages and other important pages in a zip folder through its interface.
shows campaigns that are targeted across popular devices, be it Android, Windows, iOS, or Mac computers.
But surprisingly, Adplexity is not just the only tool that offers all these benefits to its users. And more than this, the tool lacks some of the advanced features, which are available in the below given top 10 Adplexity alternatives.
---
8+ Best Adplexity Alternatives in 2023
The very first and best alternative to Adplexity we found on the internet is Anstrex. It is an excellent intelligence tool that helps its users be extra and in-depth knowledge of the competitor's ad campaign and gives push notifications. The tool comes with awesome flexibility through its features.
Users can easily snap a screenshot of any land page they found attractive while going through the website. Apart from this, businesses also get the opportunity to search multiple things through different filters available.
Also read: (Updated) Anstrex Review + Discount Coupon | (Upto 30% OFF)
Moreover, the tool provides its users with an offer to search reverse images, be it any viral images, reports, etc. Not every user will require all the feature; hence, Anstrex offers three different products, namely:
Anstrex Native
The Anstrex Native by Anstrex helps users to spy on their competitors to help you run more ads. There are more than 10 million ads available in this package from around 27 networks across 64 countries. Users can get the best of data and formats to understand and boost their business. Along with these, Anstrex Native also provides users with multiple ad options like landing page tools, multiple ads, etc.
Anstrex Push
The Anstrex Push by Anstrex is the best tool date if any business wants to excel in their advertising game. It helps users to understand what is working in push advertising and how top advertisers are getting visibility. It also gives a brief history of CPC and bids and access to cloaked papers. Just like Native, Anstrex also covers more than 3 million ads from 38 networks across 92 countries.
Anstrex Dropship
This is the best product by Anstrex, specifically for dropshippers. Any marketer can boost their income for free. Also, there are several additional benefits one can get with this product apart from dropshipping.
The tool is a full-fledged dropship supplier catalog having multiple searching capability for building multi-million business. The tool gives business support for Shopify, Bigcommerce, and WooCommerce. Apart from AliExpress, there are several other extensions available in the store.
The tool also provides an ultimate offer of 50% Commission for the new sign up procedure for the first month and a 25% Commission for the rest of life. Most popularly, market dealers, direct sales marketing, grand advisors, bi content creators use this tool.
Pricing of Anstrex
The Push-only pack- $79.99 per month.
The Native only package- $59.99 per month.
The Push + native plan- $124.99 per month.
Pros & Cons
Pros
Supports a large number of networks for ads and countries.
2 days money return policy.
Easy installation and configuration
Highly-economical pricing
Simplified navigation because of the well-organized dashboard.
Cons
There is a sheer volume of data available for users that can confuse them throughout making decisions.
---
Adbeat is in our second top most alternative of Adplexity due to several reasons. Being a comprehensive intelligence platform, the tool displays ads by crawling through millions of pages via detecting, analyzing, and processing.
Users can access more than 8 million advertisements each day, as the data is refreshed after 24 hours. Moreover, more than 40 data centers of Adbeat give the best of information via intelligent crawlers. The tool also covers roughly hundreds of services to collect supreme ads. Once the user has received the right amount of data, they can simply convert it into a file and start with the decision making process. The data gives detailed insight into all the required information. Adbeat also gives comprehensive information about competitors and their profitably running landing pages to help you get more conversions.
Apart from all these, any user can run successive campaigns through the best use of the tool. Usually, Adbeat covers four types of devices – mobile, desktop, etc. The tool also offers access to digital ads of all the competitors to analyze. Hence one can easily grab the traffic sources and learn where to publish and run ads the next time!
The tool is popularly used by a lot of agencies to grab clients and manage customer satisfaction numbers. Adbeat provides them and their business more value so that they can buy networks quickly. Adbeat is also available for free, and in the free version, one can also do a lot of research, but to get the best out of the tool, we would suggest you buy it!
Pricing of Adbeat
Adbeat doesn't follow any complex pricing, and that's quite a good part. All the features are included in a package that can be bought at a heavily discounted price using coupon codes. Usually, the price is $249.00 per month for just a user.
Pros & Cons
Pros
Best search functionality.
Huge range of networks and displays available.
Even the complex data are expressed in the easiest way graphically and by numbers.
Easy to use.
Cons
As compared to all other tools offering the same features, we find Adbeat to be a bit expensive. Hence, we won't recommend this for beginners.
---
Yet another best alternative to the Adplexity tool is WhatRunsWhere. This tool helps users build their professional profile and can create profitable digital strategies. The tool is popularly known as a comprehensive ad spy tool and intelligence tool.
Moreover, WhatRunsWhere helps users build dollars by making sure they use the best pictures and text in their ads. Other than all these benefits, WhatRunsWhere gives its users access to powerful analytics of data. This data includes desktop displays, mobile display ads, ad views, etc. WhatRunsWhere has a network of over 5 countries from across 500 networks. The major countries include Canada, Australia, the USA, UK, and many more.
Pricing of WhatRunsWhere
The basic pack- $299 per month.
The full-coverage plan- $399 per month
If you own a large business and want a customized plan according to your necessities, you can directly contact the customer care team. The team will ask about your requirements in detail and entail you a package with the best possible discounts.
Pros & Cons
Pros
Detailed data from across five countries to boost ad views.
Demo video provided to help users access the tool without any problems.
Several filters and options available to help users get filtered and exact information.
Different filters for affiliate marketers to run their ads successfully.
Cons
Expensive service as compared to all other tools
The tool covers data of just 5 countries in the entire world.
---
PowerAdSpy is the most powerful and popular alternative to Adplexity due to several reasons. The tool is highly flexible to use, but one can also go a long way and explore different things quickly. Users can social media live content and past ads, whether of Instagram, Facebook, Google, etc., easily with PowerAdSpy.
Competitors play a major role in any business, and with PowerAdSpy, you as a user can follow or take insights from their campaigns. You can also strategize your future steps accordingly. Through this tool, businesses can easily attract more customers within a quick period of time with eye-catching ads across the globe. Users can also search the domain, fan page, winners, etc., with PowerAdSpy.
60% OFF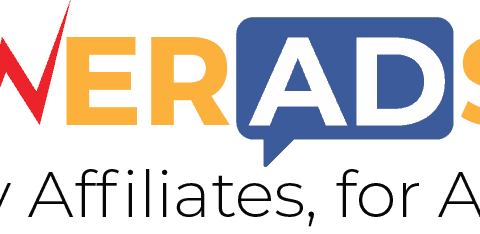 PowerAdSpy Black Friday Deal - 60% OFF on all Yearly Packages
To make the landing page more attractive without investing much time, users can add demographics within the tool. Moreover, to grow the business, the tool provides integrations with popular stores like WooCommerce, Shopify, etc. Can show you the exact funnels which can target the audience. This software is one of the first and largest software worldwide, which runs social media advertisements; approximately 50 million ads were listed in over 20 countries.
Also read: (Updated) PowerAdSpy Review + Coupon Code (10 Days FREE)
Pricing of PowerAdSpy
The Basic plan – $49 per month
The Standard pack- $99 per month
The Premium package- $149 per month
The Platinum plan- $249 per month
The Titanium pack- $299 per month
The Palladium plan- $349 per month
Pros & Cons
Pros
Free Trial available
No technical knowledge required to use the tool
The information available from across 15 countries
Can easily spy data on multiple platforms
Cons
No guidance for beginners available; one has to dig a lot to get the results.
Overpriced according to the feature it provides
---
SpyOver is a competitive ad spy tool through which users can monitor and analyze their services. The tool has data from more than 50 countries, along with approximately 5.5 million ads across networks. Moreover, the tool only provides users with data on new and trendy products in the market.

SpyOver works on the impression a campaign or ad might have got in a particular period in any country or location. Also, it looks after the data of mobile or desktop. Other than this, the tool also allows users to download landing pages just by a click and analyze the overall competitors' online.
To excel in the business, the tool provides users with extensive data on important aspects. Hence, one can improve the existing profitable bundles based on the creative data obtained from SpyOver. As a result, one can save both their time and money throughout the process!
Also read: SpyOver Review + 20% Special discount coupon
Pricing of SpyOver
The tariff professional plan – $149 per month
The tariff corporate plan – $299 per month
Pros & Cons
Pros
Extensive data available from across 15 different networks
Easy downloading of ads features
Effortless filtering of data to get accurate results
Cons
---
AdSpy is a popular Facebook and social media Spy tool having a larger database of ads. The tool is very powerful compared to its competitors because it has an unparalleled array of data from across the world. AdSpy is popular in more than 150 countries.
The tool provides its users with the best data from popular advertisers that are innovative and have a larger reach. Adspy has more than 88 million ads that can be accessed by any type of user. Hence, In this way, one can easily search and grab the global trends without wasting money on testing.
Also read: AdSpy Review: $150+ $75 OFF Coupon [Best FB Ads Spy Tool]
$150 OFF
$150 AdSpy Coupon (Get $50 OFF on First 3 Months)
Pricing of AdSpy
Adspy comes with the best simple and fair pricing among all the other websites mentioned in this list. Users can enjoy the extraordinary features of the tool by just paying $149 per month. Also, when used coupon codes, the tool can be availed at a 75% discount!
Pros & Cons
Pros
Easy exploration of trends and ads from the world to make quick progress and innovation
24/7 customer service available.
Easy search of ads through keywords, trends, affiliate IDs, location, and device type
Cons
More features can be added because the competitors' have a lot of extraordinary ones.
Not apt for large businesses
---
Native Ad Buzz ranks the list of top 8 Adplexity alternatives because of its features and flexibility. Users can easily use this tool to run their business successfully, wondering how?
There are many competitors' data available; hence, one can rely on their strategies and build a unique one for themselves. There aren't many struggles required to run this tool. It's easily accessible and gives results within minutes.
Users can search through specific keywords to get the best results. One can even save their favorite campaigns and ads within the tool to watch later. One can use filters to get specific results like the type of mobile devices, etc. Hence, practically speaking, there won't be much hard work required from the user's end.
Pricing of Native Ad Buzz
The Standard pack- $47 per month
The Pro plan- $97 per month
The Pro annual package- $575 per month
Pros & Cons
Pros
Easily library creation available to store all ads and campaigns
Ad filtration available according to the type of devices like desktop, laptop, tablet
Cons
Trial Period of only 7 days
Later to the trial period, $7 per day
---
AdSector is our ninth-best alternative to Adplexity, and it's surely the best one. The tool allows its users to download landing pages, build their target interest, and filter their results. With the AdSector tool, users can also easily design filters for their ads and just by a click as the tool has an intuitive interface.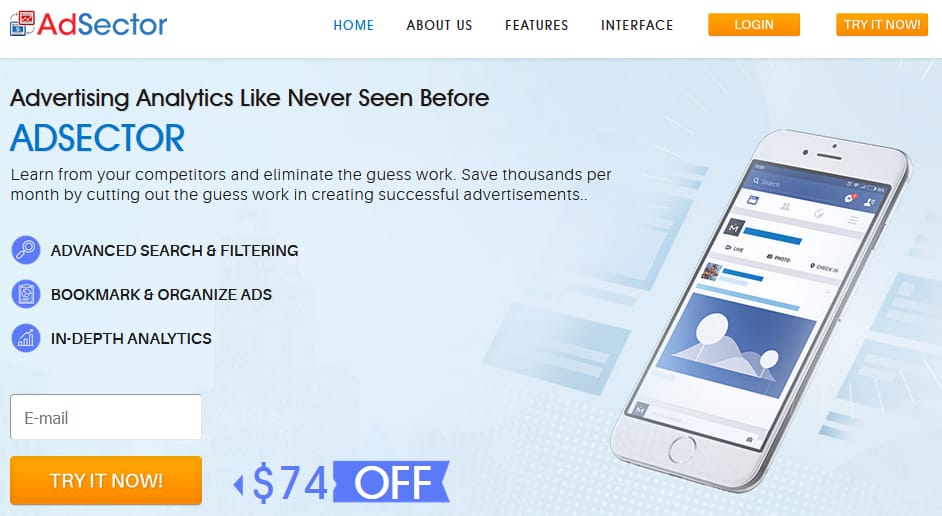 Moreover, the tool gives users access to the best affiliate network and tracking system. In this way, one can easily target their interested audience clearly and grab the best results. To attract customers instantly, users can also use different pictures within the tool. Hence, using any features gets a lot easier!
Pricing of AdSector
The AdSector website mentions that their pricing is according to their security, and we are quite much in favor of this. The usual price that can give you access to use this platform is just $249 per month.
Pros & Cons
Pros
A hefty amount of features offered as compared to competitors
Highly competitive intelligence used to spy.
Detailed information available of the competitor's website to target well
Easy retrieval of information, whether by screenshots or zip files.
Several search choices and filters available to get the best information
Can view cloaked money pages
Straightforward interface
Cons
A bit costlier
Lacks essential information about the owner of the ad
---
🌟 Adplexity FAQ
✔Is AdPlexity accurate?
It is one of the powerful ad intelligence which is available with complex algorithms. AdPlexity allows you to spy ads on the web. It shows real-time data that is accurate and reliable that saves your time and money.
✔Does AdPlexity offer any free trial?
AdPlexity does not provide a free trial to its users. But if you do not like its services after sign up, you can request a refund within 24 hours.
✔Which ad networks does AdPlexity support?
✔sWhich is the best AdPlexity alternative?
There is various AdPlexity alternative available in the market that offers multiple features. Check the above-mentioned list of 9+ best Adplexity alternatives.
---
Conclusion: Which is the Best Adplexity Alternatives in 2023?
These 10 Adplexity alternatives will not only help you to keep an eye on your competitors' strategies, but also some of them offer the most accurate real-time data. With these tools, one can start an ad campaign without spending extra time and effort on any person.
Answering why we suggest you buying the Anstrex tool is its highly competent features and the pricing itself. Our second suggestion is the AdSpy tool because it's best for both dropshippers and marketers. Both the tools are priced reasonably and can offer results beyond your expectations in the best possible way. Also, do try other tools, because each business is unique and has different requirements.
Choose Wisely!!🙂