Tracking your affiliate campaigns is essential if you want to succeed in this industry. If you don't know which ads are top converting, You can't make money…
Affiliate Marketing is all about tracking, analyzing and optimizing.
You must be working with multiple affiliate networks and brands. Imagine if you are running a campaign 24/7, and its not converting at all. How will you know?
You have done 80% of your affiliate marketing hard work if you can track your campaigns and conversions accurately. There is so much affiliate tracking software in the market today. Finding the right one is daunting and full of confusion.
You might even end up buying any tracking solution without knowing the needs or whether it is helpful or not. Choosing the wrong tracker with bogus features will waste your money, resulting in bad output.
To save your money and time, We are here with ✅AdsBridge Review, comparing its features and plans. This article will help you decide the importance of affiliate tracking software and whether AdsBridge is your destination for an excellent insight tool.
---
Detailed AdsBridge Review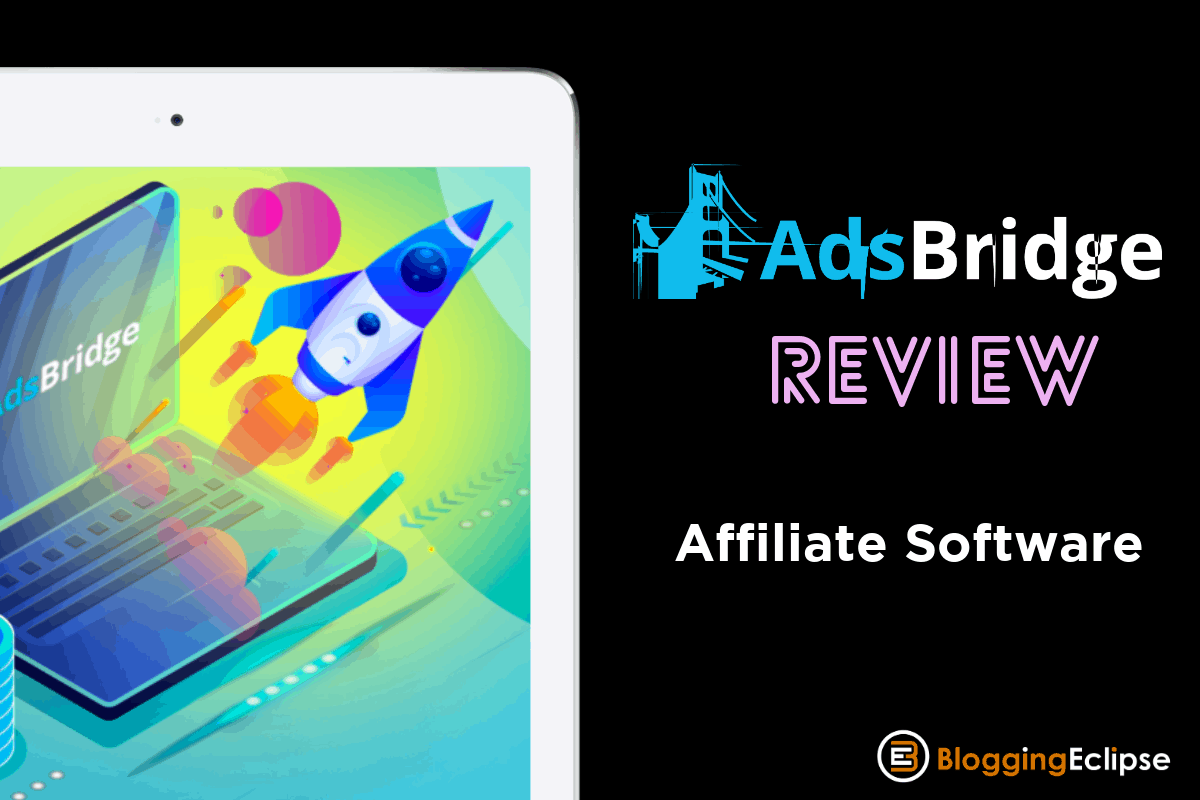 AdsBridge is an exclusive tracking tool that offers a single platform to smartly track, manage, analyze, optimize, and monetize your affiliate campaigns.
So we can say that an affiliate tracker works as a bridge between you and the traffic in affiliate marketing.
AdsBridge has 4+ years of experience in the affiliate industry, which is not much to impress everyone, but above that, it delivers top-notch features. It has 7+ data centers powered by AWS that ensure the fastest redirects. It boosts your ROI and gives your hands on everything you need in a compelling tracking software.
With high-end, flexible, scalable servers, traffic is delivered through the shortest routes, with the lowest click loss.
Activate this special AdsBridge coupon code that helps you to save 15% off on all its annual plans. Limited time offer.
Full access to all features.
Use this AdsBridge promo code that allows anyone to enjoy all the features of AdsBridge free for 14 days.
50,000 Visit/Month
With a global coverage across 160+ countries, AdsBridge has become the unbreakable bridge for many marketers and media buyers, providing the highest technology services with uptime support when needed. You can reach 100+ networks integrated within the tracking software at one click.
---
Why choose AdsBridge?
AdsBridge is an all-in-one affiliate software that helps track, manage, analyze, optimize, and monetize your affiliate campaigns via one single platform. Its USP is an in-built landing page editor with HTML and a visual editor that lets you quickly edit and replicate landing pages in minutes.
If you are willing to get effective in managing your affiliate tracking activities, then this is the place that brings to light what you need.
All premium features are offered to everyone and are not based only on pricing. This is one compelling reason to prove how AdsBridge increases the profitability of your business.
Every affiliate's dream is to keep track of all the activities and face the challenges with heads up. AdsBridge leads from the front to face any challenges expected from a fantastic tracker.
It's not easy to choose good affiliate tracking software, but AdsBridge provides a set of competitive tools that you can't say no to. All the functionalities meet the modern ways of tracking that every affiliate is in search of. By choosing AdsBridge, you can monitor your traffic quality directly and optimize it as per your need.
Set of tools offered with any plan includes:
Do you want to switch from your existing tracking service provider to AdsBridge? It's free with no hidden charges. You are eligible for a 50% discount on any plan for the first month, not just a free transfer. Your affiliate manager at AdsBridge will guide you for a successful setup for any complicated settings that you find exhausting.
You get a 14-day free trial to start your journey without any pain on spending from your pocket. Get access to all the functions free for 14 days, and decide to continue your affiliate tracking journey after that.
---
Features offered by AdsBridge
AdsBridge offers a set of tools ready to face any challenges required by an affiliate for effective tracking software. Take a look at the features incorporated in any subscription plan.
AdsBridge is completely hosted on the Cloud, and hence you do not need to host any of the files on your servers. The complete infrastructure is hosted on AWS, making it blazing fast and stable. Redirects are pretty fast on AB.
The main characteristic feature of any tracking software is to collect the data and represent it in the form of statistics that could be graphical or tabular. AdsBridge shows statistics in real-time with options to edit the reports or filter using any parameter.
It allows you to view the reports in different time zones and helps you make decisions on upgrading your performance.
AdsBridge statistics has 4 sections: global report, conversion report, edit conversion and manage reports.
This report helps check the complete report for conversions of each campaign. Information from the postback link placed on your affiliate network can also be checked.
Global Report: In this, users can view reports for all the campaigns, affiliate networks, offers, traffic sources, and landing pages by marking the checkboxes and setting the filters on a panel on the right-hand side of the dashboard. After viewing the reports, you can download them in CSV format.
The two features included in this section are upload conversion and update conversion. With upload conversion, you can upload conversions by entering Click ID manually. If your conversions weren't tracked by pixels and did not reach the AdsBridge system, then this might be helpful.
Later you can check the stats for the upload conversions that were missed. If your conversion comes with an incorrect payout, you can edit the conversion and fix it by using an updated conversion feature. You can easily update the conversion and get payouts by loading the correct payout values.
With this feature, you can create your own report template by deciding the checkboxes once and then later choosing it from the drop-down menu. This saves your time and speeds up displaying the stats data.
To monetize your traffic effectively, you need to customize reports with the required filters and get complete statistics in real-time.
This feature from AdsBridge detects fraudulent activities like clicks, visits or conversions in real-time. This is simply artificial intelligence. Other trackers only follow a single metric for fraud activities. In contrast, AB follows several metrics, and when all the other metrics show high chances of fraud, only then it counts the activity as a fraud.
AdsBridge checks the following metrics for fraudulent activities:
Frequent events, data-centered, unknown time zone, misleading language, unrecognized devices, fast clickers, library robots, unrecognized user agents, without referrer, and outdated operating system.
The anti-fraud system is needed due to quality analysis done by 10 metrics, which saves your time manually analyzing traffic on each parameter. No additional tools are required as you get TDS, tracker and anti-fraud at one place, bot setting based on filter delivers exact information.
Asbridge allows you to hose unlimited custom domains to use multiple domains for different campaigns. Most of the time paid ads on google and Facebook block landing pages by domains, So you can easily use different domains. It also offers SSL on all custom domains.
This is indeed the best option and is common among other affiliate trackers. By protecting referral parameters or using meta-refresh, You can run N number of ads and PPC campaigns. Your referral parameters of google or FB won't be passed to your final money page. It is keeping you safe from advertisers.
Automation conversion Caps: While most affiliate networks have a cap on each affiliate campaign, it does not cross advertisers' maximum budget.
However, some traffic sources do not have a capping facility when promoting. Hence Adsbridege helps you edit the cap of each campaign, So once the target is reached, it will stop automatically or divert traffic to another offer.
One of the essential features of an affiliate marketer is its ability to track conversions. If you don't want to spend money on bot traffic, you'll need to find another way to get visitors. You can use this feature to save some money. You can also create as many redirects as you like based on your chosen criteria.
You can fully access REST API on all its subscription plans.
AdsBridge offers four different ways to create and edit landing pages: You can either use an empty page where you design them yourself, select one of their pre-designed templates, upload your own HTML files, or create multiple landing pages.
Create batch campaigns using landing page templates and offer forms. You can use this tool for deleting and replacing selected offers and landing pages from all campaigns and flows at once by simply clicking one button.
Another feature which is very useful too. It allows the user to update the traffic price or missed conversion prices manually, so they're more accurate.
If you purchase a domain through AdsBridge, it'll give you a free SSL certificate for no additional charge! There isn't any other tracker out there offering such an amazing chance!
With this new feature, you'll be able to monetize any remaining traffic from your site easily. You'll be able to hold an infinite number of offers, all under just one link!
Automatic campaign optimization
It helps increase the performance and efficiency and determines which method to use for distribution.
When protecting your domain name, use an SSL certificate and secure your web server by using its free SSL Certificate for custom domains.
Clicking the "Tree" button from the right sidebar lets you easily create a multi-level table. You'll be able to select from among three different levels of detail for each category. To get a detailed analysis of your stats.
You can add any number of custom domain names (including subdomains) for tracking purposes.
AdsBridge has an organic traffic tracking system that sends traffic without redirects and gets all the data via tokens without breaking any traffic source rules. Then this feature comes in really useful when tracking different sources of traffic. With AdsBridge, get this feature integrated with your account for easy access.
Set up split campaigns for different paths within your ad group to get their own unique audience.
AdsBridge's support team is available 24/7 and quickly responds to user queries.
Set custom notification settings for events such as conversion caps, visit limits or click limits. You'll receive an e-mail or text message notifying you when someone has accepted your offer.
This feature is useful when transferring conversions from a tracker to the traffic source.
You can create flows for each campaign, so they're optimized at once instead of one by one.
---
AdsBridge Traffic Monetization
This is a new feature in Adsbridge that does automatization of the traffic distribution process (Smartlink). It's an effective way of monetization with improved profitability, time-saving searching for the best offer. Traffic monetization or smart clink can be set in just one click. Try it out
Read More: Top 11 Best Dating CPA Networks in the world
---
AdsBridge Pricing Plans
AdsBridge plans are cost-effective and you can save up to 15% off on annual plans. They offer four plans Starter, Professional, Advanced and Business.
Payment methods supported are MasterCard, Maestro, VISA, American Express, PayPal, Web Money, epayments and JCB.
Starter Plan starts at $29/mo. if billed monthly and $299/year if billed annually. This plan offers 100,000 visits per month, free clicks and conversions, $0.07 over limit 1K visits and core functions for tracking campaigns.
The most popular is the Professional plan that bills $80/mo. or $899/year. With this plan you get 1,000,000 visits per month, free clicks and conversions, $0.04 over limit 1K visits, Smartlink, Dedicated account manager, unlimited domains and SSL, unlimited landing page editor.
---
Why should you buy an affiliate tracker?
There are too many useful and not so useful programs, websites, and products out there for us to be able to keep up with them all. It's very easy for people to get overwhelmed by choice.
After all, every tool is worth the money you're sure to spend and not just throw away. But the bottom line is that affiliates need trackers for various reasons, but one of them is because they help affiliates understand their performance better.
A good tracking tool should be able to track the performance of your ad campaigns, optimize them, and effectively manage your ad teams or other publishers. You choose which tracking system to use by considering factors such as cost, ease of implementation, and the number of options available for customization.
With a tracker, marketers can run A/B tests of their ads, play with moderators from any popular source, and get access to all available analytics info.
---
🌟 Adsbridge FAQ
Which affiliate networks are directly supported by Adsbridge?
Most of the top Networks like Adcombo, Leadbit, bitter strawberry, clickdealer, MaxBounty, and over 100+ networks are directly integrated. Custom affiliates networks can be easily integrated using global or offer postback/pixels
Does Adsbridge help in PPC Campaigns?
Yes, Adsbridge is built for tracking and optimizing PPC campaigns of Google, Facebook, etc on a click? You can add any traffic source. It also gives conversion tracking on google Ads.
Can it filter unwanted traffic?
With Adsbridge you can conduct A/B tests of campaigns, filter bot traffic and view all possible information about your traffic.
What payment methods does AdsBridge support?
The user can use PayPal or a credit card to purchase any subscription plan of AdsBridge.
Can I get any active AdsBridge coupon code?
Yes, Grab above mentioned AdsBridge discount coupon that helps you to save a flat 15% off on its annual plans.
---
Final Words
I hope this AdsBridge review helped you to understand all its features in a better way. The service is worth a try, and it's cost-effective for other affiliate trackers in the market. The affiliate industry is full of trackers and intelligence tools. Hence it's better to stick with the smart one which not only costs less but also offers competitive features
Affiliate marketing is incomplete without affiliate trackers. If you want to scale your earnings in this industry by media buying or PPC, a Tracker is necessary to manage, optimize, and increase ROI. Without a tracking platform between your traffic source and advertiser, you won't be able to see which traffic is the best performing.
Have you used Adsbridge before? Do let us know your affiliate marketing experience with trackers. Share your suggestions in the ents section below.🙂
AdsBridge Review
AdsBridge is a one-stop affiliate marketing platform that simplifies ad marketing and management. It's designed to help you hit the ROI numbers you want, giving you control of your business so you can focus on what matters most. With AdsBridge, you can launch a winning ad campaign that can effectively target a wide variety of audiences and maximize your revenue.
Pros
7 Datacenters worldwide.
100+ Integrated network.
It offers a free trial.
Excellent customer support.
AdsBridge – Affiliate Tracking Software
Start your AdsBridge free trial today & scale your business.