Advertising campaigns on any social media platform are challenging. To hold users ' attention on social platforms, one has to get their message across in the most concise way possible.
To create the perfect Facebook ad for your particular niche or industry, you need to perform a detailed study of which ad formats and types of copy work best. Understanding the marketing strategy of your competitors to form an effective campaign for your product is the general idea behind the creation of spy tools.
Studying advertising strategies is a constant process, given how the Facebook ad space is constantly evolving and becoming more competitive. Having a powerful tool to gather data on the ad performance of other players in the market is an essential requirement for you, regardless of if you are a veteran Facebook marketer or just entering the industry.
Advertising spy tools are perfectly legal ways to get some insights into how your competition is advertising its product and the social engagement their campaigns are getting. These tools' vast database can help you find the best campaigns and ensure you always make informed decisions regarding everything related to your campaign. Competitive intelligence of how companies engage in audience targeting can help you get a lot of visibility and sales.
Ad scraping is detrimental to Facebook's commercial interests, so many tools have been blocked from the platform. Today, we will compare two platforms that Facebook recognizes and happen to be some of the best social ad spy tools in the business. Read this comparison ✅AdSpy Vs. PowerAdSpy on functionality, database, ease of use, and pricing so you can decide which tool is best suited to your needs (and read till the end to see our recommendation.)
---
AdSpy Vs. PowerAdSpy 2023: Overview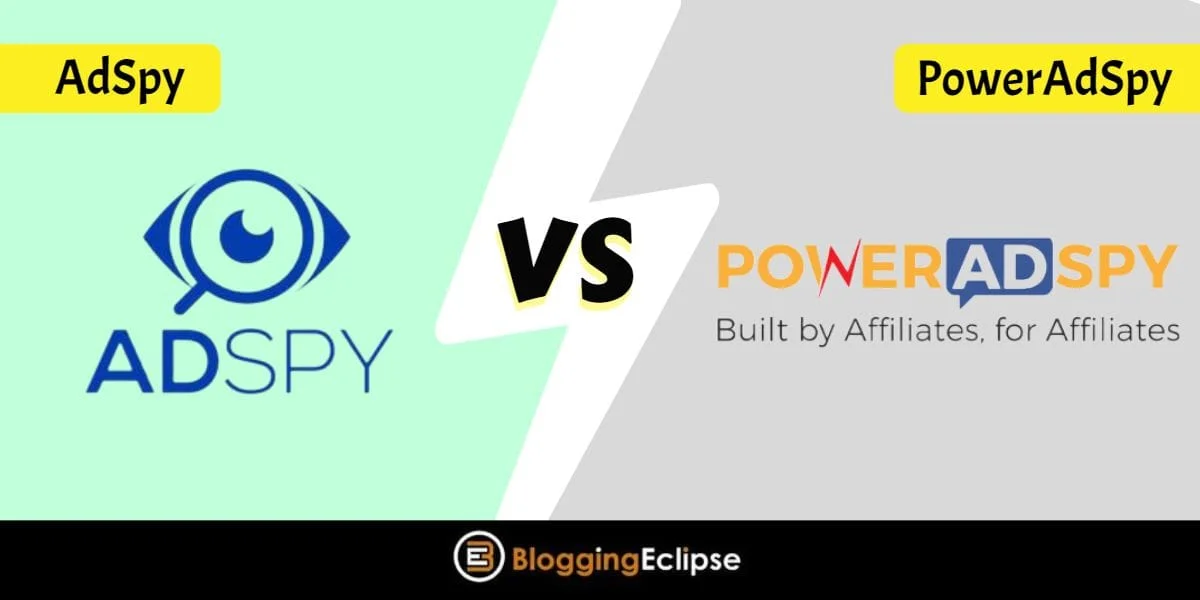 In-Depth AdSpy Review
AdSpy is one of the oldest intelligence tools available to those interested in adspying. This tool has reached the heights of the AdSpying industry because of its powerful search algorithm.
A common issue with any ads spy tool is that even if they have an extensive database, it is impossible to get any value because there is no way to find out the essential data. You can quickly scour through the massive database using their search function to isolate your competition's business strategies and make your campaigns and business more efficient.
An affordable tool with a database across 700 million ads in nearly 200 countries from over 13 million advertisers is the easiest way to describe AdSpy. These data exercises back the fasted growing ad platforms in the world. Understanding which ads work on social networks and navigating that vast database is vital for creating a successful advertising campaign.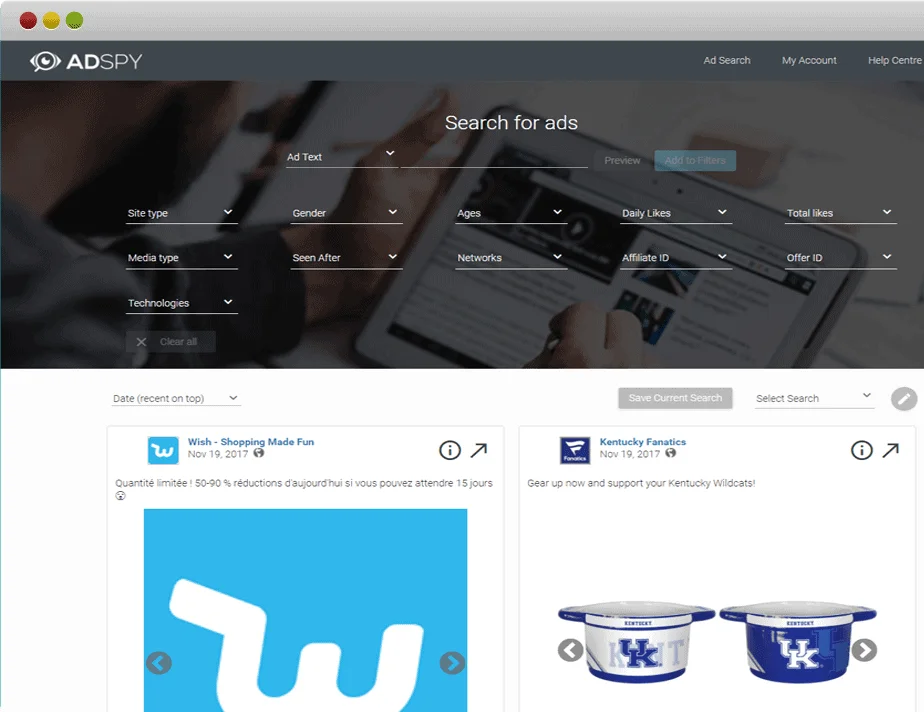 The specialty of AdSpy is the extensive search and filtering features you get the ads you wanted to study in a few clicks. Go beyond tracking a few keywords every day and use their unparalleled search functionality to search through the data by URL, page name, ad text, and user reactions in the given ad.
$75 FREE
Free Extended Trial on Adspy with $75 Discount [2023 Offer]
The foundation for your success is laid in the massive database which comes with AdSpy. The unlimited search with options for search filters can effectively create your campaign and run it for you. Social media ads other than Facebook are also available on the platform from the search mode, so you can spread your campaign across multiple social networks without buying any other social ads spy tools.
Also read: AdSpy Review: $150+ $75 OFF Coupon [Best FB Ads Spy Tool]
---
What are the Benefits of Purchasing AdSpy?
Find new winning campaigns every day.
Find the most critical ads in your vertical and their format and performance instantly.
Discover new profitable products and how to market them on social ad networks.
No campaign testing software is required.
Keep an eye on your competition.
Isolate the best markets for your advertising and product category.
---
Key Features of AdSpy
#1. Demographics
AdSpy can track the social interactions around any ad and divide the data by age, gender, and location because of its unparalleled contributor network.
The regions and markets where the top players in your product category are dominating and how your chief competitors are working there are also available, so you can combine the demographic data of that or a new region to expand or focus your advertising efforts.
#2. Enhanced Basic Search
AdSpy has no restrictions on search filters in their search feature. You can search by text used in the ad, the number of likes it got, the type of media used, advertisers' names, and so much more. The search results can be filtered by user reactions, last seen, how long the ad ran for, among others. You can include additional search criteria like site type, ad text, media type, seen after, affiliate marketer ID, affiliate networks, daily or total likes, technologies, and offer ID.
#3. Search Through User Reactions
The user comments on the ads and the keywords you are looking to rank in can be searched through the social media users' reactions tab. This keyword search facility can also display proportions of good and bad feedback.
#4 Huge Database
AdSpy, being one of the oldest players in the industry, has the largest pool of data for you to stay ahead of your competition. As a dropshipper, affiliate marketer, social media copywriter, you are always in the know of the next high-value product or the top hot affiliate offers or the ad formula which will dominate sales tomorrow.
---
How can AdSpy help Affiliate Marketers? (Goldmine🥇)
The ads around specific affiliates, offers, or even the ads put forward by entire affiliate networks can be tracked using AdSpy. If you get a profitable offer, you can search for it by ID and look at how rival marketers are advertising it. You can also harvest data straight from the rivals' landing page.
---
AdSpy Pricing Plans
You can get AdSpy's entire database and range of functions at $149/month. This is more cost-effective than most software as the range of functions you get to navigate the vast database is above industry standards at a much more affordable price to all kinds of users.
(It is to be noted that this is an introductory offer, so you should subscribe to the service now to claim the tool at this price)
A 24-hour refund is available if you're not satisfied with the product after purchasing it.
$150 OFF
$150 AdSpy Coupon (Get $50 OFF on First 3 Months)
Their customer support team is very active, and you can quickly get a refund by contacting them by email or phone.
---
In-Depth PowerAdSpy Review
PowerAdSpy is another tool for spying on your competitors and gathering data on the top-performing ads in any vertical. The specialty of PowerAdSpy is that one can make sense of their database, even if it is not as complete as others, such as AdSpy, at a much faster rate.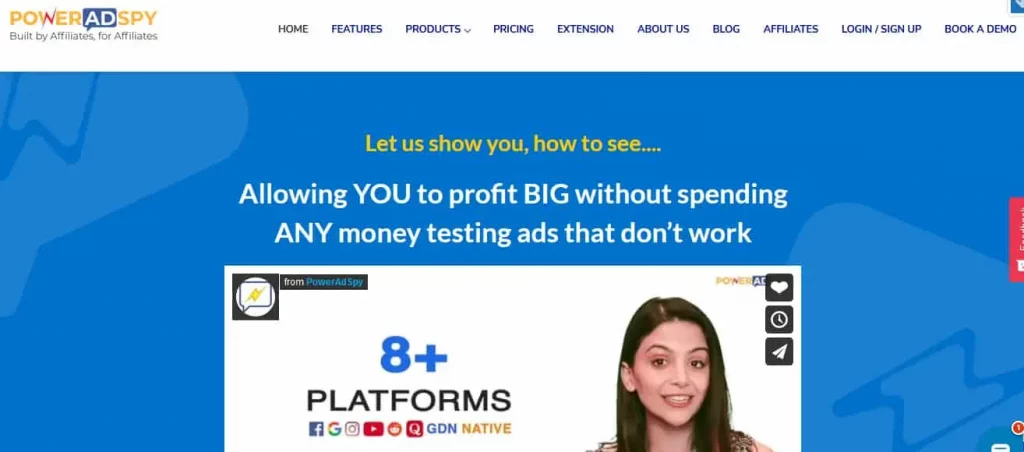 Every ad part of the PowerAdSpy database is sent to data processing servers in PowerAdSpy. This information is collected to process it into the data points that are valuable and useful to different kinds of users.
With PowerAdSpy, you can get a holistic amount of data for any ad in an easy-to-understand manner. This includes your target group's interests, their demographic and geographic details, and how your competition approaches this particular group.
60% OFF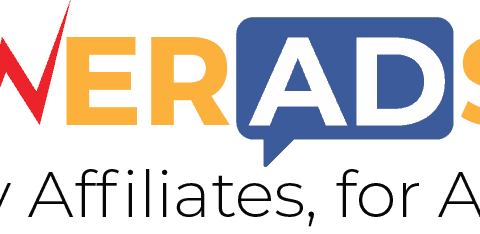 PowerAdSpy Black Friday Deal - 60% OFF on all Yearly Packages
10 days FREE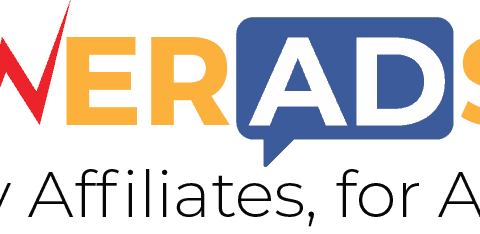 10 Days Free usage [Special Deal]
Spy on your competitors FB Ads-free for 10 Days [Premium plan] NO credit card required
Spy on your competitors FB Ads-free for 10 Days [Premium plan] NO credit card required
Show Less
You can also see the social interactions around every ad and search specific ads by advertiser, keyword, lander, tracker, and your competitors' domains. The capability to spy on actual live ads and add them to your bookmarks to track their performance in the future.
Also read: (Updated) PowerAdSpy Review + Coupon Code (10 Days FREE)
---
Benefits of PowerAdSpy Over its Competitors
Search for ads by domain or niche.
The tool has a higher ease-of-use factor than most social ads spy tool(s), and the filtering options are straightforward to understand, even for a beginner.
Specific features dedicated to helping you create the most effective marketing and advertising strategies.
Data is scraped directly from ads on similar campaigns helping you monetize your business much faster.
You save a lot of time as their huge database is easy to navigate.
Track your competition's creatives, marketing angles, and ads.
It provides a particular value as the tool is available for relatively low prices with data extending across 15 countries with trackers on 6 million ads.
What is Competition Spy on PowerAdSpy?
It is dedicated software that helps you monitor your competitor's campaigns. This data is all-inclusive as it includes information on creatives, ads, angles, and landing page URL's contained in a single dashboard.
---
Search & Filtering Options Provided by PowerAdSpy
PowerAdSpy is an intelligent tool meant to track advertising activity on social media networks. The data collection part is indeed a separate set of complications, but the good thing is they have provided a host of features to make it easy for users to use this data.
The target audience filter features include a database of ads filtered through by the target group's age, the keywords popular among them, their gender, the relevant ads that convert in that audience, and even their relationship status. You can even see the landing page properties of competitor ads to compare them to your current landing page.
PowerAdSpy has dedicated features for advertisers, including sorting through ads by the number of shares, likes, and comments they got and using them to create your own or model your campaign after the top juicy competitor campaigns.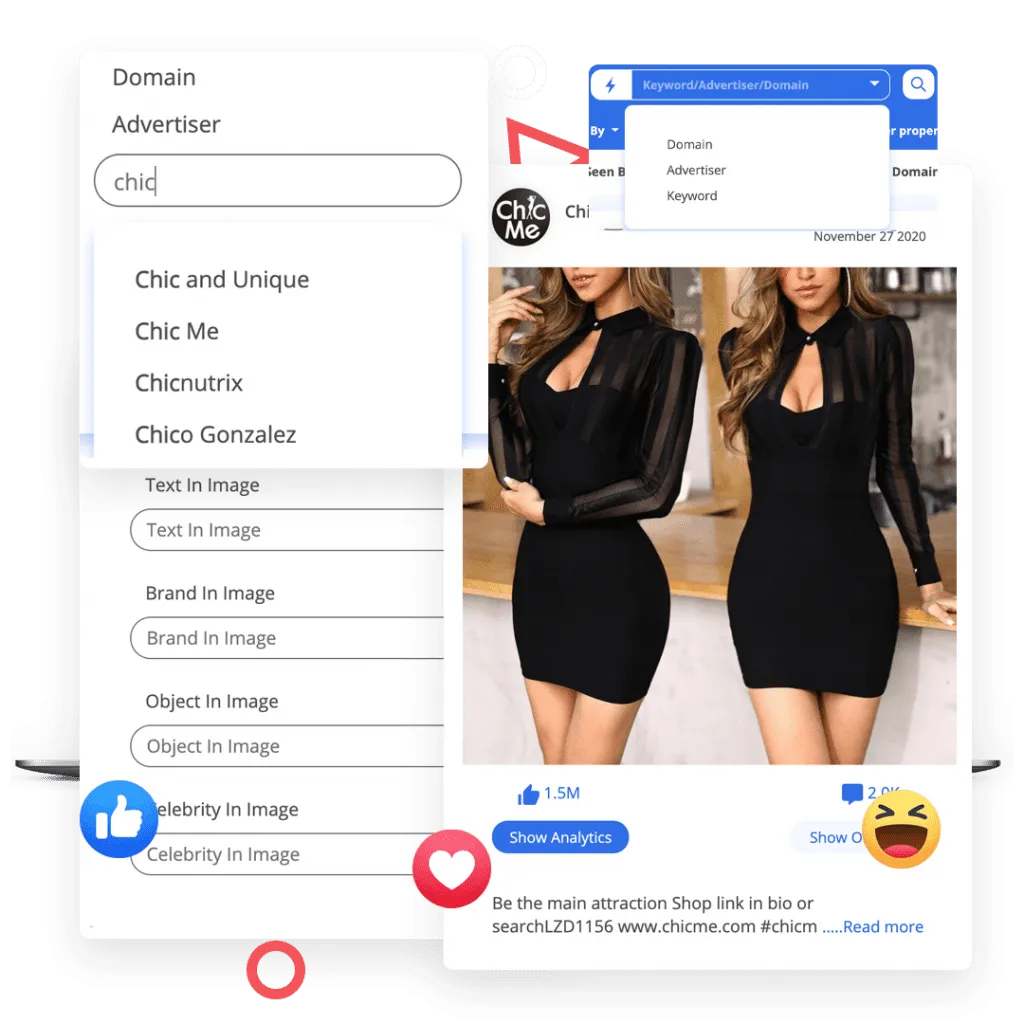 The sophisticated keyword search features help you scour the Facebook AdSpace for top-performing niches and keywords. In the User Suggestions section, you can check with the support team to get data on any profile you want, and the profile will later be added to the dashboard for future reference.
---
How are the PowerAdSpy Analytics Features in Comparison to Others?
You do not have to guess the engagement level of any ad ever again with PowerAdSpy. Get detailed social media engagement stats on any advertiser you want to. The target market segments, ad reach, weekly trends, and social engagement data are all available in one easy-to-understand webpage.
---
PowerAdSpy Chrome Extension
The PowerAdSpy extension is an entirely free-to-use tool that can help you get insights into any ad you see on your news feed.

It is infinitely convenient to use as the tool is integrated into your browser. Whenever you see an ad that you think seems interesting, you can instantly see its history and performance and adapt your ads as you see fit from there. As the tool is free, you can make the ads that will work with your audience for free with a bit of research. The moment you open your Facebook profile after installing the chrome extension, you can see the value the powerful features of an ads tool like PowerAdSpy brings to your advertising efforts.
---
PowerAdSpy Pricing Plans
PowerAdSpy offers a variety of packages which you should choose from depending on your need and experience in adspying.
Free Plan:
Available for free; allows you to do a hundred searches a month for data on six social networks
Basic Plan: $49/month
Keyword search, basic sorting options by newest, longest-running, likes, comments, and shares for Facebook
Standard Plan: $99/month
Extensive filtering options for both Facebook and Instagram data. It does not include data on mobile devices, sales funnels, and ecommerce softwares.
Premium Plan:$149/month
Includes data on ads on Facebook and Instagram with data on the text and video ads on YouTube. All Filtering Options available.
Platinum Plan: $249/month
All the features of Premium Plan with the addition of Google Ads data.
Titanium Plan: $299/month
Additional data on native ad networks and curated and on-demand data are available on native ad campaigns.
Palladium Plan: $349/month
The most exhaustive ad database access on PowerAdSpy with all the advanced filtering options of an intelligent tool. Contains data on Facebook, Instagram, Google, Youtube, Native Ads, Reddit, Quora, and GDN campaigns.
---
🌟 AdSpy Vs. PowerAdSpy FAQ
🤔What is AdSpy?
AdSpy is the #1 cost-effective & most extensive FB ads spy tool packed with unique features.
🤔What is PowerAdSpy?
PowerAdApy is an online social ads tool that is influential and allows you to locate the best advertisements running on all social platforms!
💰How much is AdSpy?
AdSpy price starts with as little as $149 per month, and you will have the key to getting inside your competitor's head, plus all the other juicy features that come with AdSpy.
🔥Is PowerAdSpy free?
PowerAdSpy is a free Facebook ads spy tool that helps analyze your competitors by providing advertisement intelligence.
😎Is AdSpy free?
Yes, you can use the Adspy tool for free, but it has limited functionality.
🚀What is the target profile in PowerAdSpy?
A target profile is a collection of information about a user that you want to spy on.
---
Conclusion: AdSpy Vs. PowerAdSpy | Which ad spy tool is the winner in 2023?
Affiliate marketing, advertising, and anything else which requires you to make sales are activities that become increasingly complex every day.
This is because more sellers join the market every day to serve an ever-increasing in complexity set of customers. It was easy to function on a barebones understanding of human behavior and a solid product in earlier days.
That is no longer the case today because the customer set does not act in standard ways, nor are the products you're looking to sell off a very traditional nature. The role of technology is undeniable and choosing the right technology is half the challenge of establishing a successful business.
In our AdSpy Vs. PowerAdSpy comparison, we notice that AdSpy reigns supreme over nearly any ad spy tool available in the market in overall value and functionality. The amount of data available to sort through at a moment's notice is exactly what time-conscious advertisers, digital marketers, and members of any competitive field want and need.
Easily the top ad intelligence tool available today, its wide range of features provides a complete solution for your advertising efforts, eliminating the need for any separate platform you would have to purchase alongside other software.
The wide range of platforms available on PowerAdSpy can be helpful for someone who is looking to market on many networks and regions at the same time. The considerable ease of use and the free plan are also ideal for someone who is just starting. If you're a new entrant in the industry, we would advise you to start using the free plan of PowerAdSpy and upgrade to AdSpy after you've gained some expertise navigating the data.
Understanding your competition is just as important as understanding your product's target users, so don't waste any time, join the adspying platform which appealed to you more, and study millions of ads to build your own success formulas.🤞🤞
Affiliate Disclosure: This post may contain some affiliate links, which means we may receive a commission if you purchase something that we recommend at no additional cost for you (none whatsoever!)