Are you looking for a big opportunity to knock at your door? Then my friends, this post on Affiliate Expo 2020 is just for you.
Welcome to the third edition of Affiliate Expo 2020, where you can kick start your affiliate marketing career. Affiliate Expo is a huge Italian event that focuses entirely on affiliate marketing and related specifications. In these first two editions, the whole event got a great response from over 1500+ participants.
Well, following bright minds is always an excellent thing for novices as it is crucial to stand out of the crowd and improve oneself with motivation all around.
---
Where, Who, How, and What?
Affiliate Expo 2020 will be held in Rome on March 27, 28 and 29 in the Mercure Roma West Hotel.
The entire event will take up three most important days of your life where you will be meeting 20 plus successful speakers.
These speakers will help you with every aspect of affiliate marketing, including the legal ones. Affexpo20 has partnered with more than 40+ brands to carry on their event in the most efficient way. More than five activities will be conducted on these three days so that the attendants get what they have paid for.
The sponsors and speakers will be selected carefully so that they can bring you the hard-hitting case studies and speeches with full concentration of affiliate marketing. In this third edition, the main objective is to become more international with the help of acknowledged sponsors, and affiliate Networks form all over the world. It is indeed the most significant and completely open event in Italy.
The event is for all those affiliate marketers who want to envisage their idea of being an unbeaten affiliate marketer. You will get all the updated information about the latest trends in the market and get acquainted with the connoisseurs who make handsome money online with affiliate marketing. Networking is what Affiliate Expo 2020 is all about.
---
Update: 10 Feb 2020 Press Release
AffExpo is working together to bring the best affiliate marketing experts in the Italian capital for three years. Adriano De Arcangelis, Mattia Scattolin, and Daniele Butturini are the main promoters of these three days of networking and case studies. The appointment is in Rome in the Mercure Roma West congress center on March 27th-28th-29th.
The participants of Affiliate EXPO 2020 are affiliate networks, affiliates and marketers, ecommerce managers, digital entrepreneurs, suppliers of services and tools for web marketing, startuppers looking for traffic sources, Communication and Marketing students. In general, the event welcomes anyone who wants to know the world of online affiliations and anyone who wants to keep updated about the latest market trends.
Affiliate Awards 2020
This year AFFExpo2020 is present the biggest Affiliate awards for best networks and experts in the affiliate marketing industry. The deadline for voting is February 29th, 2020 and everybody can vote via this special link forms.google/affiliateawards

The awards are scheduled for Saturday, March 28th, 2020 during the Affiliate EXPO 2020 gala dinner, which is included in the All-Inclusive and VIP packages and which can be purchased separately by the Basic and Standard participants.
Money-saving offer for groups
Groups of five or more people who are interested in participating can take advantage of an offer. To request information, contact the organizers through the appropriate form: affiliatexpo/contacts/groups.
---
Why Affiliate Expo 2020?
Whether you are into affiliate marketing or thinking to start your career in digital marketing and exploring ways to make money, this event will work wonders for you. Why? Because affiliate marketing is the most lucrative field of the present-day digital market.
Irrespective of all the factors, Affiliate Expo 2020 will bring in the spectacular opportunity to meet and greet the best affiliates as well as the best companies all in one place.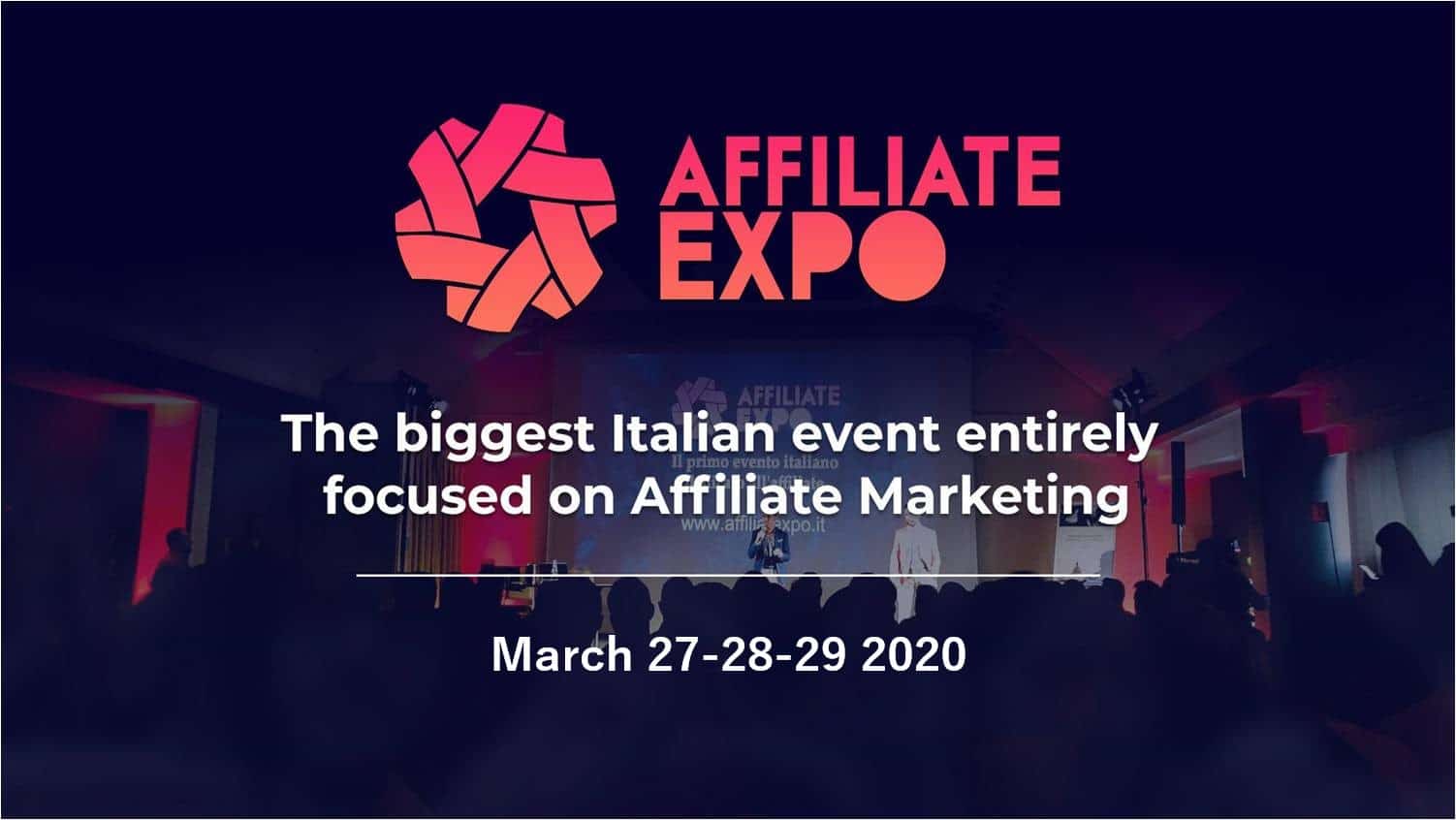 The event will take place in the Mercure Roma West Hotel. The huge conference hall is available for all the attendees along with the exhibition area for all the partners. There will be Workshops, Speedmeeting, Aperitifs, go-kart contests, and parties that will bring in the immaculate surroundings for your development and your Network.
---
Activities during 3-day Affiliate Expo Event
At Affiliate Expo 2020, you will not get a single hour free as ensuing activities back the whole event. You will get enlightened on million of case studies explained step-wise. On 28th March, you will have an unforgettable night "Affiliate Awards 20". You will have more fun attending the two big business parties after the tedious whole day events. Have a look at the details below:
| | | | |
| --- | --- | --- | --- |
| Date | 27 March 2020 | 28 March 2020 | 29 March 2020 |
| Day Time | Networking & Affiliate Experiences | Speeches & Mastermind | Speeches, Mastermind & Networking (whole day & night) |
| Night Time | Networking & Party | Networking & Party | |
Everything will be great, and the organizers are taking care of everything. If you want to get posted for the latest details, leave your email on their website- https://en.affiliatexpo.it/
---
Niches of the event
The event will circumvent the niches that are the most profitable among the affiliate marketers. The market based on these niches is ever-developing and is a sure-shot point of success. These niches are:
Nutra
Trading
Dropshipping
Gambling
Traffic Sources
Analytics & Tracking
Angles & Creativities.
---
Affiliate Expo 2020 Tickets and Inclusions:
Affiliate Expo 2020 Italy tickets are available now. Starting from €99 with an additional 10% discount using our special coupon.
The tickets are starting from €99 to €1199. Have a look at the prices of various packages below and see what all facilities you get at that price.
There are Basic, standard, All-inclusive, All-inclusive X2 and VIP passes available for affiliates and internet marketers.
Let's see the details of it.
As you know that Blogging Eclipse is a media partner in this event, so if you book the tickets through us, you will get a 10% straight discount. You need to use the code- BECLIPSE10.
10% OFF
10% Additional Discount on Affiliate Expo 2020
BloggingEclipse is an emerging community of bloggers and affiliate marketers. On BloggingEclipse, you will get hands-on useful Tutorials, tips & tweaks about Affiliate Marketing, Making money from Blogging, SEO, turning our visitors into Customers and online marketing tips for Entrepreneurs and Start-ups.
Hurry up and book your tickets with BloggingEclipse and save your money; as the time will come near, the prices will hike for sure.
The event is not worth missing as it will prove to be a significant opportunity for your online career. We, as a media partner, will bring in all the essential facts about this big event Affiliate Expo 2020. Meet us there to explore the whole world of affiliate marketing.
You will get the chance to meet all the sponsors and participants on the 28th and 29th of March. The sponsors are divided into five categories, namely
Gold Sponsor.
Diamond Sponsor.
Silver Sponsor.
Bronze Sponsor.
Program Sponsor.
---
People at this event:
The list of speakers will get updated shortly, but now, few have taken the responsibility on their shoulders. The few names include Angelo Landriscina (CEO Worldfilia), Giovanni Paltera (CTO Worldfilia), Pasquale Scarpati (HTF Health & Beauty offers), and Antonio Di Chiara.
Some of the affiliates that you can meet are Joe Di Siena, and more adding soon. Furthermore, the names of some announcers and moderators have come up- Gaetano Romeo (Announcer), Adriano De Arcangelis (Moderator) and Mattia Scattolin (Moderator).
---
Location of the Affiliate Expo Event 2020
As you already know that the Affiliate EXPO 2020 will be hosted in Rome at the Mercure Roma West. The ultramodern and genteel four stars Hotel is situated near the EUR, the new Fiera di Roma, the Palalottomatica, the Fiumicino airport and 20 minutes away from the city center.
There are 215 rooms fully equipped with the best of facilities and services like SKY tv, SPA/fitness area with a hot pool, congress center, free Wi-fi, big garage.
It is suggested that you book the All-inclusive ticket package or to straight off book your room at the event locale to live at 360° ambiance of Affiliate EXPO 2020.
---
Final Words:
Networking will be the most significant value of the Affiliate Expo 2020 event. Believe us or not, but it might be a game-changing event of your life too.
Many renowned affiliates have started their careers from such events and are running top businesses in the world today. So, what are you waiting for? Affiliate Expo 2020 is the biggest Affiliate Marketing event in the Italian market.
Don't you want to take up this big opportunity and turn up to something big in life?