Do you belong from a group set who always wants to achieve something extra in his/her life❓
Because we bring something to have an eye on.
You will not believe it, but the largest Digital Marketing Conference is here!
Yes, you heard it right. We present you ✅Affiliate Grand Slam Dubai Conference 2021!
This particular event is believed to be one of the most remarkable marketing events in history. The real motive behind Affiliate Grand Slam Dubai is to merge the European and Asian Marketing trends in an expert-led conference.
Sound minds should always stay in a roof; who knows? When will they end up with yet another historic invention?
This post will contain all the necessary details of this Affiliate Grand Slam, including date, venue of the event, how to reach there, etc. So, what are we waiting for? Let us get started.
---
Affiliate Grand Slam Dubai Conference 2021
Affiliate Grand Slam is among the most prominent digital marketing conferences that will be held in Dubai.
This 3-day event hits off in one of the UAE's most progressive emirates on 24th May 2021, with a series of networking and registration events.
After the first day, a content-rich conference and buzzing expo floor take over the city's luxurious Intercontinental Dubai Festival City hotel on the 25th and 26th of May, 2021.
But, a lot of questions must be rising in the minds like, Why so soon? After all, there is a pandemic going on all overall world; how will this Affiliate Grand Slam benefit the ongoing situation? Before your mind flies over to that way, let us assure you that this particular event will be held by taking all the essential precautions in the Covid period.
They have selected Dubai as their venue. Well, all know, in this current situation, everyone needs a break, and no other city than Dubai could be a great source to do that because of its luxury and hygiene maintenance.
Like we said at the beginning of the post, that sound mind should always stay together.
Therefore, this Affiliate Grand Slam will bring together like-minded delegates, such as content marketers, lead generation specialists, media buyers, affiliates, SEO gurus, and influencers, for an immersive conference experience.
A series of networking dinners will also take place over the two days of the conference.
You will get a brilliant chance to meet the leaders of the affiliate marketing industry. Not only that, but you will also get an opportunity to pace up your career level by giving it a vast experience and a pass to an event of endless possibilities.
If you have the urge to reach up to the top, you surely don't want to miss this mega event in Dubai!
---
Affiliate Grand Slam Dubai 23rd May 2021: Press Release
Affiliate Grand Slam is working their best even in these challenging times to bring together all the leading experts.
You should expect the state of the artwork because experts like Yancy Naughton & Sara Malo, who bring over 20 years of industry experience in AGS, have given their utmost dedication to make this conference a hit.
The comprehensive schedule of this particular conference is to bring all the all-minds together. The topics of this conference will walk affiliate marketers and digital marketers through the hot & trending topics, with panels touching on areas such as:
Brand relevance
Content and digital brand strategy for the GCC
Emerging Markets
Junket affiliation
Video affiliate marketing
Voice search and social media in 2021
Ecommerce in Europe and China
Exploring analytics strategies
Long-form influencer affiliation
Just because you should know what you will be missing if you decide on nothing positive about going to this conference, we must tell you this thing.
The InterContinental Dubai Festival City is the emirate's excellent event venue, offering state-of-the-art meeting and conference facilities, various leisure options, and award-winning dining.
---
Affiliate Grand Slam Awards 2021
This year Affiliate Grand slam is one of the most prominent events for affiliate marketers. Like every year, the award ceremony will occur on the first night of the conference, i.e., 24th May 2021.

A VIP dinner will follow the award night. Primary participants can buy the ticket using our link and decide whether they would like to have access to all the conference events.
Click here to apply for participation in the Affiliate Grand Slam awards.
So, if you want to attend this event or vote for a particular nominee, make sure you purchase access to the whole event.
---
Activities During the 3-Day Affiliate Grand Slam
At Affiliate Grand Slam, there will not even be a second from the three days of the conference in which you will feel unenthusiastic about the specific approach of the program.
On 24th May, there will be a Grand Awards night, followed by a VIP dinner, which will make your networking game even more substantial.
You will have more enjoyment attending the two big business parties after the tedious whole-day events. Have a look at the details below:
| | |
| --- | --- |
| Welcome Reception | 24th May |
| VVIP Awards Night Dinner | 24th May |
| Startup Pitch | 25th May |
| Conference and Workshops | 25,26 May |
| Networking Drinks | 25,26 May |
| AGS Closing Night | 26th May |
---
Event Niches
The event is going to cover all the crucial niches that are profitable among all the affiliate marketers. If you look at these niches, you will realize that these are enough for you to become a successful affiliate marketer.
Dating
Nutra
Gambling
Angles & Creativities.
---
Affiliate Grand Slam Safety Protocols for Covid 19
As a way to adjust to this new lifestyle, this year's Affiliate Grand Slam Dubai is prepared!
This section is entirely dedicated to the safety protocols that AGS will undertake. So, read this part carefully, because after reading it, there is nothing that can stop you to go this mega-conference!
The intercontinental Dubai festival city
From conference areas that allow for a safe gathering, flexible terms and conditions extended to mitigate investor risk, touchless menus, and contactless payment options – the AGS Dubai will take place at The InterContinental Dubai Festival City.
Arrival & entry requirements
Any passenger arriving in Dubai from any point of origin (GCC countries included) must hold a negative COVID19 PCR test certificate for a test taken no more than 72 hours before they have taken departure.
UAE nationals are excluded but will be required to take a COVID-19 PCR test at Dubai airport. Travelers must bring an official, printed document in English or Arabic to check-in.
Here you will get a significant advantage while checking in the hotel. You will experience s self-parking signage and external guides, touchless transactions, and reduced contact and physical interaction due to this pandemic situation.
The hotel is doing all it can to prevent the virus, including paperless checkouts and sanitizer stations all over the place. Staff is strictly advised to follow Covid's protocol and has been trained to maintain all sorts of distance while dealing with a client.
Sanitizing & cleaning protocols
All the hotel and reception equipment will be sanitized now and then. The hotel staff will wear a mask, gloves, and shoe covers while cleaning the guest rooms and the public areas.
Every guest room will be disinfected using a Spray Cannon Fogging Machine with approved, safe chemicals.
The health declaration form
The guests will fill in the health declaration form of each individual during their check-in in the hotel. That particular health declaration form will be attached to their registration forms.
---
Conference Venue
Affiliate Grand Slam has redesigned event space by emerging governmental and local venue guidelines. Meeting rooms will be sized, with increased distance between seating and attendees and intentional directionally based traffic flow within the space.
Affiliate Grand Slam Dubai Conference 2021 – Event MAP
---
Affiliate Grand Slam Dubai Tickets & Inclusions
Affiliate Grand Slam Dubai tickets are now available. Starting from €49, you will also get an additional discount using our Coupons! Isn't this just a fantastic deal?
We knew you would not be able to say no to this.
The tickets are starting from €49 to €259.
Look at the pricing plan of various packages below and see what facilities you get at that cost.
There are Basic, standard, All-inclusive, All-inclusive X2, and VIP passes open for affiliates and internet marketers.
Speakers at the AGS Dubai Conference:
Let's dig into the details of it.
As you know that Blogging Eclipse is an official media partner in this event, so if you book the tickets through us, you will get a 10% straight discount.
---
How does BloggingEclipse fit into this?
BloggingEclipse is an upcoming community for bloggers and affiliate marketers. If you ever want to search for any information on affiliate marketing, blogging, or tutorials, you must check our Blog.
For now, what you can do that do not delay the ticket booking anymore! Right now, if you use our coupon, then you will receive maximum discounts on your trip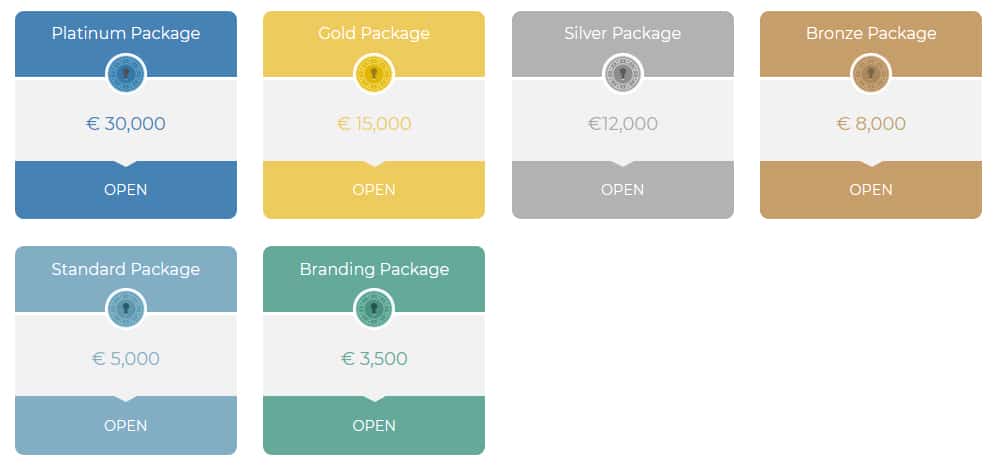 So, let us not waste any more time and start booking, because, in the coming days, the prices will hike for sure!
This grand event you sure do not wanna miss! As we are a media partner of this event, we can assure you that your experience will be nothing but the best in Affiliate Grand Slam Dubai. You sure want to meet us there to explore the whole world of affiliate marketing.
You will also get a chance to meet all the sponsors of Affiliate Grand Slam Dubai!
The sponsors are divided into these categories:
Gold Sponsor
Diamond Sponsor
Silver Sponsor
Bronze Sponsor
Program Sponsor
---
Accommodation & Hotel Information for AGS
As we mentioned at the beginning of this post, the official hotel for Affiliate Grand Slam Dubai is the Intercontinental Dubai Festival City hotel.
But, if the hotel gets packed or does not get to stay for any other reason, there are the top hotels that AGS suggests visiting for networking.
These are some other hotels that you could check out:
Crowne Plaza Dubai Festival City is a hotel near the Dubai International airport. Health Care City and Sheikh Zayed Road are making it perfect for those traveling for business.
They are also located near Dubai's must-see attractions, such as the iconic Burj Khalifa and IMAGINE., a record-breaking show in the Dubai Festival City Mall.
Holiday Inn Dubai Festival City
Whether you are in town for business or simply getting away for the weekend, Holiday Inn Dubai Festival City Is the perfect choice for a stopover.
With its contemporary and spacious design, it has access to state-of-the-art leisure facilities.
Also, you will find a variety of dining, from healthy meals at Zeste to BBQ and chill-out places at Joe's Backyard. Holiday Inn is located 10 minutes drive from Dubai International Airport and downtown and directly access Festival City Mall.
It also offers over 500 retail stores, including the only Robinson store In the UAE, and home to the record-breaking IMAGINE water, laser & fire spectacle.
---
Final Thoughts
If you want to multiply your networking game, we highly recommend attending this grand conference in Dubai.
Also, you will get a great chance to meet all the industry leaders and affiliate marketers!
Believe us; this opportunity is what you were waiting for so long!.
Also, go and check out our coupon code to get an additional discount on this event.
So, what are you waiting for? Affiliate Grand Slam Dubai 2021 is one of the most prominent digital marketing conferences in Dubai!
For any further queries, you can visit their official website.
If you ever attended an Affiliate Grand Slam event before, we would love to know about your experience!🙂