Affiliate Marketing is one of the best methods to earn huge money online via Blogging. The best way to promote affiliate products is through Blogging platform. Three years ago when I stepped into online blogging business, I initially used google adsense and lots of PPC programs to monetize my blog but i couldn't reach my earning goal inspite of trying all my potentials.
After researching a lot and reading experiences of pro bloggers, I finally switched my monetizing method to affiliate marketing on all my Blogs and days got changed 🙂
There are thousands of Affiliate networks and programs which lets you earn money promoting products and services. One should be careful before choosing the network through various factors such as: Is the affiliate program ethical? , Are the products in aff. program suiting his/her niche? , What are the payment methods? and lot more.
What is Affiliate Marketing?
Affiliate Marketing is based on commission and incentives. For example if you are promoting a product worth $100, So you might receive some sort of commission based on percentage which might be from 30% to 70% or can be more depending on products and services. So it is much better way to monetize form blogs and website.
For example: if you are promoting a product on your blog and even getting as low as 5 sales in a month through your Affiliate (refrell) link you can earn a good revenue. You are getting 5 sales in a month of a product costing $129 and the affiliate network is giving 70% commission on it so you will be making $451 in a month. This is just an example promoting one product, You may promote hundreds of product and sales can go more high depending on your creativity and talent.
---
How to Start promoting Affiliate Products on your Blog
Now here comes the main guide to initiate your affiliate website or convent your normal online money making methods to affiliate marketing. The first step here is choosing right affiliate program and promote the best offers suiting your blog niche.
Here is the list of best top 5 Affiliate programs 2016 which thousands of pro Bloggers use to earn huge revenue
Click on Affiliate companies name to direly create a new account on it.
Now these were the top affiliate network which are having global offers for all countries. My favrioyte is ShareASale and Peerfly. As they are having widest range of campaigns to promote from cost per lead to cost per sale. The second thing you have to do is to find offers which are your blog friendly and related to your blog keywords and post. This will boost your conversion if the offers are related to the topics which you are writing about.
For example check out this link: https://bloggingeclipse.com/microsoft-office-365-vs-google-apps/ , I have written a review on MS Office 365 and it contains my affiliate link for MS office 365. So if a reader buys office 365 plans through that link, I will be paid a comission.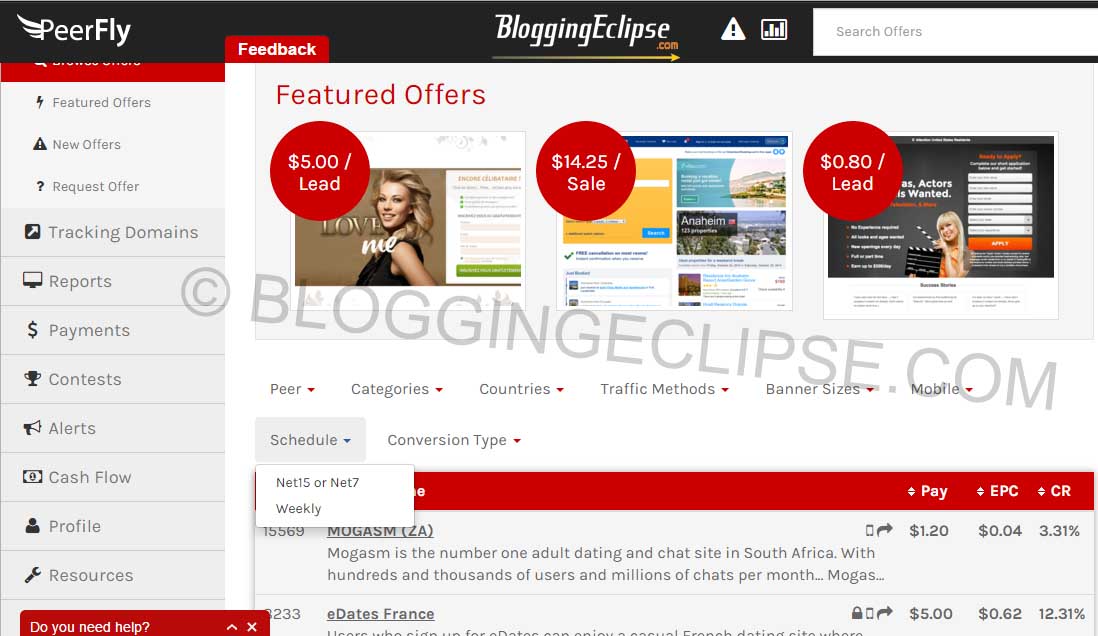 How to promote affiliate products on your blog
One should only promote affiliate products related to his/her niche of the blog. Promoting irrelevant products will be a stupidity as you will be regretted with no sales. Now here comes my own 5 useful tips & tricks to get maximum sales in affiliate marketing.
1: Review posts
Everyone loves to read product and services review before purchasing it, hence this is the best way to get tons of affiliate sales.
A review blog post introduces the product to your blog readers, and at the same time your opinion guides them to understanding why they should be buying it.
Make sure you post honest reviews and your bog readers will love it. Publish more and more reviews about trending products repeated to your blog niche ad use your affiliate links wisely in it.
2: Use Coupon codes
We all love discounts and coupon and almost all get attracted towards money saving deals. This is one of the best method to boost affiliate marketing sales y sharing latest coupons and deals of the product you are willing to promote.
At first create a list of coupons and on going promo deals products and start publishing discount coupons for every months or weeks on your blog with coupon codes cloaked with your affiliate links.
3: Write How- to articles
You must have also searched for do it yourself "DIY" or how to articles on the net for any of your problems, DIY articles are kind good way to get tons of sales as peoples finding solutions will come to your blog and they may purchase the product or service from your link.
For example if you want to promote "Genesis Wordpress Themes" from ShareAsale, Then you may write a post like "How to Install Genesis themes on your WP blog in 15 seconds" Or "how to Customize Genesis themes with custom colors". These were just example, you can use your creativity to get dozens of more ideas.
4: Using Social Media and Forums:
Social networks and forums have maximum of traffic and you may get targeted audience through it. I will be writing an whole tutorial on this topic later on this blog. Le me explain you in short this time that how social media and forums works.
Just search for keyword on Google+, Facebook group, pages and forums, You may share your affiliate blog post related to that keyword on this social media groups where people added related to that keyword will surely open the post and you may get an affiliate sale through it.
The same ideas work with forums too. If you are promoting an SEO Software, Search for SEO and internet marketing forums and you can find topics related to your keyword and then share your post their.
For Example: If you are promoting and SEO Software, then you can share that article on many internet marketing groups on Facebook and google plus or forums to get quality traffic.
5: YouTube Videos
Users love to watch videos instead of reading long articles. YouTube videos is the sure-shot method to gets tons of quality traffic to your blog. Once you uploaded video Google will rank it higher compared to your blog ranking is youtube is the google's own product.
Create quality YouTube videos of your product by showing video Reviews, testimonial or simple use screen recorder software for creating videos. Insert your blog or affiliate link in video descriptions and annotations.
---
Final Words
Affiliate marketing is the best way to earn monetize from your blog. Maxiumm pro bloggers arund the world relies on affiliate marketing income.
I have shared my personal method for promoting affiliate products through blogging. If you are ahving any other tips and tricks, share with us via comments section below. Happy Affiliate Marketing 🙂