Are you an affiliate marketer looking for a grand stage where you could gain maximum knowledge about affiliate marketing? If yes, then your wait is over! Get ready for the biggest and the grandest stage of all – Affiliate Summit ASAPAC 2018
Affiliate Summit APAC 2018  is the biggest event in the affiliate industry organized by Clarion Events Limited. It is the most recommended event for affiliate marketers all over the world. This event is being organized in Singapore, Asia.
People from all around the world are going to attend this event that includes honourable speakers, Big Affiliate Ninjas, Affiliate Networks, publishers, etc. So if you are eager to learn about affiliate marketing and want exposure for yourself or your firm, then you should definitely attend this Summit. Don't miss it!
Are you behind others in the affiliate industry or are you on board? Attend affiliate summit 2018 in Singapore from October 1 to October 3rd.
Affiliate Summit APAC 2018 – Event Overview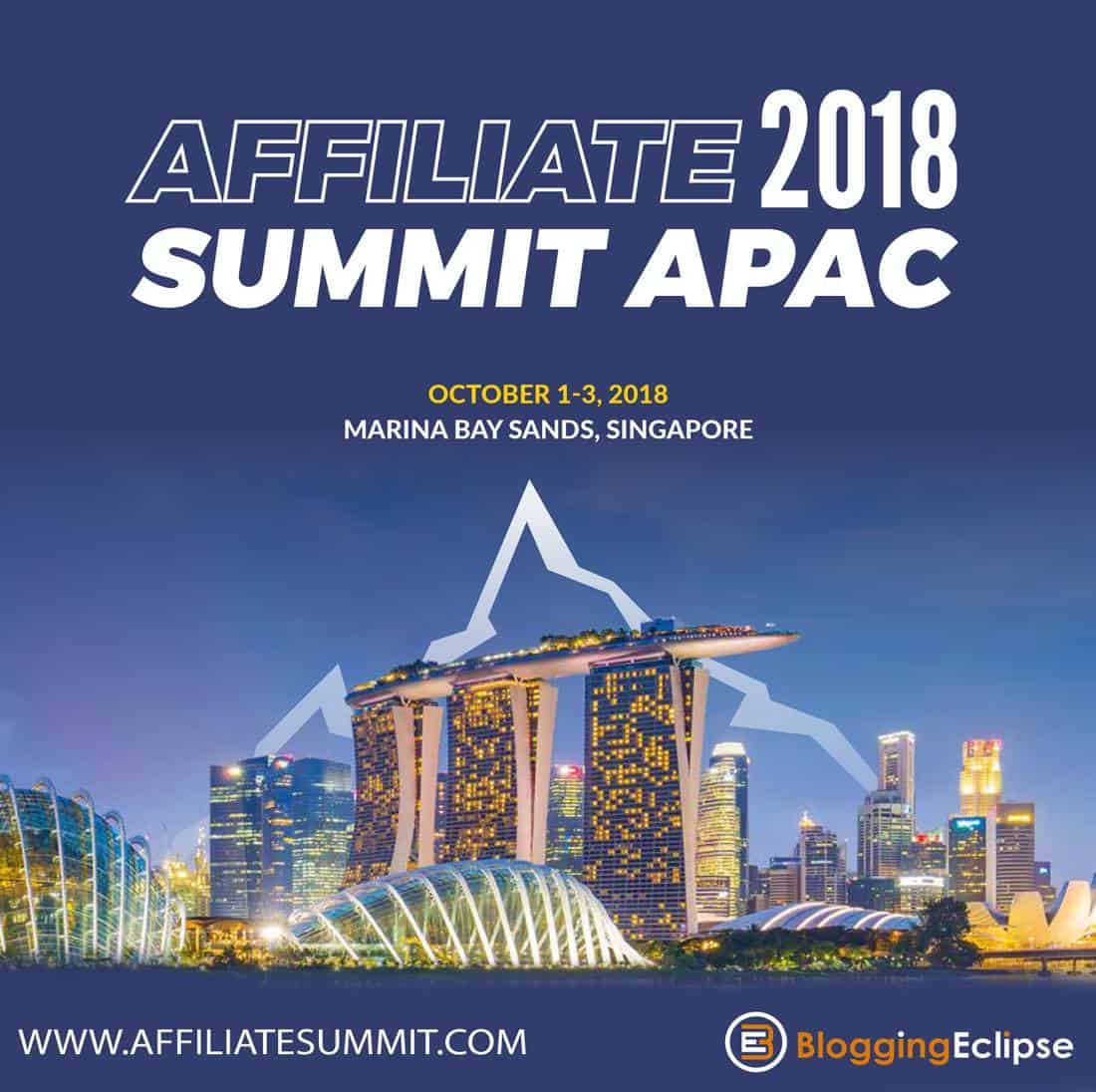 If you are a pro affiliate marketer & working with many big brands then you can request your free affiliate pass by registering at its official website affiliatesummit.com/events/asapac18 
When you get a free Affiliate pass, and along with it you get access to all the features then it's like icing on the cake. There's nothing better than this. So why lose this opportunity and stay behind other when you can board the ship for free.
Affiliate Summit is offering the following features at this event:
Get access to the content created by the Affiliate Summit APAC advisory board that covers compliance, payments, tracking and every possible opportunity and challenges that you would be looking for.
You can connect with the advertisers in the Affiliate Summit Marketplace and also meet the most significant technology providers in Asia in a 2-day exhibition.
Bloggers and influencers can take the ultimate benefit of the opportunity presented by the performance marketing in the affiliate university.
Get exposure by meeting the industry's most excellent merchants, affiliates, vendors, technology providers, digital agencies and more under one roof, i.e., Meet Market.
This event is not just for affiliate marketers but also for exhibitors, sponsors, and speakers. So, if you want to showcase your talent as a speaker or give exposure to your business, then this is the right opportunity.
Affiliate Summit (Introduction)
The two masterminds behind the foundation of Affiliate Summit are Shawn Collins and Missy Ward. Both of them are expert in affiliate marketing and have decades of experience. Both of them joined hands in 2003 to form Affiliate Summit to provide educational sessions related to the affiliate marketing industry for affiliate marketers.

Affiliate Summit attendees are divided into six categories mainly: Affiliate, affiliate management, advertiser, OPM/agency, solution provider, and network.
A maximum number of attendees at affiliate summit are affiliates. One of the reasons for the maximum attendance of Affiliates is its free Affiliate passes & expert keynote sessions.
To make the affiliates aware of the growth in affiliate marketing, Shawn and Missy have authored several books which are available on Amazon in Kindle edition and paperback.
---
Affiliate Summit APAC 2018 Registration:
To attend this summit, You need to fill a simple form and register yourself for this summit by providing all the details mentioned in the form like first name, last name, company, email, phone, country, choose attendee type which includes attending this event as an advertiser, affiliate, affiliate management, network, and OPM/Agency or Solution Provider.
By filling up the registration form, you can get regular updates on Exhibitor and Sponsorship opportunities, early-bird pricing, speaker announcements and more.
In this summit, you are eligible to select 3 kinds of passes viz. networking, VIP and affiliate.
If you want basic networking access to other industry professionals, then networking pass is best suitable for you.
If you are a Pro affiliate marketer, then you can request for a free pass which you could use to meet industry professionals and build strong partnerships with them.
VIP passes come with special amenities and are suitable for industry professionals who want to learn from industry insiders. VIP pass includes access to some VIP sessions, food, and drinks, etc.
To avail, free affiliate passes you need to receive an invitation from Affiliate Summit. For this, you need to register yourself quickly as the offer is valid only through September 14, 2018, or until all the free passes are sold out. So, if you are serious about attending this event then don't waste time and register yourself quickly to avail of the benefits for free.
---
Affiliate Summit APAC 2018 Attendee prices & Pass Inclusions :
Have a look at what is included in each pass, so you better have an idea what you are going for.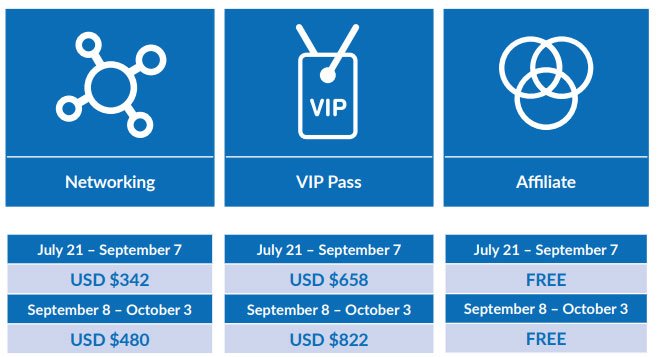 Networking Pass: This pass costs 342 USD and includes Meet market and meet market pub crawl, entrance to the exhibition, opening reception and party entry, keynotes, networking app and session powerpoint presentations.
VIP Pass: This pass is the costliest one and costs 658 USD. This includes everything from networking pass and also access to roundtables, VIP lounge, drop-in clinics, VIP seating in keynote session, meet with the keynote speakers, lunch on day 2 and day 3 and fast-track registration.
Affiliate Pass: This pass is for free but valid only for limited period. This includes everything that has been involved in the VIP pass.
---
Want to know who all are on the APAC advisory board?
Some of the biggest names in the industry are a part of the Affiliate Summit APAC 2018 advisory board. These include Agoda, Awin, Collinson, HSBC, Uber, iprice group, Lion & Lion and many more leading industry networks and technology providers.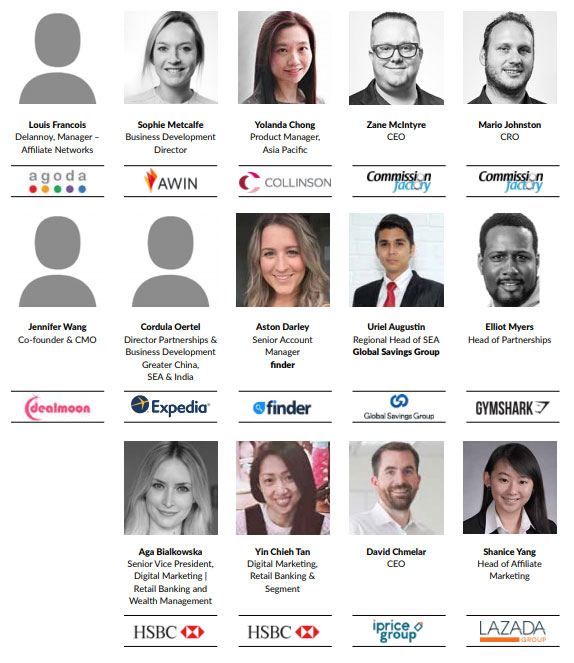 So, if you are attending this event, then chances are you might find a friend of yours working with one of these technology providers.
---
Affiliate Summit APAC 2018 Agenda & highlights: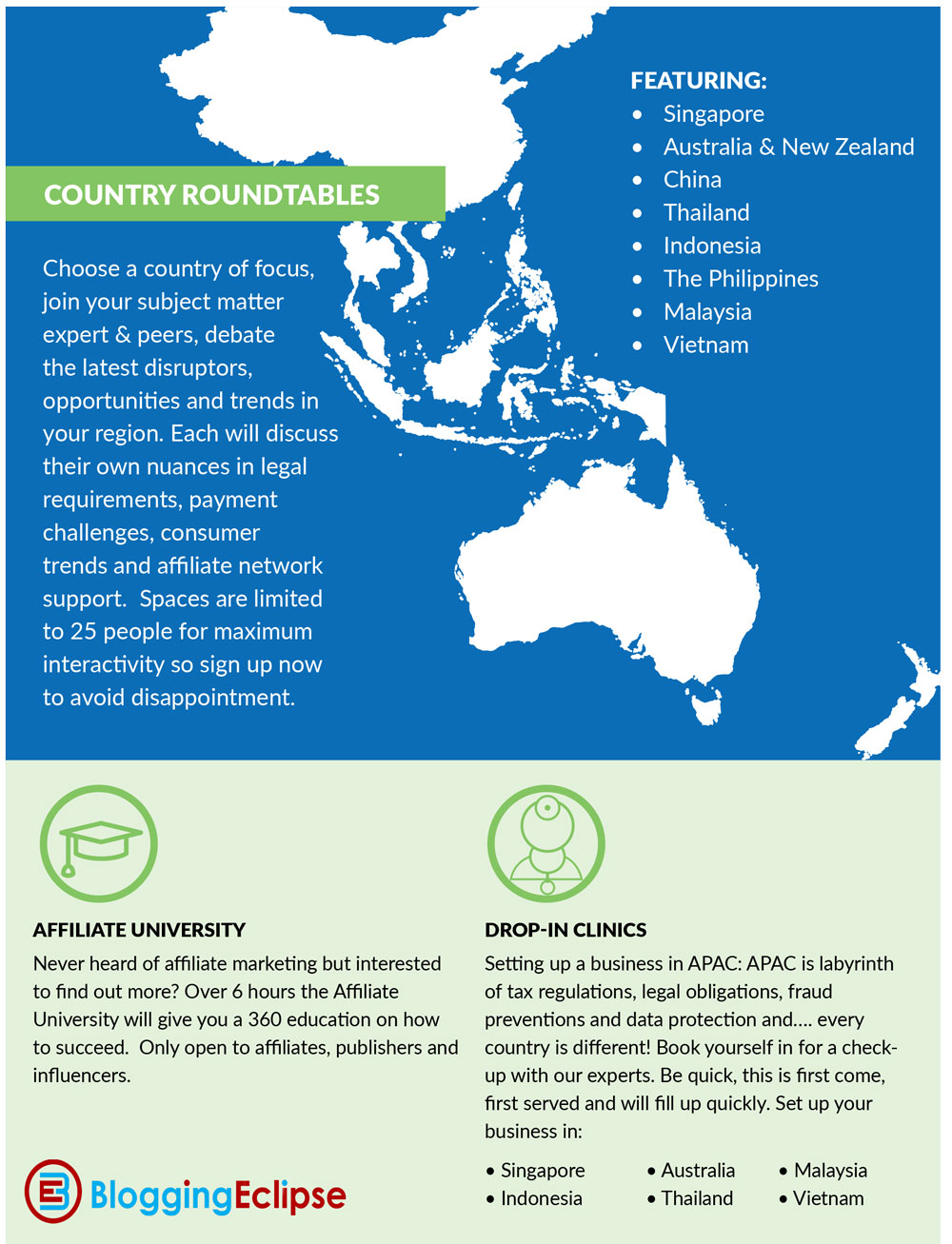 The Event Agenda is now live Visit affiliatesummit.com/asapac18-agenda/?event_id=35570 to check individual sessions, topics, keynote sessions from October 1- October 3 and also view Affiliate University Agenda. Some of the keynote sessions are restricted to VIP & Affiliate Pass only.
---
What's new about Affiliate Summit APAC 2018?
APAC Affiliate Summit in Singapore is bringing back its legendary Meet Market and Exhibit Hall which offers Sponsorship and Exhibit opportunities.
Opportunities like these give you exposure and a brilliant chance to meet the world's top advertisers and affiliates and groom yourself.
You can choose the sponsorship level from over 20 packages available that best suits your needs and gives you maximum exposure and creates new partnerships.
---
Affiliate Summit APAC Networking party: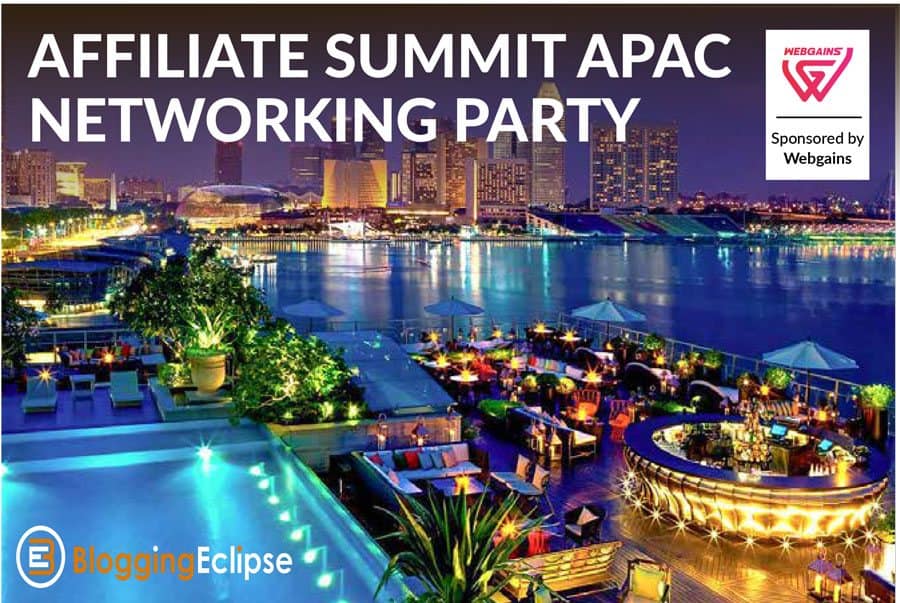 Be the part of one of biggest Networking Party farmed by an infinity lap pool and green landscaping with a rooftop bar and stunning panoramic views of Marina Bay waterfront and Singapore's skyscraper skyline. There is no better party like a VIP Affiliate party. The VIP and affiliate pass holders allow early entry before any other pass holder. So you can secure a premium spot to lantern rooftop bar.
---
Accommodation & Hotel information for this Event:
If you are wondering where to stay and how to reach out for this summit, then relax as all the accommodation and convenience has been prepared for you.
For accommodation, you would need a fine hotel and for this reason, a block of rooms have been reserved for the nights of Sunday 30 September to Wednesday 3 October. If you are attending the ssummit then blocks the rooms in advance as the hotel rooms are available on first cum first serve basis. Once the rooms are sold out, then you will have to look for accommodation yourself.
We recommend reserving your room Parkroyal on Beach road Today so you can enjoy the sea view and it is very near to the event location too.
How to reach Sands Expo & Convention Centre?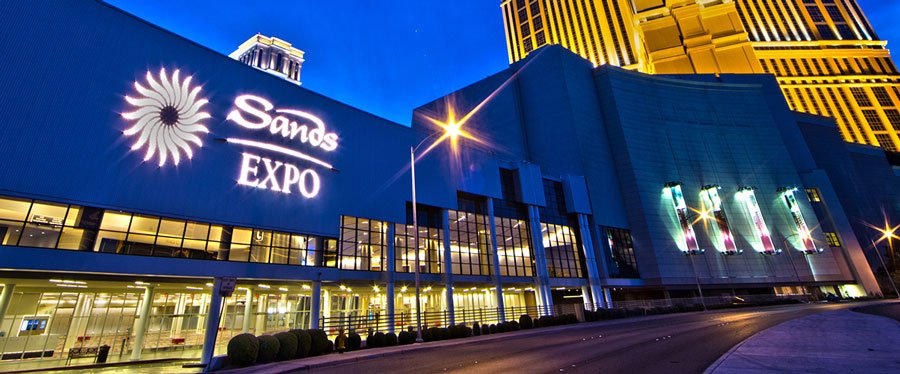 Image source: https://www.eventopedia.com/venue-finder/listing/sands-expo-convention-center
You can use public transport like a train to reach Marina Bay Sands as it is linked directly to CE1/DT16 Bayfront station on the circle line and Downtown line of Singapore's MRT system.
To know more about the schedule of MRT you can visit the TransitLink Journey Planner. You can find trains to and from Bayfront station between 6:00 am to 12:00 midnight.
You can also use taxi services to reach Marina Bay Sands located at 10 Bayfront Avenue from the airport in 20 minutes along the East Coast Parkway (ECP) expressway.
"The four pickup/drop-off points for cars and taxis are Sheares link outside Hotel Lobby Tower 1, and along Bayfront Avenue outside Hotel Lobby Tower 3, outside Sands Expo & Convention Centre, and outside the Shoppes."
Affiliate Summit APAC 2018: It never ends here…
Affiliate Summit thanks to all the speakers, sponsors and exhibitors that have supported them for the past 15+ years and look forward to new affiliates and sponsors for better growth and long lasting partnerships.
https://t.co/nynjcWFsDR #affiliatesummitapac #affiliatesummit

— ALiAKBAR FAKHRi (@aliakbarfakhri) August 2, 2018
This is the biggest Affiliate event in Asia where one can connect with industry professionals, learn new trends and strategies for Affiliate Marketing & scale your earnings to the next level. Affiliate Summit events are the highest rated affiliate & Digital marketing summits worldwide. Attending quality Affiliate summits is one of the best investments in your internet marketing business.
Read More: Top 5 Affiliate CPA Networks in the World: 2018
For further queries about this summit, you can visit the event official website.
See you @ Singapore in this life-changing Affiliate event.
Have you attended any past Affiliate Summit Event? I would be happy to know your past experience, Share it via comments below. Take care:)