Have you ever attended a huge digital marketing event like AWA? If not, then here is the chance to make the most of the biggest Affiliate World Asia Event 2019.
Affiliate World Asia the most significant opportunity for all affiliates and digital marketers to meet and greet the world's top influential performance marketers and eCommerce tycoons.
So what are you waiting for? Grab your tickets now and enter the world of massive opportunities.
This post will give you complete information on what affiliate world Asia 2019 – Bangkok, Thailand is all about, date and place of the event, how and where to buy tickets, etc. So let's get started.
Affiliate World Asia 2019 – Where and When?
AWA 2019 is the largest affiliate conference in the world where you will come in contact with the digital world's brilliant intellectuals. It is a two-day event that will take place in Bangkok on 4-5 December 2019.
The Venue for the event is Centara Grand and Bangkok Convention Centre, and the address is Level 22, 999/9 Rama 1 Road, Pathumwan, Bangkok 10330.
Every year, this master event brings together thousands of aspiring minds at one place and expose them to the real world behind affiliate marketing.
You will have a brilliant chance to ingest mastering-grade content from the affiliate marketing magnates on stage. Next, you will unleash the expo floor flooding with live opportunities to take your career to the next level.
AWA is the world's most fabulous and the best events in the affiliate marketing industry.
At first, this Conference was not as big as it is now. The main motive was to bring together STM forum communications. Eventually, the STM meetup developed into a big enterprise, and then these meetups turned into a big Affiliate event called Affiliate world conferences in 2015.
---
Few facts about the biggest AWA event 2019
AWA is indeed the colossal and the #1 performance marketing association in Asia. After looking at the statistics every year, there are over 3000+ attendees to listen to the mind-blowing journeys of more than 30 on-stage speakers.
These speakers are the industry leaders who will share their secrets behind their successful careers. They will give you a fresh and detailed insight into how it all works along with data-driven expertise, and groundbreaking ideas on performance marketing, and eCommerce.
Over 110 countries and 110+ advertisers participate in this gigantic event. Around 35 additional traffic sources are operating successfully along with 15 plus active affiliate networks at that time.
These figures tend to grow every year as the success stories spread quickly and help thousands to build their careers.
---
Who will all be attending AWA- the biggest event of the year?
If you are into this deep and inducing digital world, then this event will surely give you wings. You will not only meet the great and like-minded people but also open the doors of never-ending opportunities. The networking and the connections that you will build in such events assist you lifelong in one or the other way of your prospering life.
The world's best performance marketing aficionados and pundits will come together to network, find offers, traffic, and products. Check out the list below to find out whom all will you meet and greet at the AWA 2019.
---
Entrepreneurs and marketing experts:
$1+ million per month advertisers.
Marketers from Shopify's quickest thriving eCommerce shops and past Build-a-Business achievers.
Brands obstructing industries and putting traditional low-level business, many looking for expansion via JVs and affiliate programs
50% of affiliate participants – massive in numbers than any other industry event
50% of attendants make more than US$100k each month.
---
Advertisers and Networks:
Google, Facebook, and Snapchat (60%+ of international Ad spend).
Enterprise of homegrown: Revcontent, Taboola, Outbrain, and MGID.
Third-tier traffic delegates (money concealing place).
35+ traffic sources that handle over 100 million ad impressions per day.
---
Industry Brands and Agency Representatives for:
Alibaba , Shopify, Uber, Lyft, Audible, Spotify, Hulu, DoorDash, Postmates, Wish, Casper, Wayfair, Trackr, Dollar Beard Club, Lay bag, to name a few.
---
Why must you go to Affiliate World Asia?
Now, as you know that this is the world's biggest affiliate marketing event, then there is no reason to miss this most significant lucrative opportunity. It is indeed a phenomenal event for all those who are into the affiliate marketing industry globally. The facts are given above already prove that by attending this conference you will be making new connections and reviving the old ones.
30 plus astute speakers will talk about their tested and tried techniques to be implemented in affiliate marketing.
Next year this event will grow bigger as it will be held in Spain.
AWA will have more than 190+ exhibitors promoting their ideas or brands
You will listen and learn about the practical scenario of AM from the industry experts and how they make the 7 figure income in such less time
You will make a connection with the people who have the same products and services as yours, hence advancing your career
Bangkok is the home of opportunities, and you will have a chance to visit this beautiful place along with the business-allies you made during the event. Remember, connections become more stong when taken forward in a less formal environment.
Also, keep your eyes and ears open to know the dates and timings of the pre and post parties of the AWA. You will not only have a last but also know your partners personally.
Therefore, AWA is a top-notch event not worth missing, as this event has changed the lives of many dawdlers and newbies.
---
Who all will be sharing their brilliant ideas on stage?
Well, the list will keep on increasing till the last moment, and you might be surprised to see your inspiration face-to-face. All the speakers are the industry leaders who will not only share their success stories and strategies but also motivate you to take up the new challenges for a progressive future.
By listening to their ideas and conceptualizations, you will feel a spark within yourself to beat your biggest fear. The list below has been displayed on the official website of AWA and might expand till the last date.
NICK SHACKELFORD = Top Facebook Ads Specialist
ANTHONY SARANDREA = Top Ranked Lead Generator in the U.S.
DIMITRI NIKOLAKAKIS = 8-Figure Growth Marketer & Agency Owner
SAVANNAH SANCHEZ = Facebook & Snapchat Ad Authority
GEORGINA GREEN = Mobile App KPI Specialist
ANGUS KONG = 9-Figure Performance Marketing Specialist
STEVEN BLACK = Amazon Content Marketing Machine
HEN KINAN = Affiliate & Viral Content Expert
KEVIN ZHANG = $20 Million Ecom Rookie of the Year
TABISH NISHAT = Google AdWords Expert
ANNA GITA = Founder of Fastest-Growing Affiliate Network
ALEXANDR FEDOTOV = 9-Figure Facebook Ads & eCommerce Strategist
Check out the whole list here.
---
Where to buy the tickets?
You can buy tickets from the official website of AWA –https://affiliateworldconferences.com/asia/. There are two categories of tickets. One is for companies priced at $1224 and other for affiliates at $834*. These are the best prices available as they have special discounts. The price might increase in the last few days.
There might be little confusion regarding the two types of tickets. So, an Affiliate ticket is for people searching for agencies or companies they could work with. A Company ticket is for company or agency delegates looking for affiliates to market their products or services to.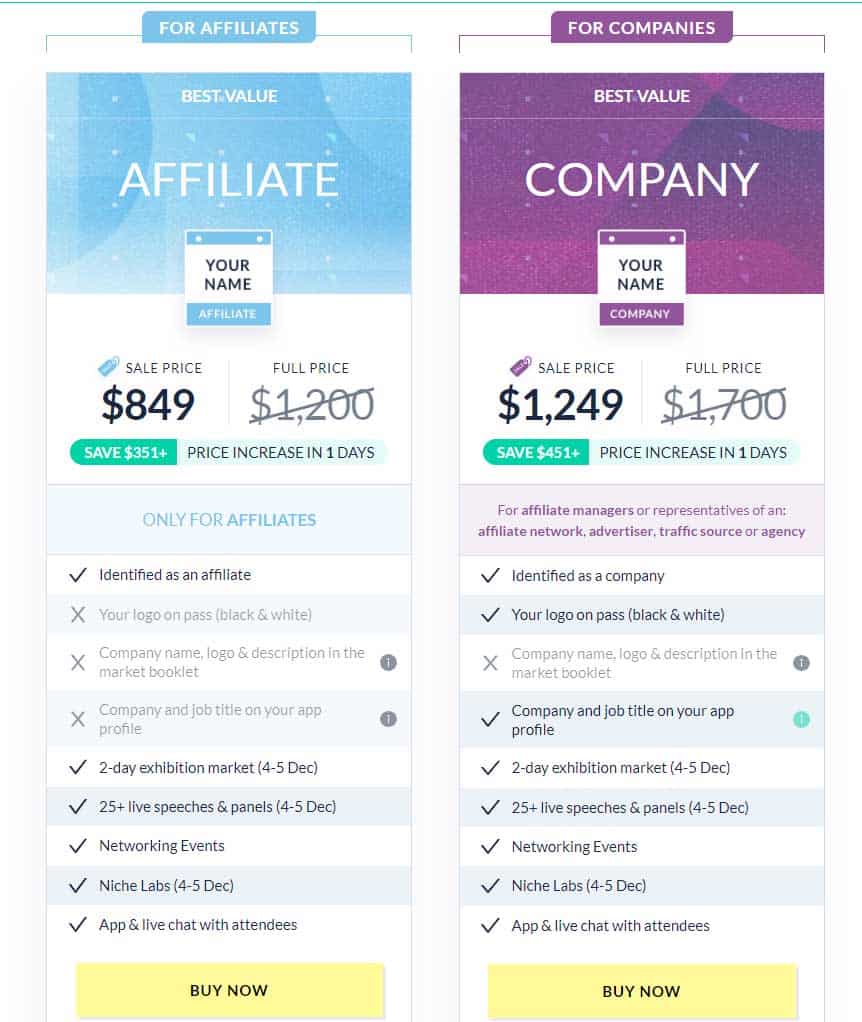 For buying the tickets, you have to click on the category you belong to and enter your details. Click on Continue to fill in other formalities and then choose the payment method. You will get the ticket of a vast life-changing event of your life directly in your inbox. This ticket includes the two-day conference, parties and includes access to all aspects of Affiliate World.
---
Where to live during the AWA 19
If you are thinking of changing your mind due to lodging facility then wait, AWA has taken care of that too. There is a list of hotels displayed on the official website of AWA- https://affiliateworldconferences.com/asia/official-hotel.
These hotels are offering an exclusive rebate to all the AWA attendants. And the big plus point is that these hotels are at walking distance from the place of the event. The price will be subjected to exchange rates and has to be paid in local currency Thai Bhatt (THB).
👉👉 Check out best Hotels near AWA 2019 Event: Bangkok [🔥🔥Jaw Dropping deals]
---
AWA Event Schedule:
This massive event will have lots more than you have ever expected. Not only you will have the chance to listen to the experts on stage but also get an opportunity to tell your struggle or success story at various networking events.
The market will be full of 2000+ plus companies that will be representing themselves, making it the real social hub of the discussions. There will be speeches and panels sharing their stories, ideas, perceptiveness, along with data-driven expertise on eCommerce and performance marketing.
Niche Labs and Networking Mixers will also be active on both days of the conference. Labs are hyper-focused communication, committees, and networking mixers arranged alongside by niche. You can pick any topic from the event and ask for the Lab guidance.
Every evening will be followed by an informal networking event where you can open up key opportunities and associate with the best noesis in the industry. After all, your network is your net worth. You will have two events after the leading conference:
-Beer Garden Happy Hours – both days at Beer Garden
-Official Aw Networking Night Event – day one at TBC
---
Finally❗
If you want to turn all your cards in the affiliate marketing business, then AWA is the most significant event for your goals. This event is definitely for those who want to join forces and make themselves known to the affiliate marketing world.
Bangkok is a safe place for tourists, and the markets are opened 24 hours to assist you. The nightlife is entertaining, and the AWA sponsors also organize lots of post-event parties for the attendees. Don't forget to attend these parties as you never know when and where the opportunity will knock.
I think AWA is doing everything to make this event a great success. It is indeed a life-changing event for many aspirants.
Affiliate Marketing industry is developing at high speed, and those who want to make the most out of it should attend AWA 2019 in Bangkok. So, hurry and book your tickets to the big networking event AWA and meet the most influential people and flourish your online business.
After reading this guide to AWA 2019, do you think that this event is worth missing?
Affiliate Disclosure: This post may contain some affiliate links, which means we may receive a commission if you purchase something that we recommend at no additional cost for you (none whatsoever!)