Are you tired of responding to your customers all day and need someone to chat with your customers round the clock?
You might consider hiring a dedicated person to answer calls and answer chats. You can even hire more than one person to answer customer inquiries 24 hours a day.
But it will be expensive to hire one or more employees to answer your customers' queries, as you have to pay a high salary to professionals with good communication skills.
Then what's the solution?
How can you save money while facilitating your service 24 hours a day to respond to your potential customers?
The solution is Chatbot or AI based chat platform.
The name itself means it's a robot that works as much as you do. The only thing is to have complex algorithms and machine learning to make it efficient. A chatbot is an automated chat platform that can automatically respond to oral or written messages without always being present in the system.
Artificial intelligence is a new technology in which chatbots use AI to automatically talk to anyone on their website or app. Today, most major brands are using chatbots to make a big impact on their customers.
---
List of Top 6+ Chatbot Builders and platforms (updated 2023)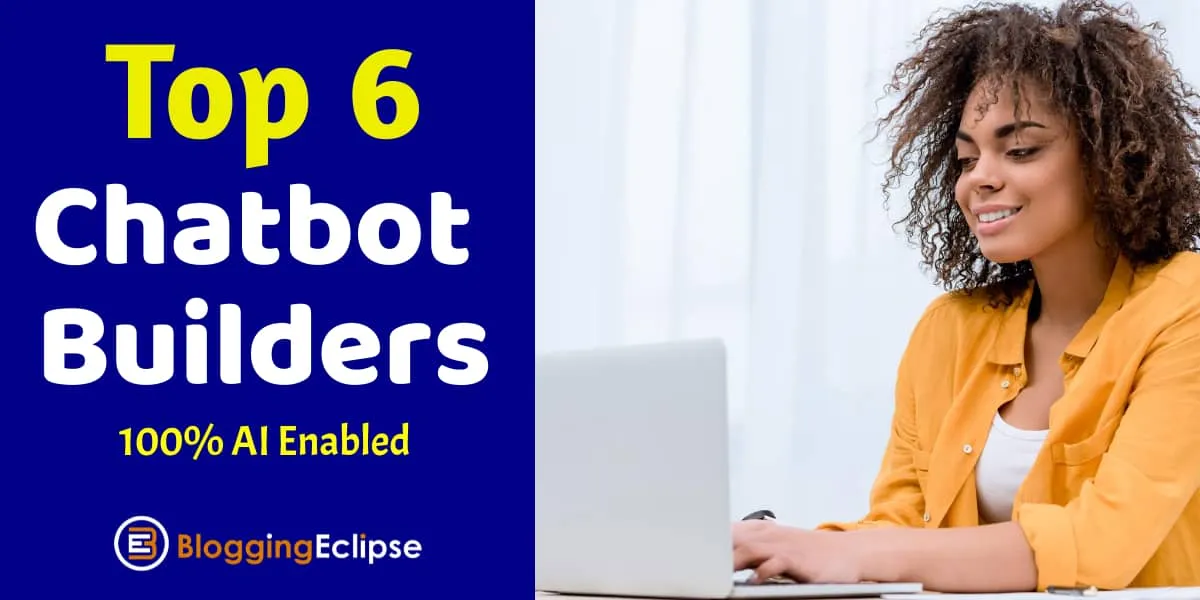 Here, we have listed some of the most amazing chatbot tools to help you build a chatbot for your website without any coding skills.
Dialogflow offers an innovative way to interact with your customers by building natural and flexible conversational experiences. It supports multiple platforms including Google Assistant, Alexa, Cortana, Facebook Messenger and more.
Whether your users are at home or traveling across the globe, you can keep them engaged on any device through earphones, speakers, tablets and more.
Don't worry if you have customers who speak different languages and live in different countries. You can convert languages to more than 20 languages, including French, Spanish and Japanese.
Why choose Dialogflow?
Dialogflow works on machine learning and is powered by Google. With Google's machine learning, it supports Google Cloud speech-to-text.
With

Google cloud

infrastructure you can reach millions of users around the world associated with Google platform.
More than 400 million + Google Assistant devices use Dialogflow to build actions.
Companies around the world are using conversation streams to expand their impact and grow their business. Some of the companies that have integrated conversation streams with Dilogflow include Comcast, Domino, George Armani, and Mercedes.
---
A single platform for marketing automation solutions, SendPulse has it all: email and SMS campaigns, landing pages, and subscription forms, chatbot builder for various social media platforms, and messenger apps.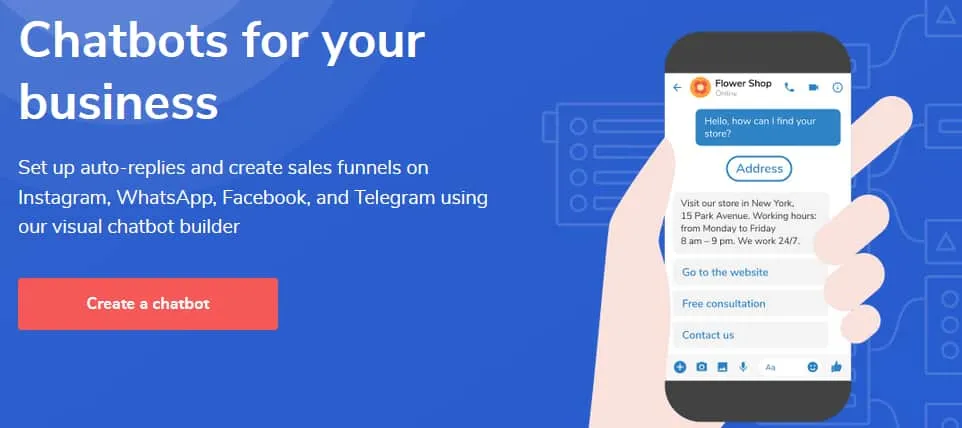 The chatbot builder by SendPulse is intuitive and requires no coding skills or any other chatbot creation experience. Users have several options when it comes to a preferred channel.
You can boost your conversational marketing with the help of a chatbot for Whatsapp or Telegram, or you can improve your social media presence by creating a Facebook chatbot or the most recent release – WhatsApp chatbot.
Why chose SendPulse chatbot builder?
Automate replies and create sales funnels via major social media channels and messaging apps.
Combine chatbot marketing with other channels like email or SMS all on a single platform.
Manage customer data obtained from a chatbot within an inbuilt CRM by SendPulse.
Have your chatbots at your fingertips with a chatbot app for your smartphone.
Accept secure payments from your customers via your chatbots by integrating a payment system.
---
Smooch is a Montreal based startup that later joined Zendesk in May 2019. Now the company name is Sunshine Conversations.
Because messaging is more human than other forms of communication, smoothing has focused on delivering messaging strategies that empower businesses.
Smooch was founded in 2015 and until now has more than 5000 customer accounts operating successfully.
Why choose Smooch?
You can get an overview of your customer messaging usage in real-time with API event logs, delivery, and billing metrics.
Get direct access to your user data with Direct APIs that are powerful & flexible for user management and workflow.
Metadata from chat apps, web browsers, etc. to enhance user profiles.
Easily export all your data via API and make reports to gain user insights and performance.
Easy to add messaging to your software with simple API and scale high. Focus on more important products of your business and leave the conversation part to Smooch.
With access to powerful tools, you can access user profiles, messaging information and more insights into the user data. With so much data you can understand your users' behavior and keep them close and engaged with your system.
Smooch is one of the best ways to instantly deploy your bots wherever you want.
---
SAP Conversational AI is the leading Chatbot software built for everyone looking for creating their own Chatbot.
Recast .ai was founded in September 2015, later was acquired by SAP in 2018 and renamed it in 2019. Now the name of the company is SAP Conversational AI.
If you are a developer then you can start with NLP API and if you are an enterprise then upgrade your system to AI communication by contacting the support team.
SAP Conversational AI features at a glance
SAP uses NLP technology to build chatbots in any language that works like human. It offers easy to use interface that any team can easily manage.
NLP technology that helps analyze data effectively.
Powerful tools to train, connect and monitor chatbots.
With tools and analytics, you can understand your users and improve your performance.
Communicate with customers in multiple languages with no language barrier. You can also switch between languages during a conversation.
A chatbot can be connected to any SAP product.
Supports Alexa, Google Home, and Cortana by deploying voice-activated chatbots.
It won't take much time to launch your bot. With full integration to SAP software suite, you can go live with your bot quickly in days.
---
Botsify works like a human and doesn't let your customers wait for a long time for replies. It works faster so your curious customers looking to receive instant reply should get what they want.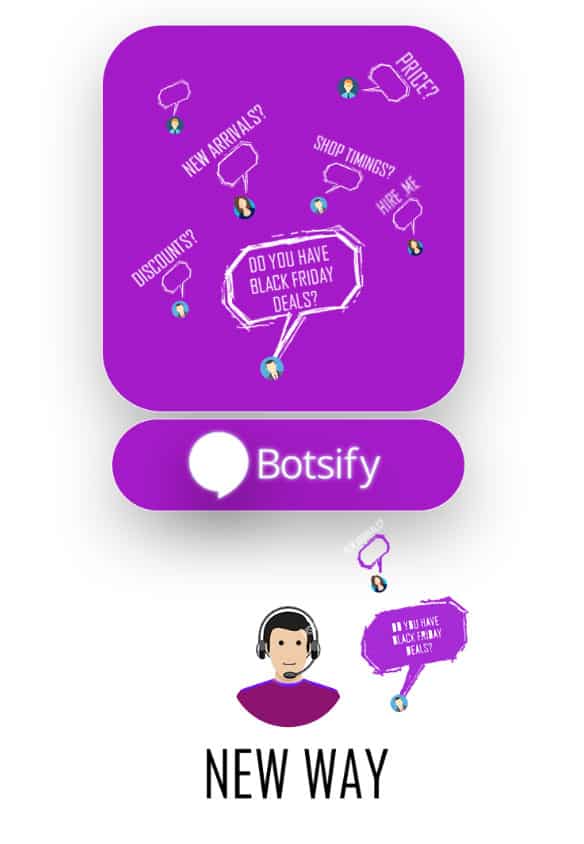 Botsify AI Chatbot increases customer retention and satisfaction which means churn goes down.
Just think of how many support executives you have to hire for a million customers. It doesn't matter how many you hire, you still won't be able to support all of your customers.
But Botsify Chatbot is available to everyone in every corner of the world.
Why choose Botsify?
Supports multiple integrations including Alexa, WordPress, Shopify, and Zapier.
No more language barrier. AI Chatbot can answer to people in different languages. Botsify offers services in India, USA, Brazil, China., etc.
Lead generation forms that are easily customizable with strong validation and API integration.
Works smartly with Facebook messenger and website too.
Data collected with the Chatbot can be exported to CSV or email to study user behavior and keep a record of the insights.
Free 14 days trial helps you understand the feature and start creating your Chatbot to generate huge leads.
---
6.

Mobile Monkey

(Formerly ChattyPeople)
Do you want a coding-free Chatbot?
If so then ChattyPeople is the right platform and is the #1 leading Chatbot builder tool according to Entrepreneur Magazine.
ChattyPeople is now acquired by MobileMonkey and is providing service to all ChattyPeople customers with the transfer.
It is the world's most easy to use Chatbot platform that helps you create your Chatbot in less than 10 minutes. All this with drag and drop editor and intuitive features!
With Chatbot templates and quick qualifying questions, forms, images, text, GIFs and more you are good to go.
You can create engaging Chatbot for facebook messenger in minutes that are interactive and generate leads without any coding.
Why choose ChattyPeople?
It offers a wide variety of widgets like text, images, GIFs, email notifications, native video, questions & forms, etc.
Drag & drop functionality helps you easily place widgets in your chat page for interactive user experience.
With a click, you can create chat pages by setting trigger keywords for your Facebook Messenger.
As go on building your chatbot you will be alerted for issues like character length or missing attributes.
Bot analytics shows total contacts, a visual graphic of trends, conversions, sessions, new contacts, insight into the campaign performance, reporting and more.
---
🌟 AI Chatbot Builders FAQ
❓What is a chatbot builder?
A chatbot builder is an AI-powered software that helps users create chatbots without previous technical knowledge. Everyone can create chatbots for their website on their own as it does not require any coding skills.
❓ How does chatbot works?
A chatbot is nothing but an AI based computer program that is created to simulate real human communication. One can use any chatbot tool available in the market to communicate with others through a chat interface or voice. Businesses can use chatbots to provide personalized and efficient customer service 24/7.
❓ What is chatbot used for?
By using a chatbot, any business can reach their customers quickly, enhancing their customer experiences. Organizations can reduce the cost of customer service by using AI based chatbots as it increases the customer's engagement process.
❓ Why do I go for a chatbot?
Chatbot helps you to offer realty time support to your audience. Following are the important benefits that you will by using AI chatbots for your online business.
1. It helps you establish a stronger connection with visitors.
2. It boosts conversion rates and reduces response time.
3. You can give 24/7 customer service.
4. You can generate more qualified leads.
And many more!!
❓ What is the best chatbot builder?
Various chatbots builders are available in the market that you can start using to increase your customer's engagement. Following is th best list of AI chatbots that you start for free.
1. Dialogflow
2. SendPulse
3. Smooch
4. SAP Conversational AI 
5. Botsify
6. Mobile Monkey 
❓ Which are the most reliable chatbot builders for the person with no coding skills?
Mobile Monkey and Botsify are the best choices as they offer the best features and thousands of ready-made templates.
---
Spend less, Chat more
The reason why Chatbot is becoming so famous is that they work like humans eliminating the cost of hiring a dedicated staff only for chat support.
Chatbots are AI-powered which means even though nobody is present to answer the customer, Chatbot itself will talk in the native language that the customer speaks and answer to all the queries magnificently.
Chatbot platforms are easy to integrate with any platform either Facebook or website. With widgets and easy to use features you can create a Chatbot on your own and save your time and money.
I hope you can find the best Chatbots builders for 2023 from the above list to work on your facebook messenger, WhatsApp or website.
Do you think Chatbots and AI Bots will dominate human chat support in the near future? Do let us know your view in the comments section below.