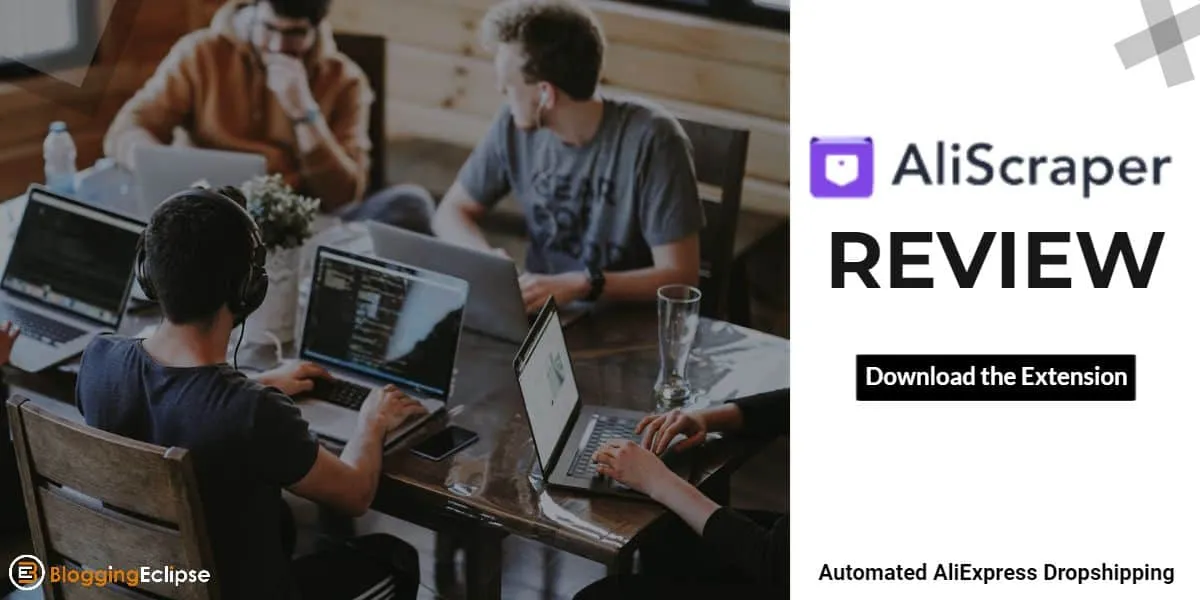 Starting your own dropshipping business in 2023 might seem like a difficult task, but what if I tell you that starting AliExpress dropshipping in 2023 is not as difficult as it may seem? Thankfully, I have an excellent product that can help you kick-start your AliExpress dropshipping business without any hassle?
Well, it is completely achievable as you can get along with some excellent features offered by AliScraper, a Chrome extension/tool by Spocket that can make your dropshipping business better? We'll look forward to that later in this detailed AliScraper review. So, let's get started!!
You might be wondering that making your way around dropshipping is very difficult, but with the right strike at the right time, you can kick start your business. Now comes the million-dollar question: how you can get along with those excellent drop ship products on AliExpress; searching for those hot products can be really time-consuming, and the main obstacle people usually encounter is the research part. Before we take a deeper dive into the more in-depth, let's look forward to dropshipping products for the introductory part, as this will make things more clear for you.
Thankfully, I have got something for you that can help you get along with thousands of AliExpress dropshipping products without getting along with many problems. And the name of the tool is (drum rolls, please) Spocket. It is a tool that can help with several features, including extensive research hours, getting along with the listing cost, retail cost and much more. One of the main reasons I'm mentioning Spocket over here is the tools and easy-to-use interface that it offers, as you can get along with several valuable information like listing cost, delivery cost, retail cost, seller's info, etc. It is worth mentioning that having a tool that can help make things better in your dropshipping journey can be beneficial in many ways.
As a piece of brief information, you can look after some of the excellent filter options that can help you get along with the quality products of your choice. The filter includes multiple options like:
Ships from (the US or Europe/both)
Ships to (the US or Europe/both)
Shipping time (any days, 1-3 days, 4-7 days and so on)
Item costs ($0+ to $100+)
Supplier (top supplier option available)
Advanced filter available (premium products and best seller)
The tool offers much more, including an Import list, my products, my orders, my messages, App (iOS), AliScraper dropshipping Chrome extension, etc. If we look forward to the tools and everything, it is worth mentioning that the AliScraper Chrome extension is something that can help you look forward in multiple aspects of dropshipping business. Since I have mentioned the AliScraper Chrome extension, let's take a deeper dive into this, which will make things a bit easier from the dropshipping point of view.
---
Detailed AliScraper Review | Using AliScraper to Start Dropshipping Business
No doubt that AliScraper offers some excellent features, including getting along with AliExpress suppliers and products. As I have already mentioned above, Spocket offers some excellent features in making your online business hassle-free, but having a Chrome extension makes it even easier; this can be a turning point in your dropshipping business. Talking about the features and everything, it is worth mentioning that AliScraper offers some excellent features that can help in several aspects of dropshipping, including importing products, getting along with a wide range of products, and much more. Let's take a look at the parameters which make AliScraper a good-to-go tool overall: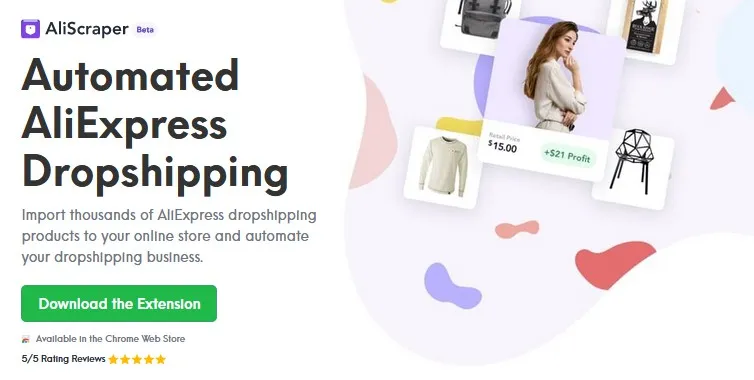 Faster Imports in a Single Click: No doubt that having a dropshipping business can be a hassle in multiple aspects. This is where AliScrapper comes into play, as you can get along with the process of automatically importing products with a single click. One of the positive sides is no doubt that AliScraper has done a pretty great job in terms of delivering hassle-free service to dropshippers with a single click.
Instant Processing for Hundreds of Products using Spocket: As I have mentioned earlier, AliScraper by Spocket offers some good-to-go options as a Chrome extension; as AliScraper is made under the name of Spocket, there is no doubt about the fact how AliScraper can turn out be a helping hand in your dropshipping journey while using Spocket. The AliScraper offers some excellent features in terms of saving time, as you can get along with one-click bulk processing for hundreds of products that are accessible through Spocket.
AliExpress Delivery Check: One of the significant factors why I'm so bent towards AliScraper, is the delivery check; think of this as a scenario where a single tool can help you make things better for your business on the go. You can quickly identify different courier options that are best suitable as per your customer needs; this, as a result, can help in simplifying the tracking process.
Complete overview of AliExpress Shipment: Another major factor is about having a complete overview of how things are getting done in your dropshipping business. By complete overview, what I intend to say is that AliScraper offers you to get along with a complete overview of track of the shipment; this, as a result, can help you in making things great for customers.
Using Loox Reviews: Another major upside that I noticed while getting along with the AliScraper is the use of Loox reviews. The feature basically enables you to import product reviews and photos easily on the go. This, as a result, can help you in managing different aspects of the customer base and reviews.
24/7 Customer Support: Having a solid customer support group can turn out to be one of the most important things in making it listed among the top-tier players in that niche/category. The key feature that really amazed me was its dedicated team which is all set for helping you out with AliExpress dropshipping any time.
Now since we are all done with the features of using AliScraper, let's take a look around some other aspects as well; this basically includes different ecommerce platforms such as:
These different dropshipping platforms can be considered one of the major factors in making things work better in your dropshipping business; whether it is Shopify, BigCommerce, WooCommerce or Wix, whichever platform you prefer your business, AliScraper has got you covered.
Since I have already mentioned several features of Aliscraper, its time to look forward to the installation process, all you need to do is get along with the following steps:
Make Sure you are using Chrome Browser.
Now get along with the Chrome Webstore and search for AliScraper.
Click on the button showing "Add to Chrome."
Go to AliExpress and click on the chrome extension button, which is seen on the right top corner section of your Chrome browser.
Now login/signup into the Spocket; you can use different options, including Google, Facebook or signing up using the email.
And congratulation, you are all set to use different features, including bulk transfer, AliScraper recommendation and much more.
You can also get along with more features, including applying filters based on a ship from, ship to, rating, cost, and much more. If you are looking forward to exploring this feature more and more, I would highly recommend you to get along with the Chrome extension yourself, as this would give better ways to explore it; in addition to all this, it is worth mentioning that you can get along with all these excellent features at no cost, yes you read it right, installing the AliScraper Chrome extension is absolutely free. Whereas you might need to pay some money for using Spocket, but no doubt that it'll be worth it. From my perspective, spending some money to save tons of research work, management, and other important aspects of dropshipping in a single go can turn out to be an excellent thing for a business owner.
---
🌟 Top FAQs on AliScraper
🙄 How does AliScraper work?
AliScraper is nothing but the automated dropshipping tool that is available in the form of a Chrome extension. The user can use AliScraper to import AliExpress products to their online dropshipping store. With just a few simple clicks, you can automate your dropshipping business using AliScraper. The best part here is that you do not need to sign up on AliExpress to place an order; you can simply use it as an ecommerce channel.
🔎 Is AliScraper free?
Yes, you can try AliScraper for free, and it also works well with some of the top dropshipping platforms, including Shopify, BigCommerce, WooCommerce, and Wix.
🚀 How can I use AliScraper?
Follow the below mentioned few simple steps if you want to use AliScraper:
1. The user needs to have a Spocket account. If you are new to Spocket, then click here to start your 14-day free trial.
2. To start using AliScraper, you need to download the AliScraper Chrome extension.
3. Find your desired products on AliExpress that you want to import.
4. By clicking on the AliScraper button, you can directly import the AliExpress products to the Spocket import list.
5. From Spocket, you need to import products to your online dropshipping store. Once the product is imported to your online store, you can start making a sale.
❓ Why should I go for AliScraper?
AliScraper allows you to automatically import AliExpress products with just a couple of clicks to your store without hassle. It's time for you to be a part of the premium drop shipping action. AliScraper has qualified experts to guide your AliExpress dropshipping. The user can easily identify courier options and can simplify tracking packages. Click here to download the AliScraper Chrome Extension.
🏅 Does Spocket offer a free trial?
If you want to try Spocket for free, click on this link to start your 14-day free trial. The free trial of Spocket allows you to test all its features for free.
🔥 Is there any Spocket discount coupon?
Yes, if you go for the Spocket annual plans, you will get 8 months off.
---
Conclusion: AliScraper Review | Is AliScraper a great tool to work with?
Yes, an absolute yes!! From my POV, having a tool itself can help in making you outgrow your competitors, and that tool over here is Spocket; think of this as an assistance tool that can help in several things, including the filter options, decreasing your marketing efforts and much more; basically helping you with several features to elevate your dropshipping business overall. In addition to this, the free-to-use Chrome extension AliScraper turns out to be even better for using different features on the go, for example, bulk transfer in a single click, checking delivery options with ease and much more.
Hopefully, this article has cleared some of the common queries you might be dealing with for starting your AliExpress dropshipping in 2023.