Starting up a business and being the boss of your job is the dream of everyone nowadays. The gig culture is evolving; each day, hundreds of people drop their idea of 9-5 jobs and start their business online.🥇
E-commerce is the top choice of everyone because of its popularity and the money, but is it easy to become a seller in such a vast market place?
Understanding the Amazon marketplace is difficult, and researching is tedious as well. Previously, all the search was done manually, but many product research tools were available because of emerging technology. Many Amazon product research and finder tools make research easier, but it isn't easy to find the effective one.
---
What is the Amazon Product Research Tool?
You can filter your needs and target customers through the product research and finder tool, and it will show you results accordingly. This tool will also help you find the right product according to your niche and the correct keyword.
Lately, you can even track the product's performance in the marketplace and keep an eye on the competitors' products.
Which are the Best Product Research Tools, & WHY?
So, as you are now aware of the benefits of a product research tool, the next step is to find the best one. Jungle Scout and AMZ Tracker are among the leading tools in the market and assures a boost in the seller's income and reach of the business. But which among the two is the best choice?
To help you find the right product, we have done a detailed review of ✅AMZ Tracker vs. Jungle Scout, along with its pros and cons. Don't forget to read the article's end because it covers some exciting benefits to look after before making the purchase decision.
---
AMZ Tracker vs. Jungle Scout | The ultimate comparison
AMZ Tracker is a popular product research tool among Amazon FBA sellers as it has various tools and strategies to increase the rankings. You can also maintain the new ranking as the tool uses the right algorithm to help you reach the top.
The tool lets users increase their sales volume by promoting products to potential customers and attract them towards your products. AMZ Tracker used a combination of three strategies to help you become the best seller.
It uses offensive, defensive, and recon strategy to assure a constant flow of precise data and alert you about the negative reviews.
Jungle Scout is the most popular Amazon product research tool in the market, which helps more than 4,00,000 entrepreneurs, having produced $3 billion worth of sales estimate. If you are a beginner, this tool will take care of all your needs, from strategizing to finding the right keyword and planning the niche.
Even if you are doing well in the e-commerce business, Jungle Scout will help you stay on the top by increasing your sales and monitoring your progress.
👉 Read: Detailed Jungle Scout Review
The sales analytics feature by Jungle Scout is for enterprises who want to scale their business to the next level. It's a tool that can help you with any problems throughout the seller's journey efficiently!
---
AMZ Tracker vs. Jungle Scout: Features
The only way to compare these tools is through the features itself. Here are features of AMZ Tracker and Jungle Scout to help you choose the best:
AMZ Tracker
To increase sales, it's important to look after the competitor's actions and pricing, and AMZ Tracker helps you get a detailed analysis of the same.
You can track your account's performance for some time and look after the actions affecting your conversion rate.
You can find out long-tail keywords or phrases customers usually search for on the Amazon through this feature. It will help you to grow your business and maintain your product line.
AMZ Tracker gives their users two different alerts, one for negative reviews and the other for the hijack alert. You will also get an alert when some reseller tries to peek into your listing and dig out some crucial data or ideas.
Increase conversion rates
AMZ Tracker helps its users find out the major problems behind the decreasing conversion rate and fix it. Most of the features are identified through images, title lengths, product ratings, bullet points, Amazon chars description, etc.
Through this feature by AMZ Tracker, you can increase your product's ranking by using the right URLs to get more traffic.
Jungle Scout
The product tracker feature will help you to track the performance of any product over a while. The data are represented in a graphical way to clarify and make the user understand critical aspects easier.
The product database feature by Jungle Scout is the vastest database ever, having more than 70,000 products directly from the Amazon product database. Hence, you can quickly find the right product according to your niche through this database.
If you are looking to change your niche, this feature by Jungle Scout will help you get a detailed analysis of opportunities to maximize your profits.
In the recent update by Jungle Scout, you can now easily create a list of all the Amazon listing in a single place.
This feature by Jungle Scout helps the user send emails and notification directly to customers regarding the new product launch or product availability. In this way, you can target your customer with direct marketing.
As the inventory manager helps the user keep track of the stocks or inventories, the sales analytics will help you predict your products' performance and the sales over a period.
Jungle Scout offers users with ebooks, videos, and blogs if, in any case, they get stuck anywhere. You will get proper FBA training even if you are a beginner or professional to upskill your journey.
Moreover, with Jungle Scout, you can get a supplier database with a collection of data from all the suppliers to help you find the best one.
Jungle Scout chrome extension
The chrome extension of Jungle Scout is updated from time to time and now has more exciting features than the web application.
---
AMZ Tracker vs. Jungle Scout: Common features
There are some of the features we have found common in AMZ Tracker and Jungle Scout, like:
Keyword scout by Jungle Scout is a popular tool and offers a great range of features in the recently updated version. It helps the user search high ranking keywords for the products and historical volumes relating to the keyword's performance. Hence you can strategize the use of keywords efficiently with the tool.
You can track and rank your keyword high with the AMZ Tracker keyword feature. Discovering competitor's keywords and making changes on one's own gets easier with the tool. The keyword research tool will help you find top ranking keywords and phrases the customers are searching for.
AMZ Tracker uses the VIPON feature for promoting and launching products. It's a popular and most used feature among the users and has active 9 million customers getting 9,00,000 daily page views.
The Jungle Scout launch feature will help you target the right customer and contact them directly via email or notifications. It usually helps young businesses to make early sales and boost the product listing by increasing positive customer reviews.
---
AMZ Tracker vs. Jungle Scout: Important differences
Jungle Scout lacks the customization feature, but AMZ Tracker has an excellent feature to customize the external landing pages.
Jungle Scout does not have any PPC automation tool, but AMZ Tracker has different tools for the same.
The data of Jungle Scout is comparatively more reliable and accurate than AMZ Tracker.
Jungle Scout offers its users a list of supplier's database, including all the necessary information, but AMZ Tracker lacks this feature.
AMZ Tracker does not allow much training equipment or sources, but Jungle Scout offers a full training program for beginners and professionals.
AMZ Tracker has few marketplaces as compared to Jungle Scout because it has 250,000 shopper marketplaces
AMZ Tracker has a keyword index checker to increase search quality, but Jungle Scout lacks it.
Jungle Scout assures a 14-day money-back guarantee to their uses, and if they don't like the tool, they can initiate the refund, but AMZ Tracker lacks this feature.
---
AMZ Tracker vs. Jungle Scout: Customer support
AMZ Tracker has a decent customer support system because many customers are not satisfied with it. But their blog on the website covers detailed information to help the user with the problems.
On the other hand, Jungle Scout offers 24/7 extensive customer support to all the uses. They even provide several insightful resources through their blogs and academy, which can be used for troubleshooting.
AMZ Tracker and Jungle Scout support several marketplaces across the globe. They have country-specific versions of Amazon, including the UK, Brazil, USA, Canada, France, Japan, German, Spain, and India. You can use both the tools with proper functioning from these countries.
---
AMZ Tracker vs. Jungle Scout: Pricing plans
AMZ Tracker
There are different pricing plans by AMZ Tracker, and each differs according to the features. You can choose anyone out of the six plans according to your needs and budget.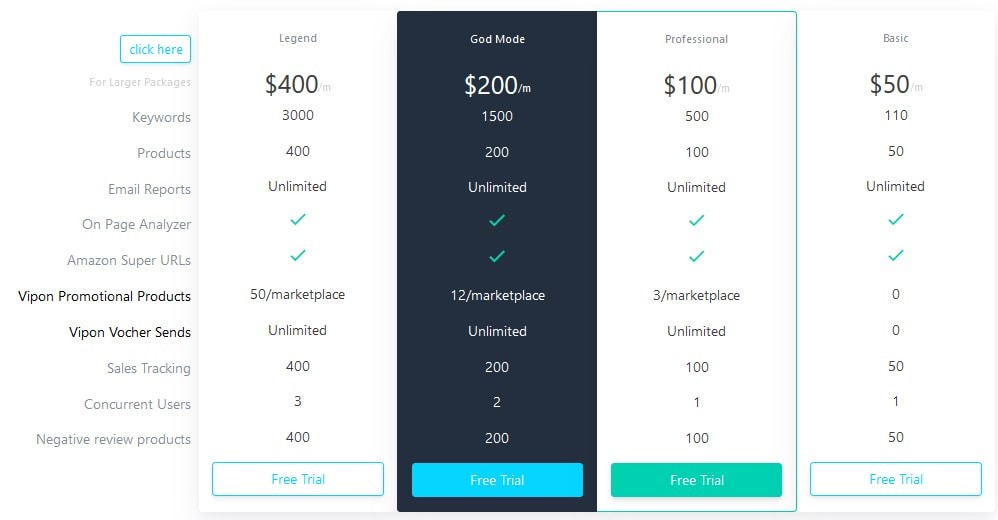 Basic plan: This plan by AMZ Tracker is for $50 per month, and it includes 110 keywords, 50 products, and unlimited reports. It also covers Amazon Super URLs and an on-page analyzer. You can view 50 negative review products and 50 sales while having a single concurrent user.
Professional plan: This plan by AMZ Tracker is for $100 per month, and it includes 500 keywords with 100 products with unlimited reports. You can track 100 sales and view 100 negative comments, just like the basic plan.
God Mode: The God mode by AMZ Tracker is for $200 per month, and it includes 1500 keywords and 200 products with unlimited reports. All the other features are the same as the previous plans, but you can track 200 sales and 200 negative reviews having two concurrent users.
Legend Mode: The legend mode of AMZ Tracker is for $400 per month. It includes 3000 keywords, 400 products, and unlimited email reports. It also has Amazon super URLs and an on-page analyzer and 400 sales and 400 negative review products with three concurrent users.
There are two corporate packages by AMZ Tracker available for bulk usage; they are:
Corporate 2 packages: The corporate two packages of AMZ Tracker are for $800 per month, and it includes 6300 keywords and unlimited product and email reports. It also has Amazon super URLs and an on-page analyzer. You can track 840 sales and view 840 negative reviews with five concurrent users.
Corporate 3 packages: The corporate 3 package of AMZ Tracker is for $1600 per month, including 13000 keywords and unlimited product and email reports. You can easily track 1700 sales and 1700 negative review products with eight concurrent users. The package also includes Amazon super URLs and an on-page analyzer.
Jungle Scout
The cost of the Jungle Scout web application is $139 monthly and $468 yearly. You will get access to unlimited searches by product database and supplier database. Also, keyword scout, opportunity finder, inventory manager, list builder, sales analytics, and email campaigns are included in this package.
The pricing of Jungle Scout extension is $19 per month and $228 if billed annually. All the web application features are included in the extension, but you will get additional features like Accurate sales estimate, customer support, and Jungle Scout academy.
50% OFF
You can also buy the Jungle Scout extension and web application combined for $49 per month and $588 for a year. In this, you will get access to all the features in a single place.
---
Pros & Cons
AMZ Tracker
Pros
Has a unique super URL feature
Provides real-time information to users
Pricing according to the number of features
In-depth word feature to find the right keyword and phrases
Show alerts of negative reviews or any hijacking issues
Offers a 7-day free trial
Cons
Confusing dashboard for beginners
Issues in customer service can be improved.
High subscription charges as compared to other tools
Jungle Scout
Pros
Accurate and reliable data
14-day money-back guarantee
Easy product research to simplify the research task
Easy contacting to manufacturers by the supplier database
Has the extensive analytical approach to researched data
User-friendly and intuitive website to make the navigation easier
Cons
Auto-renewal policy is a bit tedious.
The tool is costlier as compared to competitors.
New users may find the software complicated.
---
🌟 AMZ Tracker vs. Jungle Scout FAQ
👉Can I get AMZ Tracker for free?
No, you can't use such a fantastic tool for free; however, AMZ Tracker offers a 7-day free trial to help you decide on purchasing.
👉Can I use Jungle Scout for free?
Jungle Scout is not available for free, nor, it offers any free-trial period. But you get your money back through its 14-day money-back guarantee; if you don't like the tool, you can initiate the refund.
👉Jungle Scout is available in which countries?
Jungle Scout is supported in the United Kingdom, the United States, Canada, France, Germany, Italy, India, Spain, and Mexico.
👉Does AMZ Tracker keep track of older data?
AMZ Tracker stores the sale data for a month and the ranking data for a year.
---
Conclusion: Which is better for product research?
In this detailed review of AMZ Tracker vs. Jungle Scout, we have mentioned all the features and benefits of the tool. If you are a beginner and don't know how to attract more traffic to the website, then AMZ Tracker is the best choice for you. The amazing part of the tool is Super URL and Depp word finder, and the cherry on the top is alert about the negative reviews.
You can easily scale and grow your business with Jungle Scout as it sales analytics and profit calculator. You can get accurate results through these features about your sales. Yet another exciting part is the inventory manager through which one can monitor your inventory closely. The price of the software is highly affordable.
Conclusively, AMZ Tracker, and Jungle Scout are altogether amazing tools one must have to scale their business. Although the features differ, the products don't fail to provide their worth and aim of being a product research tool. No matter which product you choose, you need to strategize the process to get the best results.
Both the tools are a win-win from our end; however, you can choose one by looking after the features of AMZ Tracker and Jungle Scout.😊