Want to create the ideal marketing strategy in minutes? Learn from successful campaigns? Are you confused between too many spy tools in the market? Competitive intelligence tools have become less of a luxury and more of a necessity to stay relevant in today's highly-competitive landscape. Creating better content or a better product than your competitors is, of course, important.
Still, your better product or content will never be seen if your competitor's marketing campaigns turn out to be more successful than yours. Competitor analysis, along with a detailed study of all profitable campaigns in your vertical, is critical to ensure you create the right campaign strategy.
You need a powerful tool to tell you about your competitors' advertising campaigns and what is making them successful or what is dragging them down to understand the dos and don'ts of creating a profitable ad campaign.
These are popularly called adspy tools. These tracking tools have slowly become increasingly popular. Because more and more people are using them, it is becoming more essential to stand a chance to make your affiliate campaigns a success. Now that you know that you need an ads spy tool, the question arrives; which one? The answer is not a simple one. There are hundreds of tools in the market, claiming to have the largest database and the best search filters.
Thankfully, you don't have to struggle to choose between the hundreds of tools out there because we have brought you a detailed comparison between two of the best tools available today.
SpyOver and Anstrex are two very popular ad platforms that a customer can buy today. We are making a comparison and not outright recommending one because it will be better for you to choose between two excellent tools as per your needs after reading the pros and cons of both.
Choose the tool which allows you to reach the heights of the most prominent affiliate marketers in the world after reading our comprehensive ✅Anstrex Vs. SpyOver comparison.
---
Anstrex Vs. SpyOver: Honest Comparison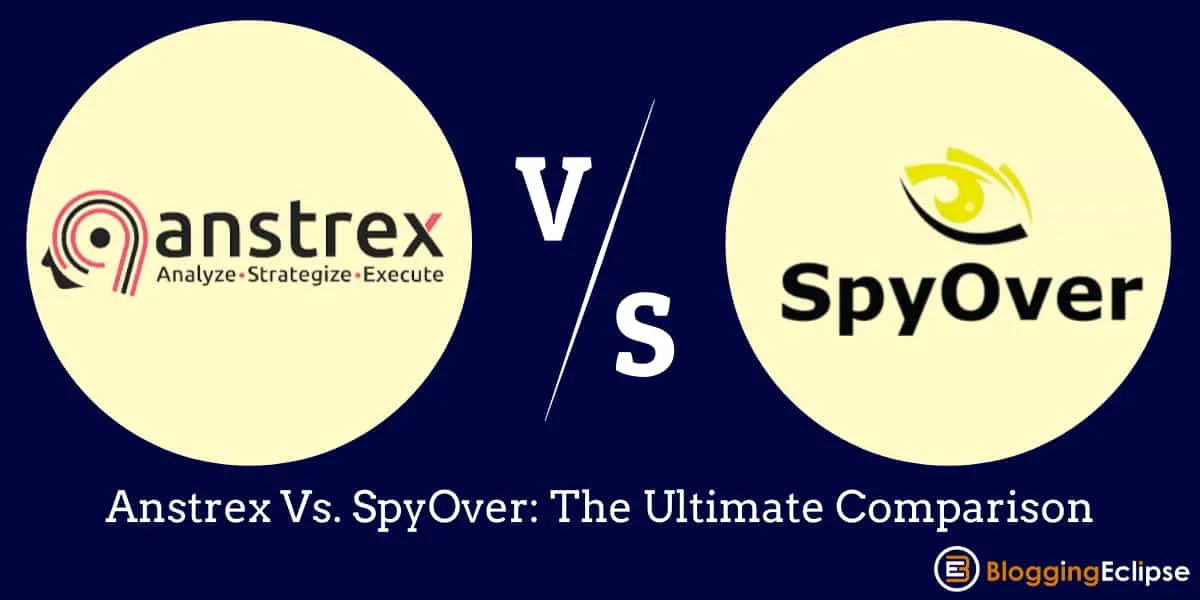 Anstrex Review
Anstrex is a tool that can show you the ads strategies of the top performers in your vertical and help you optimize your campaigns accordingly.
Their product portfolio is designed to help you get a complete picture of the kind of campaigns that are becoming successful so you can avoid some very costly mistakes in yours.
As an advertising research tool, Anstrex provides a variety of related functions. By giving a detailed analysis and competitive insights, you can rise through the ranks as a digital marketer, content creator, or dropshipper using Anstrex.
Let us go over the unique features which allow Anstrex to achieve these results;
Also check: (Updated) Anstrex Review + Discount Coupon | (Upto 30% OFF)
---
Tools Offered by Anstrex
Anstrex's service is divided between three major platforms for native ad networks, push notification campaigns, and product research for dropshippers. Let us go over all three of these tools and their salient features in some detail;
1. Anstrex Native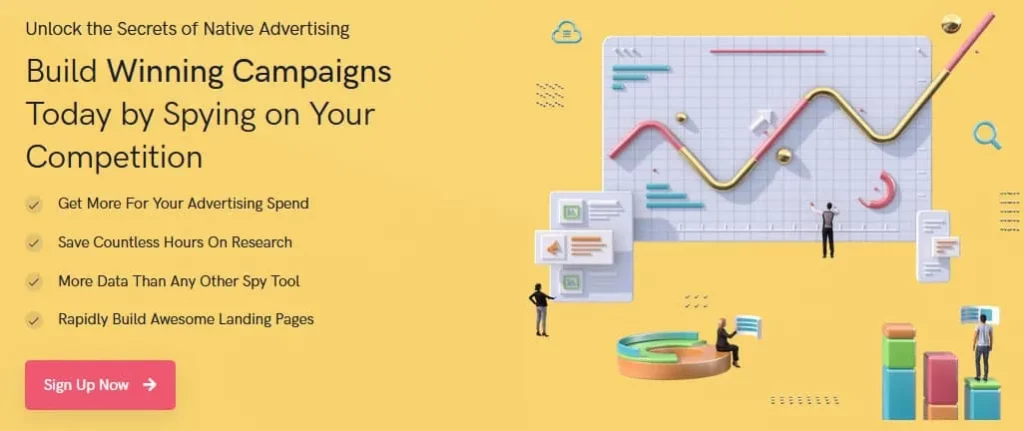 This is their native ad spying tool which has helped design some of the most successful native advertising campaigns to date. Their database ranges over millions of ads across 80 countries working in 27 different ad networks associated with over 150,000 advertisers in total.
The general problem users face with native ad spy tools is that even though the data available may be extensive, it is not easily understandable because the tool's creators do not understand the nuances of native campaigns and the cultural changes.
Anstrex native is wildly popular as a top native spy tool because they provide the following services:
They can maintain databases in more countries than any other tool using high-quality residential proxies. All major ad networks, advertisers, and publishers can be tracked to their last action in every important nation.
Remarkable search features
Aside from advanced filters in search and keyword searches being available, what we were impressed by was the advanced boolean searching functionality. Using this feature, boolean operators will combine any search and filtering criteria for you to create your custom filters for data according to your need.
Filters include category, country, device, affiliate network, ad network, etc. Search for keywords by combining them with the filters to get an advanced keyword search experience.
Advanced landing page tools
You can download any landing page and queue multiple downloads, and base your page on that raw data if you find it appealing.
Their in-line HTML editor can quickly help you optimize the landing page you downloaded or your landing page in minutes. After all your tweaking is done, you can deploy the webpage from within Anstrex itself. Users have mentioned that deployment from their custom ladder is much smoother.
This is a set of tools offered under Anstrex native to help get you a sense of what your campaign should be like before you start building it. Essentially you get to see complete details, check out landing pages, marketing materials, and everything else you need to get a complete picture of the most successful campaigns in the world.
2. Anstrex Push
This is Anstrex's tool for users who want to create an impact with push notification campaigns. The data tools required to build campaigns are somewhat similar between a native campaign and a push notification campaign; the landing page tools and search features are carried over on the same level more or less.
All tools are, of course, optimized to the needs of those who want to create the perfect push notification ads, along with a massive database of over 3 million ads sourced from nearly 40 ad networks and over 30,000 advertisers based across 92 countries.
One of their signature tools as part of Anstrex Push is how they have created new versions of the campaign visualization tools, which we saw earlier. You still get the full functionality of being able to monitor any push ads campaign you want but their actual CPC bids numbers for many campaigns along with a detailed campaign history. This helps you isolate all the strategies behind creating profitable push ads and then build them quickly using Anstrex Push.
3. Anstrex Dropship
This is Anstrex's in-house tool for dropshippers and has built its reputation on providing more competitive intelligence to its users than any other tool. Most search options and advanced boolean searching are standard with Anstrex Native and Push, but they have a range of features designed especially for dropshippers:
A massive supplier catalog, complete data on the most successful dropshipping stores in the world, along with info on the products which are going to dominate the market before anyone else
Fastest product search in the world by providing data-driven recommendations on winning products across categories and verticals.
Completely automate many of the tasks you find time-consuming. Adding products to your store, ordering from suppliers, and managing your inventory will get done much faster because of their range of software and chrome extensions.
Get a list of top dropshipping products, their traffic sources, and monthly reports on all competitors.
---
Benefits of Joining Anstrex
We covered their three signature tools part of the profitable bundle that is Anstrex. Now we would like to go over some of the ways which Anstrex creates the perfect advertising experience for you and, by extension, your audience;
As a creator, one has an inclination to try out new things. But on social media and the internet, it is better to always go with a proven strategy because that will always get you results. There are millions of marketers and advertisers fighting for the attention of every single user. If you want to use your advertising budget effectively, you should join Anstrex and use the detailed insights it provides you to find the winning strategy in your vertical and stick with it.
Advertising campaigns, mainly native ad campaigns, always contain many factors responsible for their success or failure. You need to ensure that the data your adspy tool provides you contains information on entire campaigns covering these factors.
Anstrex is one of the most comprehensive ad intelligence tools that we have seen yet because it offers amazing insights into campaigns that none of the affiliate marketing tools currently available can provide.
All adSpy tools are based on the idea that you take a successful ad and give it your personal touch. You will change some aspects of the ad, but there are elements that you can directly carry over to increase your chances of success without putting in any extra effort. Images and other marketing materials which can be used directly are identified and provided by Anstrex.
Most advertising research tools are just software that provides you with data but does not do any of the work for you. AnsTrex's in-built AI bots help you relax a little by taking upon responsibility for a lot of the tedious work of creating ad campaigns.
---
Anstrex Pricing Plans
Anstrex Native: $69.99/month/user
All the features mentioned above are included at a flat price. (product bundle containing both Native and Push is available at $139.99/month/user.
Anstrex Push: $89/99/month/user
The complete set of features is available for a flat cost. (product bundle containing both Push and Native is available at $139.99/month/user.
Anstrex Dropship
(while in Beta) This tool is available COMPLETELY FOR FREE currently. The prospective price is $79.99 after the limited-time free plan ends. Full functionality of the tool is available.
---
SpyOver Review
What sets apart SpyOver from its competitors is that it maintains the users' complete privacy while adspying.
This is a bonus to the fact that you can monitor an ever-growing database of over eight and a half million ads taken from 14 advertising agencies. Let us go over how this database benefits you directly,
What are the capabilities of SpyOver?
Search between the millions of ads in their database by keyword, redirect chains, publishers, landing text, outgoing links, brands, and offers. You can filter your search results by browser, devices, tracker, date and duration of impressions, network, country, and ad language. These search options are given for you to see the elements of the top ads in your vertical so you can get inspired by them and create ads of similar success.
Search between landing pages by landing page, affiliate network, tracker, date of impression, and type of landing page. Here you can filter through the search results by landing text, landing URL, landing title, and outgoing links. All of these features are designed so that you can learn from the most successful landing pages in the world.
Detailed ad statistics are available for all 8 million ads which are on the platform. These are simplified into easy to understand data points like diagrams and pie charts. You can also the connection between the site and the network widget ID in a table format.
Several more miscellaneous features are available, such as downloading ads and landing pages, native ad translation to English, a special section on ads that converted to the landing page, mass download ad data, and sorting by popularity, lifetime, novelty, and trend.
Also check: SpyOver Review + 20% Special Discount Coupon
---
What can you do with SpyOver as a marketer?
Identify the winning bundles and analyze them with complete data points.
Many time-consuming operations can be foregone, allowing you to maximize your revenue earned per time spent.
Find successful products, new ideas for creatives and analyze the market on many important pointers.
Download any ad or landing page which seems interesting to you.
Monitor all your competitor's campaigns.
Analyze current and emerging ads in advertising by keeping ahead of which ads will perform the best.
---
What can you do with SpyOver as a media buyer?
Check trends and impressions for any period in any country in which the tools are available. This tool can be filtered through by device.
Download all concerning landing pages and advertising materials that you require.
Get data-driven recommendations that save your time and maximize your income between operations.
Check the activity of all the top performers and competitors in your niche.
Compile all the data you need to create or optimize a campaign according to the requirements of profitability. You can create profitable bundles based on this received data as well.
Discover new products and bundles.
---
What can you do with SpyOver as a CPA network or CPA model?
Download landings and advertisements in a single action.
Analyze the trends and activity of your competitors and top performers.
Detailed data and analytics for every ad.
Monitor trends in advertising and landing page creation.
Keep track of current market topics and isolate winning advertising elements.
Find native campaign strategies faster than ever before and save a significant amount of time.
---
Key Features of SpyOver
AdSpying with maximum ease-of-use by way of straightforward data filtering. Get insights on ads divided by affiliate network, traffic source, and country. Advanced users can also get data filters to check the browsers and trackers and monitor campaigns in real-time.
Optimize your ad spending by getting detailed insights into the ROI of your every action and every expenditure. Primarily useful for affiliates on barebones budgets, you get an immediate decision of whether or not an offer is good, and you should invest in it or not. This translates to other kinds of users in similar ways.
Dedicated native ad spying features help you track competitors minutely. They have optimized this process so that even if you don't have a technical background, you can make effective data-driven decisions based on this monitoring activity.
View and download the landing pages which you require. They also curate fantastic landing pages for many verticals to see the kinds of web pages generating the most value.
---
SpyOver Pricing Plans
Free demo access is available.
Tarif Professional: $149/month
2 simultaneous sessions with a full range of features mentioned above.
Tarif Corporate : $229/month
Six simultaneous sessions with the full range of features mentioned above.
---
🌟 Anstrex Vs. SpyOver FAQ
🙄What is Anstrex?
It is the advanced competitive intelligence tool that unlocks the strategies used by your competitors to help you improve your ROI. Anstrex analyzes your competitors' marketing campaigns to find what works and what doesn't.
🔎How does Anstrex work?
Anstrex is the best ad spy tool for online marketers that provides data on competitors' online advertising and marketing strategies. It has a suite of tools that help you know your competitors better and stay ahead of them.
❓How reliable is Anstrex data?
Anstrex offers extremely reliable and accurate data to all its users. It uses high-quality proxies to collect data in real-time. By using the advanced database management system, it provides incredibly powerful searching capabilities.
🤔What is SpyOver?
SpyOver is the ultimate ad spy tool that helps you to monitor your competitors' ads. SpyOver is perfect for anyone who needs to find profitable ads and landing pages in minutes.
😎Can I try SpyOver for free?
Yes, SpyOver offers free demo access to all their new users. Click here to create a free SpyOver account.
🔥Can I get any active Anstrex coupon codes?
If you want to save some money on this amazing tool, use the above-mentioned Anstrex coupon that helps you to get the maximum discount.
🤑Is there any working SpyOver discount code?
If you are looking for the verified SpyOver coupon code to save some bucks, use the above-mentioned SpyOver promo code.
---
Conclusion: Anstrex Vs. SpyOver 2023 | Which is the best ad spy tool?
As is apparent, both tools are competent. We started this article with the idea that we will compare two of the best tools in the market so you can understand which works best for you and at the end we think it must be very clear to you which of the two works better for you.
In terms of the overall range of features and functionality Anstrex is a sure-fire winner because of the sheer higher amount of functionality you get from the tool. This is also in addition to the fact that Anstrex is a cheaper tool than SpyOver.
If any specific SpyOver features are essential to you, then go with SpyOver, but if you want your adspying tool to be a complete solution for all your advertising needs, then Anstrex is the one to go for.🤞🤞