Have you ever heard about the "Less is More" approach? Well, the affiliate and traffic tracking software we are going to discuss here believes in it strongly. The method simply aims at achieving more by applying less.
AnyTrack "single line of code" will enable you to instantly track all your affiliate campaigns and sync them with your Google Analytics and Facebook Pixel. This AnyTrack review will highlight all its features for bloggers and affiliate marketers.
The platform is purely for digital marketers who understand that a conversion is more than a line in your report, and want to leverage this conversion data to generate more revenues. One can track and evaluate any conversion data reference with Google Analytics.
It lets you directly link paid and structured traffic and affiliate networks with Google Analytics and Facebook Pixels. In short, you will be able to manage all your digital marketing campaigns with a single tag of code on your website.
Before going into deep, let's check the AnyTrack coupon code.
---
Best Buy AnyTrack Coupon Code
The best buy AnyTrack coupon – Get 14 Days Free Trial for personal and advanced account
How to use the AnyTrack coupon code?
Get to the AnyTrack website and explore all its features and working
Go to the Pricing section and pick up your plan
If you go for $0 plan, then no credit card is required, and you can start with the limited features with this plan
For the other two plans, you will get a 14-day trial period
Click on Get Started and sign up with Google or Facebook or your professional email id
After getting the confirmation email, you can set up your account with AnyTrack.io
---
AnyTrack Introduction:
AnyTrack is a useful conversion tracking and ascribing platform configured to assist digital marketers in tracking and attributing conversions to their Google Analytics accounts, Facebook Pixel and other Ad networks, such as Google Ads, Bing Ads, Taboola, etc.

It brilliantly sends click data to affiliate links, which allows conversions to be tracked via postback URLs and API.
AnyTrack Postback URL logs conversion data from affiliate networks and initiates conversion goals predetermined in Google Analytics. The foremost way to find AnyTrack advantages is to have its trial. Irrespective of using any other tracking software, you can insert AnyTrack script to your website, and straightaway starts visualizing the conversion data displayed on your Google Analytics screen.
---
Eye-opening features
AnyTrack's single line of code synchronizes all your affiliate conversions with your ad network, Google Analytics, and Facebook Pixel. Have a look at the features that contribute to making this software worth the investment.
Ever-changing Traffic collection
The software analytics tracks any type of traffic data via code assimilation. Then it mechanically determines traffic sources, channel, and other traffic-centric abstractions lie UTM parameters, data attributions, and custom variables.
Any affiliate network tracking
Just click a button, and get connected to your chosen affiliate networks and adjust your conversion data with your preferred analytics tools. You can do direct integration, funnel tracking and track CPA, CPL, sales, and installs.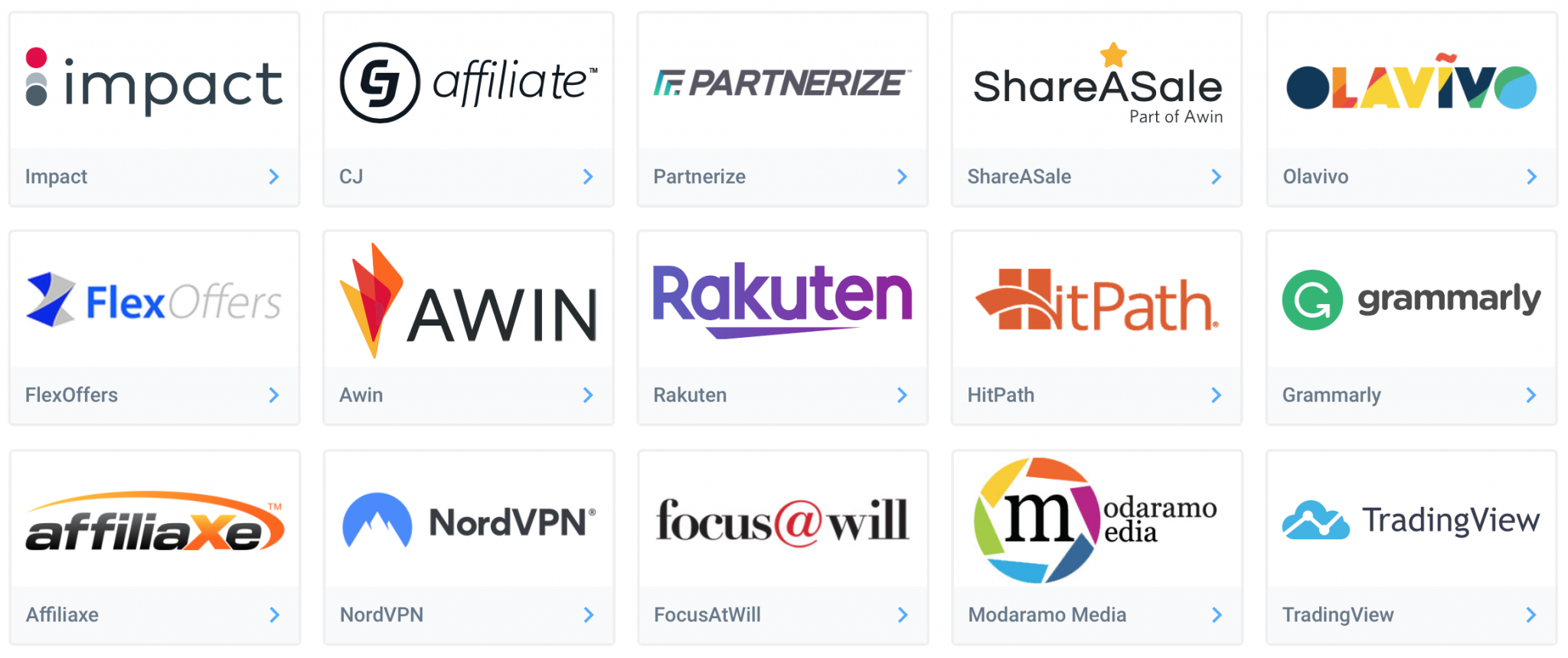 👆 These are some top aff networks integrated with any track out of the box.
Leverage conversion data by Google Ads Integration
Get the most of your search campaigns and gain from Google's coercive CPA improvement engine. You can track multiple conversion goals and get your real ROAS.
Unbeatable simplicity for data-driven marketing
AnyTrack plays an essential role in a real-time data connector between your traffic sources, affiliate networks, APIs, and marketing apps.
Set up the script on your site to accumulate and path your crusade and conversion data beyond your marketing cumulus. AnyTrack will create marketing assets out of your conversion data.
You can modify your conversion tracking by using AnyTrack unified tracking platform for offline sales, API, WebHooks, eCommerce, Affiliate Networks, forms, and funnels.
Influence your conversion data to collect highly captive people from every visitor's viewpoint, including Google Analytics, Facebook Pixel, CRM, Ad Networks, and Webhook integrations.
All-inclusive tag for campaigns
You can measure all your campaigns with a single tag, including PPC, SEO, social media, content marketing, display, and native ads.
The new feature at Any track is Webhooks, It enables you to push your conversion data to 100's of marketing tools, apps, databases and on any app on the internet you like.
Webhooks can be used for the following features
Getting slack notifications on each conversion
Send conversion data to sheets and databases like Airtable, Google Docs, Zoho Sheets, etc
Pass conversion data to email marketing platform like NotifyVisitors, GetResponse, drip, ConstantContact
Partner to marketing agencies, publishers and inform them about conversion in realtime.
---
Types of Conversions Tracked
The AnyTrack software trails various conversions so you can evaluate and separate your marketing data. No matter what conversion type it is, AnyTrack will, by default, bring them together with your Google Analytics account. Let's check the two type of conversions tracked by the software
On-site conversions: Engagements
Activities or events occurring on your sites, such as Clicks on Call to Actions or Forms submissions.
Off-site conversions
Activities or events are occurring externally, such as Affiliate Conversions or eCommerce conversions.
---
AnyTrack Pricing
AnyTrack has pocket-friendly pricing for each stage of your data-driven marketing journey. It has three plans, namely Free, Personal and Advanced, priced at $0/mo, $150/mo, and $300/mo. The Free plan is ideal for bloggers, Personal plan is best for PPC marketers, and Advanced program is for agencies with a proper budget and big plans to serve.
Each subscription has a 14-day free trial attached to it so that you get satisfaction and then pay for the plan.
Features included in the plans:
Websites
Events
Affiliate Networks
Ad Networks
Google Analytics Integration
Google Ads Integration
Facebook Pixel Integration
Note- Features accessibility will vary as per the plan is chosen.
---
How and where are conversions being tracked?
Although all conversions and revenues are first recorded in AnyTrack, they are also by default sent to your Google Analytics and Facebook accounts, where you will have the skill to link your conversion info to the most precocious and farinaceous data-set offered by Google Analytics.
If you have included your Facebook pixel ID to your attribute framework, the conversion outcomes will also be transmitted to Facebook.
---
Support
AnyTrack offers decent support for its users through ticket raising. You can also get in touch with them on social media channels like Facebook and Twitter. They also have an excellent knowledge-base containing common queries related to the functioning, set up, integration, tracking, and advanced environments. The working days are from Monday to Friday (10 AM to 5 PM).
---
Why chose AnyTrack?
This tool behaves as the plug and plays connector. AnyTrack is stacked from the field to give performance marketers the adaptability and gracefulness needed to push in the fast-paced digital industry. It plays the role of a missing link by:
Running your marketing instead of performing perennial tasks with a single line of code, unmatched analytics, and call-to-action detection.
Making data-driven marketing easy thru re-targeting, multi-attribution, and farinaceous conversion data.
Check out detailed Anytrack tutorials & Docs
---
Pros and Cons
Pros
Best software for bloggers, PPC marketers, and agencies
Ideal tool for tracking and attributing any conversion data source
Offers great assigning and tracking services
Total game changer
Cons
Absence of predictive analysis
No customer journey mapping
No live chat option
---
AnyTrack is website centric SaaS platform that gives you more features than just only conversion tracking. While all other affiliate tracking software is focused on campaign-centric, AnyTrack is website-centric- very much life google analytics. So it also tracks your organic and paid traffic and gives you better demographics than any other software.
How Anytrack helps Affiliate Marketers?
You don't need to create multiple campaigns within AnyTrack, Your conversion data will be automatically routed to google analytics and Facebook pixel. No matter where your traffic is coming from, It does it all automated.
Just a single piece of code can do wonders to top your marketing goal. AnyTrack is built especially for affiliate marketers who are using paid ads or organic traffic. It gives you the highest details of each conversion data and can centralize all affiliate sales statics from a single platform.
Instead of using other affiliate tracking software and getting into more complexity, AnyTrack is simple yet easy to use platform for tracking conversions and sales from your paid or organic traffic. Why not start with its free Plan?
---
Benefits of AnyTrack.io for Affiliate Marketing
If you are running google PPC campaigns or Facebook ads on your affiliate campaigns. Conversion tracking is a difficult task for a marketer. If you are using heavily prices affiliate trackers then you won't have any problem in tracking each conversion via google or FB but what if you can do it in cost-effective pricing in a more better and easy way?
AnyTrack.io is the only superior platform that instantly connects your website, analytics, traffic source with your affiliate networks and gives you all data on a single platform.
Without proper conversion tracking and analytics, your paid ads won't be profitable. To make most out of your ads You need to send the conversion data to the ad network so you can optimize it for higher conversions. This all is easy with Anytrack's single piece of code.
More than 50% of Ads campaign fail due to improper strategies and misusing sales tracking. Your marketing investment will never profit if you are just running paid campaigns without knowing about its performance. To generate higher ROI, it's always better to use the best traffic sources or country and put more money into that. This can only be done if you have a powerful tracking solution with you that can determine which traffic source is performing high or low.
AnyTrack can help you to increase ROI and make every click count with effective tracking with direct integration to google analytics.
Also Read: Top 6 Facebook Ads Automation tool for 2023
---
🌟 Anytrack F.A.Q
---
Conclusion: AnyTrack Review- Should you use it?
Looking at the framework, AnyTrack is a total game-changer for all those who are looking for robust tracking and conversion software. It is an articulate solution synchronizing your onsite and offline conversion data with various networks, so you get the actual results. It is an across-the-board solution to assess all your campaigns with a single label. Moreover, their smart integrations associate you with the best traffic sources, affiliate networks, and analytics platforms.
Anytrack is undoubtedly the best platform to track your paid traffic and also track commissions of your affiliate earnings from a single dashboard. It can be used by bloggers, marketers, media buyers, affiliate marketers as well as advertisers. The pricing is very cost-effective and its worth every penny.
I hope the above AnyTrack Review enlightened you with the apt information on AnyTrack tracking and conversion software. Don't forget to share the exclusive AnyTrack coupon code with your blogger friends.
Do you still have doubts in your mind regarding AnyTrack? Then do try it for 14 days and decide.
Happy monetizing☺