Confused about which AI writer is the best for your needs? Can't decide which software will be best for you? Want an AI writer who can generate high-quality content fast? At the pace at which industries work today, the human pace of content creation has long ago been rendered obsolete.
A successful content creator, professional copywriters, and everyone else in between owe their success to using the right software and generating the right pieces of content at the right time. To survive in the industry, you need to make an AI writer an integral part of your time.
The hundreds of AI writers available in the market make this task much harder than it seems to be. All AI writers have been developed with a focus on generating a different type of content. So we have software that can create product descriptions, social media posts to entire blog posts instantly.
But it would be expensive to buy different software for your every need, right?
So we have narrowed it down to three AI-powered writing tool(s) for you which can match any human writer and generate any piece of content you desire. Anyword, Jarvis, and Rytr are the three premier software industry professionals used to generate high-quality content and experiment with content ideas, quickly becoming a favorite with business owners. They are all excellent software, but in this article, we will be going over how these three match up against each other, their specific benefits and particular flows, and how much value you can get out of each for the prices available.
---
Anyword Vs. Jarvis.ai Vs. Rytr: The ultimate comparison
Read on to find out which is the best copywriting tool in today's date?


Anyword is one of the oldest individual tools in the automated copywriting world. It has been utilized by the marketing departments of many top organizations and generated high-converting content. It has primarily been described as a dependable tool for social media and B2C marketing campaigns. Anyword can assist you in creating unique keywords to represent the features of your products.
It can help organizations build traffic and bolster conversions because it has been fitted with a predictive model for AI copywriting. The A/B testing module allows Anyword users to forecast the influence keywords they use to advertise their product through the predictive performance score. The testing measures, the veteran copywriters behind the software, and the cutting-edge technology backing the whole software make Anyword a very worthy contender in the AI copywriters race.
Also read: Anyword Review: Best AI Copywriting Tool [Does It Work?]
---
What can Marketers do with Anyword?
Original Text Suggestions:
Generate multiple text variations instantly, all of which are directed at attracting and converting potential customers. These text variations can help spark ideas in the user for the sale he's trying to make.
The AI can offer info on which offers are popular and how to pitch new arrivals, free shipping, and other sales strategies and how to pitch them.
Predictive Performance Score:
You can judge every piece of content's viability and potential instantly with an accurate forecast called the predictive performance score.
Generate multiple variations of content you've already written to optimize existing content.
Offer relevant keywords to the AI so it can generate better results.
You can link your existing advertising pages to get personalized optimization recommendations and lift predictions.
Agencies can use these features as campaigns can be optimized faster than ever before at a larger scale while creating compelling copy for your specific target set. B2C and social media marketing teams can also capitalize on these features as Anyword gives out writing ideas and write engaging material on those ideas with feedback on how it will perform as well (i.e., predictive performance score).
---
Why should You Purchase Anyword?
Anyword differs from Jarvis as it is less of an overall AI writing solution but is more involved in providing functions that can optimize the efficiency of the workflow by the text variations, predictive scores, etc.
Below, we have listed the key selling points for Anyword, and if these are functions you require from your AI writer, you should consider going with Anyword:
The bulk generated text variations save a lot of time as you can interact with your audience at a much faster pace which is vital in advertising.
Every piece of content or copy your team generates is examined and rated. The rating can help you determine which parts of the content you can immediately move forward and optimizes what others might need.
You can establish an entire custom keyword library and have the software include these keywords in other pieces of content you might have liked, so you don't have to add them manually.
Anyword can recommend the most effective words or phrases for a campaign. These recommendations can be personalized if you link your ad creation tools and your ad accounts with Anyword.
Anyword's Facebook Ad copy program is exceptionally renowned. It comes with the option to adjust the copy it generates for you to obtain more traffic cheaply. Anyword's data-driven creatives and a strong background in artificial intelligence are essential factors of the success of this particular program.
---
What are the Templates & Content Types Anyword can Generate?
Anyword has four content frameworks/templates for copywriters. These are given below:
Create attractive landing pages, ad copy, and primary text for online ads automatically. You can take a deep dive into a particular copy by clicking the "more like this" option to get three additional copies of the same kind.
Get a direct list, as the name suggests, which lays down the key benefits and characteristics of the product you're trying to sell. This can help you emphasize those benefits later or use them as keywords to generate copy in Anyword itself.
Get a three-liner copy which is a simple rendition of the PAS framework. Isolate the customer's problem, dig into it and offer a solution. (Pain Agitate Solution)
Four-line content based on the AIDA framework. Grab the customer's attention, spark his interest, create a desire for your product and get the sale using this framework. (Attention Interest Desire Action)
Anyword can generate the following types of content:
Blog title/outlines/intro paragraphs
SMS promo messages
Product pages
Email subject lines
Advertisements
Content promotion
---
Anyword Pricing Plans
All plans include content creation for the marketing channels Facebook, Instagram, Google, Twitter, Taboola, Outbrain, Linkedin, Verizon, Pinterest, Youtube. They also have the email subject lines, landing page copywriting, headlines, and blog posts formats.
20% OFF
Starter:
$19/month, one seat with 15000 words per month of AI text generation.
BusinessBETA:
Unlimited words on multiple seats with the predictive performance score trained on 2 billion points. Anyword is instructed to learn and adapt to your style of ad writing and includes continuous optimization of your marketing campaigns.
Enterprise:
Support for massive amounts of customization. You can build custom language models, API integration under the guidance of a dedicated customer success manager.
Upload your performance history and maximize ROI by custom auto-generated content. Comes equipped with advanced Facebook lead capture UI, better targeting technology, cost-effective user acquisition at a large scale, and advanced collaboration tools. The software can be optimized according to your business goals.
---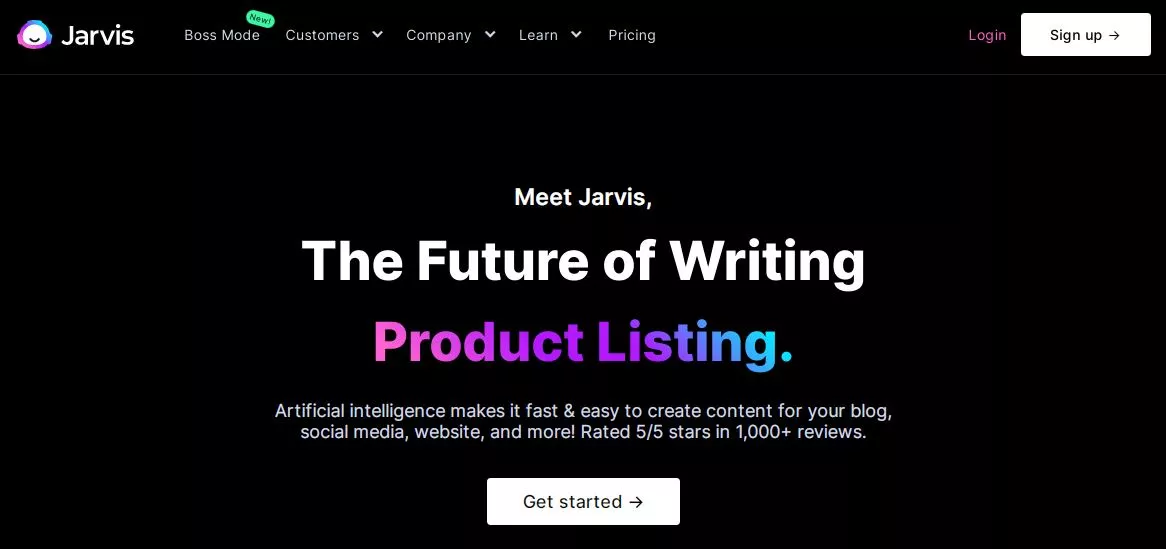 Jarvis.ai, formerly Conversion.ai, made headlines on its release as the tool that changed the lives of professional writers such as bloggers, copywriters, and everything in between.
The inherent need for an AI writer comes from when a writer is stuck at a particular task and is just looking for something to spark his writing efforts. This is where Jarvis supposedly excels as it generates original content for you quickly. Its broad functionality can help you as a writer get more work done every day.
A Facebook Ad you can't get right, a marketing email that just isn't working, or that one blog post that you thought of a week ago but are too busy to write Jarvis (and particularly its boss mode) can get done in a matter of minutes.
Jarvis has been marketed as your personal copywriting assistant, and we thought of it as a marketing gimmick. Still, after using it for some time, this is certainly not a marketing gimmick, but even more so, Jarvis could damn well be a human writer, and we wouldn't have guessed the difference.
We will talk about Jarvis and its key features in detail here, but to give you the summary, we feel Jarvis's most significant selling point has to be the human touch which the content you generate from it has. This is something that all other AI-powered tools are lacking in or certainly not to the level that Jarvis is currently at (keeping in mind that their developers are constantly rolling out improvements).
---
Why should You Prefer Jarvis.ai over Other AI Copywriting Tools?
Jarvis.ai is based on the GPT-3 technology, which can help you get the human touch we talked about. The good thing about the application of GPT-3 technology in Jarvis is that it combines the power of an excellent copywriting tool with the power of solid SEO tools.
This means that with Jarvis, there is no real need to buy individual tools for your content to rank on search engines or pop up in results after you buy Jarvis. Another thing we liked was that there was a conscious effort on the part of the developers to make sure that there was no technological barrier to using Jarvis. Anyone and everyone can use it, and there are several easy-to-follow tutorials for anyone who might have any doubts.
Also read: Conversion.ai Review (Jarvis.ai): Is it the Best AI Copywriting Tool?
---
What are the Content Types Jarvis.ai can Generate?
Jarvis offers over 50 content templates to choose from. These contain common copywriting frameworks a human copywriter uses every day to meet the needs of a digital marketer, blogger, or even a social media influencer.
A brief list is included below, and you can see their full range of templates on their official webpage:
Jarvis AI comes fully enabled with the ability to write all kinds of long-form content. Blog posts, emails, stories to entire scripts, and books are no sweat for the Long Form Writing Assistant in the Jarvis Pro Unlimited plan.
Many users reportedly have used this assistant as the sole writer for their blogs, and we can see why.
Probably the oldest marketing framework in the world attention, interest, desire, action framework is a tried and tested template for all your copywriting needs.
PAS(Problem-Agitate-Solution) Framework:
The most accessible framework for creating marketing copy quickly.
Product descriptions for your website, marketing emails, and social media are all available in one easy template, filter through by specific need.
Explain it to a Child (ELI5 for Reddit users):
A unique template in Jarvis that can optimize existing text or generate text focused on being easy to read and understand.
You can, of course, write entire blog posts with Jarvis in addition to generating blog ideas, blog outline(s), and blog intro(s).
Multiple social media templates can be found in the Jarvis AI catalog. Generate Facebook Ad headline and primary text photo captions for your Instagram and a one-stop-shop for all your Google Ads needs in one software.
---
How does Jarvis.ai Work?
Jarvis was formerly known as Conversion.ai, and in that period, they received some fack for the somewhat complex nature of the user interface, which is this time around, they have focused on making the interface user-friendly.
Anyone can use Jarvis to generate content by following the three easy steps given below:
#1. Choose a Template
As Jarvis can generate any type of content you want, the first step is to choose one of the many templates available in Jarvis, like the ones we mentioned above. Globally renowned copywriters have trained Jarvis to produce only the best copy and content.
Every template has been designed by a top industry professional in that form of content creation. Hence, you get the benefit of getting world-class content without having to hire an industry professional with that level of experience.
#2. Input your product data
This is the part where you have to provide the barest minimum amount of effort in using Jarvis. You have to input data on what kind of content you want Jarvis to generate and remember that the quality of the input data you provide will decide the quality of the content you get.
The signature feature here is the very accurate tone of voice feature. Multiple tones of voice can be generated even to the toning and delivery of certain celebrities.
#3. Generate AI Content
Click on the generate AI content button, and in a few seconds Jarvis will work its magic and give you the content you asked for. All of the content you generate is also saved in the "history" tab so you can always keep track of your work.
---
Jarvis.ai Boss Mode | Write Your Copy 2X Faster
The Jarvis Boss Mode is the pinnacle of innovation in the automated copywriter space. The Long Form Assistant is a game-changing product, but the Boss Mode takes it even further.
The users we talked about using Jarvis to make entire blog posts and write books are the biggest fans of this boss mode.
Available to subscribers of the premium plan, you can essentially request any form of content from Jarvis here and get the desired result.
To use the Boss Mode:
Open the long-form editor.
Write command for Jarvis (there is an entire Jarvis Boss Mode commands sheet for users to make the most out of this feature)
That's it. See Jarvis beat the industry standards for automated content creation in seconds!
Whether you mainly deal in long or short-form content, this is a feature you can't miss out on.
The Jarvis recipes are an integral part of the Boss Mode. With the boss mode, you can use Jarvis.ai commands to generate specific kinds of content.
Jarvis Recipes can create or use templates that are a sequence of these commands that can instantly make any type of content you want.
---
Jarvis.ai Pricing Plans
(It is to be noted that the annual prices are discounted rates at which you can get your hands on Jarvis)
Starter Plan: $29/month Generate 20,000 words each month
Boss Mode Plan: $59/month.
Jarvis is undoubtedly the top AI writer, given that it is an all-in-one collection of tools at a competitive price.
---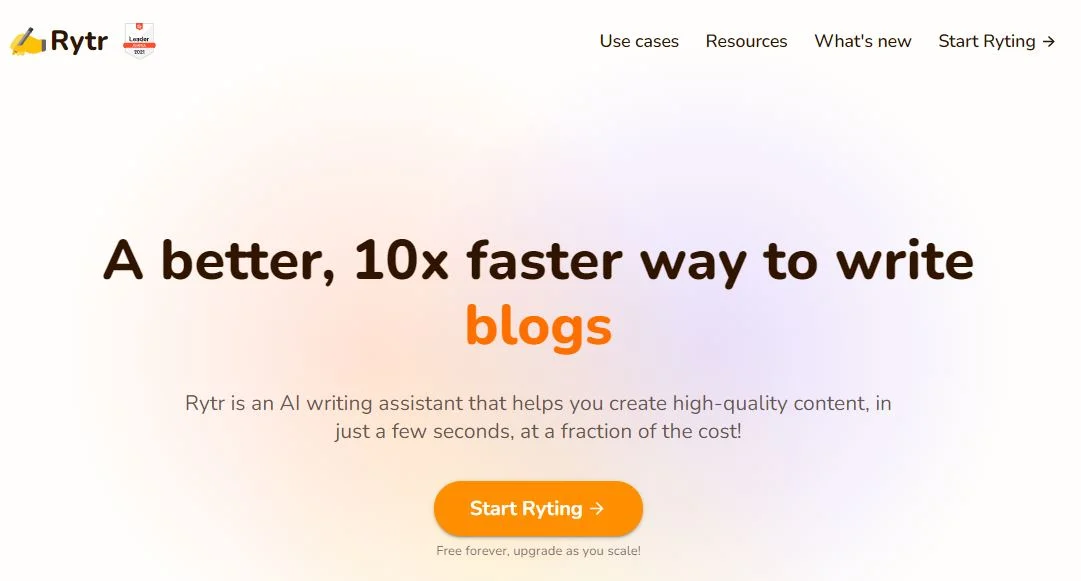 Rytr is an up-and-coming software that can be used for generating more than just marketing or advertising-related content.
The focus is on enabling potential users to get an affordable and reliable AI copywriting tool (they also offer a free trial.) The tool generates excellent blog posts but can also create story plots, Youtube video descriptions, to even helping your songwriting efforts.
The developers say that with Rytr, you can create engaging and relevant original content in a matter of seconds after providing a few suggestions about the topic and the kind of content you want. The inbuilt template range is handy, and you can choose between a wide range of variants here.
---
Which Forms of Content can You Make with Rytr?
Rytr offers a variety of use cases that can fulfill and speed up many of your content goals.
We noticed that when the Rytr tool understood the subject matter of the content, it generated some great content, but when the AI failed to understand the theme or the kind of content you wanted, it would produce some very random results.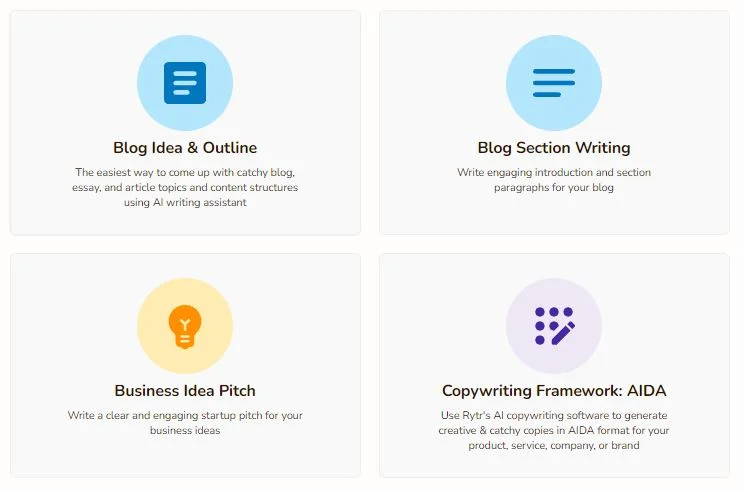 Keeping that in mind, you can generate the following categories of content with Rytr:
Blog Idea/Outline/Section Writing
Copywriting Frameworks: PAS (Problem, Agitate & Solution) AIDA (Attention, Interest, Desire, Action)
Facebook, Linkedin, and Google Ads
Interview Questions
Job/Product Description
Social Media Post & Caption ideas
Profile Bio
Landing Page/Website Copy
Song Lyrics
SEO Meta Description/Title
Song Lyrics
Story Plot
Video/Channel Description
There are some text editing options to append or expand or even improve existing content. You can ask Rytr to shorten, reward or split your content into paragraphs. These features are a bit of a hit and a miss at times.
---
Top Selling Points of Rytr
#1. User Interface
The most significant selling point of Rytr has to be that it is the easiest to use on this list and among the majority of AI-generated content writers in the market.
A clean and easy-to-navigate UI can be used on any device with a fullscreen mode for an immersive experience or a popup feature to run it beside your other tools for an integrated workflow. Anyone with a standard knowledge of online tools can use it. There is no learning curve to it as such. The software is, by nature, very minimalistic and focused on its essential functions.
#2. Multiple Tones & Languages
Rytr offers you the choice to generate content in multiple languages and various tones. This is particularly useful for users based in native marketing or looking to have their AI writer integrate itself into the theme of their campaign.
#3. Choose from Multiple Variations
A smaller version of what we saw with Anyword, Rytr generates multiple variations of the text you requested. For users of the free plan of Rytr, you will need unlimited credits to access this feature numerous times. If this is a feature essential to you, you should consider upgrading to the premium plan of Rytr or other software such as Anyword, which is more adept at this particular feature.
#4. Team Management
The modern workspace's signature characteristic is a collection of tools used to work together with a team. Rytr whole heartedly supports this by providing you the feature to add your team to the same document you're working on with Rytr and collaborate.
#5. Chrome Extension
Rytr is the only software in this comparison that offers this functionality. Not only a chrome extension, but you can use writer
---
Rytr Pricing Plans
Rytr offers an entirely free plan for 5000 characters in AI-generated content a month after you sign up. After that, there is a $29 subscription (an annual subscription is $290 but with two months of free access to premium plans).
This subscription gives you access to unlimited characters across 30 languages in more than 30 use cases with priority customer support and account manager as part of the premium Rytr community.
---
🌟 Anyword Vs. Jarvis.ai Vs. Rytr FAQ
🙄What is Anyword?
Anyword is a platform where marketers can use AI to generate and optimize marketing copy.
🙄 What is Jarvis?
Jarvis.ai (previously known as Conversion.ai) is a copywriting tool that automatically uses artificial intelligence to generate content.
🙄What is Rytr?
Rytr is an AI writing assistant that helps you create high-quality content at a fraction of the cost in just a few seconds! Start Ryting.
🤔Is Jarvis.ai any good?
Jarvis.ai is a fantastic service for those who want to spend less time creating high-quality copy and content while also lowering their risk of making mistakes.
🙄 Who owns Jarvis.ai?
Dave Rogenmoser is the CEO of Proof and Jarvis.
🤔Is Rytr free?
No, Rytr is not offering any free plan. 
---
Conclusion: Anyword Vs. Jarvis.ai Vs. Rytr | Which is the best AI copywriting tool in 2023?
It is difficult to narrow it down to three in the swarm of AI content writers in the market, but an even harder one to choose between three excellent software. Overall, it is evident that Jarvis provides the most significant amount of functionality for an AI writer.
The Boss Mode, Jarvis recipes, or even the basic long-form content assistant make it a top pick for users looking to generate content for various use cases and get the most from their AI writer.
Anyword offers a more specific skillset as software and can be helpful to marketing teams to speed up the efficiency of designing their campaigns by the multiple text variations feature, something they do best. Rytr is a mix of both but doesn't do complete justice to either function. You can get good results for a simple input, which is respectable for the price, but don't expect a full-fledged blog post or a large pool of text variations to cure your writer's block.
Jarvis is the clear pick if you want to buy one software that can do everything you want. The specific benefits of Anyword are helpful, and if that is a part of your needs from your AI writer, it is excellent supplementary software.
Rytr is a good AI writer if you're looking for an affordable option and are in the market for a more basic AI tool. The industry waits for no one, and the pace only AI can provide is the one the industry is running now, so choose the software you think is right for you and become a part of the industry's future, not a relic of its past.🤞🤞