If you are around the blogging block, you must already know that post mentions are one of the tried and proven ways to promote your blog. In the context of that, we present you today ✅Awario Review. So now you must be thinking about how Awario fits in the blogging scenario?
If you want to become a successful blogger, then there are certain aspects that you need to keep in your mind. For example, finding the correct keywords and fitting them in your context cannot be done manually. This is when a professional automated tool like Awario hits it off. If you have a cloud-based social media monitoring solution like Awario, you will not have to get worried about anything at all.
This excellent tool lets professionals track mentions of their brand, monitor competitors, find sales opportunities and discover niche influencers. Awario is designed for all sizes of businesses and helps to improve their brand and presence online. Let us see what else Awario stores for professional entrepreneurs. But first, a little detail of the platform.
---
Detailed Awario Review
Awario is a social media listening tool. The term is just a fancy word for saying that the platform monitors the internet and collects the relevant keywords in a specific dashboard.
Unlike other renowned tools, Awario offers its services in 7 sources that include:
Twitter
Facebook
YouTube
Reddit
News/Blogs
Websites
The sources' features comprise customer engagement, impact scoring, influencer tracking, sentiment analysis, and many other attributes. Awario got started by a bootstrapped company headquartered in Belarus with offices in Cyprus and California. According to their official website, Awario was initially started as a mini pet project. But the team was inspired by the technology behind crawling and web index data and decided to build a robust web search platform for the businesses.
They tend to build a tool that helps businesses monitor what people are saying behind their back on news sites, blogs, forums, and social media. And you get all the information in real-time! Maybe Awario got initiated as a pet project at first, but in 2015 a small platform of this pet project was finally released.
---
✅Exclusive Awario Coupon Codes (💯 Verified)
50% OFF

Awario Coupon Code - 50% OFF on all Plans
This is the exclusive Awario coupon code that lets you enjoy a flat 50% off on all plans.
This is the exclusive Awario coupon code that lets you enjoy a flat 50% off on all plans.
Show Less
50% OFF

Starter Plan for $24/Month @ Awario
Use this exclusive Awario coupon code to start your Starter plan at $24/month.
Use this exclusive Awario coupon code to start your Starter plan at $24/month.
Show Less
50% OFF

Pro Plan for $74/Month @ Awario
Use this exclusive Awario coupon code to start your Pro plan at $74/month.
Use this exclusive Awario coupon code to start your Pro plan at $74/month.
Show Less
50% OFF

Enterprise Plan for $249/Month @ Awario
Use this exclusive Awario coupon code to start your Enterprise plan at $249/month.
Use this exclusive Awario coupon code to start your Enterprise plan at $249/month.
Show Less
---
Key Features of Awario | Awario Review
There's not much remain to say about a platform once its features say enough. So let us see what Awario offers to their customers when it comes to their features and integration.
#1. Non-stop monitoring
The most remarkable aspect of Awario is that it monitors every single part of the web. No matter if the mentions are part of the comments on Twitter or a product description of a specific product. Awario gets back to you on the information of every corner of the web, ensuring that you are the first person to react to the specific keyword.
#2. Powerful analytics
With Awario, you can easily track the growth of your various mentions. In addition, their collective reach sort mentions by negative, positive, and neutral by their sentiment analysis. You can quickly identify the best influencers by the social network, compare several alerts, and analyze progress with Awario's analytics.
#3. Multiple language, resource & location support
No matter which region you belong to and which language you speak, Awario supports all. Whether you are a small business monitoring the local web or a big organization looking for viral comments, you are all set using Awario.
#4. Social selling
Getting informed about similar products and services is the best you could get from Awario. It monitors all the leading social media pages and the reviews identical to your product or services. You get notified back if there are specific complaints about your competitor's products. Or if a product/service of your competitor gets in high demand. You get a feed of sales possibilities in the app in real-time.
#5. New discussions in your inbox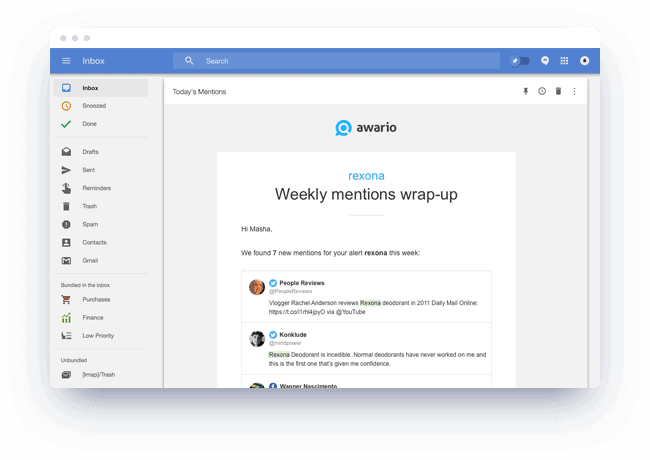 Even if you are too busy to engage with your customer's feedback, reviews, and complaints, you get a perk if you use Awario. You can set up email alerts, and Awario will deliver daily or weekly summaries of new mentions straight to your inbox so that meaningful discussions never slip your attention.
#6. Boolean search
With Awario, you can make your search queries as flexible as you want in order to get the most relevant search result.
For example, boolean search is a manual search that used Boolean logic operations. That may sound a little complicated to the non-tech savvy, but you can get on board with Awario's comprehensive guide.
Boolean search is most valuable when you get too many unnecessary mentions with a single search.
#7. Conversations priority
Awario's reach takes you first to the most prioritized conversation. Then, it gets filtered with how many people are currently involved in the conversation. Sorts mention by reaching to see the most active discussions first and prioritize your marketing efforts by getting a more extensive set of audience.
#8. Organized workplace
Awario will keep the shares and retweets under the original posts and keep them in organized folders to avoid getting your social media routine get uncluttered. If you reply to a mention, you can instantly move it to a separate folder. Wants to save your fav posts? Star it and add it to your favorites. Even if you would like to view the unread posts, there is a separate folder option for that as well.
#9. White-label reports
With Awario, you can forget about spending countless hours making detailed reports of your clustered data. It doesn't just export your raw data; it also gives you data-rich, brandable reports on social listening, the share of voice, and Influencers. Impressing clients or colleagues with your work only takes a click.
#10. Relevant discussions
Sometimes, web searching can be very ambiguous and overinclusive. But that does not mean that you have to waste your time on mentions or keywords that are just remotely connected to your business. With Awario, you can set up negative keywords to exclude posts that contain specific terms from search and keep your alerts populating with mentions that matter only.
#11. Mobile support
All the essential conversations keep happening whether in you at home, on the go, or at a gym. With Awario, you can log in using your desktop, mobile, tablet, laptop and manage your daily marketing anytime and anywhere!
---
Awario Pricing Plans
Recently, Awario has cut a little slack on their pricing plans. There is a slights bucks difference between its new and old plans.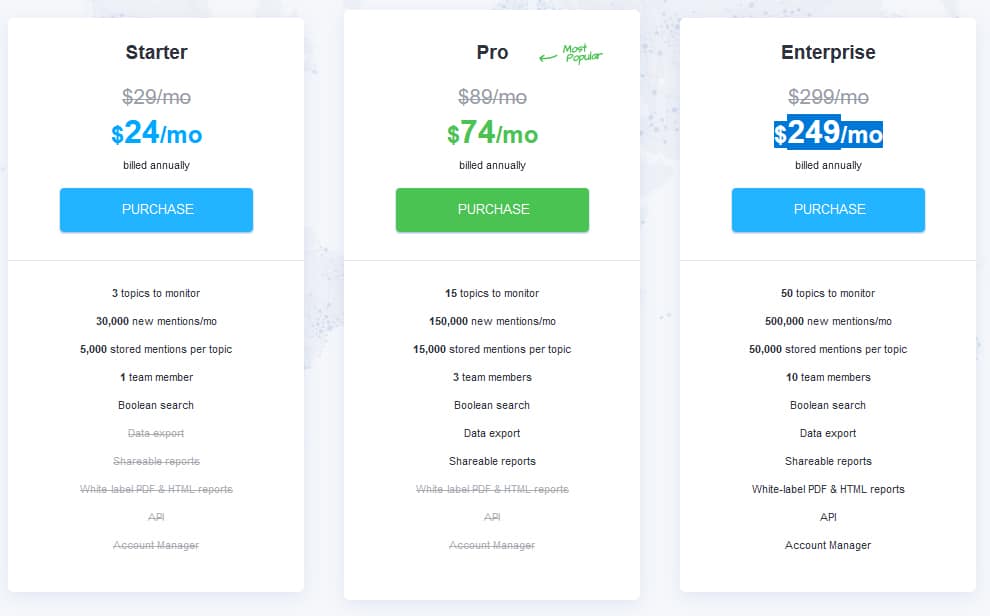 Awario offers three pricing plans according to the customer's needs. If you are a solo blogger, then you would definitely like to go with the starter plan. The starter plan costs $24/month now(if billed annually.) Awario does not offer monthly plans anymore. The starter plan comes with 3000 mentions/month and 3,000 stored mentions for each alert.
If you need more power, there are other two high-tier plans:
Pro: $74/mo for ten alerts, 100,000 new mentions per month, and 10,000 stored mentions per alert
Enterprise: $249/mo monthly for 50 alerts, 500,000 recent mentions per month, and 50,000 stored mentions per alert.
Also, Awario offers a 14-day trial on the starter plan. So, if you are intrigued to use their services, you can use 3 alerts and 30,000 mentions without paying a penny.
---
Awario Customer Support
As soon as you go to the Awario website, you will see a live chat option at the screen's bottom. So whatever your query is, even as just a visitor, Awario is happy to help.
Other than that, they offer a ticket system. The customer executives get back to you within an hour. They are available 24*7 and are happy to assist with every query of yours.
That makes the customer support system very strong.
---
Pros & Cons
Pros
Track tagged and untagged brand mentions on social media
Find leads based on seed keywords and other information
Monitor brand mentions & keywords across several platforms (Twitter, Facebook, Instagram, YouTube, Reddit, and blogs/websites).
Advanced filtering by date range, country, negative keywords, domains, and more.
Cons
Better ongoing training and support, perhaps a certification process, would make this easier to customize for niche use cases.
Using advanced functionality would be easier with more hand-holding
A bit expensive
Non-technical people might take their sweet time understanding the platform's interface, especially the Boolean search.
---
🌟 Awario FAQ
🙄 What is Awario?
Awario is the most advanced brand monitoring platform that helps you discover brand mentions from the web and social media. You need to set your relevant keyword, and Awario provides you the all the real-time data.
😎 Can I try Awario for free?
If you want to test all the features of Awario for free, it also offers a free trial to all its new customers. Start Awario's free trial and track mention online to enhance your business.
🔎 How much does Awario cost?
Awario provides flexible pricing plans that allow anyone to access this leading brand monitoring tool. It offers three major plans, mainly Starter, Pro, Enterprise. The Starter plan will costs you $24/mo. The Pro plan will costs you $74/mo. The Enterprise plan will costs you $249/mo.
🧐 Can I cancel my Awario subscription?
Yes, you can cancel your Awario subscription at any time as there is no commitment. To cancel your Awario subscription, you just need to contact the Awario support team.
🔥 Is there any active Awario coupon code?
If you want to save some bucks, use the check above mentioned our exclusive Awario discount coupon codes that enable you to enjoy 50% off.
---
Conclusion: Awario Review + 50% OFF Discount Coupon 2023 | Is this platform worth going for?
The answer to the above question is a big YES. While some people might take some time to understand the concept of the platform, they will find it the best once they get to know it. No one here wants to waste their time in irrelevant searches and unnecessary mentions. Also, it is pretty much impossible to get to know about online discussions without a social listening tool.
You cannot visit each website or social media page to get to know the latest product or service mentions. You can go with the platform without a second thought, which brings an end to our Awario review. However, any kind of doubts or suggestions is welcome in the comment box below.🙂