Blockchain is the new buzzword that trending nowadays and has a tremendous effect on the digital advertising supply chain.
Blockchain is not known to everyone but as people come across this term they suddenly have their eyes on it.
Let's Explore Blockchain in Bali by Attending one of the most awaited Blockchain events of the year in Indonesia.
Blockchain is not complicated as it sounds to most of the people. It basically is about cryptocurrency and how people make money from it.
It is a digital ledger that records transactions using some kind of cryptocurrency network.
The network through which transactions take place is secure and authentic so your money won't go anywhere. Since all the data is encrypted hence there are no chances of fraud and remains complete transparency for everyone. This can also be verified at any point in time.
Blockchain increases the efficiency of digital marketing services at affordable cost and with complete security and transparency.
Let me explain you in simple words how the blockchain works: If a user requests a transaction it is carried through a peer to peer network and then using some algorithms the data is validated. Once the data validation is completed a new data is generated which combines the existing transaction and the previous transactions.
This new block of data is publicly available but since it is encrypted it cannot be altered by anyone. This data is added to the ledger in digital form and the existing transaction becomes complete.
This explains why Blockchain is secure and valuable and eliminates the problem of counterfeiting cryptocurrency encountered by Bitcoin users.
If you are a newbie wanting to know more about Blockchain, crypto, and its functionality then Bali Block Confex 2019 is the best place to gain complete knowledge and start your career of digital advertising in a new way.
Block Confex was last time conducted in Vietnam and was a total blockbuster event. With such an amazing response it is again conducting this event and this time it is the 4th largest population country in the world- Bali, Indonesia.
This new edition of Block Confex will be a two days event but trust me two days will be a life-changing roller coaster ride for you. It will be held on September 27th and 28th 2019.
---
Why Block Confex in Bali-Indonesia?
Bali is known for its tourism industry and is becoming one of the favorite destinations for holidays and water sports. Block Confex at Bali will boost tourism in Bali and will also give an opportunity for newbies to meet key players in the blockchain industry of South Asia and APAC.
The conference will be held from 27 – 28th September 2019
This blockchain conference will not only provide a great platform for entrepreneurs but will also improve the quality of businesses related to Blockchain and develop state of the art technology to serve digital advertising far better than others.
Since Blockchain is still emerging and is yet to become popular hence this would be a great platform to make Bali, Indonesia as the hub for innovation in Blockchain and will create new partnerships that will emerge as an example for other countries.
New technologies related to Blockchain will be born and adopted by those attending this event and slowly its implementation will increase on a global platform.
The booming tourism in Indonesia day today has let to economic development and this, in turn, is increasing visitors every day and every hour. Looking at this point, Blockchain has been organized in Bali making it the capital in South Asia for Blockchain.
This event includes 20+ specialist speakers, 500+ delegates, 15+ solution providers and 4 networking sessions that impart great knowledge and an opportunity to clear everyone's doubts to face to face with expert speakers.
---
Who all to expect at Bali Block Confex Event?
This is an international crypto and Blockchain event so it includes people from the industries having high professional background and experience for many years in organizing any form of company. At this event you will find:
Don't expect anything less than a great stage with unlimited opportunities because when you meet these people you definitely won't return empty-handed.
---
Bali Blockchain Confex 2019 Agenda:
If you want to view the complete agenda for this event then kindly visit the official event website's Agenda page.
In short, you will have keynote speakers talking about the advantages of Blockchain and other topics. There will be networking sessions where expert speakers will interact with the audiences face to face and are ready to take any questions from the audiences. There will be short coffee breaks and lunch breaks where you can make new friendships.
To conclude the two-day event will have Government, Fintech, Islamic Finance, Supply chain, Health Care, Smart contracts and more on Day 1.
Day 2 will have STO, ICO & IEO, Bitcoin, Regulations, Cyber Security, Startup battle and more.
---
How This Event Will Help You
If you want to write your own success story then the Bali Blockchain Confex 2019 is the right opportunity for you. This event will provide abundant opportunities to learn new techniques and meet people from the industry that will impart knowledge on how you can earn digitally.
This Conference will help you in many ways. It could be:
Building new relationships with industry experts and starting a new project which could be your dream project. You never know where opportunity opens its doors for you and it could be this event.
You might find investors who might be impressed with your ideas and ready to take your idea to the next level by reaching a vast audience globally.
You can start partnerships with those who are offering unique products or services and with your help and marketing ways their products or service could get potential customers.
This is the platform where you can increase your earnings by building strong business relationships. Increase your sales by promoting your products/services to digital marketing companies and enhance your ROI.
You might be looking for better solutions to turn your ideas into reality and this is where this event helps you in connecting with experts from around the world that transform your imagination into building a strong career.
Give your organization a global platform to be recognized by media agencies and marketers who might be interested in your products/services.
You can explore Blockchain by diving deep into the core sectors that would create success for you and reach the level that you always strived for because the sky has no limits. So open your wings and give your ideas a fly.
---
Speakers at Bali Blockchain Confex 2019
The Huge blockchain conference in the Dutch East Indies will house numerous top speakers from industry to give you detailed and expert tips for growth hacking and scale your business. Here are some of the top speakers who are confirmed speaking at this event.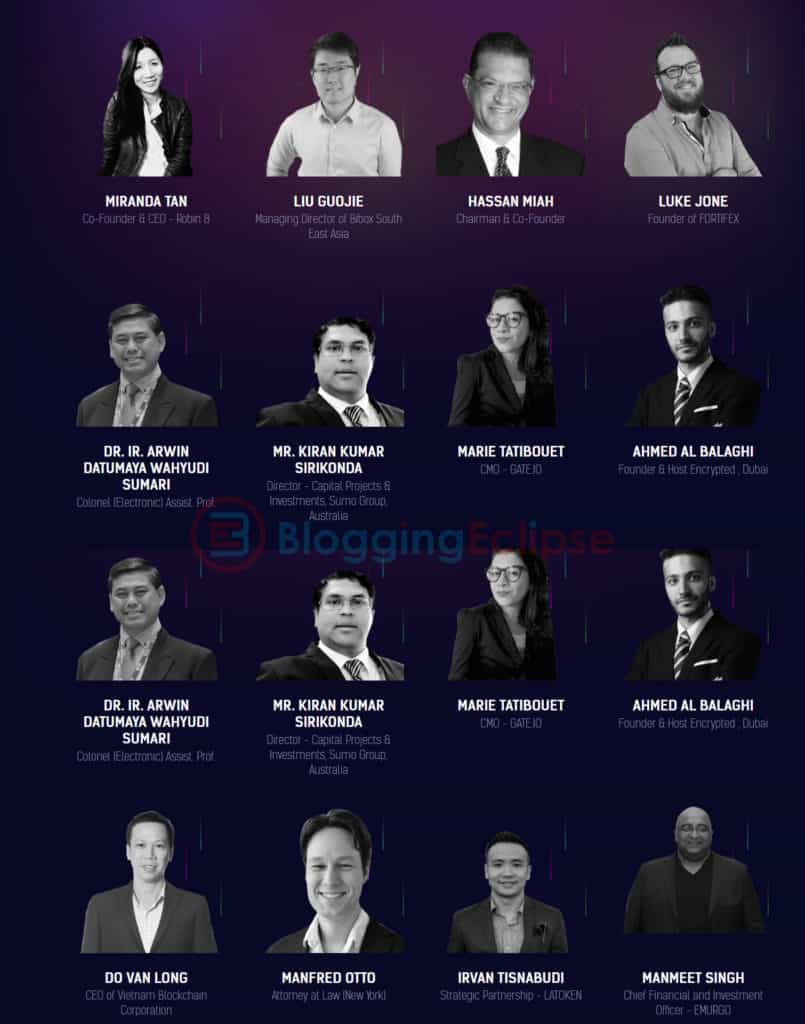 Block Convex last year had speakers with sound knowledge and expertise in the technological sector. Speakers that were associated in last year's conference included Miranda Tan, Liu Guojie, Mr. Dong Pham, Hassan Miah, Thannicha Srisomboon, and Sunglee Kim.
If you want to be a speaker at this event then email at [email protected]
---
Partners & Sponsors at Bali Blockchain Confex 2019
Many big brands have taken this opportunity to associate with this event and become a partner that would showcase their logos on the official website of this event. Partners at this event include cryptonewz, crypto briefing, coinspeaker, crypto news, cryptoknowmics, and many more.
Bloggingeclipse.com is a well-known blog about Digital Marketing and blogging tips and this year we have got a great opportunity to become Media partner with Bali Block Confex. Indeed it's an honor to be a part of this event.
---
Are You Coming?
Bali Block Confex is a perfect podium for organizations to target audiences and increase their business with valuable insights into the Blockchain industry.
This Bali Blockchain Confex 2019 event gives you the opportunity to generate more sales and revenue, give exposure to your brand, network with experts and investors to flourish your business, advance your professional skills by gaining knowledge on blockchain trends.
See You at Land of Gods. Bali❗
Affiliate Disclosure: This post may contain some affiliate links, which means we may receive a commission if you purchase something that we recommend at no additional cost for you (none whatsoever!)