"Profitable Keyword" is the king in SEO to rank on search engines. All earlier traditional methods of link building do not make so much impact nowadays.
For new bloggers & affiliate marketers, Keyword research is arduous and confusing for them to understand, as the market is flooded with hundreds of keyword research tools from free to premium. Hence, this makes a blogger confused about which to use and How.
Here we will merely be explaining how keyword research works, how you can use the keyword on your content or rank higher and which keyword research tools you can use to Rank on the first page in Google.
The basic Strategy of SEO is keyword research.
---
What exactly is Keyword Research?
Keyword research is not as simple as you think. With new Google search changes, Keyword research is getting denser & complicated. Every second internet marketer is using the Keyword research method to rank higher in SERP's and hence now the majority of keywords are of top competition.
The method & Strategy
Pro bloggers & experienced internet marketers know A-Z about keywords research. They play with keyword research tools to get highly trending keywords and make a blog or write a post of that particular keyword to drive a ton of traffic, resulting in colossal monetization.
It is always easier to rank a page on google if you have the list of exact search keywords. You can't always assume or make keywords from your mind. Using keyword research tools is like expert sitting by telling correct keywords to use in blog posts or websites to rank higher in search engines.
Numerous Internet Marketers, including myself, use only keyword research methods for SEO. When you have premium keyword tools, ranking a website is easy.
How Keyword Research Works
There are thousands of SEO & digital marketing agencies that promise to offer you better ranking results on google. Have you ever wondered what special they do or what expertise they have to rank a website in less time?
It is Keyword research, When I was a newbie in blogging, I have hired an SEO firm to rank my blog, and they provided me 27 keywords of my niche for $50. I did rank, but $50 for 27 keywords was much costlier for me, and hence I decided to learn keyword research.
Almost all SEO agency uses excellent Keyword tools to get accurate ranking or competitor keywords for you which enables you to rank. They charge hundreds of dollars. Hence, it is better to use the tools and save a lot of bucks.
---
What are the Benefits of Using Keyword Research tools?
There are numerous benefits of using proper keywords and tags to drive search traffic; let's see some significant advantages in points.
Get targeted traffic for and lesser bounce rate.
Easily rank on the first page in search engines with proper keywords
No need to do a lot of Off-Page SEO or link building, As K/W research gives you a lot of traffic
The keywords research method is entirely ethical and used by all pro bloggers & SEO Agencies.
Boost your affiliate sales by 200% by ranking on proper product review keywords.
---
Top 5 Premium Keyword Research tools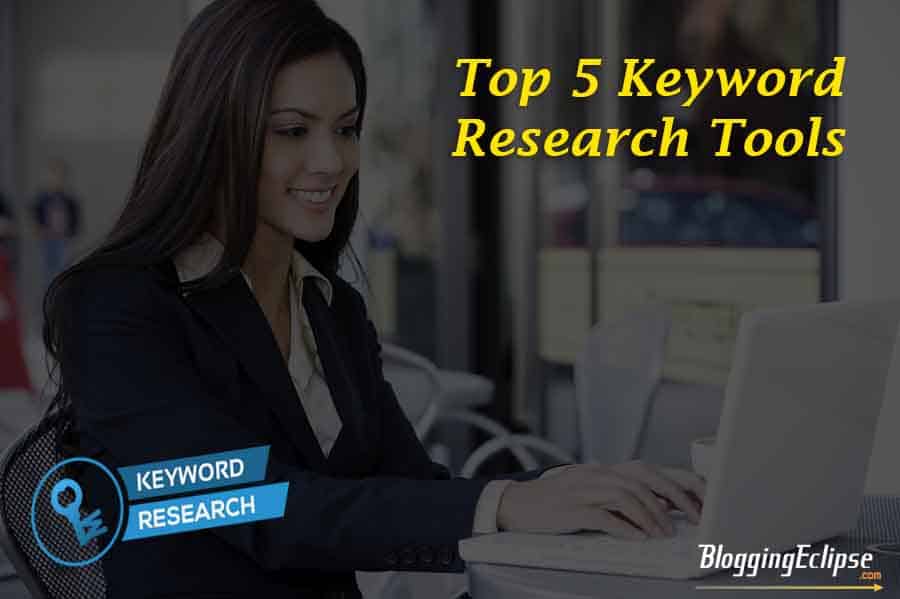 The secret to getting traffic is using long-tail keywords & LSI keywords in your content wisely. We have listed the best 5 premium Keyword Research tools which give you exact Long-tail & LSI keywords with in-depth analysis of each keyword.
Long Tail Pro is the best keyword research tool for long-tail keywords. According to numerous SEO studies & proven facts, it is easier to rank on long-tail keywords rather than just a short keyword. Suppose you are looking for an easy way to find their best keyword to rank in google. In that case, the long-tail pro detailed system discovers thousands of profitable, targeted & calculated keywords for any niche.
Long Tail Pro is enhanced with the world's most powerful SEO research features, which work in the cloud. They have a premium google keyword planner in their back-end, which provides better results.
Long Tail pro features & benefits:
Score Keyword Competitors.
Custom Difficulty targets
Determine domain strengths, page strengths & metrics
Determine exact keyword profitability for your niche
Sort niches by different sets of keywords within the project and save them.
Export results of keywords data, competition data to Excel or pdf.
Filter keywords real-time by CPC, local searches, advertiser competition, etc.
Thousands of industry leaders trust Long tail pro for finding the best profitable keywords. It has been featured in ahrefs, Moz, Forbes, etc.
You can try Long Tail Pro risk-free for 10 days just for $1. Their plans are also very cost-effective after your free trial ends.
---
SEMRUSH is a secret weapon that will enable you to beat your competitor with keyword research. Other keywords research tools only focus on relevant keywords, but SEMRUSH is a step ahead. It analyses your competitor's site and shows you for which keyword your competitor site is ranking.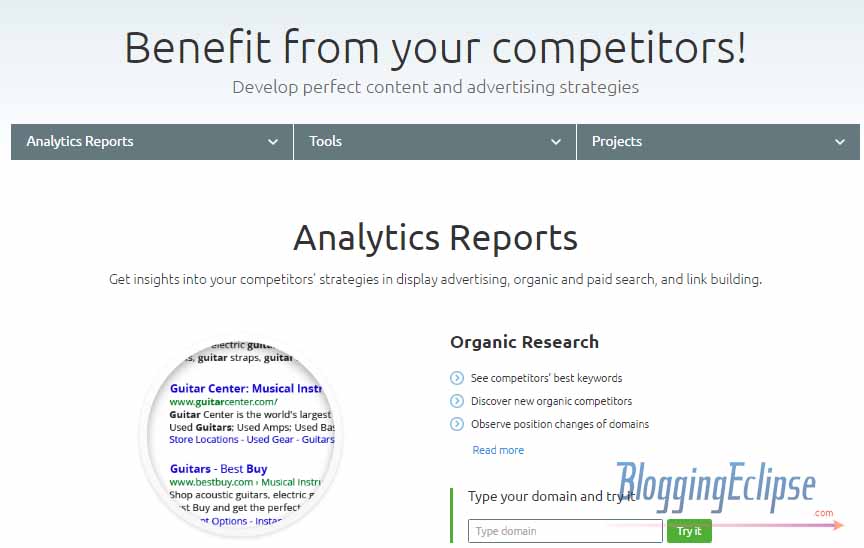 Apart from excellent keyword research and competitor analysis, SEMRUSH offers in-depth backlink analysis, check backlink types and much more.
SEMRUSH key features & benefits:
Uncover Your Competitors' Ad Strategies and Budget.
Conduct a deep Back-link analysis & Understand referring domains authority.
Create an effective video ad campaign & Uncover your competitors' video ad strategies
Find the right keywords for SEO and PPC campaigns & Gather phrase matches and related keywords
Get long tail keywords with multinational and multilingual environments.
Find keywords with less competition & calculate keyword difficulty instantly
SEMRUSH is already very popular, and millions of enterprises use it to rank higher on google and dominate their competitors. SEMRUSH has very smart algorithms to analyze competitive data for digital marketing professionals. With analytics reports, tools and projects, SEMrush becomes one of the best choices for bloggers and internet marketers to beat their competitors by Keyword research and rank higher than all others.
---
Keywordtool.io is a free long-tail keyword research tool used by millions of webmasters around the globe Just after entering a small keyword. It gives you a quick list of all related & long-tail keywords which are free to export to an excel sheet.
Apart from the free version, they have the premium version named it as a KeywordTool pro. The premium version lets you find popular keywords that your competitors have no idea about. With KeywordTool pro, you can discover thousands of hidden keywords by google keyword planner and evaluate them using search volume, competition level or CPC.
The tool claims that it reveals popular keywords which google keyword planner hides. The AutoComplete algorithm uses to get hidden profitable keywords for almost any niche.
Keyword Tool Pro features:
100% Accurate Google search volume that can be localized to 192 countries.
86,460 Individual locations and 83 languages
Level of competition on Google AdWords
Ability to export all the data into Excel or a CSV file
Even major companies like SEMRUSH & ahrefs have praised the abilities of Keyword Tool Pro, So Subscribe to KeywordTool Pro now to find your hidden profit-making keywords.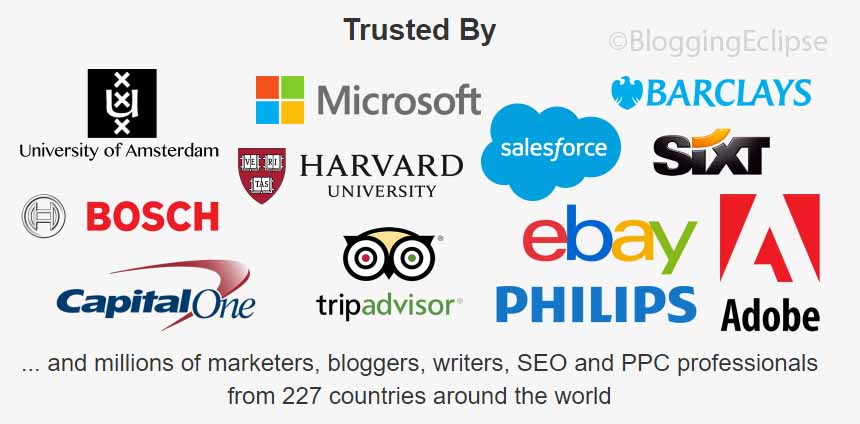 ---
KWFinder is a new innovative premium KW research tool that lets you find hidden gems profitable keywords in seconds. This great cloud-based tool has dozens of exclusive features which have made thousands of internet marketers fall in love with this device. They also have a free plan with limited searches per day, and the premium plan is very cost-effective compared with other competitors in the industry.
KWFinder features at a glance:
Low SEO difficulty long tail keywords.
Reveal hidden gems keywords which your competitors are missing.
Exact search volume for close variant keywords.
City level keyword search for local rankings.
Over 127 million long tail keywords to use form almost all niche.
KwFinder is built on a 100% cloud interface, So no need to download any software. They have integrated premium Adwords at their back-end, which helps in easy KW searching with instant long-tail results for ranking benefits. I have dozens of filters and settings which enable you to simplify your search with advanced levels.
Get extra 10% discount on KWFinder by using Coupon "BLOGGINGECLIPSE" no checkout. Click below button to activate the deal.
---
This exclusive keyword research tool enables you to discover the best keywords & your competitor's weaknesses with their specialized tool.
They offer free & premium venison of their software. The free version is necessary and limited to particular features. Hence it is better to go with the Market Samurai full version.
Market Samurai full version features:
SEO Competition Analysis – analyze the strength of competition in any niche.
Keyword Research – find the right keywords to control your niche.
Choose domains that will boost your ranking in search engines.
Turn traffic into cash with instant affiliate ads (Monetize).
Build high-quality authority backlinks to improve your site ranking.
Bonuses
Lifetime Market Samurai Software updates free (Worth $295)
Free Priority email support (worth $695/year)
As per the research, 90% of bloggers fail to rank because of a lack of proper keyword research, and hence it is proven by numerous industry experts such as Neil Patel, etc., that keyword plays a vital role in rankings.
Market Samurai has lots of good features & tools which allow you to increase your traffic by 900% of their in-depth domain analysis tools.
---
Over to you
I have listed the best 5 premium Keyword research tools you need to grow your online business. Industry leaders are using proper keywords research to rank higher & get Authority by google,
So it's time to stand by Yourself; use your favorite keyword tool. Don't just go with the free ones as it has insufficient resources, and you can't compromise on SEO.
When It comes to Myself, I am using Long Tail Pro as I got it in discount & also SEMRUSH to analyze & dominate competitors of my niche blogs.
I hope you like these latest premium keyword research tools for 2021. If you think I have missed something in this post or want to share your experience, comment below and stay tuned with BloggingEclipse for more SEO tips.