Are you earning a portion of your income through affiliate marketing? Some affiliate's complete earnings depend on affiliate marketing, though. If you are one of them, there is a high chance you are using multiple affiliate platforms.
Affiliate business is great for promotion, but the task could become challenging when specific attributes like tracking and conversions come into the picture. For your ease, we bring you today the ✅8+ Best Affiliate Tracking Software that you can use to track your affiliate marketing campaigns. And still, in the end, we left with a question like were my marketing tactics effective or not?
And that is only half part of the story because you are missing out on revenue opportunities. We all know that the more platforms we promote, the more work we get into our hands. We could retarget with access to the data, like who clicked on your ads but did not purchase.
It is vital to have a database of all the audience that has shown interest at some point in your campaign for retargeting. Or, if you knew who purchased your previous products, you can run PPC campaigns that offer ROI bidding strategies.
During this procedure, affiliate tracking software comes into play. Your business goals say a lot about your future. According to them, you can set the affiliate campaigns or even hire other affiliate marketers to promote your brand. Tracking software makes all these things possible under one roof. If you know where you are going, you can gear up with affiliate tracking software that adequately accommodates your marketing model.
---
Affiliate Tracking is the Future of Marketing
The best affiliate tracking software is the one that can help us gain the highest ROI on our campaigns. Certain features make tracking software best in performance. For instance, we manage and monitor your conversions in the reporting dashboard, such as Google data studio. We might also want to send our conversion data to the PPC channels to run an effective campaign.
Also, targeting custom audiences out of Google Analytics and Facebook can benefit our campaign a lot.
If you want to pick an affiliate tracking software, that should be easy to operate. In short, it must have a user-friendly interface, especially if you are just getting started with affiliate marketing. The learning curve of affiliate marketing is steep, and we want to rely on software that can help us cover the steep learning curve.
Just like that, integration of the system is also a critical part of the game. If your tracking software can seamlessly integrate with third-party applications like email or bot, that can help cover the most area without facing any hassles. Now, Postback capability is a term that is often overlooked but is the most crucial part. This feature allows you to track conversions without placing the tracking pixel on the 'Thankyou' pages of the merchant.
Finally, the most crucial factor is your tracking software must be pocket-friendly. You have to use the software for a long time, then the investment and prices should be worth it. This is a lot to ask from a single tool, but undoubtedly the above features make an affiliate tracking software benefit our business.
---
List of 8+ Best Affiliate Tracking Software (200% ROI)
To make affiliate marketing and software more accessible for you, we have provided the list of the best affiliate tracking software out there.
---
Voluum is one of the best choices in the affiliate marketing industry. It comprises lots of features that make it one of the best platforms in the market. Voluum does not offer a self-hosted platform service. On the other hand, everything on the platform is cloud-hosted. The cloud tracking feature is an excellent motivation for all the affiliate marketers who are just getting started with their journey.
You already know that you will not need to invest in their servers or their management. The platform handles all small and extensive services, making it easier for novice players to avoid external issues. Another additional benefit that clouds hosting service offers is data protection. You will feel more secured as compared to the third parties of the same network. This platform offers 3 different pricing plans. A user can choose paid plans to access the services of Voluum. Also, Voluum has additional data centers in the corners of the world, which positively impacts your overall performance.
Also check: Voluum Review: #1 Affiliate Marketing Tracker in Budget
---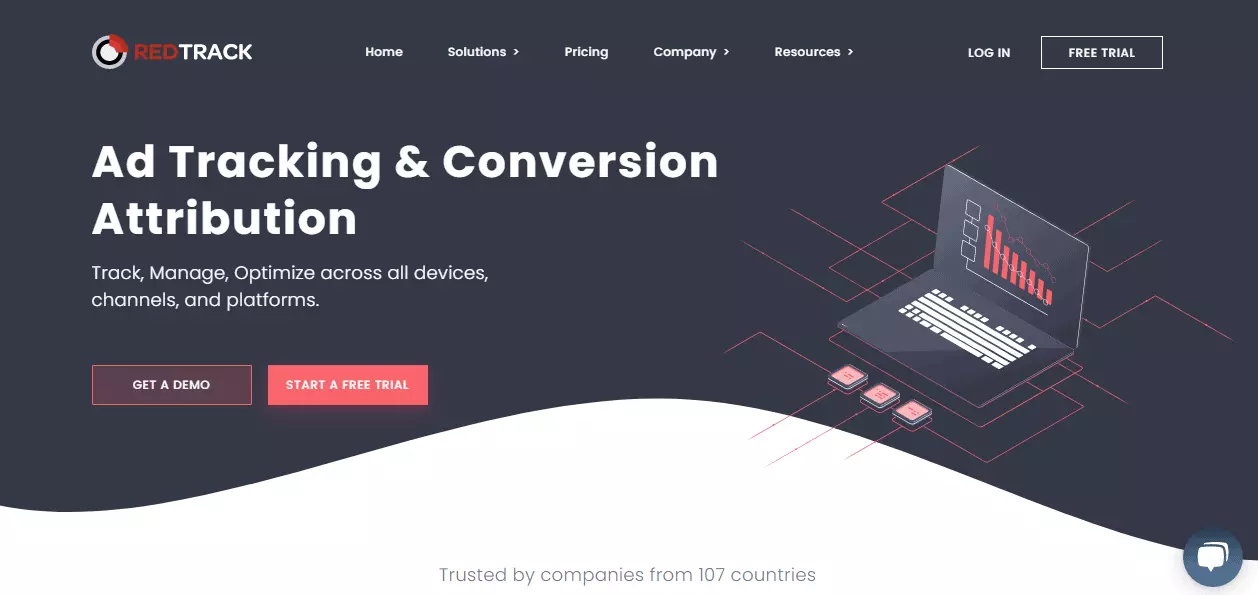 RedTrack is again a cloud-hosted affiliate tracking software that helps you with all your affiliate marketing campaigns. The user interface is simple yet sophisticated. Also, it allows media buyers and affiliates to get a better ROI on their investments. RedTrack is more than just an affiliate tracking software. The team behind its management offers excellent customer support and is available 24*7 for their customer's assistance.
With RedTrack, it does not matter if you are a newbie or a professional affiliate. Both the stages work perfectly with RedTrack. Also, this tool does not make you suffer from any hassles or geo-targeting issues. During sign-up, you get access to 90+ templates for affiliate networks and major advertising agencies.
50% OFF
RedTrack Coupon Code - Get 50% OFF on all Plans
The database throughout the platform is easy to manage. You will feel you are handling an accessible platform that gives transparent access to its features with its look. The best part? RedTrack offers a 14-day free trial. Before going for the paid version, you can test the platform through the trial.
Also check: RedTrack Review: The Best Easy to Use Affiliate Tracker
---
Those aware of the affiliate marketing campaigns must know that ThriveTracker is one of the most robust platforms in the network. As soon as you pass the registration process, you are presented with a structured email that's pretty well-balanced! You can use the platform in all the existing traffic sources. By traffic sources, we mean Ad Networks, DSPs, Facebook, Twitter, and other sources. You also get access to a cloud service that is connected with Amazon's cloud infrastructure. The platform is so specific that it also offers links to your competitor's campaigns.
Along with this, ThriveTracker is simple to integrate with third-party apps. Also, you get a simple user interface that helps you understand the platform better. And as this tool is mobile-friendly, you can easily manage all your campaigns from the tip of your fingers. You get over five paid pricing plans with ThriveTracker and no free trials! If you have low volumes, you can get started with the self-hosted pro plan to manage your campaigns.
---
Another tracking software that offers excellent features is Binom. But they claim themselves to be an ideal choice for professionals. This fact does not surprise me as Top Russian affiliates create it. Binom was initially launched as a private beta used by a closed-knit of affiliate marketers. But due to its function, it soon proved to be the best option for the people who are already experts in the game.
The main advantages of the platform are the speed of clicks redirected the speed of generating reports. You also get the option to integrate the platform to API and access all functions and reports.
A professional affiliate tracking tool is insufficient with proper customer support, and Binom's creators know that very well. That is why they offer their customers 24*7 support. The executives are available through live chat. The pricing plans of Binom is affordable and effective. You get two options to choose from. Used traffic or additional users, domains, support are all included in one plan, so you will not need to purchase them separately.
Also check: Binom Review: #1 Premium Self Hosted Tracker for Professional Affiliates
---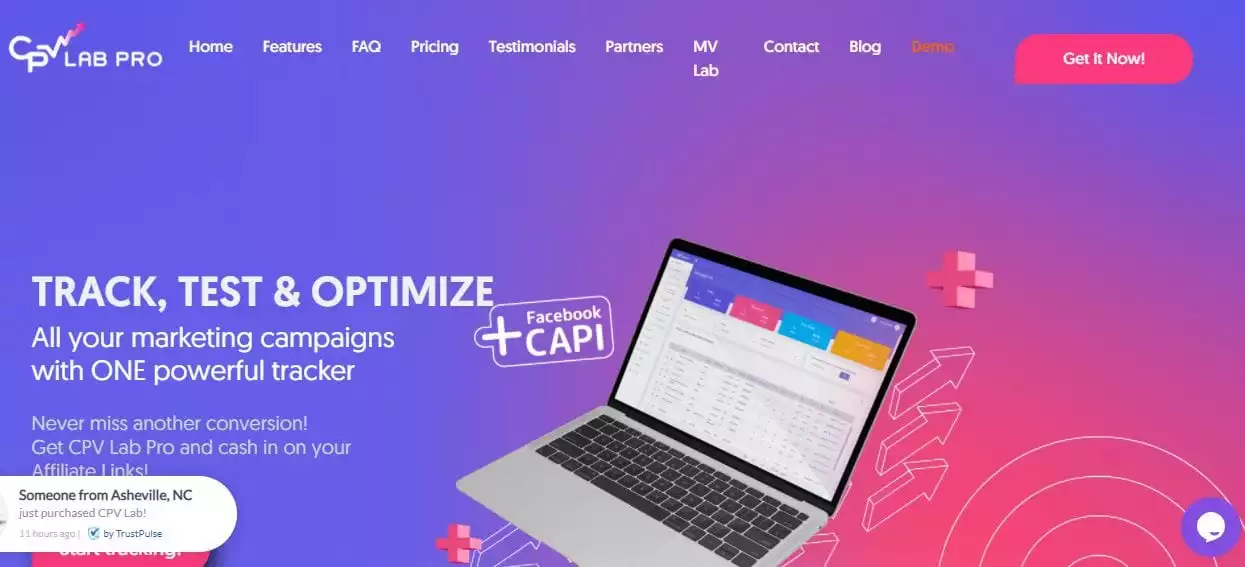 CPV Lab is one of the most popular ad tracking tools that help you track and manage your marketing campaigns. It runs on your server that proves that the user gets complete control over their account. It is a web-based self-hosted platform that has user-friendly graphics to manage the entire database without any expertise in the technical domain.
Future campaigns can quickly be set up with the previous knowledge of the servers. With detailed reports and lab stats, you get the option to access all campaigns, including keywords, pages, and offers, with the correct data included.
You also had the opportunity to add or edit the existing pages, and for that, no technical knowledge is required. The support with CPV Lab Pro is excellent! You get multiple options like a live chat system, a ticket support system to connect their executives. The customer care executives are very helpful & strive to resolve the issue as soon as possible.
The pricing plans of CPV Lab Pro are pretty straightforward. You get a starter, pro, and an expert plan. If you are a beginner, you can get started with the starter plan for free! Yes, the starter plan is free and comprises access to all possible features.
---
BeMob is again a cloud-based tracker for teams, media buyers, and affiliates. This tracking solution comprises all the valuable features that are needed in a good affiliate tracking software. The sixth sense feature of the platform enables the users to identify the most profitable based on CTR, ROI, and revenue values.
The support service is brilliant! The customer care executives are available through live chat tickets and email systems. No matter how big your issue is, they strive to resolve it as soon as possible. BeMob also offers a free plan. If you are a beginner, you can get started with the free basic plan to understand the tool better.
Also read: RedTrack Vs. BeMob: Which Ad Tracking Tool is Better?
---
We believe that AnyTrack is one of the most excellent affiliate tracking software on our list. The reason behind this is that AnyTrack is not like the other ordinary affiliate tracking software. Along with the standard features, you also get access to additional features like conversion data and a real-time marketing ecosystem.
In that way, you have a 360 view of all your marketing activities, where you want it, where you need it, & most importantly, how you can leverage it to get the most out of your paid and organic traffic. Because AnyTrack does most of the activities in the background, you will need to waste your time in parameters, setting up tracking links, or making sense of your data.
As soon as you add the AnyTrack link to your site, click 'next' to connect your account with ad network pixels, affiliate networks and, analytics. Any Track offers 3 pricing plans. And every pricing plan comprises a 14-day free trial. The free trial gives you a glimpse of the network.
Also check: AnyTrack Review + Free Trial Offer (Why 9 Stars?)
---
Voonix is again a cloud-based affiliate marketing solution that comes with a load of features. Unlike other tracking solutions, your data is entire with Voonix. The cloud servers make it possible for us not to get worried about storing the performances of the previous campaigns.
It helps enterprises automate data collection from numerous affiliate platforms to gain insight into business earnings and optimize return on investment (ROI). It also gives access to critical information to specific team members. The customer care support of the platform is average. You can get connected to the executives through live chat and ticket system. If you decide to submit a ticket, it will take up to 24 hours to resolve your query.
Other than this, the pricing plans on this platform start @ $300, which is a bit much compared to its competitors. Also, you don't get any free trials to test the functionality of the platform. But overall, the integrated features of the tool make it stand out among its competitors.
---
🌟 Affiliate Tracking Software FAQ
✅ Is there any open-source affiliate tracking software?
Open source affiliate tracking is indeed difficult. There are many affiliate / tracking software, but most of them are expensive.  If you are looking for the best solution, you can check out the above-listed affiliate tracking software.
✅ What is the best Best Affiliate Tracking Software?
Below is the Best Affiliate Tracking Software:
➡Voluum
➡Redtrack
➡Thrive Tracker
➡Binom
➡CPV Lab pro
➡Bemob
➡Anytrack
➡Voonix
✅ Is affiliate marketing easy?
Affiliate marketing is the best way to increase your business revenue. There are many good affiliate programs, but you have to consider many factors to promote the product successfully.
✅ What is the best CRM for affiliate marketing?
Funnel CRM is one of the most profitable affiliate programs.
✅ Are affiliate programs free?
Yes, Many Affiliate programs are free to join. You have to locate the program on the website, and it will give you the HTML code to place on your site.
---
Conclusion: 8+ Best Affiliate Tracking Software 2023
The best affiliate tracking software must comprise the features that can offer the highest ROI on your campaigns. If you decide to stick with any of the above tools, we assure your campaign's success! Our 8 best affiliate tracking software is the key to your affiliate campaign's success, and there is no doubt in that.
Doubts or suggestions are welcome in the comment sections below.😊