Let's face it. Technology is constantly evolving and becoming more sophisticated. AI writing assistants are no different, as they have only been around for a few years but are already at the forefront of innovation. With an AI copywriting tool, you can use your creativity and emotions to do the best work possible without worrying about writer's block or getting ideas at scale.
AI writing tools have been around for a while and are becoming increasingly popular at work. This helps with efficiency because they can help you place your skillsets to use effectively. You don't have to be wasting time on things that you're not strong at, and instead, focus on what you know how to do best – creativity and emotions. In various workplaces, AI writing assistants are increasingly getting popular. Some companies use AI writing tools when they need to generate fresh and unique content for a specific topic or niche. On the other hand, many digital agencies use them to generate all kinds of content for their clients.
A good AI writer can assist in the production of a large amount of content by eliminating writer's block, which is often caused by the lack of inspiration or time constraints needed for writing original, fresh, and unique content. Let's take a look at the best AI copywriting tools in the market today:
---
Jasper.ai
The future of writing marketing copy.
Formerly known as Jarvis.ai, Jasper is a widely used and popular AI copywriting tool with extensive use cases and a huge arsenal of features designed to write copy that brings in clicks and conversions. It uses artificial intelligence to create converting copy for ads, social media, landing pages, blogs and more.
Jasper.ai gives you access to more than 50 use case templates that give you high-quality copy generated by AI in seconds. There is a use case for everything, including copywriting frameworks like AIDA and PAS, product descriptions, headlines, descriptions and text for Google and Facebook ads, Blog post ideas, intros, outlines, social media captions, questions, YouTube scripts, titles, email subjects, SEO copy, and MUCH more.
Get access to all these templates in more than 25 languages. Jasper.ai has several language options that let you generate high-quality quality that brings in conversions in any language you want. This feature helps you target a larger audience by providing copy that is in their targeted language.
Click here to claim your 10,000 words for free on Jasper.ai.
Jasper brings you closer to other writers with its exclusive community. Get access to copywriting 'recipes' from experienced writers to improve your writing skills. Also, join the Jasper Mastermind Community that gives you access to over 30 hours of videos, 10 modules and 30+ lessons that will help you scale your copywriting and help monetize it. Jasper also lets you integrate with SEO Surfer, get exclusive training and learn how to use the tool with Jasper to make SEO copy that brings you more clicks and conversions.
Jasper.ai also has a special feature called 'Boss Mode' that lets you write extensive long-form content 5X FASTER. Generate long-form content that is plagiarism-free, high-quality and ranks on Google with SEO.
Jasper has two main plans that can be customized to the number of words you may need per month.
Its Starter plan is the best for short-form content and ideas. It starts from $29 per month and gives you 20,000 words that can be upgraded. While its Boss Mode plan is best for long-form content and starts at $59 per month, it gives you access to 50,000 words that can be increased by paying extra.
---
CopyAI
Create marketing copy faster, fresher, & better.
CopyAI is another popular AI copywriting tool that helps you generate high-quality copy in seconds. CopyAI uses the most advanced GPT-3 language model to produce authentic, human-like content almost instantly. They offer different types of writing, such as blog posts, email newsletters, and landing pages. You just select the type you want for your content and provide the words and phrases to base it around. Then you see the results in front of you almost instantly!
CopyAI lets you generate a wide range of copy types, including copy for different types of ads, social media posts and topics, website copy, sales copy with popular frameworks such as PAS and AIDA and much more.
CopyAI generates accurate and in-context copy for you in seconds. It has a very user-friendly interface and is easy to use. All you have to do is select the type of copy you want to generate, enter a few lines of details that will help the AI understand the product and/or context, and it will generate multiple versions of copy for you to use.
You can also use it to improve upon your writing and gain ideas. CopyAI can generate copy in more than 20 languages in different tones and styles. CopyAI offers three plans. Its Free plan is the best if you want to test out what it can do. It includes 100 bonus use credits in the first month and 10 credits monthly. You can generate copy in multiple languages and gain access to more than 90 copywriting tools.
Its Pro plan is priced at $35 per month and gives you unlimited use credits and projects with priority support and exclusive access to its community. It also includes an Enterprise plan that has custom pricing and includes access to its newest features, and allows for easy collaboration.
---
Anyword
Data-driven copywriting for anyone.

When you use Anyword, you can get keyword suggestions and a score of how likely the results would be to convert for your ad. This allows for automated forecasting and smarter choices. With its predictive performance score, you can evaluate which variants of your AI text will increase engagement, understand how different demographics react to it and choose the correct one.
It lets you create high-conversion marketing copy for a wide range of use cases, including complete ad copy for Instagram, Google, Facebook, Twitter, LinkedIn and more, landing page copy for headers, sub-headers, CTAs, etc. It even lets you generate complete blogs that are optimized and accurate. Its other uses cases include attention-grabbing emails and engaging SMS texts.
Get started with Anyword for free to generate fresh, unique and high-quality content.
Its advanced features include a custom mode that generates copy in your brand's tone and copy that is similar to competition and top-performing text. Apart from the custom mode, it also offers ongoing optimization that helps you reach more of the right audiences.
Anyword has four pricing plans, one free and three paid for different needs.
The free plan is easy to register to with no credit card requirements with a single user seat. It allows you to generate 1000 words per month and lets you produce short-form content ( does not include blog post creation), and also detects compliances for Facebook and Google ads.
The Data-Driven Basic plan is priced at $79 per month and includes everything in the free plan with a word limit of 30,000 words per month. It includes blog post generation, rewriting capabilities, analytics and performance scores. It also supports 25 languages. Its Data-Driven Unlimited plan is priced at $239 per month; it lets you generate unlimited words and includes continuous optimizations, a dedicated success manager and 5 user seats. Its Enterprise plan is priced at $999 per month and comes with all the features and API access, custom modules and the number of seats with a brand guidelines filter.
---
Rytr
Best AI writing tool to create high-quality content that converts.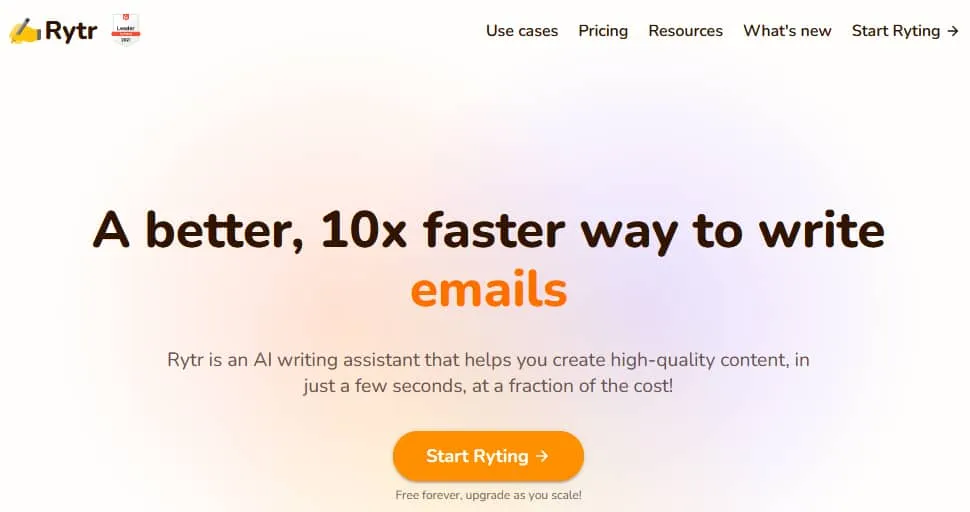 Rytr is relatively one of the newest and most affordable options on this list. It is a great option for someone who is just starting out and needs a pocket-friendly solution that also produces a good-quality copy. Rytr eliminates writer's block — from blogs to emails to ad copies, auto-generate catchy, original, and high-converting copies in popular tones & languages in just a few seconds.
Rytr provides more than 30 writing templates and uses cases with an option to make your very own as well. Rytr includes more than 30 language options and more than 20 tones that let you generate specific and targeted copy. Use tried and tested copywriting frameworks such as AIDA and PAS to make a copy that converts.
It includes a very powerful text editor that makes it easy to write and generate copy. You can perfect your ideas into copy with text tools such as improve, rewrite, shorten, expand and more.
Also check: Rytr Review: Should You Buy? | Rytr Lifetime Deal ($39)
It also checks grammar and plagiarism to make sure your copy is perfect. Rytr also provides extensive formatting options. These allow you to present text with a richer and more professional look. Additionally, it also offers robust project management features that help alleviate the stress associated with coordinating multiple projects.
As mentioned above, Rytr has very affordable pricing plans. It has a free plan that gives you access to all its basic features and lets you generate 5000 characters in a month. While its Saver plan is priced at just $9 per month and comes with all its features, and lets you write 50,000 characters in a month. It also has an Unlimited plan that starts at $29 per month and lets you generate unlimited characters, and comes with advanced features as well.
---
CopySmith
Content crafted by AI, perfected by humans.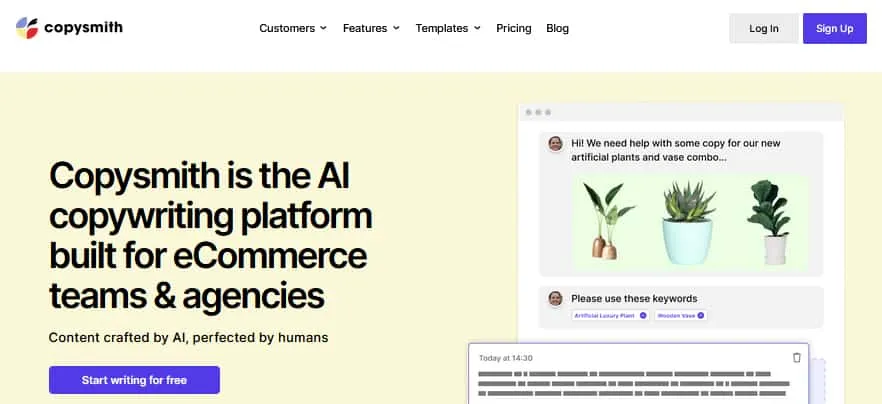 CopySmith is an AI copywriting tool made for eCommerce owners, agencies and teams. It helps you come on top of the competition, scale your eCommerce business, minimize cart abandonment and spend less time on copywriting by providing optimized and accurate marketing copy. Although it does offer all-inclusive features for all types of use cases, its main focus is copy that helps your eCommerce business scale faster.
Make your product stand out and easy to find with SEO-optimized product descriptions that will help your listing rank higher than your competition. Create descriptions for multiple platforms along with ad copies and, SEO tags, and more, collaborate with your team with ease. CopySmith also has easy management of files and many useful integrations such as Frase, Google Ads, Shopify and more.
Generate product descriptions and ad campaigns in bulk. Boost conversions with Facebook and Google ads that are accurate, converting and ready in minutes. You can also better optimize your existing content with smart AI text editing tools. It also helps shatter writer's block by providing copywriting ideas, blog ideas and more.
CopySmith offers three pricing plans. Its Starter plan is priced at $19 per month and is great for newbies. It includes 50 use credits per month, 20 plagiarism checks and access to integrations and in-app support. While its Professional plan starts at $59 per month and includes everything from the Starter plan with an addition of 400 use credits and 100 plagiarism checks per month. Its Enterprise plan includes all the features mentioned above with additional advanced features such as a dedicated account manager, custom templates, unlimited use credits and plagiarism checks. You will need to contact their team for custom pricing for this plan.
---
ContentBot.ai
The world's most advanced AI Writer.
ContentBot.ai is a complete AI copywriting solution for all types of creators, from founders to marketers to writers. It has a wide range of AI tools to help you generate high-quality content for various use cases like blog topics intros, tone changes, rewrites, full-fledged blogs and more. Generate all kinds of marketing copy to boost conversations, all from ad copy to slogans, marketing ideas and more. ContentBot.ai also helps you generate copy for landing pages with a click of a button.
ContentBot has two distinct features that make it better than the rest, the first being the ability to create long-form blogs that are more than 2000 words long completely from scratch using its advanced AI technology. The second interesting feature of this AI copywriting tool is that it sends blogs and blog post ideas to you automatically at a set interval of time. It also has a Chrome extension that lets you work on the go.
ContentBot.ai has two main payment structures, one flexible, pay-as-you-go prepaid plan that is priced at $1 for every 1000 words. Get all its basic features, with unlimited seat, long-form assistant and write 15,000 to 5 million words. It also has three traditional pricing plans. The Starter plan is priced at $29 per month and has access to basic features with a limit of 40,000 words per month. Its Premium plan has access to all its advanced features and a limit of 100,000 words per month. Its Premium+ plan has the same capabilities but with an extended word limit of 300,000 words per month.
---
Writesonic
AI-powered content to generate more traffic.
Writesonic is a content generation tool that allows any user to write original content for websites or posts. It can generate thousands of different results within seconds, so it's great for those who want to write often and need ideas quickly but lack the time. Writesonic guarantees every article generated is readable and sounds human-like, without plagiarism. Writesonic lets you generate better content for many different platforms, including social media posts, blogs, and websites. It uses an advanced algorithm with AI-generated ad hooks and claims that it can save you the time spent writing them yourself.
Writesonic can handle web content writing on a variety of platforms, and they're easy to read, understand and reach your audience as nothing else can! It lets you research the topics you love without getting bogged down and generates high-quality articles in no time. Writesonic comes equipped with a great blog post generator that helps you create quality content on a timely basis. Say goodbye to writer's block & focus on your business' success instead.
Also read: Writesonic Review: The Ultimate Copywriting Tool | Writesonic Coupon Codes
You can select different price points based on what you need. At Writesonic, they offer four different price options for their services to make them easier and more affordable for people who just want less expensive solutions. With Writesonic, you're getting a free plan that includes all its basic features for 10 uses for a limited time. This includes 25 languages and 1 user seat. Its Basic plan is priced at $15 per month for access to 100 use credits. You can use these credits to write any type of article you want: get its basic features, SEMrush integration, and access its long-form writing assistant.
5% OFF
Get 5% OFF on any Writesonic Plan - [Latest Offer]
Grab our special coupon code and enjoy 5% off on any Writesonic plan. Limited time offer.
Grab our special coupon code and enjoy 5% off on any Writesonic plan. Limited time offer.
Show Less
The Professional package starts at $45 per month. It offers unlimited use credits for generating blog posts for your website that are SEO-optimized with targeted keywords. The Startup plan is priced at $95 a month and provides unlimited uses. This software also includes a long-form writer as well as free priority support with all of your questions answered professionally. If you're looking for in-depth features with customizable content, then the Agency plan is a great option. With unlimited credits and 4 seats, you'll get unlimited access to AI-generated articles and quality collaboration with your colleagues. It is priced at $195 per month.
---
Writecream
Use Writecream's AI to generate unique content.
Writecream is an AI writing tool that saves time and effort, can help increase your productivity, and has a variety of uses for businesses and individuals. It's also great for bloggers too. It helps you create marketing material, sales emails, and online content in seconds. Thanks to the personalization it offers, interactions with the customer are much better than without this tool. The tools it helps you create include personalized icebreakers and interesting ways of luring customers into your business.
You can create custom introductions for each person based on their job, educational background, and experience and include these introductions at the beginning of your emails or messages. Writecream provides high-quality content for a wide range of use cases with more than 30 templates made for a variety of uses. The tool allows you to write up to 5000 words at once, which is perfect for blogging or building your website content.
Also check: Writecream Review: Best AI Copywriting Tool (Writecream Coupon Code 60% OFF)
One of the best selling points of Writecream is that it generates personalized ice breaks to get the conversation going with any potential prospect. You can create viral podcasts or YouTube videos without any stress with its content tools. It produces click-worthy, converting copy that will help you promote your online advertising objects effortlessly and all kinds of ad copy for multiple platforms such as Facebook and Google ads. Writecream takes your SEO needs into consideration. It will produce SEO-friendly content in a matter of minutes.
Writecream has four plans: For free, you get up to 20 credits of writing each month. In addition to that, you can have 20 Icebreakers, 2 long blog posts, and 2 podcasts included. Its Standard plan starts at $49 per month and includes 200 use credits with additional features. Its Extended Plan starts at $69 per mo­nth and includes 750 monthly credits along with other use cases as well. It also has a Custom plan that offers you custom usage credits that fit well into your specific needs while its priced differently than their other standard plans. If you want to buy a custom plan, you need to contact their customer service team for a consultation and quote.
---
ClosersCopy
Transform your ideas into irresistible marketing copy.
ClosersCopy features a library of templates to help you generate and write content for various types of sales letters, business websites and advertisements, email marketing, social media and more! It lets you write high-quality content for websites, blogs, and social media networks. It has a myriad of options like Facebook Ads, Google Ads, and more.
ClosersCopy can help you write effective copy without prior knowledge of a subject. It integrates audience engagement, which is important in online marketing. ClosersCopy doesn't use any of the popular GPT-3 systems. They use their own proprietary algorithms, and they're not based on machine learning, which is what many other writing assistants rely on when creating content. ClosersCopy offers three unique AI algorithms for your creativity needs: StoryAI, SalesAI, and BlogAI.
The long-form platform allows you to write open-ended content with no restrictions of any kind. It comes complete with 50+ templates and an auto-generation feature that is based on common marketing frameworks. There are some built-in analytics and tools for copywriters that help them check the quality of their work, like a keyword density finder or an emotion scoring tool.
Also check: ClosersCopy Review (ClosersCopy Lifetime Deal)
It has a Wizard tool that helps you learn how to write sales copy that sells. This easy-to-use system includes curated and proven templates, combined with insights and expert advice from the team. It will help you learn how to craft an email or sales letter that gets results. ClosersCopy is able to compile translations in 127 different languages with just one click, letting you quickly produce content to suit both domestic and foreign purposes.
30% OFF
ClosersCopy Lifetime Deal - Enjoy Upto 30% OFF
ClosersCopy has three paid packages. If you're new to AI writing, then the Starter Plan is for you. It is priced at $29.99 per month and comes with access to all three AI modules, generates 50,000 characters per month and comes with one user seat. While its Professional Plan is priced at $49.99 per month and comes with access to all three AI modules, generates 200,000 characters per month and comes with one user seat support. It also has an Unlimited Plan that is priced at $79.99 per month and comes with access to all three AI modules, generates unlimited characters per month and comes with three user seats.
---
Smart Copy
Write marketing copy in minutes, not days.
Smart Copy (formerly Snazzy AI) is an AI copywriting tool brought to you by Unbounce. It is an easy-to-use AI platform that provides you with copywriting features like high conversion rates and automatic publishing. This makes it indispensable for a lot of marketers, website owners, marketing teams and more.
Smart Copy by Unbounce is a software program that relies on GPT-3 to create content that is similar to human writing. It is the same technology used by other automating programs and provides high-quality content in seconds. Smart Copy is the most reliable copywriting assistant. It has more than 30 use cases and can help with all sorts of projects ranging from blog posts to social media posts, email newsletters, ad campaigns, and landing pages.
When you get started, you can choose whether to produce ads in text, image, or video formats. In addition to the easy-to-use interface, Smart Copy also provides users with a range of templates for headlines and ad copies. The team that built this amazing tool from scratch is now merged with a great company like Unbounce.
This ensures that the amazing tool remains going strong. You should be assured that this software is created by experts and has been thoroughly tested to ensure your success. It also has a Chrome extension which includes features like providing paraphrasing as well as automatically generating more content for you to write. Smart Copy has two plans. Its Starter Plan is free of cost and lets you create 1 profile, and has a limit of up to 5 generations in a day. Its Growth Plan is priced at $49 per month and includes all its advanced features, unlimited generations and profiles, access to its long-form writer and more.
---
Outranking
Best SEO content writing software that boosts organic presence.
Outranking is a great AI copywriting tool. Not only does it have plenty of features, but it can also be used to create content that is optimized for Search Engine Optimization (SEO). And to top it off, the software is capable of creating content in 13 languages. Outranking's features are an addition to AI writing uses and SEO that can help your content rank better. This is a complete SEO and content marketing tool that can provide powerful tools to help you rank on Google. It has robust SERP analysis, SEO optimization, and multi-keyword research capabilities.
Outranking created a system that makes creating content as easy as possible. They offer step-by-step instructions and many automation features to make sure you're fulfilling all your goals. The team behind it is always adding new features to maintain the lead they have over their competitors. Outranking has a SERP analysis feature that allows you to see the top 20 keywords and their rankings for competitors on the market. It also provides insights like search volumes, metrics, and on-page and off-page ranking information for a comprehensive SEO strategy. Outranking allows you to organize content and optimize titles in minutes.
Outranking allows you to find facts from authoritative sources by using keywords. There is a feature called Concepts which lists down various pieces of information based on your query. You can use it on topics such as e-commerce, YouTube, and research materials.
Outranking is a content marketing platform that focuses on delivering optimized content, featured snippets, and Google's PAA (people also ask) inline answers. It allows your competitors to rank high organically as well. Outranking provides powerful integrations across platforms that allow teams to work together seamlessly. Data from Google Docs can be easily embedded in WordPress, and the API helps to make your content accessible from anywhere.
Outranking has a nontraditional pricing plan. It has a pay-as-you-go structure with a base price of $29 per month, you can add specific word limits and features as add ons to make the perfect plan for you.
---
🌟 Top FAQs on AI Copywriting Tools
🙄What is AI copywriting tool?
AI copywriting tool is a revolutionary way to generate quality content for anything at a faster and more cost-effective rate. By using AI copywriting tool, you can write quality content with zero effort. AI copywriting assistants create content from scratch in minutes, with no need for you to waste your time on writing.
❓How do AI copywriting tools work?
All the AI copywriting tools use the machine learning algorithm to generate quality content for you. The software train an algorithm to crunch thousands of web pages to generate unique content on a particular topic. AI copywriting is the perfect solution for everyone who wants to generate content for many use cases like blogs, emails, ads, and more. You'll get more time to focus on other things, like growing your business or completing your next project.
🤔Are AI copywriting tools good?
Writing is a time-consuming and tedious process that can't be automated. Anyone who's tried to write an amazing email or blog post knows how difficult it is to come up with interesting, convincing, and engaging content without the aid of the right software. Therefore it becomes very important to adopt AI copywriting tools that can help you create quality content for anything at a fraction of the cost.
💻Which type of technology does AI copywriting software use?
All the AI copywriting tools uses GPT-3 language learning model that uses artificial intelligence and deep learning to create human-like content for different cases like landing pages, blogs, websites, social media, etc.
🏅Does the above-mentioned AI copywriting software generate content in different languages?
Absolutely! The above-mentioned AI writing tools support various global languages, including English, Spanish, Italian, German, French, Polish, Japanese, and many more.
🚀Can I try copywriting tool for free?
Yes, almost all the AI copywriting tools which are mentioned above offer a free trial to their new user. You can choose any of the above-mentioned AI writing tools and start creating high-quality marketing content for free.
🔥What is the best AI writing tool?
If you are looking for the top-rated AI copywriting tools that help you to generate quality content that drives more conversion and sales, then check the following list:
Jasper
CopyAI
Rytr
Anyword
Copysmith
Headlime
Nichesss
---
Bottom Line:
As a freelancer, marketer, or agency, you might find AI copywriting tools to be useful. They help you work more efficiently throughout the process of producing content and reaching your business goals. It's a good idea to select one as there are plenty of them available. We hope this review on the 11 best AI copywriting tools has made your buying decision easier.
Which AI copywriting tool will you pick? Leave us a reply!
Affiliate Disclosure: This post may contain some affiliate links, which means we may receive a commission if you purchase something that we recommend at no additional cost for you (none whatsoever!)