Are you looking for the best Jungle Scout alternatives that will help your Amazon Business grow?
Being a seller on e-commerce websites like Amazon, getting success would surely be your primary goal.
With trillions of products available on Amazon, becoming the top seller by earning the most profits with the least investment is not an easy task. There are thousands of amazon selling apps available that help you in reaching that goal. One of these is Jungle Scout.
You all might already be aware of the website named Jungle Scout that helps small businesses and brands grow by providing them a platform to sell their products on Amazon. Jungle Scout is a handy and reliable tool, making it a lead in the market. It is available both as a Chrome extension and a web browser making it easy for the sellers to know the main products.
If you are looking for the free Jungle Scout alternatives, then you are at the right place. Here, in this post, we have listed our comprehensive list of Best Jungle Scout Alternatives for Amazon FBA sellers.
Why Choose Amazon Product Research Tool?
The main reason why people use these kinds of tools for product research is apparent. No one wants to sell products that are old or not in fashion anymore. Therefore, these tools assist sellers in selecting and selling all the hot sellers so that you earn profits as much as possible. Even though Jungle Scout has a vast database and is the top seller on Amazon, there are many other alternatives for product research that you can use.
Let us tell you more about Jungle Scout before heading onto the cake of our article. As mentioned, Jungle Scout is available on the web browser and Chrome extension, but there is a significant difference between the two.
Let us see what the actual difference is…
Chrome extension mainly helps speed up research, running in marketplaces of Amazon, without the need to enter MWS for an extension for it to become fully functional and populating data in actual time. On the other hand, web app features help in tasks such as sale analytics that help sellers in different ways, starting from researching the product, tracking them about their sales
✅List of 10 Best Jungle Scout Alternatives to Try in 2023
Read on to know about the ten best Jungle Scout alternatives, including free and paid options for you to choose wisely.
Xray Helium 10 helps in getting accurate as well as on the spot data related to the market situation and if you should enter your products there or not. The best part about this alternative is that it is free of cost.
10% OFF
Get 10% discount on all Helium 10 Monthly & Annual Plans
Helium 10 gives you reliable information about market opportunities and future growth potential, along with providing insights. Not only this, it helps in analyzing data related to reviews, revenue, sale estimates, past trends, and others. Success Score is used by Helium 10 so that you find the perfect product having a vast database on Amazon.
It offers tools for searching, sourcing, and promoting Amazon products. In fact, it includes everything you need to start building and growing an online store from zero. It has more than 22 tools, so it's definitely one of the best Amazon software programs available today. It comes complete with everything you'd ever want for any project.
With Helium 10 you get the following features like:
Keyword Research: Inside the Helium 10 "Magnet" tool, you get to see thousands of untapped related keywords to check out your "seed keyword," which helps you to discover low-competition keywords which you don't come across.
Competitor Analysis: With the Helium 10 reverse engineering, you can analyze why your competitor is ranking. So you can take the blueprint and then improve upon it if there are any lapses.
Chrome Extension: The "X-Ray" just fits into your browser and enhances its ability to settle in on listings and learn from them instantly. You only have to click on the icon on whichever listing you are browsing, and X-Ray will give you an in-depth product analysis that will provide you with helpful information like available suppliers, sales estimates and profitability.
Whereas Jungle Scout is an app for researching products, Helium 10 can be used for a wide variety of operations that include:
X-Ray lets you see every listing detail at once Clicking an item from any list opens up its details page where you can see exactly what you need to know.
Helium helps you get better results by showing you exactly how to perfect every single one of your listings. You'll never need to spend any time optimizing again!
Magnet is a keyword discovery tool by Helium 10 that helps you find new opportunities for traffic by finding keywords that people aren't using yet but might be interested in searching for.
Competitor research tools by Helium 10 help you understand why your competitors are doing well online, so you know where to focus your efforts.
About the Pricing of Helium 10, well, it starts from $39/mo, which keeps it in the affordable range and goes up to $249/mo. So in terms of Pricing, both Jungle Scout and Helium 10 are almost the same.
It's not just great for researching products; it's also one of the most effective tools available for optimizing online store listing results, managing inventory levels, tracking sales performance, and analyzing competitors. If you have the money to invest and need the best Amazon seller tool, Helium 10 is just perfect. Also, none of the Scout alternatives on this list can compare with the incredible range of features of this great Amazon FBA tool.
With the tagline of "The Smart Choice for Making Smart Decisions," this Jungle Scout alternative, AMZScout, is known for providing videos to business brands and entrepreneurs. The main work of this alternative is to keep sales track, searching products, and data interpretation. AMZScout's Amazon Seller Blueprint is essentially an outline for starting out selling online. It includes everything you need to know to get started.
Pro Extension: Find new niches, discover trending topics, uncover profitable opportunities, and improve your listing performance with insights from your browser!
With our FBA Calculator, calculate everything from FBA fees and commissions to ROI in one simple step. You'll know exactly what profit margins really look like so you can plan for them properly.
Do the best product research with over 40 filters to get more product ideas, new keyword ideas for your ads, and more.
Learn how to sell on Amazon with extensive training and educational material.
With the Sales Estimates feature of AMZScout, you can assess deals in only a single tick to dissect the specialty. It also has the spy on competitors feature, which you can use to spy on your competitors. The Keyword Explorer of AMZScout will let you discover the mainstream watchwords within a few seconds, from which you can pick the best ones and expand your deals. Other features like View Trends and Sales Rank at a Glance are also very useful.
AMZScout offers subscriptions monthly, yearly, or for a lifetime. It is known for providing one of the most comprehensive as well as accurate information. AMZScout also offers a Seller Course, which can help the new and pro sellers to get more insight on this tool and also learn more about Amazon FBA business.
The AMZScout Pro Extension is going to cost you $45.99/month, but if you buy the complete Amazon Seller's Bundle, you will only be charged $49.99/month. You get to know your preferred niche, trends, past information, and past profits related to hot-selling products.
Unicorn Smasher has been developed by AMZ Tracking Team, pushing it towards the top-ranked alternatives of Jungle Scout in the form of Chrome extension. The unique feature of this tool is that it generates real-time sales along with detailed data metrics. It is rapid in providing Amazon data metrics, comparing various niches helping you search about different products, their prices, ranges, rating, including reviews.
Unicorn Smasher offers you real-time and reliable information that is based on pricing, product ranking, product reviews, and ratings. It also gives you information about the product estimate sales and much more. Unicorn Smasher's product research dashboard is wholly organized, from which you can easily manage the search for all the products based on the keywords.
It is also integrated with the AMZ Tracker, which gives a golden opportunity for its subscribers to further scale their profit. It can give you a complete overview of the information related to product price, its market rating and also its customer feedback review and ranking, along with a few extra information about the product.
As an amazon tracker, it is a quick and free product selling tool perfect for beginners. Use this one free tool to supercharge your Amazon research!
In-depth knowledge of each niche
Profitability Score
Historical product data
One place for everything!
If you're just beginning and don't have the cash to spend, Unicorn Smasher is an ideal tool for beginners. You'll be fine at first; but if you want to go further, then you'll need to upgrade. The paid version of Unicorn Smasher comes at $49.
You may also like: Jungle Scout vs. Unicorn Smasher: Which Amazon Tool is Best?
An ideal choice if you are more of a browser user. You must be aware of this popular product research tool as an alternative for Jungle Scout. Known as market intelligence, you will be able to maximize your profits, along with dominating your choice of product niches by helping you get insights that are not only valuable but suitable to beat your competitors.
It provides several benefits such as tracking top-selling products, researching keywords, automating keyword research, and analyzing Amazon listings.
The Keyword Manager of Viral Launch can help you keep tabs on your product ranks with Amazon search results and provide you with optimization insights.
With a Listing Builder of Viral Launch, you can hit the ground running with the best possible keywords as it generates SEO insights directly from Amazon's algorithm. The Kinetic PPC suite is also there for managing your PPC campaigns and boosting their ROI.
Split testing gives you access to Listing Dojo, a significant split testing platform that's 100% free. And with the Listing Analyzer, you can generate actionable insights into tricks that can boost your overall conversion rate and increase your revenue.
You also get a Keyword Research Tool by which you can get the most promising phrases to use on Amazon products if you require traffic from the organic search. Along with all that, you also get a Competitor intelligence tool by which you can spy on your Amazon FBA rivals and then, with the information provided about their strategies by Viral Launch, you can develop your own one in the same pattern and beat your competitors at their own game.
Another helpful tool is Product Discover by which you can analyze product ideas based on market demand, competition levels and possible opportunities. By this, you can identify the most promising products and go ahead with them. And with the Product launch Services, you can give your new listings a consistent flow of traffic.
Viral Launch Product Photography Services can help you to leverage branding experts and the photography profession as the team at Viral Launch does transform your product listings with unique and elegant images that will improve your conversions.
Kinetic PPC is easily one of the most powerful paid advertising tools available today. Simple rules and high-profit templates make running an ad campaign easy and lucrative. If your product isn't junk, you'll be able to profit from paid ads. Talking about its pricing, Viral Launch pricing starts from $69/mo and goes up to $199/mo. In addition to offering free training materials, Viral Launch provides consulting services for launch campaigns.
You may also like: Jungle Scout Vs. Viral Launch: Which Tool is Better?

The main feature of AmaSuite as an alternative to Jungle Scout is to help you quickly identify the products, differentiate between them, and find if they have been source at affordable price. Using this alternative, you have to choose at what price you will sell the product after knowing the prices at which they are sold. It also provides you with keywords that will help you in drawing shoppers towards your products.
Not only this, but the AmaSuite product analyzer also provides around 100 categories with exclusive reports. AmaSuite also has the keyword generator feature providing information about the keywords that people usually search for relevant to the product you are selling. With the Ama Top Product Analyzers, you'll be able to find out which products sell best within each category. You'll even get an overview of where these products fall in terms of popularity.
The AmaSuite Keyword generator is an excellent one when you compare it to famous keyword generators in the market. It is relatively easier to use as once you login through your membership account and reach on to the Keyword generator tool; you will see a text box where you have to feed in the keyword which you want o search and know its trending patterns.
With the AMA Product inspector, you get the most sold or best-selling products from across the top 100 categories like books, gaming, electronics and clothes. Along with this, you can also find the top 100 through mostly wished & top 100 bought together products etc.
The AMZ Review Analyzer is a tool made for you those who are physical product sellers at Amazon who wishes to find who has reviewed their products on Amazon. As reviews are critical for any client to buy a product, and if they are low, they will not compel the buyer to purchase it.
AmaSuite also offers a free software named Ali Inspector, which is a Powerful 3-in-1 AliExpress Product Research Software. This Inspector will help you to hunt Niche keywords and Analyze Bestsellers. It also uncovers top performing dropship products for your store in a few seconds.
With all of this, AmaSuite also offers a number of bonuses for Amazon sellers, like Amasuite Training courses which are beneficial for all those who are looking to start their Amazon seller journey. The Amazon Affiliate Training Course is the Amazon Affiliate Marketing Crash course which has been recently updated to teach you everything from how to research, to choosing products, and getting traffic along with creating effective content.
You also get the Amazon affiliate marketing crash course. The training has been recently updated to teach you everything from how to research to choosing products, getting traffic, and creating effective content.
The Pricing of AmaSuite is currently about $67/mo. And surprisingly, it comes with a 30-day money-back guarantee.
It gives you an idea of which words people might be using when they're looking up your product category. You'll want to include these terms in your title tag and description meta tags.
You may also like: AmaSuite 5 vs. Jungle Scout: Which is Best for Amazon Sellers?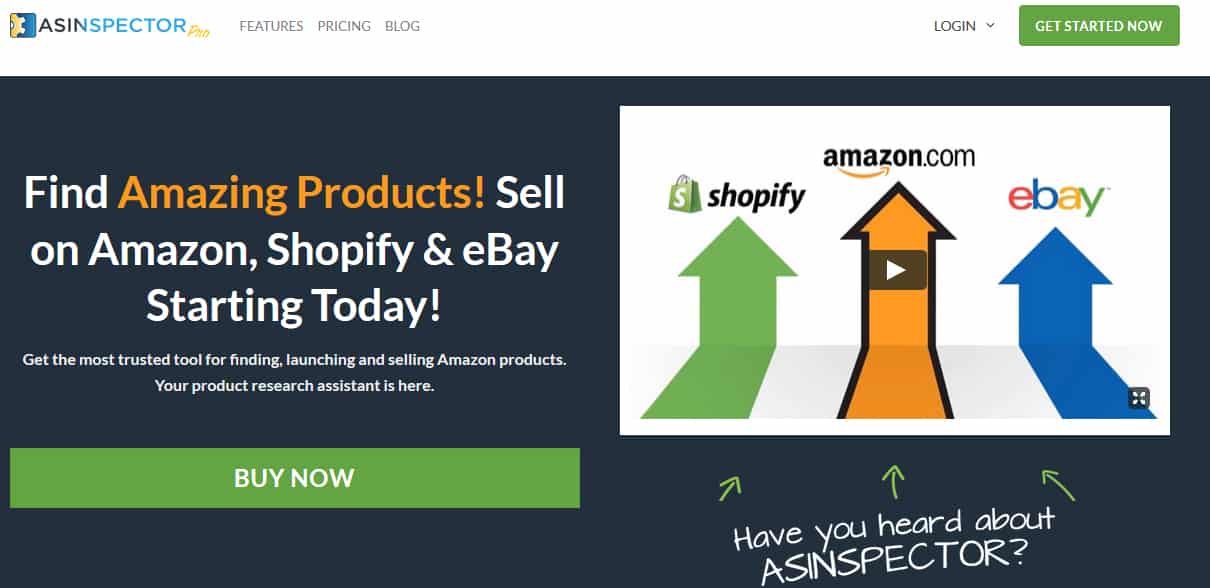 Helping you search for profitable products that you can sell on Amazon, ASINspector is a Jungle Scout alternative. Along with Amazon, it also is tied up with other platforms such as eBay and Shopify. You can scan your product on your android and iOS devices, and the product will pop up with the details.
With this, you will also get to know details related to the prices, ranking, and trends of the product's sales.
This alternative also has a feature wherein you can feed an ASI code to research the products. The ASI also assists in searching for products on other platforms like Alibaba and AliExpress, helping you compare products on several sites. With the Keyword Analyzer feature of ASINInspector, you can instantly find the best ranking keywords and then create lists right for any products simply by using Google and also Google Trend. There are several Intelligent Filters where you can filter by category or column and drill down to find out exactly all the parameters you are actually looking for.
You can run a product search from various online stores like Amazon, Shopify, etc., and gives you instant access to their prices and descriptions. Scan the barcode on an item using your smartphone or tablet camera and all of the product detail will appear automatically.
You also get the Idea generator feature which is another useful one where you, with a click of the "magic light bulb," and then the ASINspector Pro, find the keywords, products and also niches automatically. With the ASIN Import, you can simply upload the unlimited amount of ASIN at once and then just let the ASIN Pro research them right for all of the filters.
You'll find out some important facts including the product's current sales ranking, its average customer rating, and whether there has been any recent activity (such as new reviews).
You can also use ASIN codes to get product information for specific items.
Once you've identified which products your Amazon store will sell, you can use ASINspector to research similar products on Alibaba and Aliexpress to find out where these products come from and how much they're likely to be sold for. You also have the ASIN Import feature where you can simply upload an unlimited amount of ASIN at once and then just let the ASIN Pro research them for all the filters.
ASINspector is currently available in countries like Canada, Germany, France, India, Italy, the UK, the US, and many others. Talking about its pricing, its cost is $97/mo which is for the ASINspector Standard License plan.
Helping you search for the hot selling products on Amazon, Keepa is an alternative for Jungle Scout, free of cost. Available both as an app and a chrome extension, Keepa also helps you in future sales of the products by narrowing down the correct details related to the specific product niche. Besides this, Keepa works to match the products by tracking them, top-selling, and newer developments. Keepa can be used either as an app or a chrome extension and finds the right product for your sales needs based on the criteria specified by you.
You get features like Keepa Deals which is a product research database where you can uncover Amazon items that are on discount. You only have to enter a search into the tool, and you will get the list of matching results, including their average price, current price, and discount percentage.
The Keepa Data is a dashboard with several features for researching products on Amazon. Let's have a quick look at them:
Product Finder: It is a product database that lets you find Amazon products that match your search criteria.
Product Viewer: With this feature, you can upload a list of Amazon Standard Identification Numbers (ASIN) to check out their sales rank, price drops, rating and other product data. As you upload a product, you have to click on it to see the Keepa Chart, which will provide you with a visualization of the item's price changes.
Product Best Sellers: This feature will quickly check the best-selling products in every Amazon category.
The Keepa Track is the feature that will keep track and monitor price changes for Amazon products. This tool lets you set up price alerts for the items which you are interested in.
Along with all of them, you also get Keepa Browser Extension which is for Google Chrome, Firefox, and other web browsers by which you can research products while browsing Amazon.
You can find out which products from Amazon sellers who sell similar items tend to generate high profits. With Keepa, you'll be able to keep an eye out for new items without having to go through multiple websites one by one. The countries where Keepa alternate works currently include Canada, Brazil, Australia, Mexico, India, the United Kingdom, the United States, and many others.
The Seller Labs Pro's keyword center is powered by Scope, which is a tool designed to help you make a successful Amazon keyword strategy, along with getting insights into how competitors are performing. A Chrome extension of Amazon, along with a web app, Scope, helps sellers have information about the most profitable products like the price of the product, data related to sales, and the fees.
It is one of the most accurate and reliable alternatives for Jungle Scout as a product research tool. Besides providing knowledge about potential products, it also offers details about competitors, keyword tools, and downloads and exports the details.
The keyword generator by Scope also helps the buyers find products and help increase their rank.
It helps you understand which keywords your competition is ranking for so you know where to focus your efforts. The Sales Estimates of Seller Lab pro are highly accurate as these are also crucial for making a decision to sell a product or not. If you use it with the Amazon keyword and product research tool, you can even do a reverse ASIN lookup and find keywords that help the product rank.
Plus, you also get a few additional features with Seller Labs Pro like:
Performance Center, where you can monitor your key metrics and understand all your data.
Communication center, which helps you to connect with your buyers in a smart way
Advertising optimization will ignite your ad strategy and bring out more sales through Amazon advertising.
The Seller Labs PRO starter plan will cost you as little as $49 a month if you decide to pay as you go. But you can save up to $2400 if you pay annually. And this tool also offers a 30-day trial which is great for checking out its features before going ahead with any of its paid plans.
It allows you to find product listings, prices fees, and estimated sale figures for your Amazon products with its extensive product database so you can analyze their profitability. It consists of dual plans named Scope Startup and Scope Essential. However, you can also use it for a week for free. It is right now, only available in the United States.
Who does not want speed? And what If it's available for free? AMZBase is a Jungle Scout alternate available as an app that helps you search the top-selling products on the Amazon platform, including information about each different product and their fee calculator.
It also provides the sellers with ASIN codes in which the sellers are interested and give information descriptions about each product. Not only this, but it also offers access to several other sources, including Alibaba, AliExpress as well as Camel, among others. This Jungle Scout alternative is relatively a great option available for free and providing quick results also.
You'll find information for each product plus an FBA profit calculator.
In addition, AMZBase provides access to additional resources like Amazon, Aliexpress, Alibaba, and AliExpress, among others. AMZBase allows sellers to find out whether they'll be making a profit before listing their products. If you're looking for an easy way to see whether a product could be profitable, AMZBase may be just right for you.
AmazeOwl makes finding products for sale easy by helping you discover new products from top brands like Amazon itself. Available in a total of 11 marketplaces, some of which include New Zealand, the United States, the United Kingdom, India, Germany, Italy, France, and others, AmazeOwl is a Jungle Scout alternate providing information related to upcoming potential sellers, current sellers, shipping costs, as well as the products that are high in the competition.
AmazeOwl Product Database feature gives you access to 600+ million products and has a huge database. You can also track up to 300 niches at the same time with AmazeOwl. With the Keyword Monitoring feature, you can add 3 to 50 keywords per niche and find the keyword monitoring section at the bottom of every product listing.
You can use AmazeOwl for finding the most popular items, upcoming hottest selling items, lowest shipping costs, and highest competition products. In addition, you can get a better idea of what your competition is offering by looking closely at their products and services. Also, AmazeOwl does update its product database and BSR-rated products on a daily basis. You can check out in real-time and find top keywords and products to increase your sales.
After taking everything into consideration, you can choose which products to include in your Amazon store by selecting items that will sell and sell better than others. AmazeOwl also offers several tutorials and beginners-guide to help newbie sellers. With these tutorials, you can further explore the tool's potential and learn about the app quickly. The other fantastic feature of this platform is that you also get to know the products sold by different sellers and their sale techniques and strategies.
The starter plan for this alternate is for free. However, the other plans are a growth plan and an established plan with annual payments. Their pricing is $12.99/mo and $19.99/mo, respectively.
Which is the Best Jungle Scout Alternatives?
All these were the ten best Jungle Scout alternatives you can use. Every alternate has some other unique features, and you can choose any of them depending on your requirements. While selecting an appropriate Amazon product research tool, whether it is free or paid, also will make a lot of difference. You should spend the money according to the benefits offered by that particular Jungle Scout alternate Amazon research tool.
Research is the first and foremost thing you should do before selecting one. Nonetheless, if you choose to use more than one research tool, you will get the most reliable and accurate information due to congruency in the information.
Choosing more than one research tool can prove beneficial, and you should go for it if you have enough money to spend on it. This was all about amazon selling alternatives. But have you ever wondered what is the need for using these selling tools and what if you don't use them?
Let me tell you, having access to an amazon selling tool not only gives you extra benefit in increasing your sales and knowing about potential products but also gives you an insight about the techniques you can use to increase the ranking of your products.
Here are some reasons why you should invest in an amazon selling tool.
1. Customer Feedback
What is better than getting authentic feedback about your product from genuine customers? As an online seller, the feedback given by your customer will either take you to a different height or throw you on the ground. With the amazon selling tool, you will be able to improve your product and the feedback and the rating given by the customer.
2. Communication with the Buyers
If you communicate with the buyer, this will increase their trust in you and improve your ranking as a seller. Your amazon app's feature will help you communicate with your customer about their needs and preferences and other suggestions to improve the product. This will not only enhance the customer experience but also make your customers stick to your products.
3. Information about the Stock
It consists of information, including updates about the inventory, prices, and the need for editing any details. The Amazon selling tools will help you keep up to date about all the information related to your inventories.
4. Orders as well as Returns
If you are a seller who gets many orders per day, you must have a lot of returns. An amazon selling tool helps you in dealing with both returns as well as orders. Notifications related to selling and returning of the product gets updated on the app. You will also get information about pending, confirmed orders, confirmed but not shipped if refunds have been issued, among the others.
5. Sales Tracking
You get information about the analysis of sales of a period. You also get detailed information about the breakage of your total sales and the sale of a specific product over some time. While festive seasons, tracking of sales helps a lot in managing the prices.
6. Price Adjustments & Other Features
When the price of a certain product changes for any reason, it has to be adjusted immediately. This happens when you sell something at a lower rate and then it increases. In such cases, you must adjust the price at the right moment. If you use a jungle scout alternative tool, this will happen automatically. There are various other features available like being able to see the data of individual sellers and compare the performance of each seller based on the number of sold units, shipping charges, etc.
I am sure these reasons are sufficient for you to download the app now.
Amazon, today, is one of the most successful and growing e-commerce platforms for buying and selling products as well as services. However, everything has its advantages and disadvantages. Being said that, do you think it would be better if you sell on your website rather than on Amazon?
Let us check!
Here are the pros and cons of selling your products on the Amazon platform.
Pros:
Using amazon will enhance your sales provided you follow all the rules, regulations, and other guidelines provided in Amazon's listing of products.
Amazon's cataloging system will ensure that the seller's inventory is at an appropriate location, increasing the ranking of your product and the sales.
As a result of being an international platform, selling on Amazon will increase your reach to another level. Apart from your local geographical location, your products will also be reached to other markets and the globe.
Acquisition of customers in the sense that your product will be searched for instead of the specific brand. As a result, your brand is more likely to be discovered due to the seller's unique and appealing products.
Cons:
There are no limits to the competition on Amazon and other e-commerce platforms. There are thousands to millions of sellers on amazon.
The main focus of amazon is on the product rather than the seller. As a result, you will not be able to showcase the brand by abiding by amazon's set rules.
Fees are something you will have to pay whether you own a professional account or the Fulfilment by Amazon option.
Amazon is stringent in terms of complaints from customers to the sellers.
Now let us look at the pros and cons of selling products on your website instead of Amazon.
Pros:
When you own a website, you are in full control, starting from working on the website to selling, ranking, and promoting the products offered on your website.
Customers visiting your website will only be seeing the products sold by you rather than any other seller, thereby giving you full control and making your website a go-to place for customers.
Customers who buy products from your website will be referring it to other people highlighting you as a seller and your brand rather than a marketplace.
Cons:
Unlike Amazon, your brand and products will require massive promotions and hard work to inform people about your website, therefore providing less reach.
Having a considerable reputation, people feel credibility while buying from amazon. On the other hand, having different products' websites does not provide customer satisfaction in terms of trust.
Jungle Scout Alternatives FAQ
Is there a free alternative to Jungle Scout?
Yes, there are 2 Jungle Scout alternatives that you can use for free. Helium 10 Xray and Unicorn Smasher (free for the first 1000 product lookups). Helium 10 Xray is an excellent choice if you are looking for a free alternative to Jungle Scout as it provides very accurate data. On the other hand, Unicorn Smasher is also a reliable and free Amazon product research tool.
Is Jungle Scout owned by Amazon?
Greg Mercer is the CEO and founder of Jungle Scout. As we all know, Jungle Scout is the leading software for Amazon merchants to discover the winning products on Amazon. Greg Mercer is the Amazon selling community's leader who built Jungle Scout tools to find the best products to sell on Amazon.
Is Jungle Scout free?
No Jungle Scout does not offer any free plan to the user. But if you are not fully satisfied with all the Jungle Scout features, it also offers a 14-day money back guarantee.
Which is better, Jungle Scout or Helium 10?
Both the Jungle Scout and Helium 10 come with an amazing suite of tools that worth the money. But in the Helium 10 vs. Jungle Scout competition, the final winner is Jungle Scout because of its accuracy, features, and pricing.
Which is the best alternative to Jungle Scout?
After reviewing the Top 10 Jungle Scout Alternatives, we do feel that Helium 10 is the only one that we think is the best alternative to Jungle Scout. It is almost accurate in every sense, be it product research or any of its features. And just like Jungle Scout, it is an all-in-one tool that has got all the tools required for Amazon sellers.
Does Jungle Scout support multiple marketplaces?
While reviewing Jungle Scout and its features, Jungle Scout does allow sellers of 17 different Amazon Marketplaces to use their tool.
Is there any Jungle Scout Extension?
Yes. The Jungle Scout Chrome Extension is free and provides you with product information like sales rank and price changes. You can use it as a gauge for the potential ROI of a particular Amazon Product and perform keyword research.
Can you cancel Jungle Scout anytime?
Of course. You can go ahead and cancel Jungle Scout at any time, and if you are a monthly subscriber, you can cancel it directly from your Jungle Scout account.
How much is Jungle Scout?
The Jungle Scout Basic Plan starts from $29/mo, and the most expensive plan, which is the professional plan, is going to cost you $84/mo.
Is Jungle Scout only for Amazon?
Yes. Currently, Jungle Scout is only for Amazon Sellers.
Which is better, Jungle Scout or Helium 10?
Both the Jungle Scout and Helium 10 come with an amazing suite of tools that are worth the money. But in the Helium 10 vs. Jungle Scout competition, the final winner is Jungle Scout because of its accuracy, features, and pricing.
Final Verdict: Are the Jungle Scout alternatives worth?
All the mentioned Jungle Scout alternatives are extremely powerful software that helps you get more traffic and sales as an Amazon seller. No dought that Jungle Scout is a great option, but the tools like Helium 10 and AMASuite 5 stand out due to their amazing features and accuracy.
If you really want to take your Amazon business to the next level, you should get started with Helium 10, AMASuite 5, etc. These are the best and free alternatives to Jungle Scout.
We hope this post – Jungle Scout alternatives fulfill your purpose.
Quick Links: