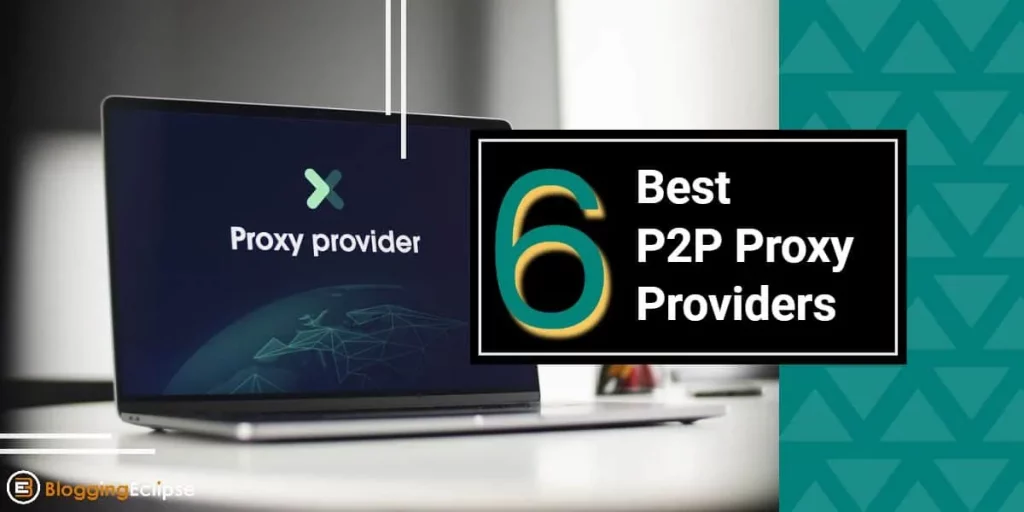 Searching for the Best P2P Provider can be a difficult task, and this is why this article having the 6 best P2P Proxy Providers 2023 is tailored in order to lighten the burden of researching them. So let's get started with the list and get along with some other topics, including What P2P is, etc.
So, let's get started with the listing, but before we take a deeper dive into it, let's have a glance around some basics, like what a P2P proxy network is?
What is P2P Proxy Network?
Let's try to understand in the simplest way possible; you might be well-aware of what world wide web is; it is a vast spread out network between computers and a network established between them, the world wide web as the name suggests, is a network (web of networks established), and P2P which stand to peer to peer, the network of P2P is established between computers where one of them work as a server and another one as the receiver, and when a network of these P2P servers and clients is established it is termed as P2P network. This was a simple definition so that you won't be stuck between the complications.
If we think of this in a way where P2P works, it is worth mentioning that the transmission of data performed under the network (receiver and client) performs receiving and sending of the data, but what about the security? I mean, your computer is working as a client and server for data transmission over the internet, and you might be tracked or may be under surveillance by our government, just in case you are thinking the govt.
Don't have access to all this, I'm sorry, but you are wrong. The USA patriot act, which was signed into law by President George W. Bush, gives access to the government for different things. So, no doubt that your privacy is not a hurdle for government to overcome. And this is where the P2P proxy network can work, along with giving some security and some anonymity.
The P2P Proxy Network changes your location while getting along with the network. The proxy network enables you to get along with a private network, making it more secure; in addition to that, if we look forward to a peer-to-peer proxy network, it lets you mask your IP address so that you can surf the internet while being anonymous. So basically, your online activity is much more secure and anonymous.
Now that we are all well aware of how P2P Proxy can be helpful, the main question is, which P2P proxy provider is the best one for you? No worries, since I have already got you covered in this, therefore I'll be mentioning the 6 Best P2P Proxy Providers that can help you overall.
But before we take a deeper dive into the list, let's have a look at what are some of the features that can help you while using a proxy network, so let's take a look.
---
Features Offered by P2P Proxy Network
Just as a quick reply, a proxy network can help in making your network much more secure as compared to what's already accessible in the normal network; in addition to that, the proxy network basically helps you in getting along with the anonymity, which is all due to the change in your IP addresses which is used as per the simultaneous connections over the proxy server, most of the proxy network providers listed in the list have a huge network of IP addresses, servers, which is in millions. Well, let's take a look at some of the tools and features that are offered by a P2P proxy network:
You can get along the proxy network with a single entry while having options to come out (exit) from different points, which makes everything difficult and more secure, as you have access to thousands of points that are available across different locations.
Gives you access to different IP addresses every time you are using the network. Basically, the data received and sent have different locations after a certain time. You keep bouncing (IP address) across different geo-locations, making your online activity more secure and anonymous.
It can be very helpful under different use cases, including social media, ecommerce and web scraping.
Well, you can get along with a number of features while using the proxy network, which will be covered later in the article. Since we are now done with the features and everything, let's get started with the list of the 6 best P2P proxy service providers.
---
6 Best P2P Proxy Provider 2023
No doubt that there are hundreds and thousands of P2P proxy providers available in the market that offer a wide range of features, server location and much more, and this is where making the right choice is pretty difficult. Well, I have mentioned here some of the best P2P proxy providers based on the features that they deliver. So, let's take a look around them.
The first one on my list is Smartproxy; the reason why I have mentioned Smartproxy at the top is the features that it delivers. The Smartproxy offers more than 40 million residential IPs worldwide, making it a bit of a reliable choice overall. In addition to all this, it is worth mentioning that Smartproxy has a wide range of servers with more than 195 countries and 50 US states.
Talking about the proxies for different use cases, it is worth mentioning that Smartproxy offers almost all kinds of use cases which include:
Activate this exclusive Smartproxy coupon code and save 10% on Residential & Datacenter plans.
3-Day money-back option
| | | |
| --- | --- | --- |
| Market Research | Social Media | Retail |
| Price Aggregation | Instagram | Sneakers |
| SEO | Pinterest | eBay |
| Travel Fare | Twitter | Shopify |
| Scrapping | Reddit | Craiglist |
| Ad Verification | Facebook | Amazon |
| Affiliate Testing | YouTube | and the list goes on and on.. |
Here are some of the key features that are offered by Smartproxy:
Residential Proxies: Smartproxy offers 40M+ real device IPs in more than 195+ locations, advanced rotation and much more.
Data Center Proxies: Smartproxy offers unlimited connections and threads along with 30 min sticky sessions.
Dedicated Data Center Proxies: 400K+ US IPs, along with key features like SOCK(s) and HTTP(s) proxies, sequential and non-sequnetial proxies also available.
SERP Scraping API: Smartproxy offers a 100% success rate along with 24/7 customer support, so just in case you fall into any problem, feel free to contact them.
Pay-as-you-go plan in residential proxies with a cost of just $12.5/GB.
X Browser ( offers a browser that can help you juggle multiple profiles while making things risk-free)
Chrome Extension ( An extension to make your way around the servers within a couple of clicks, basically anonymity and security within a couple of clicks)
Firefox Addon (Where most of the P2P proxy providers focus on chrome extensions, Smartproxy has a Firefox add-on, making it stand out of the league)
Address Generator (enables you to create upto 49,999 proxy list lines)
Smart Scraper (enable sorting data, no coding required, and data export in JSON or CSV)
Smartproxy Pricing Plans as per Customer Needs
● Residential Proxies starting at $12.5 (Pay As You Go)
● Datacenter Proxy plans starting at $30/month
● Dedicated datacenter plans from $7.5/month
● Reseller plan starting from $1000/month (Unlimited username: password)
---
The second one in our list is the IPRoyal; one of the main reasons why I'm listing IPRoyal is its features, as it offers different Proxies, including sneaker proxies and 4G mobile proxies being different from most of the options being available. The Proxies offered by IPRoyal are as follows:
Residential Proxies
Sneaker Proxies
Static Residential Proxies
Private Proxies
Data Center Proxies
4G Mobile Proxies
IPRoyal offers different use cases, which include:
| | | |
| --- | --- | --- |
| Data Gathering | Social Networking | Retailing |
| Data Scraping | Facebook | Craiglist |
| SEO Crawling | YouTube | eBay |
| Price Comparison | Instagram | Target |
| Collecting Stock Market Data | Reddit | Footsite |
| Travel Fare Aggregation | Discord | Zalando |
The Pricing Plans are mentioned below:
Residential Proxies: Starts from $0.80/GB
Datacenter Proxies: Starts from $1.30/Proxy
Sneaker Proxies: Starts from 0.80 USD/proxy
Static Residential Proxies: $2.50/proxy
---
One of the main features that make Oxylabs one of the top tier P2P proxy tiers is its reliability, as you can get along with a vast pool of IP data centers with more than 10 million residential proxies, which is pretty much impressive. Another key point that is worth mentioning is its network being spread in more than 180 countries.
The Oxylabs offer different types of proxies, including:
Residential Proxies
Next-gen Proxies
Mobile Proxies
Rotating ISP Proxies
Data Center Proxies
SOCK5 Proxies
Static Residential Proxies
In addition to all this, it is worth mentioning that Oxylabs.io offer different API, which includes:
SERP Scraper API ($99/month)
E-Commerce Scraper API ($99/month)
Web Scraper API ($99/month)
Now looking forward to the prices for different proxies offered by Oxylabs:
Datacenter Proxies: $180/month
Residential Proxies: $300/month
Next-Gen Residential Proxies: $360/month
Mobile Proxies: $500/month
Rotating ISP Proxies: $340/month
---
Another excellent P2P proxy network on the list is Shifter.io, which can be called as one of the largest proxy networks in the world. The Shifter offers 3 different services, including:
Residential Proxies (backconnect residential proxies with more than 31 million IPs)
Dedicated Proxies ( Private dedicated proxies)
Shared Proxies
If we talk about the features and everything, Shifter offers some excellent features making it ace among the proxy networks; these features include:
99.9% Guaranteed uptime
3 Days money-back guarantee
Unlimited bandwidth
An excellent speed of 1GBps
If we look forward to the Proxies pricing plan, the prices are pretty reasonable as compared to others available in the market, and the pricing plans are:
Backconnect Proxies: $299.99 (25 ports)
Dedicated HTTP/S Proxies: $25 (5 Ports)
Shared HTTP/S Proxies: $30 (10 Ports)
The Cases where the Proxy Network can be used are as follow:
Price Comparison
Ad Verification
Sales Intelligence
Brand Protection
Web Property Testing
SEO
Online Shopping
Web Scraping
---
Well, Bright Data, which was formerly known as Luminati in 2014, is the world's no. 1 web data platform. Bright Data focuses on 3 different aspects of data: Datasets, Data Collection, and Proxy Solutions. Bright Data offers 4 different options in terms of Proxy, which include:
Residential Proxies 72+ million IP rotated from real-peer devices across 195 countries.
Datacenter Proxies: 1.6+ million shared data-center IPs from different locations.
ISP Proxies: More than 160,000 real home IPs across the Globe.
Mobile Proxies: 7 Million+ IPs from largest real peer 3G/4G networks.
Talking about the prices, it can be said that Bright Data offers different pricing plans, which are labeled as Experimenting, Starter, Production, Plus, and Enterprise.
---
Well, one of the reasons why I have mentioned My IP Hide over here is due to its accessibility across different platforms, including Windows, Android, Mac, and Linux. In addition to this, it is worth mentioning that My IP Hide offers a 30-day money-back guarantee which makes it worth giving a shot. Looking after the pricing plan:
1 Month Plan: $ 9.95 per month
12 Month Plan: $5.83 per month
36 Month Plan: $3.98 per month
In addition to all this, it is worth mentioning that My IP Hide offers some excellent features in terms of speed, as it is 4x faster than free IP and 13x faster than VPN. It also has around 95 servers (IP addresses) in 34 countries, including regions like America, Europe, Asia, etc.
Some common features to look after while choosing a P2P Proxy Service Provider
Here are some of the common aspects that can be looked after before choosing the suitable P2P Proxy service provider:
As per your need, what I intend to speak about is that choosing a proxy server is a choice of services you are looking forward to, as you might be looking forward to ecom use, or maybe web scraping and much more.
The price point, no doubt that price point can be considered as one of the major aspects when choosing a proxy provider.
The locations having a vast network around different locations can be one of the major factors in making things better in terms of service delivery; choosing a proxy network with a global network can help make things secure as you keep bouncing around different locations.
Another major factor that makes a proxy network even better is its uptime; I have considered most of the proxy service providers in the list with almost 99.9% uptime, enabling you to get along with your online activity more efficiently and effectively.
Customer Support: In addition to all the points that I have mentioned above, having an excellent customer support can turn out to be a great thing, as you can have to get help whenever you encounter any queries or issues while using the proxy network.
There might be some other aspects, but the points mentioned above were some that can be termed as important points from my perspective. So now, after getting done with all these features, let's take a look around the section of which P2P proxy provider is best suitable for you; in addition to that, you can look after some of the points that I have mentioned above.
---
🌟 Top FAQs on P2P Proxy Providers
🤔What is a P2P proxy network?
It is the solution that helps you to hide your online identity so you can safely browse any site on the web. A P2P (peer-to-peer) proxy network provides users with a dedicated IP address from devices. If you purchase proxies from this network means that your IP address is acting both as a client or server.
🔎Why should I go for a P2P proxy service?
It's not uncommon for people to accidentally leak their identity online. The internet is one of the most popular social media and communication channels. Hide your IP address and your data with P2P (peer-to-peer) proxy networks, help you avoid censorship, and provide a reliable connection when browsing the internet.
🥈Is it legal to use proxies?
Using proxies is not illegal. Some countries in the world do not have any laws related to using proxies. People use proxies to secure their internet activities or secure their identity online.
❓Are free proxy servers safe?
According to a recent analysis, using free web proxy servers is not safe or trustworthy. There might be little chance that the free proxy server gets traced, and they may even use and transfer the user's data in raw format.
🔥What is the best proxy service provider?
Well, there are various proxy service providers available on the web. Check the below list of best and most popular online proxy servers:
1. Bright Data (Formerly Luminati)
2. Oxylabs
3. IPRoyal
4. SmartProxy
5. HMA
6. Squid Proxies
🧐Do I need a proxy if I use a VPN?
If you are using any VPN network, then you are not supposed to use a proxy, as both can help you to mask your IP address. So if the person is using any VPN network, then using a proxy server is not necessary.
🏅Can I use Proxy and VPN together?
To add a more secure layer of anonymity to the network, the user can use a proxy and VPN simultaneously. The user will not get any benefit from using proxy and VPN concurrently.
🚀Which is better; Proxy Vs. VPN?
VPN and proxy solutions are becoming more dominant in online security. Well, both Proxy & VPN works the same as they can use to protect the user identities on the web. Users can either use Proxy or VPN as they serve the same purpose, but they have different operation modes. A proxy server transfers the data in a raw format on the internet. This may increase the exposure of users' real identities. On the other hand, VPN offers end-to-end encryption to the users, and they do not need to worry much about their privacy and security online. You can either go for a proxy server or VPN, depending on your need.
---
Conclusion: Which P2P Proxy Provider is best for me?
Well, I can't tell you a specific name if we compare these proxy providers that I mentioned above, as all of them offer something different from each other; well, not completely different as some of them cover the same use cases. If I consider some of the tools and features, it is worth mentioning that the main purpose of using a P2P Proxy Provider is having a secure network while being able to be anonymous.
In simple words, it can be said that P2P Proxy Providers basically let you access their network by entering from another gateway while exiting from another; this entering and exiting is all performed across hundreds of different IP addresses, kind of simultaneous connections and locations being used while keeping your address and anonymity safe and secure.
So choosing a P2P proxy provider depends upon the requirement you have. There are different options listed in this article; for example, you can need 4G mobile proxies to get along with the proxy provider that falls under your criteria. As I have mentioned earlier, using a proxy network gives you access to hundreds of geo-locations while being anonymous and secure. This, as a result, helps you in making things work better in terms of security and anonymity.
Hopefully, this article has the best proxy service providers that have helped you clear some of the questions and queries you might have regarding them.