Are you a blogger, a freelancer, or an SEO agency? In either case, you probably used to access Google Keyword Planner, a free SEO keyword research tool for your project or client's work. Or maybe manually searching over the google SERP to shortlist the highly searched keywords.
We can understand how tedious a job is to regularly find hundreds and thousands of keywords for one or multiple website optimizations. It is also a lengthy task to do competitor research and check a website's DA, PA, performance, and all.
But here, we are introducing you to the top & trending SEO tools for digital marketing agency which allows you to fetch highly impactful keywords for any site. Apart from that, these tools are embedded with several features such as website analysis, competitor research & more.
Let's see the details about the ✅Best SEO Tools for digital marketing & website optimization in brief.
---
10 Best SEO Tools You'll Need in 2023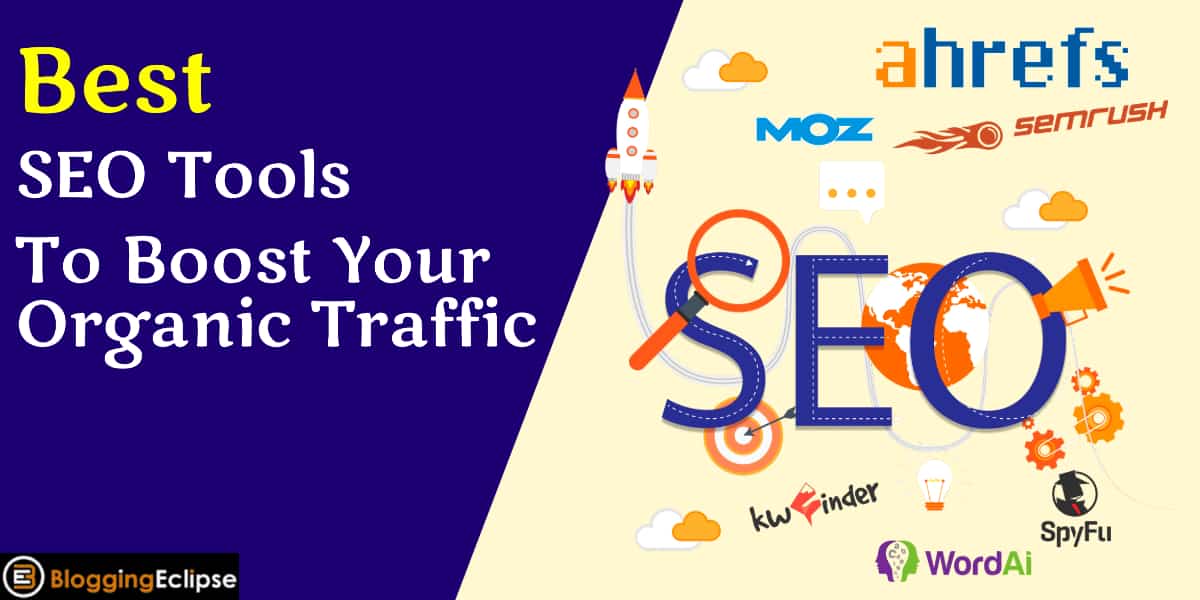 SEMrush is a one-stop solution for Search Engine Optimization, content management, PPC, and social media optimization.
Also read: SEMrush Review: Free 30 days Trial Account (Worth $199)
SEMrush Pricing
If you are an individual blogger, freelancer, or a start-up company with a limited budget, you can go with the SEMrush Pro package, starting at $119.95 per month. If you are an intermediate agency, you should go with the SEMrush Guru plan, costing you $229.95 in a month. In case you are running a big company or eCommerce sites, then the SEMrush Business plan will be the best for you at the rate of $449.95 per month.
Pros & Cons
Pros
Show you missing keywords, which your competitors are using.
Easy to embed SEMrush API for more productivity
Easy to audit any website
See the backlink sites of your competitors.
Cons
Too many tools, which might not be useful for everyone
White-label reports are created only for premium users.
---
Ahref is known for providing the best solution for competitor analysis, research for backlink opportunities & SEO auditing.
Ahref Pricing
The starting & basic plan is Ahref Lite, and you can get it's a monthly subscription at $99. You have an option to get its free trial of 7 days before purchasing the plan for a month or year. You can take a trial of 7-days for the Ahref Standard package and then pay $179 a month. Ahref's Advance package will cost you $399, and you can save 2 months' cost by purchasing its annual plan.
The fourth plan is Ahref Agency, and you can get its subscription by paying $999 in a month. With this plan as well, you can save 2-months cost if you are purchasing for a year.
Pros & Cons
Pros
In-depth research for competitor's backlinks
Easy to create reports
Quickly find high-authority websites for creating quality backlinks.
Cons
Only 20 keywords rank positions available to see in the basic Ahref plan.
Packages are a bit expansive than other alternate SEO tools.
---
Mangools SEO tool is quite famous among the small SEO agencies, affiliate marketers, and bloggers. It is leveraged with the option to maximize your SEO performance with fewer efforts.
Mangools Pricing
Mangools Basic plan will cost you $29.90 per month if you are buying its annual plan. Otherwise, you will have to pay $ 49 for one month's subscription.
The second plan, i.e., Mangools Premium, will cost you #39.90 per month for an annual subscription. Or you need to pay $ 69 per month for a monthly plan.
You need to pay $79.90 for purchasing the Mangools Agency package on an annual subscription. Else, it will cost you $129 per month for the monthly subscription.
Pros & Cons
Pros
Well organized navigation panel
Easy keyword finder option
Options to take snapshots of analytics and keyword rankings.
Cons
There isn't an option for google analytics integration.
Sometimes, it shows a timeout error at the time of updating SERPchecker data.
---
Hubspot is a dynamic tool to manage all the essential marketing activities. It includes SEO suggestions, customer service, CRM, and inbound marketing analysis.
Hubspot Pricing
The starter plan of Hubspot will cost you $50 per month or $540 annually.
To get a Hubspot Professional subscription, you need to pay $890 per month or $9600 per year.
Enterprise Hubspot plan will cost you $3200 in a month or $38,400 annually.
Pros & Cons
Pros
Best all in one SEO tool for all types of projects
The preferred tool to optimize the conversion rate
Allow you to auto-track CTAs.
Perfectly embedded lead management features
Easy to schedule social media posts.
Cons
Hubspot CMS and CRM support the same language, which might create some difficulties for multilingual clients.
There are limited free templates to make automation.
---
It is one of the frequently used SEO tool which is loaded with the features of backlink checker, website audit, new keywords suggestions & more.
Serpstat Pricing
The basic plan of Serpstat Lite will charge you $69 per month, which is suitable for freelancers or individual bloggers.
Standard Serpstat package will ask you to pay $149 per month, which is sufficient for small digital marketing agencies.
Advanced Serpstat will cost you $299 a month and suitable for medium-sized digital marketing or SEO agencies.
To buy the Serpstat Enterprise plan, you need to pay $499 per month, ideal for big internet marketing firms.
Pros & Cons
Pros
Best all in one SEO tool to see the updated keyword rankings and position
Options to integrate with the internet browser using Chrome extension.
It has a free website audit tool along with more than 15 other useful SEO tools.
You can group the keywords by tags and also see the keyword distribution in a tree view.
Cons
Sometimes, it allows you to search for limited queries in a day.
No free SEO tool trial is available.
---
Its name only suggests that SpyFu helps you to keep an eye on your competitor's SEO activities. You can see, what all the keywords they are using, backlink places, and more.
SpyFu Pricing
The basic plan of the SpyFu SEO tool will cost you $39 for monthly subscriptions or $33 per month if you are opting for an annual subscription.
Professional SpyFu plan will ask you to pay $79 per month for a monthly subscription plan. Or it will cost you $58 per month for yearly subscriptions.
Team Spyfu SEO subscription will cost you $299 per month in case of purchasing a monthly package. Or if you are going to buy its annual package, then it will cost you $199 per month.
Pros & Cons
Pros
Advanced keywords recommendations to add to your Google Ads campaign or SEO requirements.
Several available monitoring tools to properly watch the performance and all.
SpyFu is one of the most recommended tools to track your competitor's activities.
Cons
Sometimes, there is a lack of data accuracy.
Need some improvements inside the keyword ranking tool.
No freemium versions are available.
---
You can see a website's DA, PA, spam score, keyword rankings, and other things at a place, i.e., inside the Moz Pro application. You can also access the tool by installing the Moz Pro extension in your browser.
Also read: Moz vs. SEMrush: Which is the Best SEO Tool? (Our Pick)
Moz Pro Pricing
The monthly plan for the Standard package will cost you $99, and you can save up to 20% on the annual package subscription.
Medium Moz Pro package will cost you $149 per month, which is the most popular Moz Pro plan as well.
Moz Pro Large package will cost you $279 on a monthly subscription.
To buy Premium Moz Pro, you will have to pay $599 a month, or you can save up to 20% on a yearly subscription plan.
Pros & Cons
Pros
Easy to set up and research for the betterment of SEO projects.
You can easily do keyword expansion analysis.
The features of Search volume metrics are very authentic.
Cons
Interfaces are loaded with too many options, which might be a bit confusing for beginners.
The number of estimated keyword volumes is comparatively lower.
---
This tool has quick navigation to showcase the suggested keywords ideas to outrank your competitors.
KWFinder Pricing
KWfinder & Mangools are the same tools, and you can see KWFinder packages under the Mangools section, which is described above.
Pros & Cons
Pros
Keyword segmentation, alternative keyword suggestions, and other options are too easy.
Super-fast application page load time.
It also shows the keyword's difficulties, which will help you to analyze ranking complexity.
You can see the keywords competition level, CPC, monthly search volume, etc., for PPC advertising.
Cons
A mobile-based application is not available.
Integration for Google analytics or console is not available.
---
They are a world-class digital marketing agency, also created the SEO analysis tool for the users.
Screaming Frog Pricing
You can download Screaming Frog software free of cost with lifetime validity. It will give you access to all the basic features.
You can buy Screaming Frog Paid Version tool by paying £149 for a year. It allows you to access all the advanced features along with the basic ones.
Pros & Cons
Pros
You can integrate it with Google Search console & Lighthouse.
See the probability of URLs getting indexed.
See the missing meta tags and other recommendations quickly at a place.
Cons
It might take a longer time to crawl the large websites.
Lacking to showcase the schema information.
---
Google KW planner is a free tool to do manual keyword research for unlimited websites and keywords.
Pros & Cons
Pros
Find new keywords by providing a website URL in the panel.
Custom the keyword research duration
It will show you the keyword search volume, ranking difficulties, and CPC.
Cons
The keyword filter is no more available.
You can't see long-tail keyword ideas in the list.
---
🌟 SEO Tools FAQ
✅What is an SEO technique?
SEO is the process by which one can improve traffic on particular web pages on the search engine. It is the process by which you can rank your online content at the top position on Google.
✅What are SEO tools?
SEO tools are used to investigate the websites about their position on search engines like Google, Mozilla, etc. SEO tools provide information on competitors, backlinks, keywords, and many more.
✅What are the free SEO tools to drive organic traffic?
If you are new to the SEO field, check the following best free SEO tools that help you save your time and money. These tools help you to drive more traffic and generate more revenue.
1. Google Analytics
2. SEOWorkers Analysis Tool
3. Ubersuggest
4. MozBar
✅What are the best SEO tools for 2023?
If you are looking for the best SEO tools for your firm, check the list mentioned above to start using them efficiently.
---
Conclusion: 10 Best SEO Tools in 2023 | Should you go for it?
It goes to say, "Time is Money," which synchronizes the output of your business. To maximize your revenue, it is very important to manage time and work together. As we know, doing SEO is a bit lengthy and takes a lot of time to optimize any website. Either you talk about keyword research or report creation. Whether you are checking the keyword ranking position or URL position, everything takes a step if you are doing it manually.
But to overcome the problem and save your time, software giants are kept trying to provide such a flowless solution. So, you can complete even the complex tasks with a few clicks only, and that's all in a minute.
That's why you should opt for any of the premium or trial-based professional SEO tools to track the ranking status of keywords and websites. Or to accomplish hundreds of new or repeated tasks during the SEO of any project. Such SEO tools will save you a huge time and help you to increase team productivity as well in no time.🚀🚀