If you're running a business site, you need a top-quality WordPress hosting service.
A fast WordPress host can increase website site speed which can lead to higher SEO rankings, increased page views, lower bounce rates, better conversion rates, and best of all…higher profits!
But it can be hard knowing which WordPress host is the best one out there. Almost every WordPress provider claims to be the fastest and most reliable solution in the market.
In 2023, I decided to put these claims to the test by testing 12 fast WordPress hosting providers. Below, I'll detail who won the challenges, how they won, and how I tested them. 

Let's go!
---
The Best WordPress Hosts
Before we jump into the five different tests, I'd love to introduce you to the top three providers that scored extremely well.
WPX Hosting came out on top as the winner of the overall challenge. They came first in the GT Metrix and the Pingdom Loading Speed test resolved all my support requests and performed fairly well in the Load Impact Test and WordPress Performance Test. Best of all, WPX Hosting is also an extremely affordable option. Their Business Plan only costs $24.99 per month to host 5 websites.

WPX h Hosting is indeed the fastest hosting for WordPress with global CDN and instant human support via chat. Their innovative feature WPX Cloud makes your website the fastest ever from the rest. With spectacular performance and all tier award, WPX makes a WordPress hosting complete. With its 37 seconds of average time on its technical support and free fixing of all WordPress errors. Try it risk-free for 30 days.
---
Kinsta came out second in the challenge. Kinsta scored first place in the WordPress Performance Test and third place in both the GTMetrix and Pingdom Loading Speed Challenge. They were also the top contenders in the Load Impact 500 users challenges. While they were able to provide support quickly and reliably, some of their services like malware removal required a fee. Kinsta's Starter (C2) Plan, is another fairly affordable option which costs $30 per month for one website.
Try Kinsta Risk-free with a demo account
---
Finally, Pantheon makes the top three cut. Pantheon catwpx me first in the Load Impact 500 Users Challenge and second in the GTMetrix and Pingdom Loading Speed tests. Unfortunately, they fell to the bottom of the ranks when it came to the WordPress Performance Test and their support team was unable to help resolve my requests. Pantheon's Basic Plan, another affordable option only costs $50 for 5 websites.
---
12 Hosts Take On 5 Tests
Introducing the Hosts
Here I tested the:
A2Hosting 1-Site Turbo Plan which costs $32.59/month for one website.
Cloudways Digital Ocean Plan which costs $22/month for unlimited website hosting.
Dreamhost DreamPress Plus Plan which costs $29.95/month for one website.
GoDaddy Managed WordPress Basic Plan which costs $14.99/month for one website.
GreenGeeks Eco site Premium Plan which costs $24.95/month for unlimited websites.
LiquidWeb Personal Plan which costs $29/month for one website.
Pantheon Basic Plan which costs $50 for 5 websites.
SiteGround Startup Plan which costs $11.95/month for one website.
WP Engine/WP Engine C2 Startup Plan and New C2 Platform which costs $35/month and $600/month respectively. These are both for one website.
WPX Hosting Business Plan which costs $24.99/month for five websites.
---
Introducing the Tests
To test all the 12 WordPress hosting providers, I compared the hosts against each other when it comes to speed and reliability.
To do this, I created 12 identical test websites that contained the Astra Theme, the Elementor plugin, 11 High-Resolution Photos, and 1,000 words of dummy content. Then I ran them through 5 different tests that I'll share with you below.
Test 1 – GT Metrix Loading Speed
When I ran the 12 test websites through GT Metrix 3 times, across 7 different locations, I received very close results.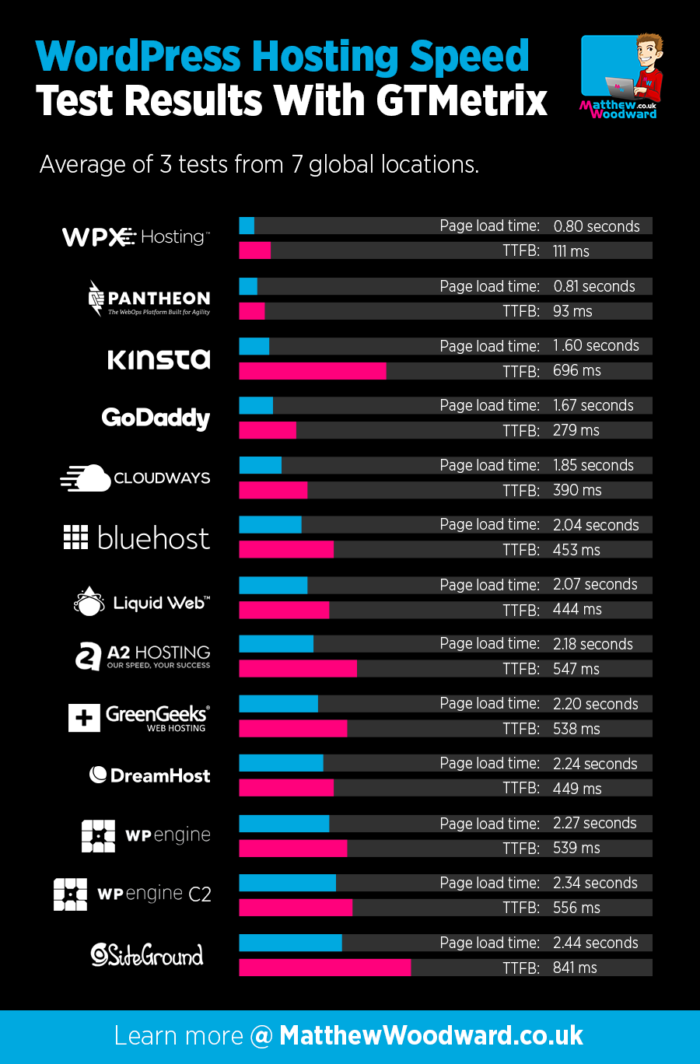 WPX Hosting (0.8 seconds) came in first. Pantheon (0.81 seconds) a close second, and Kinsta (1.60) in third place.
---
Test 2 – Pingdom Loading Speed
I ran the same websites through Pingdom's Loading Speed test. Here I ran the websites 3 times across 7 locations again.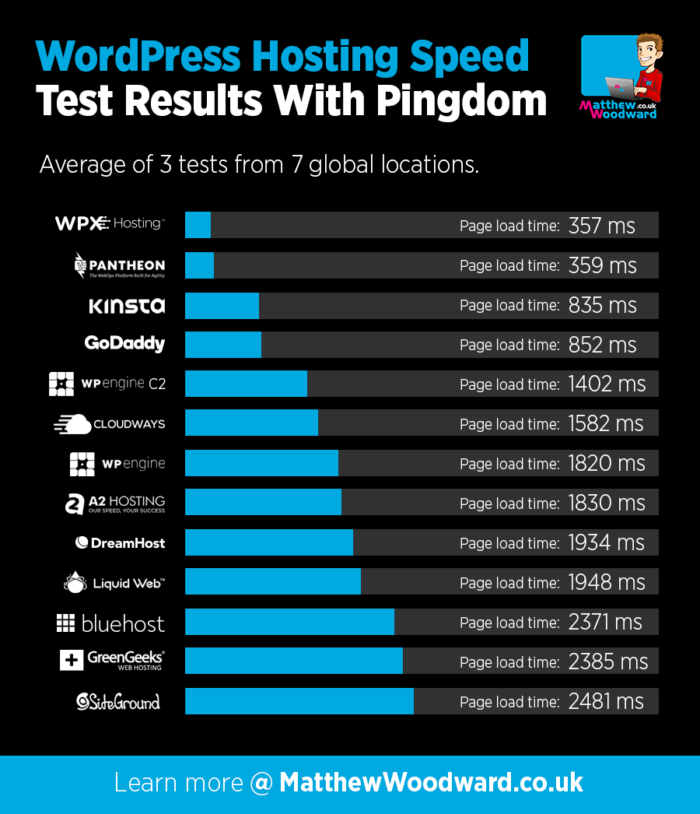 WPX Hosting (357ms), Pantheon (359ms), Kinsta (835ms), and GoDaddy (852ms) retained the same top 4 positions in the Pingdom challenge as they did in the GT Metrix one above.
---
Test 3 – Load Impact
I also wanted to see how these hosts performed under stress. That's why I created a new page for each of these websites. I set up a load impact and saw how these websites performed with 500 simultaneous visitors.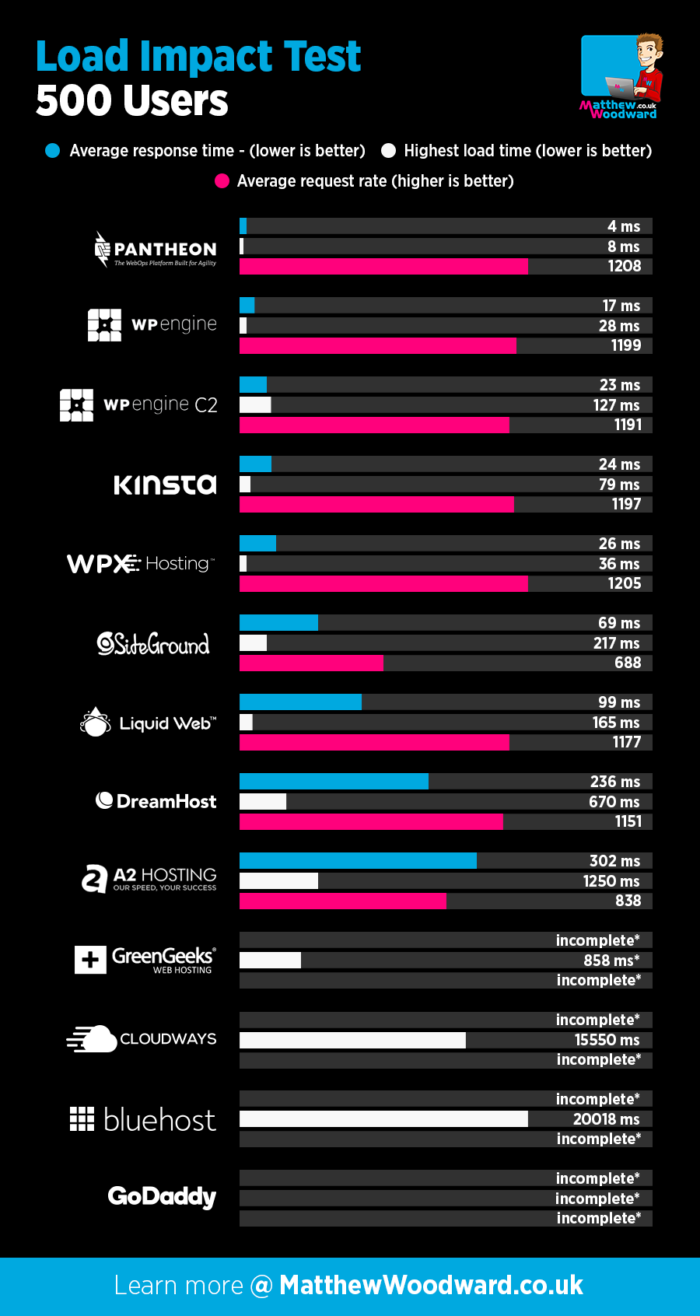 I was extremely impressed with Pantheon (4ms) as it achieved significant stability despite the heavy load. WP Engine (17ms), WP Engine C2 (23ms), Kinsta (24ms), and WPX Hosting (26ms) also did a great job.
If you're wondering why providers like GreenGeeks, Cloudways, BlueHost, and GoDaddy failed to finish the challenge, it's because these providers must have mistaken this for a DDOS attack.
---
Test 4 – WordPress Performance Tester
All of the previous three tests (GT Metrix, Pingdom, and Load Impact) tested websites served up from cached results. Here, I wanted to see the website performance of the actual server for each site.
For this test, I used Kevin Ohashi's WordPress Performance Tester plugin. The Plugin tests the server's resources by undergoing 100,000 math function tests, 100,000 string manipulation tests, 1,000,000 loop iterations, 1,000,000 conditional logic checks, Basic Mysql functions and 1,000,000 ENCODE() iterations, and 250 Insert, Select, Software updates and delete operations.
To measure the performance of each site I looked at the execution time (how long it took for the website to complete these tests) and queries per second (how many queries per second processed.)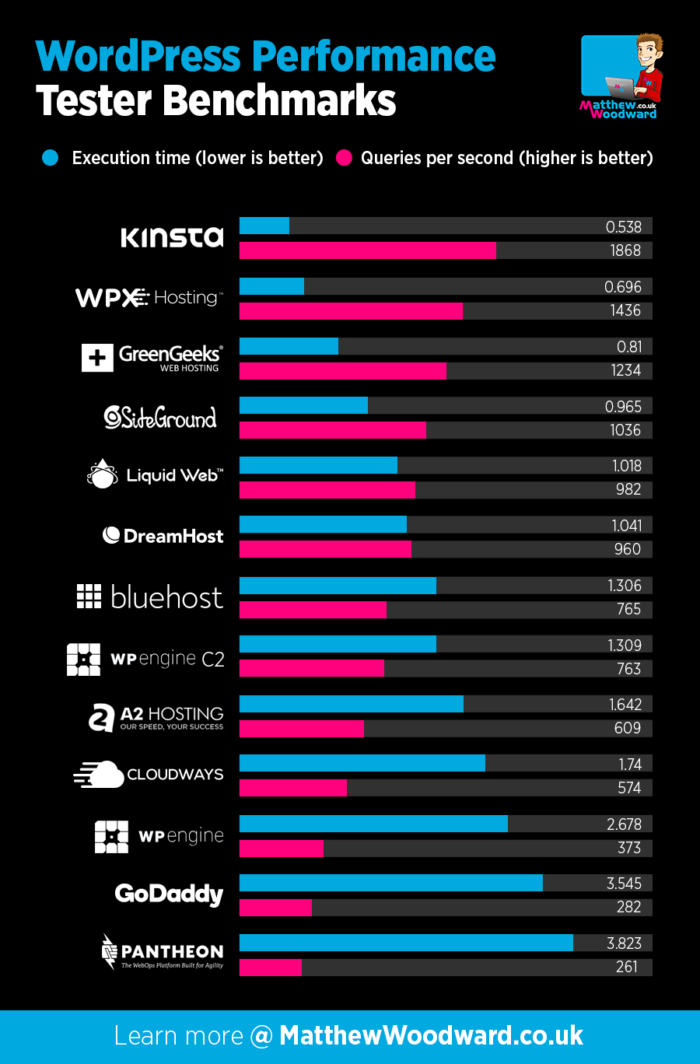 While Pantheon (3.82) performed extremely well in the previous tests, it struggled in this one, landing the last place. Here, first place went to Kinsta (0.538 seconds). Other hosting providers that scored under 1-second like WPX Hosting (0.696 seconds), Green Geeks (0.81 seconds), and Siteground (0.965 seconds) all performed very well.
---
Test 5 – Support Quality
When you're looking for a reliable support team, you want quick and quality help. Here, I tested each WordPress hosting provider's speed and reliability by asking them to solve 3 very common problems.
These include:
Can they take care of a website transfer?
Can they remove malware on my site? (I infected each with a false flag triggering virus)
Would they stop other sites from hotlinking my images?
I then sent these questions to each host via a support ticket.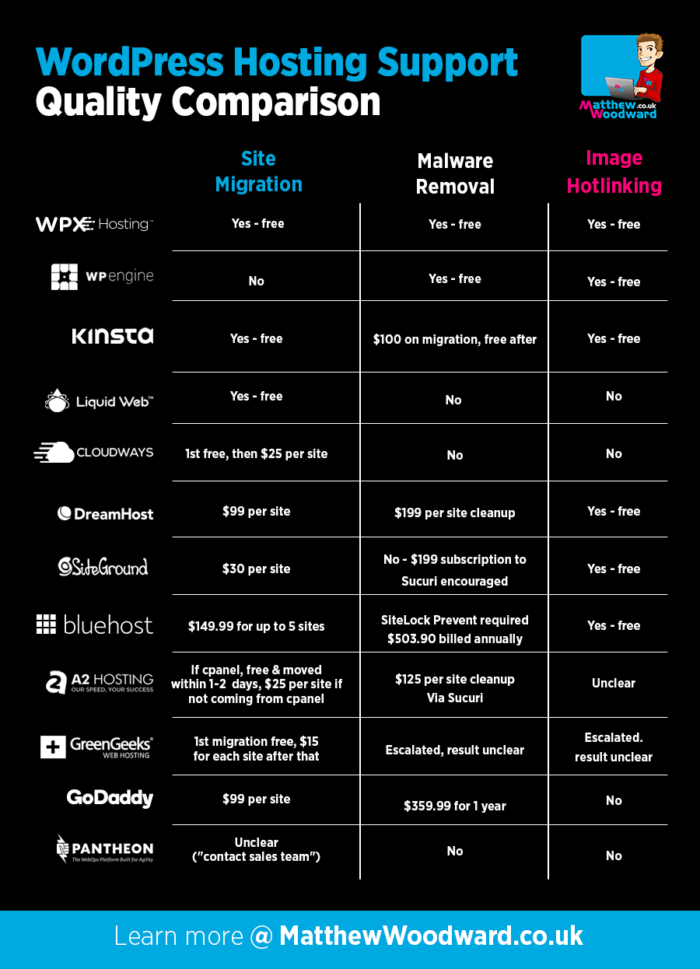 Not all hosting providers were able to help me with these problems. WPXHosting was the only one who could fix everything free of charge. The only downside is they only have 24/7 live chat email and email accounts as they don't offer any phone support.
---
Managed WordPress hosting vs. Traditional shared hosting
Gone are the days when people used to choose shared hosting for WordPress blogs and websites. Nowadays there are special companies only offering WordPress managed services and also with the powerful cloud infrastructure and using cloud computing tweaks with WordPress to make the most of it.
While maximum blogs and eCommerce websites are built on WordPress, it is always better to choose special WordPress hosting which offers the best fastest loading speed along with 24/7 support.
Traditional shared hosting companies have and also created a special WordPress plan and different pricing for WordPress, However, when it comes to features it's almost the same as other shared plans just with added WordPress support or basic level caching. While managed WordPress hosting providers that only work on WP has much higher tweaked servers, dedicated WordPress support team and constantly monitoring WP threats and attacks to offers te best performance.
We recommend WPX hosting as it clearly wins all the tests and has a fastest support system that helps you with all technical queries. WPX is also cot effective and comes with free malware removal, free migration, Free global CDN to power your website the speed of a rocket.
---
Summary
As you can see from these test results, WPXHosting is the clear standout winner. Kinsta follows in second and Pantheon comes in third.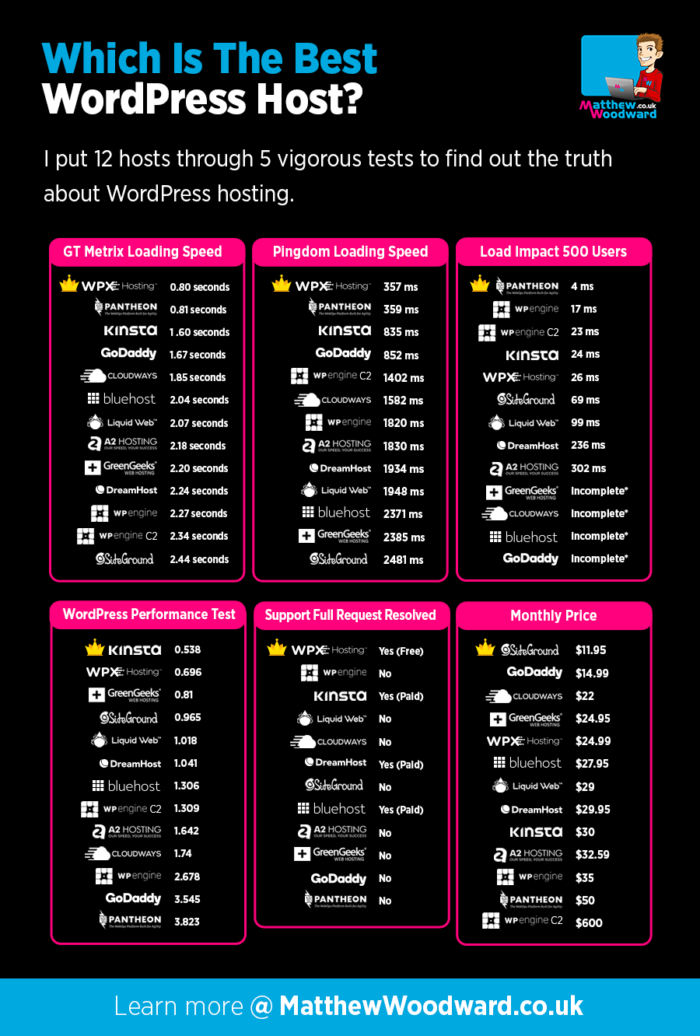 I hope this article has been helpful when it comes to vetting the best WordPress hosts in 2023. If you want further information, details, and data about each of the tests, you can sell the Fastest WordPress Hosting case study in full.
Remember to take your time to choose the best WordPress hosting provider for your site in 2023.
A slow WordPress hosting provider can cost you a top SEO ranking, page view numbers, traffic, conversion, rates, and profit.
But a fast alternative can do wonders for your business!