Are you a complete tyro to the igaming world and have a keen interest in it? Then, my friend, we are going to tell you about a big show taking place in London just for you.
Yes, we are talking about BET 2020 London iGaming Expo. This is not a regular affiliate marketing event, conference, or a presentation, but an exclusively entertaining program with every vital information on the internet gaming industry.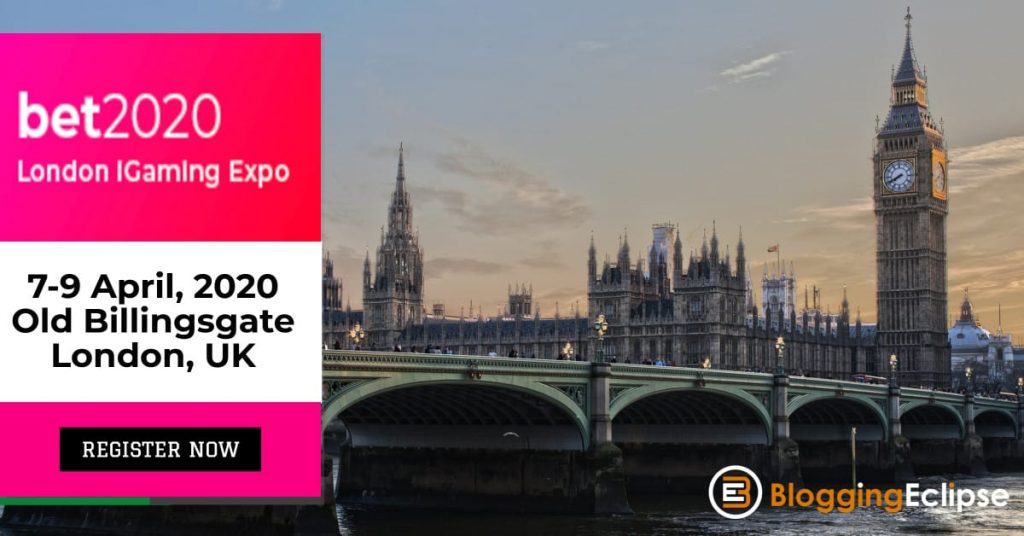 If you have expertise in the iGaming or betting field, then make sure you attend this expo to conquer the big players' ideas. You will meet the gambling industry pioneers as they share their prowess and experience, fused with delegates of native and online casinos, capitalist, suppliers, controllers, and accompanying government entities, CEOs of online projects, and start-ups.
Overall BET 2020 London iGaming Expo is a gambling event and conference accomplished with a business structure, followed by pre-parties and after-parties in which you can relish fantabulous networking opportunities in laid-back surroundings.
When, Where, and Who?
The BET 2020 London iGaming Expo will take place from 7 to 9 April 2020, at Old Billingsgate, London, UK.
Old Billingsgate is one of London's most galvanizing and multifaceted settings, located in the heart of The City on the North banks of the River Thames. It covers sensational scenes of water flows and two great monuments, namely Tower Bridge and London Bridge.
So, Hurry and Buy your Tickets. Here and Now! BloggingEclipse is a media partner of the event. You will get a chance to join over 2,500 experts, 50+ promoters, and more than 30 speakers at our three-day high-quality expo organized in the heart of London.
This event is integrated by expeditious networking events that will be beneficial for those who want new contacts to grow their business.
The proficient industry leaders will give an insight into modern trends and actual scenarios. They will help you with ideal product presentations, developing purposeful cooperation, and the latest business solutions. The exhibitors of the event will help you with the marketing tools and strategies for growing your brand awareness and business position.
Moreover, hundreds of gaming industry experts will facilitate idea sharing by giving you maximum vulnerability to concrete investments and customers along the way. You will get a chance to hear one of the star speakers – John Lefebvre, who is a Co-founder of Neteller. At present, John is a magnate, philanthropist, and musician.
---
The massive list of audiences will include:
Land-based operators.
Betting houses and Payment systems.
Tech laboratories and Game developers.
Managers of online gambling companies.
Affiliates and Advertisers.
Legal firms.
Gambling operators and Gambling providers.
Regulators and related government entities.
Arbitrage specialists and SEO specialists.
Software developers.
Marketplaces and aggregators.
Affiliate networks and programs.
Best Offers for affiliates, operators and webmasters by BET 2020 London iGaing Expo
If you are an affiliate marketer or an operator or a webmaster, this is a never-to-be-missed opportunity for your career. You can spread the word about London iGaming Expo 2020 by sharing it to your associates and other acquaintances through various social and private platforms and offer them with BET 2020 organizers best offers like:
Free tickets–including a pass to a pre-party, poker tournament, and after-party.
Flexible pricing on participation at the expo.
Promotion through their marketing channels.
Referral cooperation system—just for you
Besides, you will get incentives for sharing your great ideas and suggestions for the expo, as they believe that by coming together, we will help the gaming industry go leaps and bounds.
---
Latin America and London iGaming Expo 2020
For those who are willing to work in the most challenging and growing environment of the gaming industry, this event is for them. In this BET 2020 expo, you will find the main focus on Latin America gaming products, trends, marketing strategies, payment, cases, and regulations. You must be thinking as to why only Latin America as the gaming industry has a good market in many other parts of the world.
Latin America is a sleeping gargantuan of the gaming world that is about to conquer the industry with wide-open eyes. Its market has conspicuous potential, especially when it comes to Brazil, Colombia and Buenos Aires Province in Argentina. With a common populace of over 260 million and refined gambling governance, these two locations are fit to be the operator of the LatAm gambling market.
So, in the igaming event, the experts will be talking about the difference in cultures of Latin America and European markets, the market industry, regional case studies, differences in affiliate marketing, and the capacity of software developers.
---
Key Topics to be covered in BET London iGaming expo 2020
Market synopsis, latest market drifts.
AI/ML up-to-the-minute cases and drills.
Juristic and other abidances.
Growth hacking, media buying, traffic scenarios.
Affiliate marketing.
Sports Information GEO threats related to iGaming in Asia, LatAm, Africa, US.
Software development impediments in iGaming.
Customer experience. Payments and imposter.
Current gaming products. Upcoming and new B2B products.
Blockchain and crypto in gambling. Land-based business inclinations and products.
---
Tickets to BET 2020 London iGaming Expo
There are two types of tickets, namely- Regular Pass Early Bird and VIP Pass Early Bird. The cost for the first one is $349, and the later one for $699. The VIP pass holders will be able to attend lunch with speakers and sponsors, includes Pre-Party Pass, access to Fast Lines and Video content, and will be able to grab front seats from the stage.
Remember folks; the prices are going to rise from 25th January as the event will be nearing to its beginning. So, grab your early bird offer from BloggingEclipse and save up to $300 on Regular Pass and $400 on VIP Pass.
Get 30% OFF on all tickets pricing – EXCLUSIVE
use coupon "BET30" to get flat 30% off on attending pass. This coupon is valid for both regular and VIP tickets. Grab it now by clicking the button below.
---
Contact info for the event
In case of any media queries, suggestions, and business, get help by emailing the associated support staff:
Final Overview
As of now, you very well know the details about the BET 2020 London iGaming Expo. The conference schedule screens all the portions and verticals of the gaming industry. Fundamentally, the expo has two global intents: expose the industry snags and interpret the future of a quickly-developing market.
This event is not something to be missed so easily as BET 2020 London takes place once in a year. If you miss a chance, then probably you have to wait for another year; and believe me that it will cost a hell lot to your business and push it a year back to where it must be now.
It is just a two-day event followed by lunches, coffee-breaks, two parties, and a poker tournament with celebrated beginnings for many. While hanging out with the like-minded fellas, it is one of the significant opportunities for you to find investors, crack great deals, and talk about further cooperation in a friendly ambiance.
So, Grab your tickets now at a discounted price and attend the BET London iGaming Expo 2020 to observe the transformation of the industry and be a part of it.
Affiliate Disclosure: This post may contain some affiliate links, which means we may receive a commission if you purchase something that we recommend at no additional cost for you (none whatsoever!)