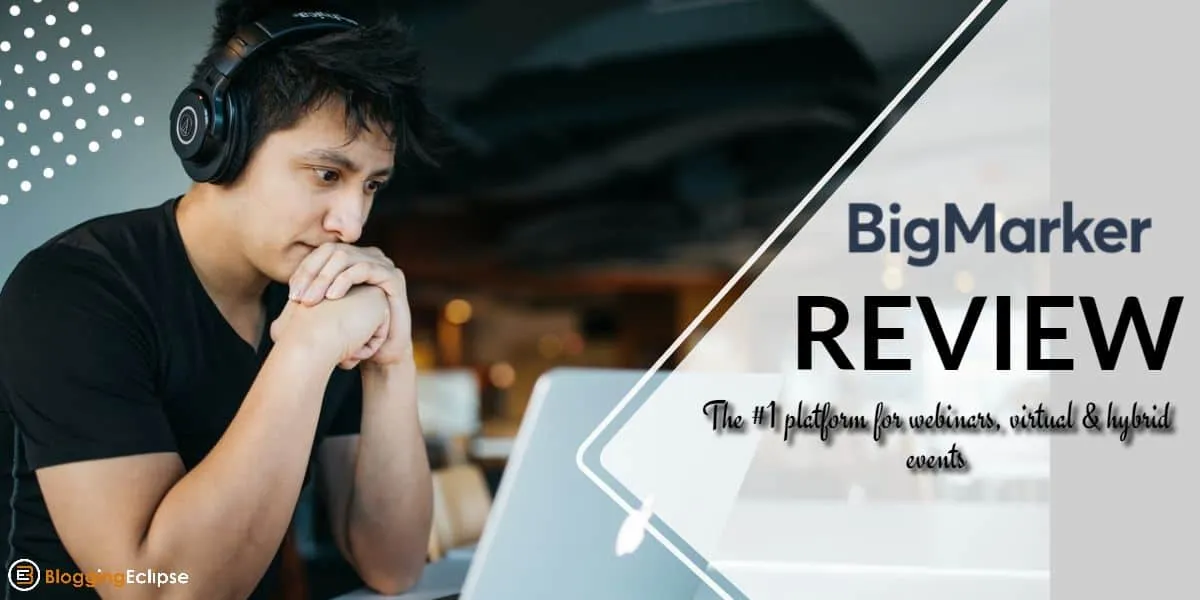 With the current world landscape, many people are leaning towards virtual communication and remote working. Webinars have become an increasingly popular mode of communication. From marketing campaigns to professional services, they are often used by companies to attract new customers and grow their businesses.
Webinars can be a great way to generate leads and establish your brand. However, they can also be difficult to execute. This is where webinar tools come in handy. With them, you can easily run a webinar, collect feedback and make it an interactive learning experience for your audience.
There are many webinar tools available these days. BigMarker is a webinar tool that makes the process of conducting and marketing webinars a breeze! Let's take a closer look at what this tool has to offer in this detailed BigMarker review.
---
Detailed BigMarker Review
BigMarker is mainly the software that helps you conduct webinars seamlessly. It also lets you conduct virtual conferences, series, summits and more. You can set up custom video meeting tools on the platform, which can seamlessly integrate into new multimedia streaming options like Facebook Live or YouTube Live. It will help you connect with your business audience beyond your boundaries. Webinars can be live, on-demand or automated. They follow an outline and have a section with calls to action designed to engage audiences. What's great about BigMarker is that you have lots of features for a low price.
---
BigMarker Features at a Glance
Webinar tools have become an integral part of marketing strategies for many companies. They allow businesses to engage with their customers, streamline their business and increase the number of attendees at their events.
Let's take a look at the feature BigMarker offers to enhance your webinars:
BigMarker gives you everything you might need to run a smooth and successful webinar, give your viewers a crystal clear webinar experience with HD video and audio quality, engage with them with no limits to presenters, website embedding options, chat options, polls, quizzes, pop-ups with CTAs, Q&As, whiteboards, upvoting, handouts, special offers, and more. It also lets you share your screen, records your webinars for future reference, and more.
Customizable Webinar Types
BigMarker offers a wide range of customizable webinar types that let you run any kind of webinar you may want to. It offers many options to choose from; let's take a closer look at them:
Live-Streaming: You can reach a wider audience by live-streaming your webinars on Facebook, YouTube or any other video streaming platform.
Live Webinars: You can host live webinars anytime you want to. Webinars can be topic-specific, one-off or even recurring.
On-Demand: You can show these webinars anytime on any platform you want. Embed them to your websites for easy viewing.
24/7 Webinars: This is an online, always-on room that can be accessed by faculty members, students and anyone else with the proper access. It complements any educational institute's set up perfectly.
Series or Summit: If you want to conduct a series of webinars that require single registration, for example, a course or masterclasses, you can use this feature to easily conduct a bunch of live webinars.
Automated Webinars: Make your webinars more interactive with automated chats, offers, videos and polls.
Evergreen Webinars: This feature lets you run automated webinars whenever you want.
As you can see, BigMarker has a wide range of webinars you can pick and choose from according to your use cases. You can even switch types according to your changing needs.
Event pages can be easily customized on BigMarker's self-service platform, so you can make professional event pages no matter what event type. Fifteen premade templates are available for you to choose from and customize with your own colors. There is also a back-end field for meta tags for SEO. The changes you make happen in real-time, and updates to the page are live.
You can host a webinar with streaming capabilities and then allow people to watch it on the go on platforms such as Facebook Live and YouTube Live. This allows more people to attend the webinar without physical presence, attracts more attention from other social media audiences, and improves marketing overall. Broadcasting the stream through Facebook or YouTube is as easy as clicking a button. From inside the webinar room, the event host can click on the 'Go Live' button, then proceed to choose which platform and start streaming instantly. But bear in mind that you can only live stream on one platform at a time.
As for webinars, the most exciting features are generally beyond watching someone present and read slides. Many platforms focus on engagement and interactivity with features such as chats, polls, and sharing tools.
In addition to the features mentioned above, BigMarker also lets you display pop-up offers and handouts during webinars. Pop-ups can be valuable offers that prompt the visitor to take the next step with the host. There are many different types of openers, giving you the ability to tailor them to your audience. They keep things interesting and fun while still providing a clear call to action and goal.
Handouts are an easy way to make sure guests have a great experience and are somewhat prepared for your event. It's a tool that gives hosts the opportunity to load a lot of information about their events. There are templates for checklists, case scenarios and other documents that can maximize their presentation. This feature allows for instant engagement and conversions.
BigMarker offers integrations that simplify marketing, sales, and engagement. The number and type of integrations are based on the type of plan you opt for, and some integrations are available for white label customers only. MailChimp, Calendly, and Google Analytics are some of the most popular software integrations available on BigMarker. They make managing your business much easier without compromising quality or efficiency. You can check out the full list of available integrations for every plan here.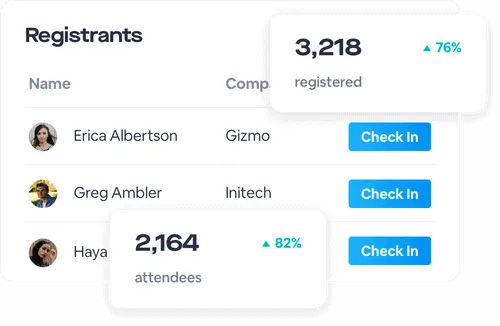 Get access to a variety of valuable stats such as the number of registrations, revenue, event landing page views, and invitations for an event page. BigMarker also provides statistics detailing the traffic sources of your social media campaign that can help you improve your organic search and drive more traffic to your event page.
The email tools are very powerful and allow you to set up different email types to help customers get the right information.
Send emails that include the webinar recording video and a call-to-action to watch other recordings of your event.
Send a confirmation email to all registered participants with a button that lets them add the event to their calendars and includes other details and instructions regarding the webinar.
Send invitations to prospects to join your webinar through email with Salesforce, MailChimp, and other integrations.
You can ask all your attendees to provide qualitative feedback about the webinar in the form of a review or rating.
Send reminder emails to registrants notifying them that your webinar is about to happen soon. This can be done at a time set by you before the scheduled time to increase their attendance.
You can further differentiate your emails. BigMarker lets you choose who to send emails to as well, choose from the following options:
Everyone who had attended the webinar
All those who took part in the webinar as presenters
All the people who registered for the webinar
People you were invited to the webinar via email
With BigMarker, you can create laser-targeted emails fit for each group of people mentioned above. The email customization options are very flexible. There are a lot of different ways you can make your emails look. You can even adjust the sender's name and email address, as well as all the text and colors on your emails.
Once you create your account, you can immediately create an event of your choice. The interface is simple enough to navigate and work with, and it's easy to customize. The back-end process is minimal in design, making it easy to edit and make changes. The intuitive interface makes it easy to create the best landing pages for your business. BigMarker is strongly built for customization, so it integrates easily with other different channels.
---
What are the merits of using BigMarker?
BigMarker has high-quality features that make it functional for hosting webinars. Its capabilities allow businesses to feature all of their webinars in one channel, making it ideal for thought leadership-style business models.
Its pricing plans are very affordable, and its lowest tier plans also include full functions. There are some integrations that aren't available at the lowest pricing tier, but most of the core features are accessible. BigMarker offers many customizable options of products. You can choose between different forms of webinars and easily upscale and downscale with respect to your requirements. BigMarker is a great option for launching your webinar initiative because of the flexibility and variety they provide. Webinars can be tested out easily to see which works best for you.
---
Who can use BigMarker?
BigMarker is an affordable option for businesses seeking leads by helping them conduct professional webinars. Even at its lowest plan, BigMarker is very customizable and offers live, on-demand webinars, interactive engagement features, automation, and live streaming.
Onboard your audience with BigMarker webinars! They can be embedded on your website page and accessed either publicly or privately. Webinars can be a major tool for employees or partners. You can make these available on your website, have them sent to you monthly in person, or have an option for a live call.
---
BigMarker Pricing Plans
BigMarker offers four paid plans that can be paid monthly or annually. You can save big if you opt for their annual payment structure. All their plans let you host unlimited webinars and offer a full suite of automation and marketing features. Where these plans differ is in the number of maximum attendees, the number of host licenses, and integrations.
Starter Plan:
Its Starter plan is priced at $129 per month if paid monthly and $99 per month if paid annually. It includes 1 host license and lets you host webinars with a maximum of 100 attendees.
Elite Plan:
Its Elite plan is priced at $249 per month if paid monthly and $199 per month if paid annually. It includes 2 host licenses and lets you host webinars with a maximum of 500 attendees.
Premier Plan:
Its Premier plan is priced at $599 per month if paid monthly and $499 per month if paid annually. It includes 3 host licenses and lets you host webinars with a maximum of 1000 attendees.
BigMarker also offers a White Label Plan that is fully customizable and can integrate with your website completely. It can host massive webinars with a maximum attendance of a whopping 100,000 attendees.
BigMarker has a support team that is there to assist you via email. You can also find detailed help documentation on the website, and you may use their search function if you have found other helpful resources. As BigMarker is a self-service platform, it doesn't offer a live chat or phone support service. They also don't provide full service in terms of building, monitoring and managing events. Customers that are "white-label and enterprise-level" can request access to additional support from the BigMarker team in order to get help with premium features. For top-tier customers, the additional support comes at a cost.
---
BigMarker Alternatives
There are many webinar tools in the market. Let's take a look at some alternatives to BigMarker:
BigMarker Vs. Zoom
Although Zoom is primarily a video conferencing app, you can also host webinars on Zoom. One downside is that people will need to download the app to attend the event. Zoom's main plus point is the fact that it is well-known and accessible. It doesn't offer a lot of features when compared to BigMarker in terms of customizations and additional webinar tools.
BigMarker Vs. GoToWebinar
GoToWebinar is another platform that requires you to download its app to access the webinars hosted on it. When compared to BigMarker, it lacks a lot of additional tools and is also priced higher.
BigMarker Vs. Demio
BigMarker and Demio are both webinar platform options that are highly customizable, but BigMarker offers a lot of tools and resources for customization. Demio, however, does come with a unique feature called "Custom Branding Across Everything."
---
🌟 FAQs related to BigMarker
🙄Is BigMarker any good?
With BigMarker, you can design and run your events effortlessly. BigMarker allows you to create innovative and better events with less work. It is the only platform that gives you everything you need for webinars, virtual & hybrid events, from streaming to recording. This webinar, virtual, and hybrid events software is used by many companies that help them to engage their customers, grow their potential audience and generate more leads for their business.
❓Is Bigmarker.com safe?
Just like other banks' websites, BigMarker also uses standard SSL and HTTPS encryption to secure your data. BigMarker is the verified merchant of Authorize.net and PayPal.
🔥Why should I go for BigMarker?
By using BigMarker for webinars, virtual & hybrid events, you can manage your marketing strategy seamlessly with ease. With this webinar software, companies can create any event – an account executive can host a webinar for their sales team, a producer can produce a virtual reality event for their customers, or a marketing manager can schedule a hybrid event for the employees of their company. BigMarker allows you to host any events that stand out from the crowd.
🚀Does BigMarker offer any free trial?
Yes, BigMarker offer 7 day free trial to all its new users that enables them to host a webinar for a maximum of 10 people. Click here to start your BigMarker free trial now.
💲Which payment methods does BigMarker support?
The user can make payments via Visa, Mastercard, Discover, AMEX, and PayPal to BigMarker.
🤔What is a channel?
The channel is nothing but the BigMarker account, where you can make your webinar live. Create a new different channel in your account if you are looking to host separate webinars for other different companies, initiatives, or content series.
🏅What does my BigMarker subscription include?
If you go for the BigMarker paid subscription, then it offers you the channel that is nothing but your account. In your channel, you can host as many webinars as you want. You will get everything from BigMarker that you need to create, promote and grow your business through webinars and online events.
🔎Are there any BigMarker alternatives?
If you are looking for the BigMarker alternatives, then check the below-mentioned list:
1. Demio
2. GoToWebinar
3. ClickMeeting
4. WebinarJam
5. Zoom
---
Bottom Line:
BigMarker is a completely web-based platform that can help you launch a webinar-focused content initiative, generate leads, and generate additional revenue. It's ideal for businesses of all sizes to rely on. BigMarker is perfect for any business. It's easy to start, highly customizable and scalable. Start today and try out their services! What are your thoughts on this webinar tool? Leave us a reply with your opinions.
Traditional methods to market products, services and ideas are expensive and ineffective in today's digital age. For a fraction of the cost and with no technical setup required, businesses can present their products, services and ideas to their targeted prospects and customers by using BigMarker. Create high-quality, engaging and compelling webinars & events with BigMarker. BigMaker makes it incredibly simple for you to produce your next webinar, event or training session to grow your business.
Affiliate Disclosure: This post may contain some affiliate links, which means we may receive a commission if you purchase something that we recommend at no additional cost for you (none whatsoever!)