If you are an affiliate marketer, then one of the main tools to optimize your CPA campaigns is a premium tracker.
With a tracker, you can track all your traffic, performance, revenues on one platform so we can say that the tracker is the heart of affiliate marketing.
In this Binom review, we are discussing one of the finest trackers for professionals with a self-hosted tracking platform.
If you search for Affiliate trackers online, you will find many trackers with some good ratings and bad ratings and out of these trackers some are fake and have already vanished.
The existence of the trackers depends on their service to their customers and one of the most important things to look for in a tracker is its trustworthiness.
Binom Introduction: The Tracker for Professionals!

Binom is best suited for beginners as well as experienced affiliate marketers as losing ROI may result in unsuccessful creation of campaigns. Tracker is a crucial factor if don't want to lose your ROI right of the track.
Do you know why you lose ROI? This happens mainly due to slow redirects and traffic loss but Binom ensures you don't have to face these errors anymore. With intelligent features such as redirect less tracking, filter-system, protection from spy-services and more, you are all covered up to get the best ROI.
If you have any queries you can visit its official website to see the detailed documentation and FAQ's to know more about the terms and usage policy of Binom.

---
Binom Advantages for Affiliate Marketers

Binom is a self-hosted tracker. However, their team will assist you with every step. They can also pick up a server for you and install the tracker on their own remotely if you need.
Here are some key advantages using Binom over other Affiliate trackers in market.
It does not cost you on the basis of how much traffic you send. You get a license cost for an unrestricted amount of traffic.
It has the capability to handle millions of clicks per day so you don't miss out on a single lead.
No matter how much load is consumed by the server, its click processing time is just 5ms.
Generates report on the market with the highest speed that no other tracker can match out.
It provides group campaign reports.
To keep its customers up to date with the latest technological trends, it frequently keeps updating the system on a large scale.
It provides a user-friendly interface that is fast and easy to understand.
You can assign rights to specific people for specific tasks with their multi-user interface. In this way, your work will always be smooth.
When you are not finding a solution and want to chat with the support team, then you can reach them within minutes as the average response time is just 2 minutes.

---
Binom Features at a Glance:

Want to check out what's in the box? You will be amazed to see the bundle of features that Binom has to offer to its customers globally, making your affiliate life easy and convenient.
Innovation in Traffic
Binom offers advance traffic distribution so you could earn more. This happens because of the smart innovation in traffic. Binom knows which page the user has not seen yet and sends a click on that particular page. This way the user knows that the landing page exists and your chances of earning increasing.
Binom offers 20+ metrics that include time of the day, proxy, IP-range, and uniqueness. You can easily change the distribution weight of any campaign with rotation and with smart rotation you can earn more from landing pages which the user hasn't seen yet by sending users to these landing pages. You can create a funnel by sending traffic to specific portions of landing pages.

---
Analytics Report:
Binom provides an intuitive report analysis tool for better optimization of your campaigns. Your profits will soar high with functions such as drilldown, refresh, downloading .csv file, markings and more.
Super Speed: You no more have to wait for a long time for generating the reports. It happens instantly without you being frustrated or irritated due to slow report generation. It saves quite a bit of time which you can spend in planning on some important factors to grow your business.
More about Traffic: More than 20 analytical reports including service provider, uniqueness, device, connection type, and basic metrics. With such analytics, you can learn a lot about your traffic.
Statistics on traffic distribution: Binom has an intelligent system that shows statistics on paths, rules, and rotations which helps you in knowing how the whole traffic is being distributed.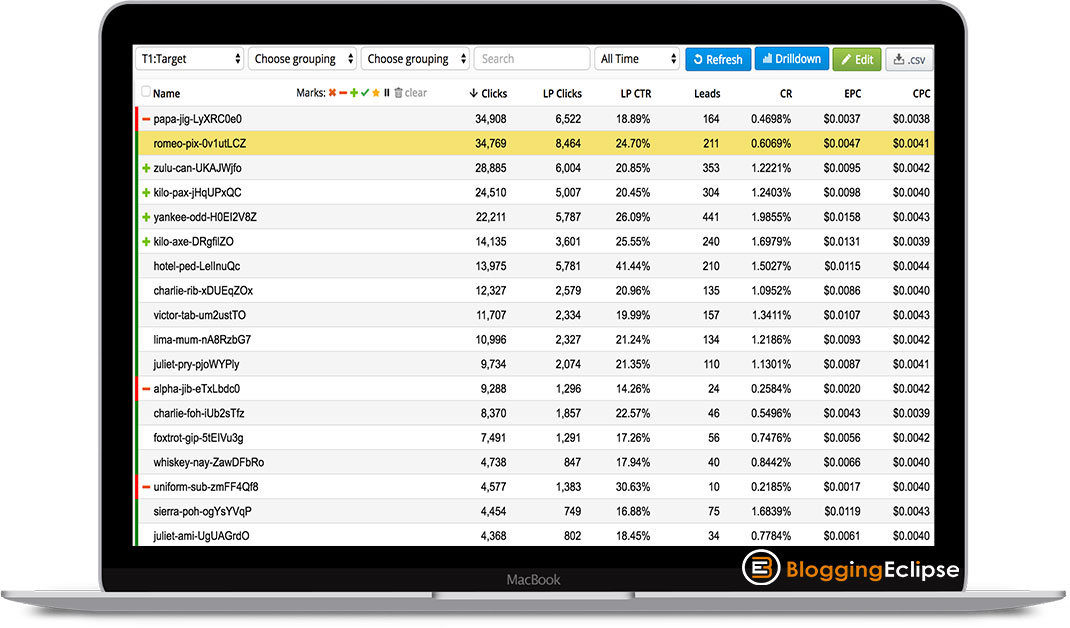 Helps you get better traffic: With Binom you can get reports on bots and help improve your traffic sources.
Filter function: Filter system helps you decide your priority by analyzing the data in the report. This is an easy way to analyze the data and find out the best possible outcome.
Grouping: For any given campaign or groups you can see the statistics and avail huge advantage with cross-campaign analysis.
Marking Rows: You can use the labels for filters by marking the sites directly in the report which makes it easier to work in a team.

Know the campaign price: With bidding statistics, you can get to know the optimum price for campaign or publisher. This definitely lets you spar higher profits.

---
Instant Campaign Optimization:
Binom is best at offering quick campaign optimization due to saved filters and instant access to all the reports making it easy and convenient. White and blacklists can be made accurate with smart filters
Save Filters: Once you have saved the filter you can easily access it again in just two clicks by API also.
Several Filters: You can find filters for multiple parameters that includes ROI, Clicks and more. Refined search is possible using these filters and also saves your time in decision making.
Simultaneous Filters: Multilevel filters help you to simultaneously filter multiple levels of the report like you can simultaneously filter the publisher and OS.
Intelligent Filters: It's easy to generate white and blacklists with Binom's advanced technological solutions.
---
Survey Your Traffic for better ROI:
What if you can track 20+ metrics and learn everything about your traffic? Binom offers tracking of clicks, uniques, bots, scroll, and more. Studying user's behavior is utmost important to get more sales.
Track More Than 20 metrics
:

Binom provides intelligent traffic learning with tracking of more than 20 metrics including city, connection type and proxy.
LP Pixel: By avoiding unwanted redirects using LP Pixel you can directly send traffic to the landing page.
No Domain Limits: Use as many domains as you want for your campaigns with no restrictions whatsoever.
Landing Page Metrics: Landing page metrics such as browser settings, http-headers, exit points and more can be found out using Binom's smart system.
No Redirects: Once you have saved the code in the tracker, your landing page will open directly with the campaign URL without any redirects.
Several Parameters: Find all the metrics on a landing page like bots, scrolls, clicks and more. Everything you need to succeed in affiliate marketing with all in one tracker.
---
Enhanced Team Management:
Give access rights to specific users and let your team work simultaneously on a single tracker. This increases your work efficiency and provides the best results.
User Access
:

You can edit the permissions for specific users or create a new one for proper funneling of the task. You can restrict access to campaigns, offers, landing pages, rotations, traffic sources, and networks.
Create Multiple Users: No issues how long your team size is, Binom can handle any amount of team size with unlimited users.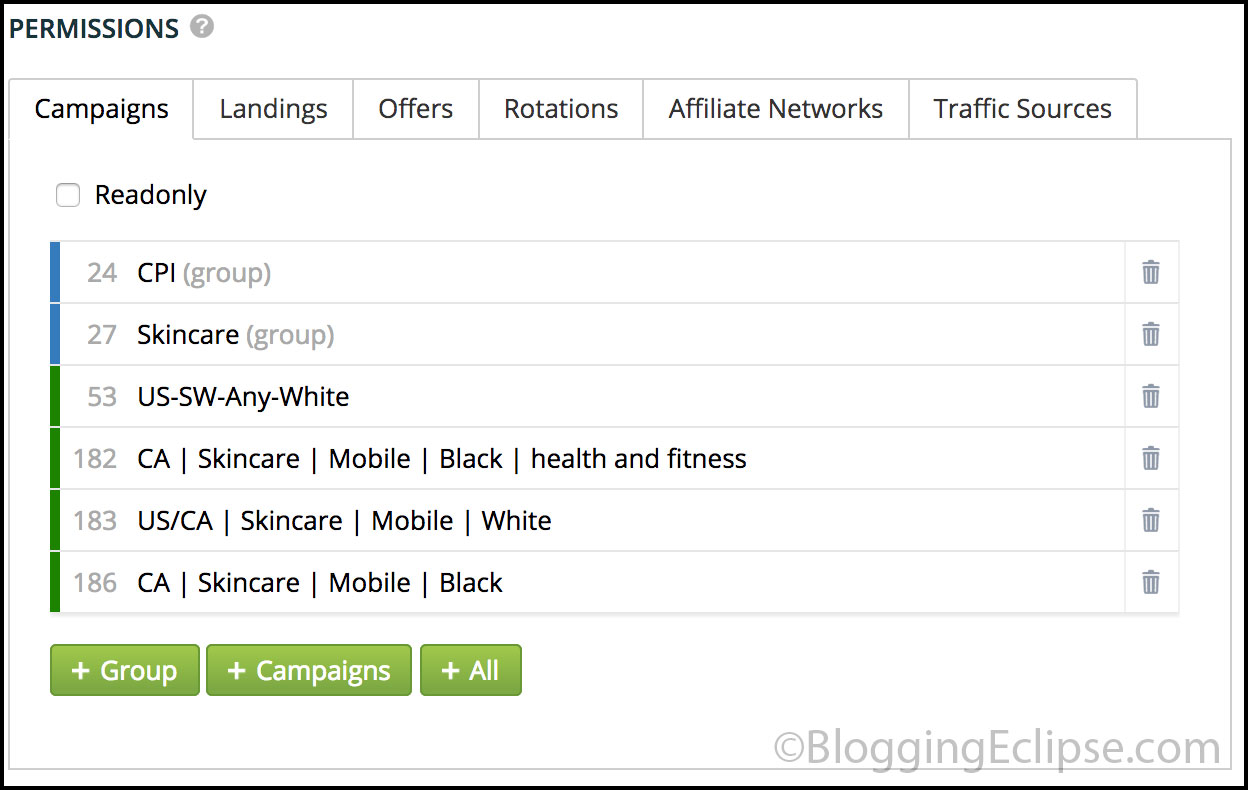 Permissions: You have the right to decide access for each user wherein you can open a particular campaign or offers for individual users.
Disable Revenue Metrics: If you do not wish to show your revenue to your employees then you can hide it and only you will know the profits.
---
Control Tracker Using API another platforms/ Apps
By connecting API with your tracker you can fully control the functions and reports. API uses JSON format to send and receive data.
Landing Pages & Offers
:

With API you can make changes to any offers or landing pages. You can add a new one, edit or delete the existing ones.
Filters and Marked Rows: Get ready white and blacklists for your campaigns and display filtered or labeled report rows using API.
Edit Campaigns: Campaign setting and traffic distribution can be managed effectively such as add or delete paths & rules and more.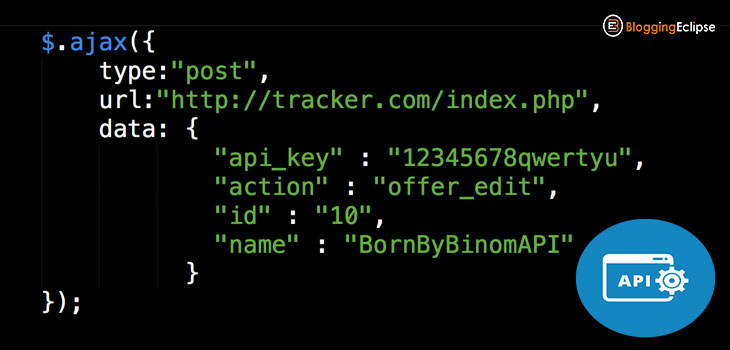 Get API Report: By adding API key to any URL of any report you can get it JSON format.
Cost Management: By using API you can manage the cost of any offers or campaigns.
User Management: API helps you create a new user, edit or delete it accordingly.
---
Dedicated Support Team:
If you are worried about the installation of the tracker and the way it has to be used then sit back and relax as Binom team of professionals will do the hard work and the only thing you have to do is just wait and watch.
Immediate Response
:

Most of the time you have to wait in a long queue when you call a customer care executive but with Binom the average response time is just 2 minutes.
Round the Clock Monitoring: The tracker monitors for any errors in redirects and if found any informs you instantly so you could rectify the error and get better ROI.

Free Installation: You don't have to take the efforts to install Binom on your server. The team of professionals are ready to install it just when you are ready.
FAQ's: For detailed information you can through the FAQ's and get answers to all your queries. More than 50 articles are uploaded to provide detailed information.
---
Binom subscription plans and Pricing:
You can get Binom for free but for complete access to all the features you can purchase the tracker for $99/mo with additional licenses costing $49.
Bimnom Premium plan : The complete subscription costs $69 per month when subscribed annually. It comes with unlimited clicks, unlimited domains and lifetime updates for one server.
The Premium tracker allows you to work on one server and unlimited domains. The tracker is installed on your server for free. Updates can be installed within a click without needing you to manually replace the files. You contact the support team via Skype and web-panel and get expert help within minutes.
At any time you feel you are not receiving good support or not satisfied with the plan, you can stop the subscription at that time (Binom is known for its excellent support, so it is unlikely to happen).
---
The benefits of affiliate Trackers for marketers
Over the past few years, we have seen a rise in affiliate tracking tools and performance trackers; Trackers ease the whole affiliate marketing process so one can get better management and analytics of their campaigns or traffic.
Without an affiliate Tracker, one has to use numerous tools to track different things like traffic, revenues, campaign performance and this all will not only cost higher but will be a complete mess. Hence Affiliate Trackers are worth the investment for every marketer. It enables you yo get full control on our campaigns, See which traffic sources are performing better and get all details on one dashboard.
If you are new to affiliate Tracking tools, one can quickly learn to use these trackers as all of them have their docs, knowledge bases, video tutorials and also expert support team to help on every step.
Binom is sure-shot one of the best innovative affiliate trackers in the market which comes with a neat and clear user interface, powerful features and cost-effective pricing.
Try it today risk-free for 14 days and then you can subscribe to its unlimited plan. While other affiliate trackers with same features charge a minimum of USD 150 per month, Binom plan is just $69 per month with the same features and better speed.
---
Conclusion Binom Review : Should You Buy It Now?

Indeed the features provided by Binom tracker are fantastic and very helpful to professionals. Not just an experienced but also a newbie can try out its services with 14 days free trial.
If you want to soar your profits higher then start using Binom today.😊