Do you have the time nowadays to read a whole book? We do not know about you, but given people's busy schedules with their offices and work, they hardly get time to read something. To ease their life a little, today we bring a comparison on two book summaries platforms, i.e., ✅Blinkist Vs. Headway.
Both Blinkist and Headway are book summarized applications, where you can get the essence of your favorite books in a summary! Like this, even if you do not get the tie read, you still can stay updated with all the non-fictional favorite novels of yours!
Blinkist is the most renowned site in the game, but still, Headway manages to give it a tough competition. So, we will see step by step how Blinkist is so much prominent in the market and how Headway manages to tackle it!
---
Blinkist Vs. Headway | The ultimate comparison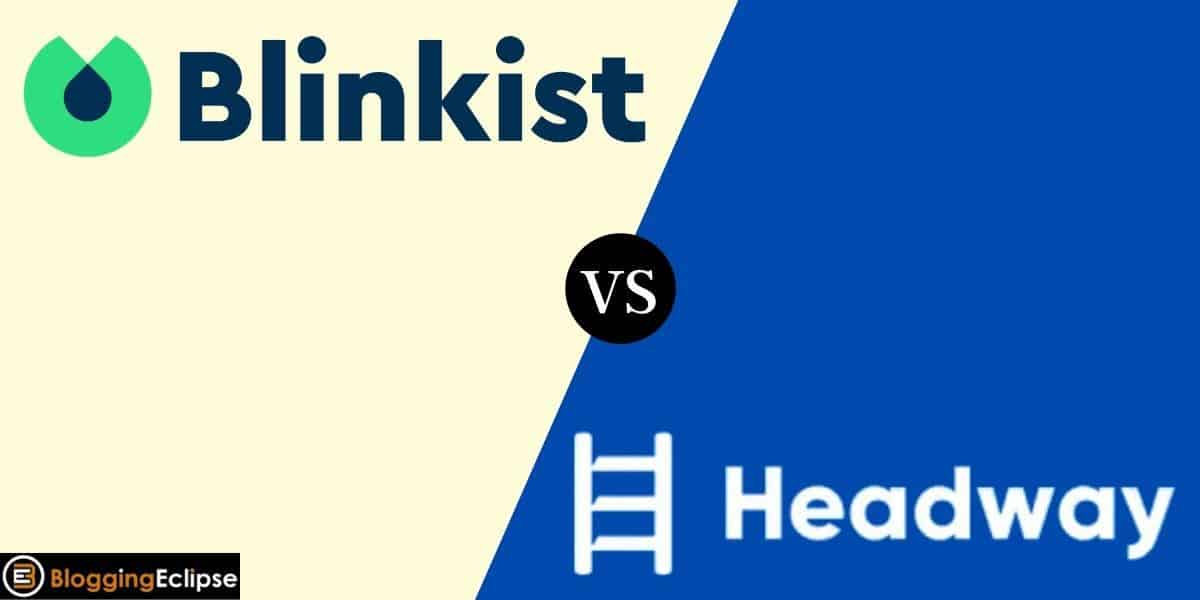 To get started, first, we will know about Blinkist and Headway separately.
Blinkist Review
Blinkist is a book summary platform which is based in Berlin, Germany. It was founded in 2012 by four friends. The idea behind this was they noticed that many people used to spend their time scrolling randomly between their work or even at home doing chores. They wanted you to turn this time that was being wasted into something useful that people would learn and reflect from. Now they have managed to connect 22 million readers worldwide to the biggest ideas from bestselling nonfiction via 15-minute audio and text. Each critical insight is called a 'blink' and fits nicely on one page. The app is free to download, and so is setting up an account. If you do, you'll be able to read the daily pick. That is one of their 4,000+ book summaries, and it changes every day. Besides unlimited access to every single one of their over 4,000 titles, Blinkist Premium combines the following features:
Audio versions for the majority of their summaries
Unlimited access to the App
Offline Access
Saving your entire library offline
Syncing your highlights to Evernote
Sending your favorite summaries to your Kindle
Headway Review
Headway is like Blinkist, only that it offers summaries of successful nonfiction titles so you can learn more in less time. This summary is tailored for any reader who might not have time to read a full book, so it is often shorter than that of a typical summary. Headway was founded in 2019 and now has over 3 million users worldwide. All you required is an app that you can get on a smartphone, tablet, or PC to access book summaries. You can look for the content, add it to your library, and start reading right away!
---
Which Platform has a Better Selection of Books?
If you are going to spend some bucks on the platform, you must know which one has better select your favorite books!
Blinkist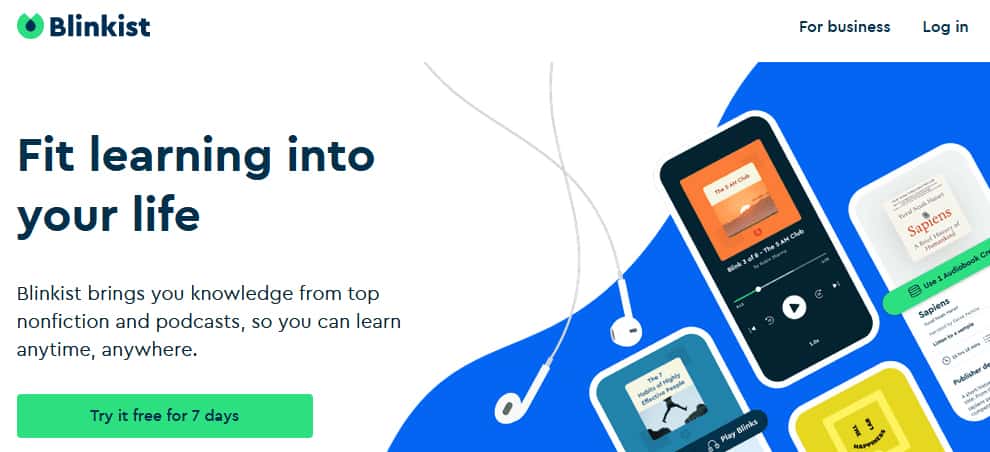 Blinkist has a selection of almost 4500 famous nonfiction titles and audio versions to choose from. The Blinkist staff selects the featured titles and routinely updates them so that readers always have uncommon options available.
Headway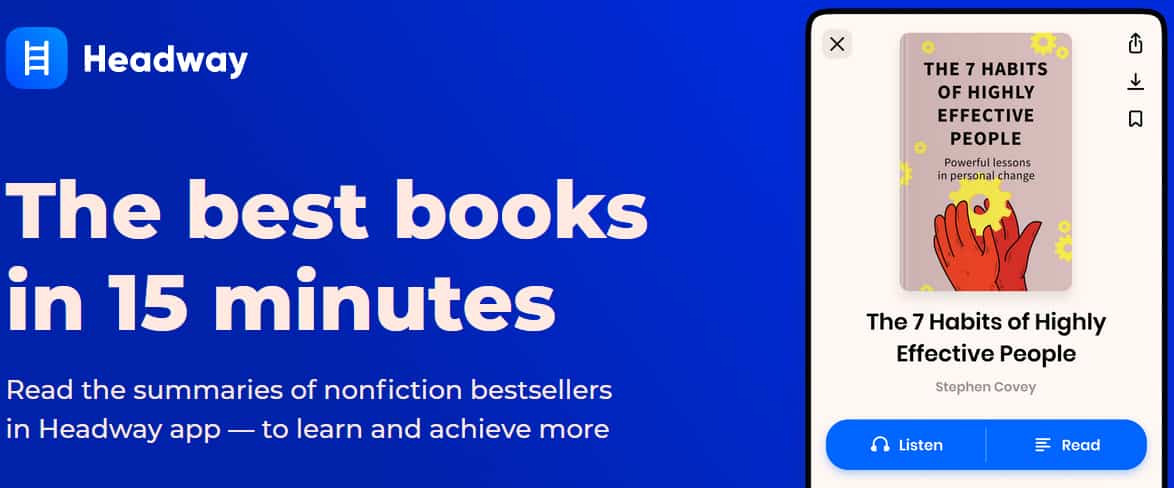 In comparison with Blinkist, Headway does not offer that stunning collection. Headway only offers a range of summaries for hundreds of books as compared to Blinkist. Although Headway does not provide many titles and books, they offer summaries for some of the most current and prominent nonfiction books.
The Winner
In this, we will have to give the edge to Blinkist, as it has a wide range of books, which is most important for a book-lover.
---
Which Platform Offers Better Summaries?
In this section, we will look into which one maintains a quality platform for their actual intention! So, what are we waiting for? Let us get started!
Blinkist
Let us clear one fact; summaries cannot provide the same amount of information as a physical book. After all, they are called "Summaries" for a reason, which means that they have to give the real favor in just 15 minutes! Even the Blinkist manages to provide excellent quality of them! The summaries on Blinkist are fact-based, and, as with any other summarizing service, you need to trust the summarizer to learn the content effectively.
Headway
The same goes for Headway! If you want to learn something and do not have enough time for it, then book summaries by Headway fit correctly into that criteria! They offer introductory information and crucial details so that the reader can get the most out of their experience.
The Winner
If we talk about the quality of the book summaries app, then it is a win-win situation for both platforms! Yes! You heard it right! Both platforms offers a detailed summary from which we get a complete essence of the whole book. Therefore, no matter which application you choose, you will end up with quality summaries.
---
Which Platform is Budget-Friendly?
Now, it is time to look at the pricing options of both Blinkist & Headway and decide which one suits our pockets better.
Blinkist
Like all the other subscription services, Blinkist also offers a free basic trial, which one can use for 7 days straight. In the 7-day trials, we can determine whether we want to go further with this or not. To get full-access, you would have to buy a premium subscription.
If you like Blinkist in the 7-day free trial, then you can go on and purchase a monthly subscription plan for $15.99, but if you are going for an annual plan, then it will only cost you $99.99 overall. If we look into it, the annual plan only costs $8.34/month, which leaves us with a huge discount!
Headway
Headway also offers a free introductory trial with access to the limited features. Headway includes weekly/monthly, and annual plans. The weekly plan cost $8.99 which is slightly expensive. But the most common purchase is the monthly subscription which costs nearly $14.99/month. While the annual subscription comes at a cost of $89.99 which is still cheaper when you compare it with Blinkist. Headway offers limited access to the public, in order to entice its customers into buying a premium plan.
The Winner
Again, in this round, Blinkist takes place. Although Headway is a bit cheaper than Blinkist, customers' responses are not so optimistic about Headway's pricing plan. Also, Headway has one complaint that makes you pay multiple times for the same subscription plan! Which is a huge downer! For example. if you take a weekly plan of Headway which is about $8.99 and then if you again go for a weekly purchase a second time it would offer you a full month's subscription. This will cost you around $18 whereas the monthly plan of Blinkist is only $15.99. And Also, the yearly plan of Blinkist saves much when we look into it better. So, if you want to give a firm decision on both of them, then Blinkist would be an appropriate choice.
---
Blinkist Vs. Headway: The ultimate winner
After reviewing all the aspects of both the applications, i.e., Blinkist and Headway one by one, we can safely conclude that Blinkist is the winner of this race!
Blinkist also updates the content of their summaries regularly so that the information remains relevant, up-to-date, and original. They are able to provide a breadth of content due to their broader collection of book summaries. From self-help to personal health, from business and productivity to creativity and success – all of the most popular books and non-fiction books are available on Blinkist.
The reason is that it is an old platform, and reliable too! So, if we are going to invest some money in any tool, we should get the best results from it! Right? If you do not want to take the risk and go with th credibility, you must go with Blinkist.
Although, for a head-starter, Headway is not so bad!
With high-quality content as good as blinkist, Headway is not consumer-friendly with its expensive subscriptions and lack of outreach. Headway has a comparatively very small number of non-fiction titles available on their app. They maintain the quality of their summaries, and as well they have a pretty good collection of nonfictional books, which makes an excellent choice for the one who is looking for something new in the market.
| | | | | |
| --- | --- | --- | --- | --- |
| | Free-Trial | Ease of Use | Book Selection | Quality of Book Summaries |
| Blinkist | 7-Day Free | Good | Good | Very Good |
| Headway | Free Introductory trial only | Good | Limited | Good |
---
🌟 Blinkist Vs. Headway FAQ
👉 What is Blinkist?
It is a famous book reading platform where information seekers and other book lovers discover new knowledge. Blinkist also gets you knowledge through podcasts and notifications.
👉 What is Headway?
Headway is another book reading platform similar to Blinkist that provides famous nonfiction titles. To read books, you only need to install the Headway app on your PC, tablet, etc.
👉 Does Blinkist offer a free trial?
Yes, Blinkist offers a 7-day free trial that gives you unlimited access to read and learn all its book summaries. Start Blinkist free trial and explore all top categories.
👉 Which is better; Blinkist Vs. Headway?
Both the platform Blinkist and Headway have their pros and cons. In order to test both the application, one can go for a trial. However, we highly recommended Blinkist over Headway.
👉 How to cancel Blinkist Subscription?
There are three different methods to cancel your subscription, which depend on the mode you used to subscribe to Blinkist.
For canceling your Blinkist Subscription follow these easy steps:
1. First Log in to Blinkist
2. Go to the account settings
3. From there you can cancel your subscription plan.
For Android Users: If you have subscribed using your Google Play Store account
1. Sign in to the Google Play store
2. On the left you would find My Subscriptions
3. From there you can easily manage all your subscriptions
For iOS Users:
1. Go to the settings menu of your iPhone
2. Tap on your Apple ID
3. There you would find all your subscriptions
👉 How can you cancel Blinkist free trial?
By following these steps, you can easily cancel your Blinkist free trial:
1. Open the App Store and click on your profile picture.
2. Then select your Apple ID.
3. Just scroll down through the options and click on the 'Subscriptions' option.
4. You would find your Blinkist subscription and then click on 'Cancel Free Trial'.
👉 Does Headway offer a free trial?
No, Headway does not offer a free trial. Its pricing starts from $29.00 as a flat rate per month. It has a free version, though but with limited features.
👉 How to get a refund from Headway?
You can get a refund by canceling your subscriptions.
For Android:
· You can request a refund through GooglePay via this link https://support.google.com/googleplay/answer/2479637
· Just make sure that you do cancel your subscription properly. For this, Go to your Play Store App then Click on Account. After this you could see Subscriptions, just cancel them.
For iOS:
· You can request a refund through AppStore via this link https://support.apple.com/apps.
· Log on to your settings and click on your name on your iPhone. There you would find all your subscriptions, and from there, you can manage all of them.
---
Conclusion: Blinkist Vs. Headway 2023 | Which is the Best Application?
Since you all already know who is the final winner, there is nothing else left to say! Book summaries are an excellent option for people who are looking for some tiny breaks in their busy schedules! For sure, no matter which application you choose, you will not get disappointed!
Blinklist updates its existing summaries regularly to make the content genuine and unique. From our Review on Blinkist vs Headway, we can conclude that Blinkist has the upper hand when it comes to the variety of books. Whereas Headway also offers good quality content, their pricing is slightly expensive and not that consumer-friendly. Also, it has less number of non-fiction titles available on its app.
That's it with our today's review on Blinkist Vs. Headway. We hope that our article will be helpful for you! If you find this comparison helpful in any manner, do not forget to mention it in our comments section below. Until then, take care of everyone.🙂