Are you frustrated about taking proper backups of your WordPress website or restoring it to another server worry-free?
No need to panic as the safest vault is available right at your computer screen.
Now you can keep your site's information safe & secure with just one one one 1-click and backup or restore your WordPress website instantly using its cloud-based tool.
Doesn't it feel great to have something that takes daily backup, scans your site automatically without worrying you, performs updates and ensures zero downtime?
Indeed this would save a lot of time to focus on the priority needs of your business. Backup and security of WordPress are needed to eliminate hosting issues, malware/hacks, incompatible plugins/themes, human errors, natural disasters, storage issues, server crashes and accidents.
BlogVault provides the coolest tool to keep your site information in the cave where bad guys can't reach, leading to tranquility.
---
Detailed BlogVault Review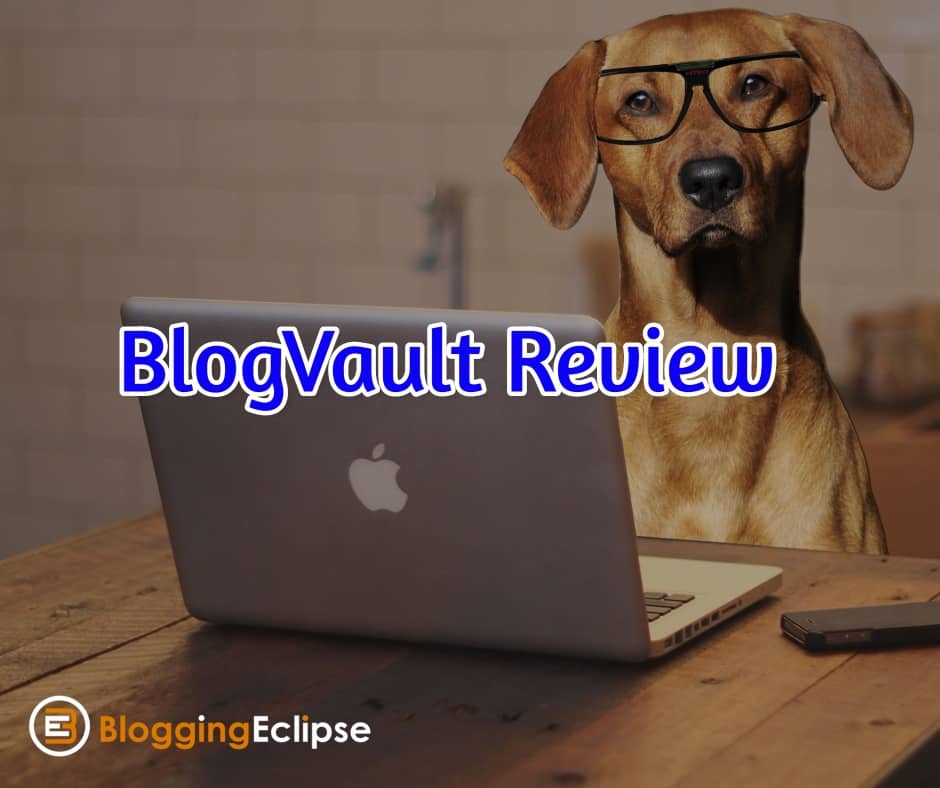 BlogVault has always strived to provide the best backup and security for WordPress sites consecutively every year. It eliminates the threat posed due to hacking and malware and ensures your site to be protected from the bad guys by keeping them at bay.
It has been providing secured service for the past five years to more than 10,000+ customers worldwide.
Some of the industry's big names, such as Pantheon, WPEngine, Savvii and Cloudways, are its premium partners. It offers a free trial to get started with its never compromising backup and security quality.
---
BlogValut Features at a Glance:
Features make a big difference in the security and quality of any product. BlogVault knows its importance and therefore strives to provide a gamut of features that sounds astonishing. The list of features provided to every customer worldwide is listed below.
#1. Migrate with Zero Downtime
Just like migrating from one place to another in a car without proper wheel alignment could result in a disaster similarly, migrating your WordPress site with huge downtime could result in a cluttered site.
BlogVault ensures that you can migrate even large WordPress sites with zero downtime at just one one one 1-click. Migrating a site can be complicated. While migrating your site, some links or info might not have been migrated, migrating large sites can result in server time-out and hamper the tools; after migration, your WordPress site might break into improper functionality.
Hence, utmost care should be taken while migrating WordPress sites, and BlogVault is handy and best for migration.
#2. Restore backups in a Click
One-click test restore allows you to restore your backup temporarily to test servers without hampering your live site. You can preview your backup before restoring it and check its working nature.
The backup you restored on BlogVaults' server is a replica of your site with access to the dashboard and allows updates of plugins, themes and attachment of images, videos, etc. Now, restoring your backup with BlogVault is just one click away. So click and restore your backup hassle-free.
#3. Auto Restore with highest security
BlogVaults auto restore features are handy if your site is manipulated by some hacker or stops working suddenly.
Restoring a site manually is a bit risky; hence it is suggested to take automatic restore, and it doesn't require long steps, just one click and restore your backup. It performs differential restores to restore even large sites on shared hosting.
Restoring is possible from the dashboard at one click, even when your site is pinned down. It gives you a wide range of backup versions for up to 365 days. A wide range of backup versions gives you a choice to restore from a point that worked correctly.
Choosing a backup can sometimes be confusing, but not anymore. You can add notes to different backups and decide which backup is best for restoration.
#4. Cloud backup Storage on Amazon servers
Many backup providers claim 100% backup, but what about its security. BlogVault ensures that your site backup is stored in multiple locations with 100% encryption. The backup is not only stored on its servers but also the powerful and unbreakable Amazon S3 servers.
#5. Complete Secure backup in a Click
BlogVault doesn't miss anything while backing up your site. Everything, including Files, Tables, Links, Posts, Pages, Themes, Plugins, Users, Settings, Images, Videos, WordPress Files, etc., is backed up securely and upon restoration work effectively.
Instead of affecting your live site and lowering your reputation that would degrade the number of visitors, better take automatic backup and restore with the best version at just one click.
Read: GoDaddy Managed WordPress Hosting at just $1/Mo
---
BlogValut Plans & pricing:
BlogVault has all the pricing options depending upon the nature of your business. You can find below different pricing solutions to suit your needs. Every package is sub-divided into three different plans, i.e., Backup, Backup + Security and real-time backup.
Personal
This plan is suitable if you have a personal website. This is more suitable for bloggers and internet marketers. The drawback of this plan is that you can run only one website.
Business
With this plan, you can take backup of 5 sites. This plan is suitable only if you have multiple sites, but the pricing is expensive. With one click, you can backup and restore your site and no need to worry about security as it is a fully encrypted cloud backup.
Developer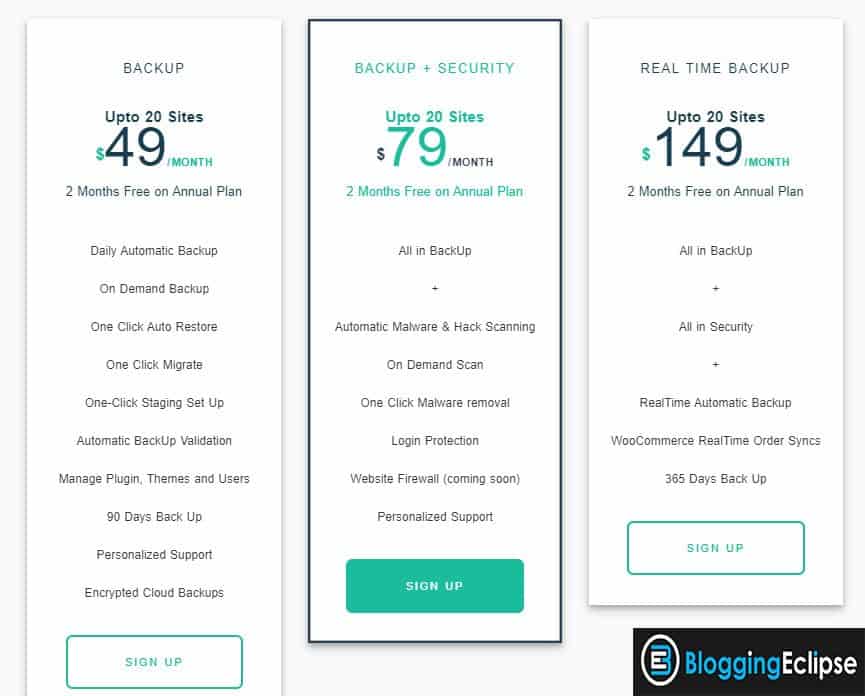 If you purchase this plan for one year or annually, you get to use it free for 2 months. With this plan, you can backup and restore up to 20 sites with 180 days of backup and personalized support.
Agency
This is the final plan and is the most expensive one. Backup and restore up to 100 sites, so if you are a website designer with multiple clients, you can impress your clients by backing up their data encrypted with cloud and one-click restoration.
Extra payment info:
Payment for all the BlogVault plans can be accepted via Credit Cards and Debit Cards, including Visa/ MasterCard/ American Express and PayPal. The payments are processed through a secured payment gateway powered by Stripe, one of the safest and most trusted payment processors.
You can anytime cancel your account if you are not satisfied with its backup and security features. BlogVault ensures a 30-day money-back guarantee to get your money refunded in your account.
If you need any support, you can take help from the expert team without paying a penny extra. If you want to upgrade or downgrade your plan, you can instantly do it from your dashboard.
---
🌟 BlogVault FAQ
What is BlogVault?
BlogVault is a WordPress plugin that allows you to schedule backups, take automated backups, and backup offsite. It's trusted by 400,000+ sites, offers a 100% restore rate, and has an easy-to-use interface that makes backing up your site a breeze.
Why should I choose BlogVault?
BlogVault is a plugin that will back up your blog posts. It also backs up offsite and stores it in remote locations. We use incremental backup technology for the best security. BlogVault is easy to use and ensures that your content is always backed up.
Can I try BlogVault for free?
Yes, BlogVault offers 7 days free trial to all its new users that help them to test this plugin for free.
Does BlogVault offer a refund policy?
Yes, BlogVault provides a 100% money-back guarantee. If you are not satisfied with BlogVault, you can contact for a refund within 30 days of purchase.
---
Conclusion: BlogVault Review 2023 | Powerful WordPress Backup Solution
If you want peace of mind and worry-free security of your site, BlogVault is a fascinating choice. With just one click, you can backup and restore, scan your site for malware, perform updates and staging, and migrate your site hassle-free with zero downtime.
Now migrating your site is easy with just one click, and you don't have to worry about losing any data or files. Before you migrate your site, you can look at the replica of your site and how it works without affecting your real site.
To back up and secure more than hundreds of sites, contact BlogVault directly, and you will get the perfect pricing for your requirement. Pay as you go!
Prevention is better than cure! Protect your site from the bad guys by keeping it in a powerful vault at BlogVault so nobody can break into your site.🤞🤞