Do you want to switch to Cloud hosting from your traditional host? It's the era of cloud infrastructure. Cloud hosting solutions is powerful, affordable and easier than ever.
On cloud your website is more reliable as your data is automatically mirrored across different servers for better scalability and delivery.
Bluehost India cloud hosting is one of the fastest cloud hosting with affordable prices and best performance. I have personally testes their cloud services and then migrated some high traffic blog to Bluehost India cloud.
---
What is cloud hosting?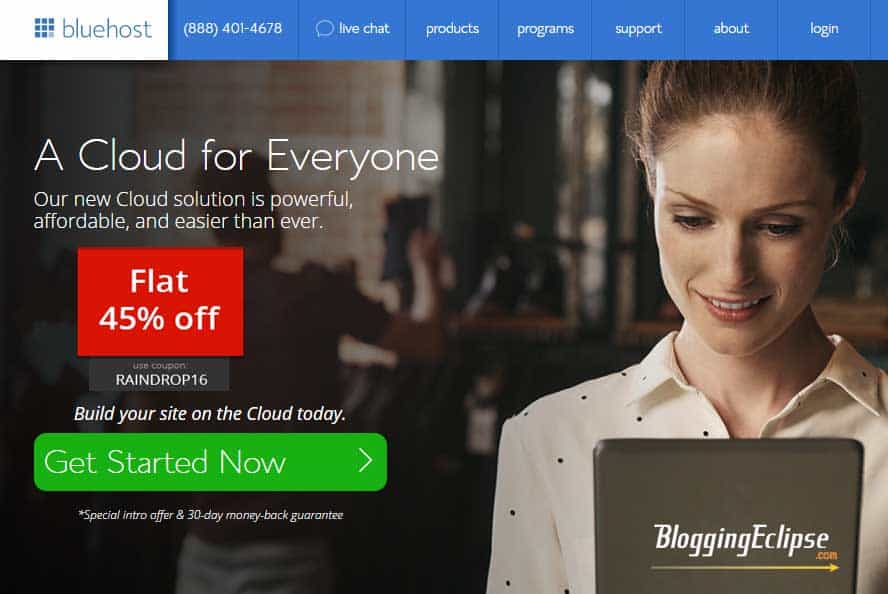 Cloud hosting is an upgraded web hosting with fastest page loading time across all globe. In simple you can assume it as combination of web hosting + CDN. It is based on most innovative cloud computing technologies which enables unlimited number of machines to act as one system.
Normal web hosting (shared or dedicated) rely upon one machine only but cloud hosting security is grunted by numerous of servers. The cloud hosting technology is compatible with many resources and allows easy integration of more space or RAM hence it enables website growth.
Almost every web hosting company is rolling out their cloud hosting services nowadays because of high demand. Every company is providing extra innovative benefits such as clouds apps, high performance booster, managed clod hosting, flexible firewalls, etc. with their hosting plans to lure mass customers.
---
Cloud Hosting Features
#1. Highest level of website performance
With cloud hosting website performance is guaranteed by multiple machines, your website is mirrored on multiple cloud servers, so if a single hardware is failed on any server, your website will be delivered from another one thus leading on no downtime ever. Security is highest priority in cloud hosting solutions.
#2. 2X Faster
With premium hardware & low density cloud servers, your website is hosted in a platform which includes a varnish caching layer and global cdn to ensure your server resources are focused where they should be. Static websites are managed more efficiently so dynamic request can be processed quicker.
#3. 4X More Scalable
You can upgrade your cloud resources as your online presence grows. One simple click is all you need no data migrations, downtime or reboots. Cloud hosting can respond to those large traffic spikes without any service interruption.
#4. Integrated Caching
No need to use additional caching plugins or tools, Cloud platform is built with integrated caching system to an optimal caching configuration which is custom built for speed and performance.
#5. Automated Failover
If hardware issues arise on one server, your site is automatically switched to anther server resulting in no downtime for end user.
---
Bluehost Cloud hosting benefits:
Bluehost is #1 hosting company trusted by more than 2 million website owners. Bluehost provides reliable hosting solutions since 2002. Thousands of bloggers and internet marketers choose Bluehost fort their online business needs. Bluehost is also officially recommended hosting by WordPress.org since 2005.
When it comes to cloud hosting, almost all big players in the industry have released their cloud hosting platform with numerous of offers and cos effective plan to lure more customers initially. But when it comes to quality then I will surely trust Bluehost. With in-depth research and best technology they have enabled cloud hosting for all types of business with easy to use and more affordability.
Huge traffic on your website should never impact on this performance, your online presense grows, upgrade your cloud usage with just click of button. Either you can upgrade your plan to more powerful or just update CPU or RAM without any downtime, reboots and cryptic usage fees.
Bluehost cloud terchnolgy understands your site performance instantly. Its powerful cloud dashboard provides quicker view into usage trends, page download speed, uptime, global reach, and more. With convinent resources management, you don't need to worry about your site going down due to any traffic spikes.
With premium hardware's and low density servers, Bluehost cloud is faster as compared to other cloud providers in industry. Bluehost cloud servers includes varnish caching level, with global CDN to provide blazing fast site speed by managing more requests quicker than ever.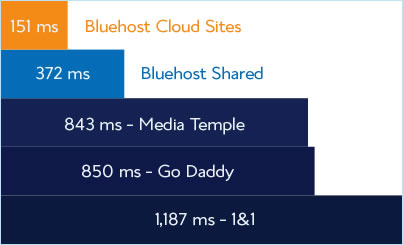 Monthly Billing: Avoid any surprise usage fees by selecting monthly billing, so you can anytime add any extra resources & upgrade your plan if required.
Full-managed: Their experts deal with maintaining languages, security patches, port access and all type of issues that may arise.
30 Days money back guarantee : Get your whole money back anytime within 30 days of billing if you are not satisfied, But i am sure you will never regret with Bluehost India cloud hosting.
---
Bluehost India cloud Plan & coupon
So we have talked all about the award winning innovative bluehost india cloud hosting and its all features, now lets see its affordable plan and unique coupon code which gives you flat 40% discount+ Free security & backup tools when u buy cloud hosting using below mentioned deal.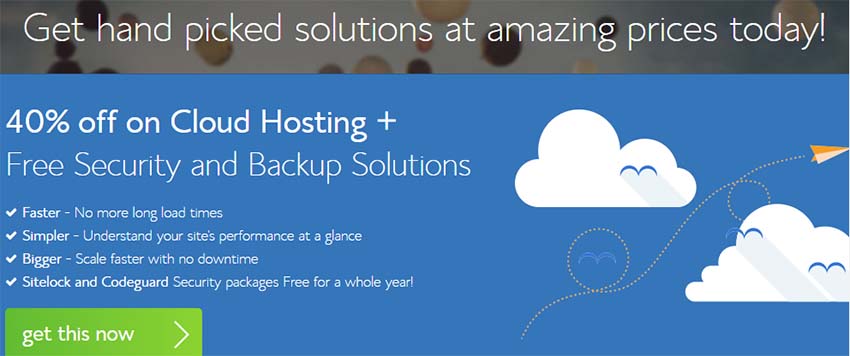 ---
Bluehost India cloud hosting plans
| | | |
| --- | --- | --- |
| Starter | Perfomance | Business Pro |
| ₹449/Month | ₹599/Month | ₹799/Month |
| 2 GB RAM | 4 GB RAM | 6 GB RAM |
| 100 GB HDD in RAID | Unlimited HDD in RAID | Unlimited HDD in RAID |
Bluehost cloud hosting plan costs ₹449/Montḥ, if you purchase for three years and ₹599/month if you purchase for 1 year term. You get additional 40% Discount on any plan for any term with free Security & backup solutions worth ₹3836.
So if you want to purchase Bluehost India cloud hosting (starter package) with 2 GB of RAM, 100 GB Disk space and unlimited data transfer/bandwidth, it will cost ₹4312 for one year with free sitelock and codegaurd backup tools.
Bluehost India Cloud Hosting Coupon
"]Get flat 40% OFF using this special coupon which gives you final price of ₹.4312.80 for 12 months. Clink on the button below to redeem discount directly or you can also use coupon "CLOUD40DEALS" at the time of checkout.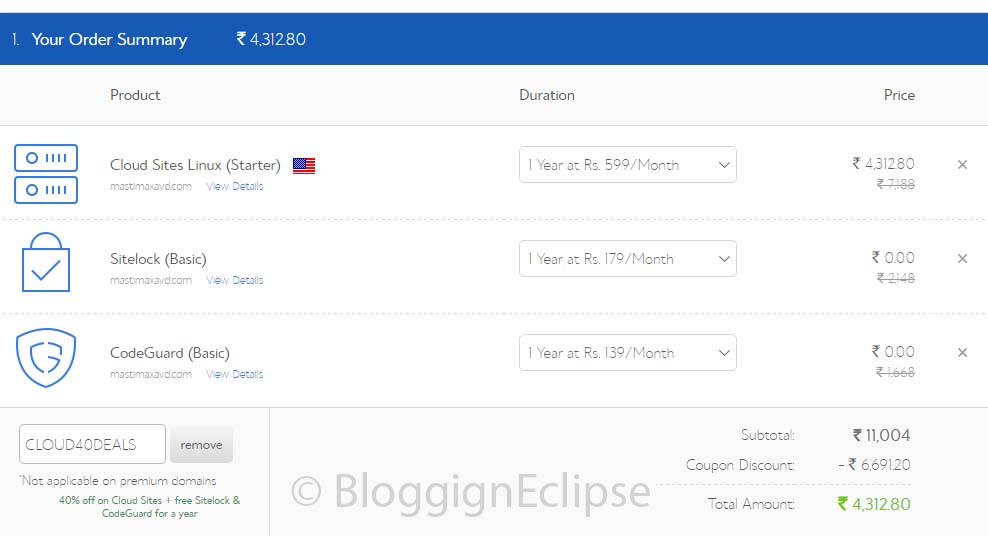 ---
Over to you
Cloud hosting are far more better choice then traditional hosts. In this era of cloud computing enterprises and businesses are switching to cloud solutions to run their business online without any hassle.
If you are a blogger or internet marketer and want to provide fast page loading experience to your users, Then switch to cloud hosting now. I hope that you like Bluehost India cloud hosting review and if you have any kind of doubts regarding cloud hosting then ask your query in comments section below. Till then take care, see you in next post. 🙂