Are you an Amazon seller who is looking for the best business intelligence tool?
Here in this article, we have featured ✅CaptainBI Review 2023, which includes all the detailed insights about this amazing business intelligence software.
CaptainBI is an amazing tool for Amazon merchants to maximize their profits as it provides all the essential tools in one platform. CaptainBI offers potent features that are needed to take an Amazon business to an extreme level.
---
In-Depth CaptainBI Review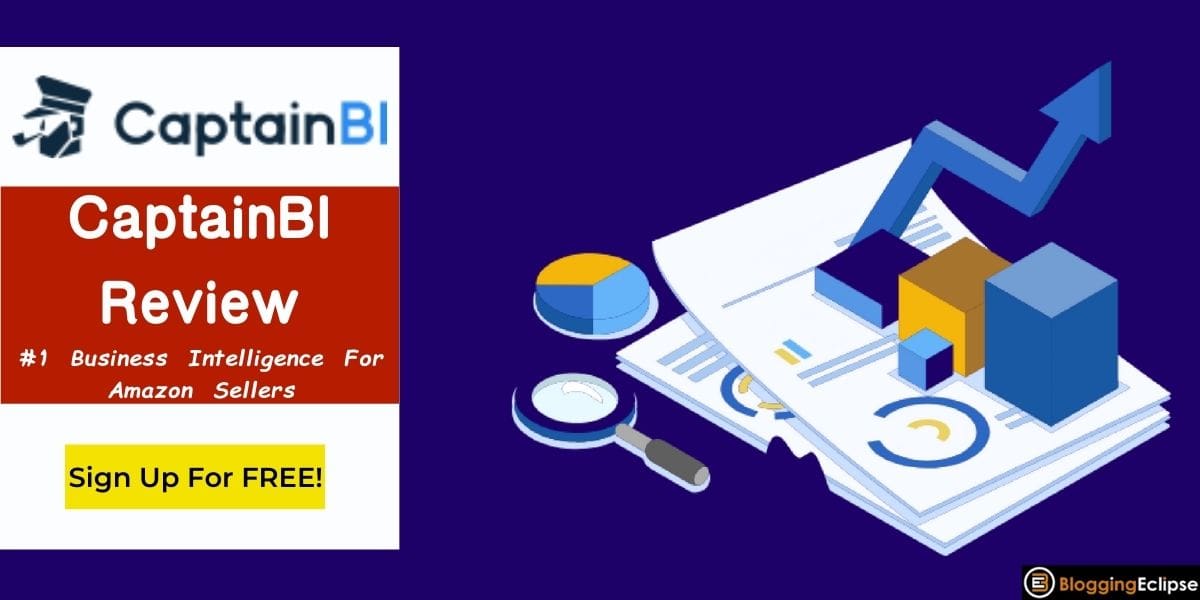 CaptainBI, a China-based software company, was founded in the year 2016. It excels at providing data analytics and business intelligence tools to sellers and advertisers globally.
It is the first business intelligence software for Amazon sellers, helping the Amazon business to grow 'easier, smarter, and faster.'
What makes it the best Business Intelligence tool for Amazon sellers?
It comes with around ten tools for the Amazon sellers; prominent ones are keywords research tool, sales analytics tool, product research tool, FBA manage tool, ads manage tool, and profit report tool.
It has helped business decision-making by adding flexibility in the way business sellers like Amazon operate.
---
Key Features of CaptainBI
Let us dive deeper into the tools offered by CaptainBI:
#1. Sales Analytics Tool
It helps in tracking your sales on a real-time basis. The knowledge related to each product can be obtained in a detailed manner using this tool.
Using the orders section, you can know about the shipping details, orders, price, date of order placed, buyer information, items, etc. The refund section can guide you with details like processing the refund, the reason for a refund, etc.
#2. Profit Report Tool

It gives a detailed overview of profit loss through which all connected Amazon account's data is visible. A personalized monthly report can also be obtained for every marketplace in different currencies.
Also, the profit report can be narrowed down to different ASINs. Thus, the exact profit can be obtained, and decisions to manage losses can be taken promptly. Likewise, you can calculate Amazon's profit using CaptainBI.
#3. FBA Inventory Tool
To keep track of your inventory cost, replenishment, redundancy, etc., this tool is used. The FBA claim helps ease the claim process, and amazon reimbursements can be obtained quickly using this tool.
#4. Sponsored Ads

You can visualize your campaign performance with the help of it through detailed data. This can lead to increasing the ROI(Return on Investment) of your advertising.
#5. Seller Tools

This includes a total of 11 total, which are divided into two categories based on their usage.
The tools that aid in market research are:
Keyword Research: It helps in the search for important data and keywords.
Product Research: It gives details about the products from Amazon's database that you can sell.
Review Analyzer: As the name suggests, it retrieves data related to customer reviews.
Product Monitoring: This tool gives you detailed insights into every product that is trending in the market.
Store Monitoring: With this tool's help, you can easily track your competitor's strategies and build up your approach to stay ahead of them.
ASIN Reverse Lookup: Competitor's keyword strategy can be discovered by it, to increase your profits.
The tools to ensure that your account is healthy are:
Buy Box Monitoring: This tool allows you t to monitor ASINs.
Keyword Rank: You will quickly analyze traffic for particular keywords.
Smart Pricing: This tool provides your detailed brief for the product pricing.
Review Monitoring: This can help us monitor amazon reviews after your CaptainBI account is connected to your Amazon seller's account. Sometimes, amazon reviews can be negative.
Feedback Monitoring: If you get a negative review from the user, this tool immediately provides a notification.
To respond to negative reviews politely, firstly apologize to your customer for the inconvenience he/she had to face. Further, you can mention the email id where the customer can reach out to you to solve his queries.
One of the bright sides of getting negative feedback is that whenever a first-time buyer goes through the feedback, the authenticity would be visible instead of all the 5-star reviews.
---
How to connect CaptainBI account to Amazon Seller account?
The following steps are needed to connect your CaptainBI account to your Amazon seller account:
Click on the profile icon after logging into your CaptionBI account. Click on the Amazon account on its drop-down menu.
Click on the Connect button on the Sellers account page to make the connection with your Amazon account.
After that, a pop-up window will appear. Select the authorization site from the drop-down menu, and click on the Go to Seller Central button.
Then you need to sign in to your Amazon Seller Central account. In the next window titled 'Amazon Marketplace Web Services,' CaptainBI's developer name and developer ID will be displayed. Continue the process by clicking on 'next.'
After that, check on the approval box, which will ask to approve your connection, and click the next button.
The seller ID and Marketplace Web Services(MWS) token will appear, which you need to copy and paste into the CaptainBI browser window.
Lastly, fill in your store name and click on the connect button. Store connection will be authorized after that.
---
How to create an Amazon Lightning Deal?
To add up the light of happiness for the amazon lightning deals are a kind of discount offers that you can see on a particular product for a short period. Like it can be a deal for a day or prime day offers. Amazon sellers can use it to reach more potential customers and create brand awareness. A lightning deal can be created at your seller center.
Proceed to the Lightning Deal option and click on the create tab.
Choose the product on which it will be applied and fill in the required information.
Fill in the information like the event schedule, the product's highest price, and the lowest quantity of the product.
Lastly, submit your lightning deal for approval.
---
How to use Amazon suspension appeal escalations?
For the Amazon sellers to retrieve their suspended account, they can send escalation to Amazon's executives. An escalation contains two documents – an understandable Plan of Action(POA) and an escalation letter that brings all important points that an investigator could have missed.
To write a proper escalation:
Mention the solutions convincingly for problems.
Avoid using templates for escalations.
Try to find a better writer to avoid your appeal from being denied.
---
Amazon Inventory Performance Index(IPI)
It is a score between 0-1000 to perform how well sellers are managing their inventory. The factors that affect Amazon IPI are:
It is equal to the 'units sold over the past 90 days' divided by 'number of units available at fulfillment centers of the past 90 days'. It determines the rate at which your inventory has been sold.
This determines how frequently your inventory is out of stock.
Work on improving your sell-through rate.
Keep your inventory in stock.
Manage excessive inventory.
Modify the listing of your inventory regularly.
---
How to rank Product on the first page on Amazon?
Amazon product ranking is also known as Best Seller's Rank(BSR), is the ranking of all the products sold on Amazon.
To make your product rank on the first page on amazon following tips can be followed:
Choose the right category of product.
For achieving a BSR100 goal, if you have around 5000 products in the same category, then attaining that goal can be a tough task. Therefore, try to select the right category in which competition is on a bit lower side.
You can improve your product listing and use most of the keywords by going through the keywords used by your competitors.
Advertising your products can make your products rank higher on Amazon. You can make use of ad tools and spent some money on advertising your products.
FBA delivery gives an advantage of fast and more efficient service. Therefore, product sales can improve, leading to a higher ranking of that particular product.
The genuine reviews received from your customers can also help in scaling up the ranking of the product.
---
7 Products to avoid in Amazon Product Research
While finding a potential product, few products should be avoided for proper product research:
The product whose price is too low.
The niche of the products whose sale is very less.
Seasonal products.
Categories with monopoly brands.
If there is a risk of infringement of the products.
Products of lower quality.
Highly competitive products.
---
What makes CaptainBI beneficial for usage?
Besides the features which you can get from this amazing tool, a few of its advantages are:
Provides easy to understand graphical data.
Operational efficiency has improved a lot.
No installation is required, as it is a cloud-based application.
The real-time update can be done on official data.
A secure platform as it provides protected user data using encryption methods.
With the availability of vast features and such advantages, CaptainBI is certainly a reliable Amazon seller tool. Like any platform isn't perfect, CaptainBI is restricted to be used by Amazon sellers only.
---
🌟 CaptainBI FAQ
✔How much does CaptainBI cost?
CaptainBI offers four pricing plans that are Starter, Advanced, Professional, Enterprise. The Starter plan costs you $59/month; the Advanced plan costs you $89/month; the Professional costs you $179/month; the Enterprise plan costs you $379/month.
✔Does CaptainBI offer any free trial?
Yes, One can create a free account at CaptainBI. It offers a 30-day free trial to its new user and does not require any credit card to sign up.
✔Can I cancel my subscription at any time?
Yes, CaptainBI does not offer you a long-term commitment. Within 90 days of purchase, you will get a full money-back guarantee from CaptainBI if you are not satisfied with the tool.
✔Which Amazon marketplace is supported by CaptainBI?
Currently, CaptainBI supports 17 Amazon marketplace including U.S.A, Canada, Mexico, Brazil, United Kingdom, Germany, Spain, France, Italy, Netherlands, India, Turkey, UAE, Saudi, Arabia, Japan, Australia, Singapore.
---
Conclusion: CaptainBI Review 2023 | Should you go for it?
CaptainBI is a highly recommended business intelligence tool for Amazon sellers. Around 17 marketplaces globally are supported by it.
As discussed before, all the major tools, like inventory management, sales analytics, sponsored ads, keyword monitoring, etc., are available on this software required by Amazon.🤞