Are you fed up with low conversion rates? Want to increase sales on your website instantly? Confused about which sales funnel builder will be the best for you?
WordPress and Woocommerce are some of the biggest platforms in the world today. Despite the many ranges of features that they offer their users, it is a common complaint with anyone who works on these platforms that the checkout process, among other related things, is not up to the mark on these platforms. You can't configure the page to make it more user-friendly or offer related products. This has led to the creation of many sales funnel software that we see in the market today.
The simple fact is that without an optimized sales funnel, you are losing money on every click.
CartFlows also set out to offer this same basic functionality. Many industry experts claim that CartFlows is the best sales funnel software, and after our testing in the review period, we couldn't agree more.
Still, the massive range of features that it provides now as part of its platform caught our attention and led us to test out and review the tool. Please read our detailed ✅CartFlows Review to understand why it is the sales funnel you should be using today.
---
In-Depth CartFlows Review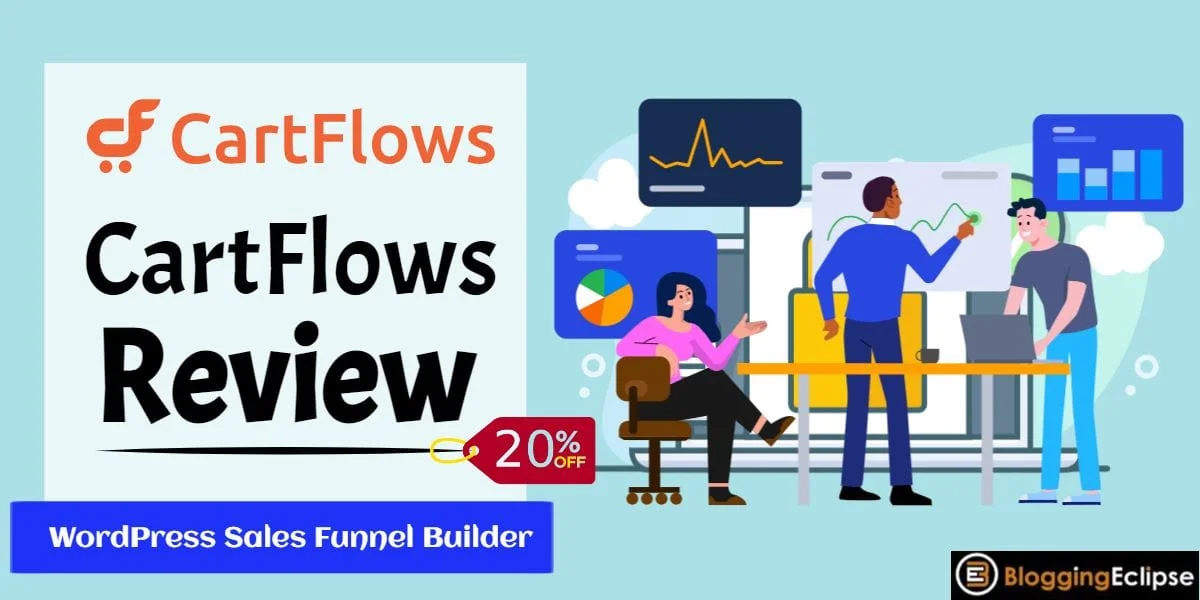 Trusted by over 10,000 websites to optimize their user's experience, CartFlows offers many easy-to-use features dedicated to creating the perfect checkout experience for users. One of the first things you'll notice after joining CartFlows is how the platform is designed to ensure no technical barrier to using it. Anyone with even the most basic technical skills can effectively use this platform to boost revenue.
Many sales funnels tools insist on keeping the pages you make on their servers, but this causes two main problems. The hard work you put in while creating those web pages will be lost if the sales funnel platform shuts down, and if you ever decide to move to another platform, you won't be able to take those web pages with you. You will have to build them from scratch on the other platform as well. The webpages you create on CartFlows are hosted on your domain, so you have complete control over your property.
$200 OFF
CartFlows allows you to build your funnel inside WordPress itself. This brings with it a range of benefits. You don't have to use separate software to create the funnel. You can construct it using WordPress only. It also supports all popular plugins, so your sales funnels tool doesn't restrict you from further improving your site using other tools.
CartFlows is also directly built on top of WooCommerce, so anything that works with WooCommerce works with CartFlows. If you're using a page builder that you're comfortable with now, you can continue to use the same with CartFlows as well.
---
What are the Requirements to Use CartFlows?
We would like to briefly go over some of the things you have to do before using CartFlows. It would be best if you had WooCommerce installed for CartFlows to function.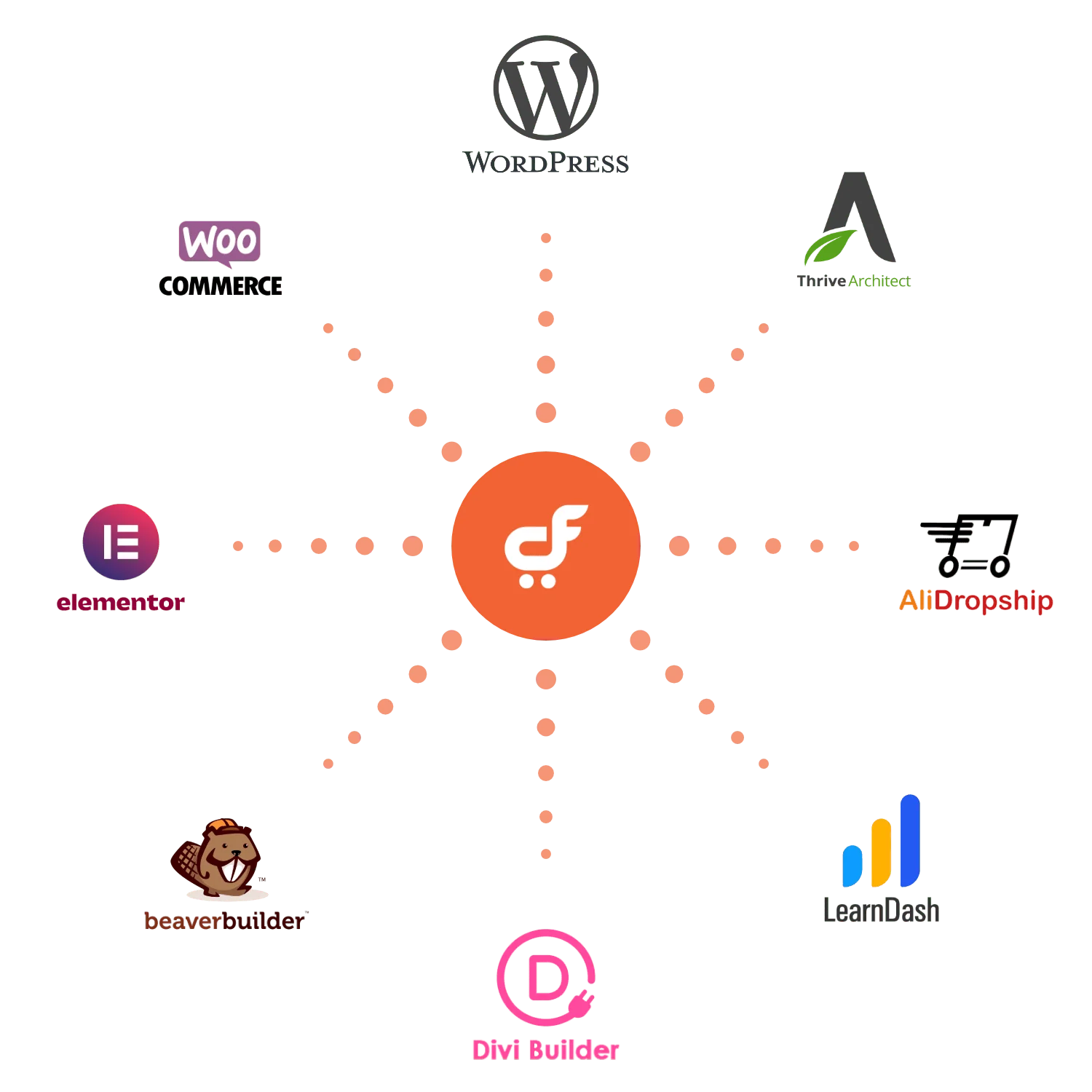 If you don't, CartFlows does allow you the functionality to add it from their in-house setup wizard. After WooCommerce is installed, we recommend you add a product. You can use CartFlows to create your perfect checkout pagKie without an added product, but to ensure that the page works properly, we suggest you add a product.
Go to "Products" on the left side of your WordPress dashboard and add a name, price, short description, and product image. You can provide more details if you want, like dimensions, SKU, etc., and hit publish. Your first product will be added, and CartFlows will be up and ready to go.
As we said earlier, CartFlows too set out to offer a simple optimized sales funnel with a checkout page, but they have expanded it too much more than that now. You can use the most popular WordPress plugins, so the range of things you can create with CartFlows is nearly infinite, but we have listed some of the popular applications of CartFlows below:
Lead Magnet Funnel
Membership Funnel
Product Launch Funnel
Purchase Cancellation Funnel
Live Demo Funnel
Client Application Funnel
Free service/quote/consultation/product funnel
Webinar List Funnel
2-step Tripwire Funnel
---
Top Features of CartFlows
Some features are not available in the free plan, so we will be denoting the features which are only available in the pro plan separately.
🏅Readymade Templates
A total of 10 pre-made templates are available to you (4 free six premium) with CartFlows. All of these templates work with almost every page builder out there. Some of the popular page builders who are compatible include Elementor, Divi Builder, Gutenberg, and Thrive Architect. The templates will be available to you regardless of if you're using a free or paid version of your page builder software.
Import the templates to your page builder. You can drag and drop various elements to customize the template according to your needs. Next, link a product with your checkout page. Go to Edit and click on Checkout Layout. Search for a product and select it to add the product. The pro version offers more functionality as you can apply coupons and enable product variations and product quantity options. Click update to add the concerned product and so on.
🚀Compatible with Most WP Builders
All the templates we mentioned above can be used and customized using all major page builder software out there. If you're already comfortable using a specific page builder software, you can use that same software to create and edit each page of the funnel you want to build. Certain page builders allow you to get the best out of CartFlows by combining the functionality of both tools.
For example, CartFlows offers a certain checkout page template. You want to edit texts, add product images, or interact with the various elements you see. All of this is possible because CartFlows is compatible with all major page builders.
🛒Checkout Fields (only available with Pro):
If you want to add more fields to your checkout page like age, gender, subscribe to a newsletter, etc., CartFlows allows you to add that option. Open your checkout page editor, and click on Checkout Fields. You can also click on Custom Field Editor to edit additional options to add in your Billing and Shipping checkout fields. You can also rearrange the positions of each field and change width and labels. You can directly look for any fields you want. If the option is not there, you can build a custom field for yourself very quickly.
📦Easily Add Order Bumps (only available with Pro):
You can directly add order bumps to your checkout page with CartFlows. You can offer related products, discounts, or training programs courses related to the original product and even extended warranties and such. The key goal is to create a more streamlined user experience while increasing the total purchases customers might make. There are a variety of options as to where you can add the order bumps. Before checkout, after billing details, after checkout, or after order are all available to you. You can also add images and customize the text, background, border, and text color to align with your brand image and the overall theme of the website.
One of the most popular ways to use this feature is to add a product bump alongside a free product. What this does is that even while someone is purchasing a free product, you can generate some revenue from there. The ability to get income even from the sale of the products, which are essentially lead magnets, is one of the most impressive things about CartFlows.
🖱️One-Click Up/Downsells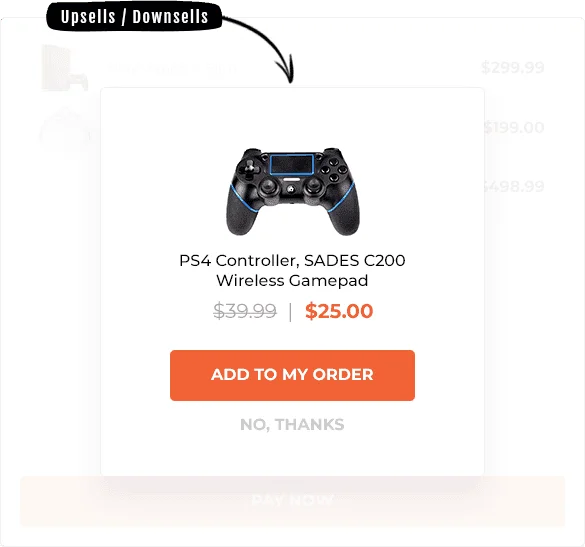 There are many ways to grow per transaction value of customers. One-time offers, tripwire offers, larger quantities on sale, mastermind courses, and higher software pricing. CartFlows enables you to use and create templates for both upsell and downsell pages. One-click upsells are enabled for PayPal and Stripe payments as well.
Just click on Add New Step to start creating an upsell or downsell page. You will see a range of upsell or downsell page templates which you can use. If you want to create a new page according to your specific requirements, click "Create your Own."
✔️Global Checkout
You can completely replace the standard WooCommerce checkout page with your customized, efficient CartFlows page. After you do this, every time someone wants to buy your products, they will be directed straight to your CartFlows checkout page.
To take advantage of this, you have to first create a flow with CartFlows. First should be your checkout page but ensure that you DO NOT assign a product to it.
Please leave it blank and give it a recognizable name. After you give it a name, you can easily add upsells, downsells, order bumps, etc. After this, go to CartFlow settings, click on the name you gave your page in the Global Checkout dropdown menu and click on save changes. It should be noted that you need to have your WooCommerce checkout page assigned before CartFlows can work.
⚙️Custom Script
Any custom script that you want to add can be added easily. Just click on edit a page/step and scroll down. An empty box with Custom Script will be available where you can paste your code, and it will immediately take effect or notify you of an error. Many users add live chat shortcodes, bots, and even custom pixels using this option. This feature allows you to experience a vast range of functionality while using CartFlows.
🛒Cart Abandonment
Most online stores report a cart abandonment rate of between 60 to 80%. Cart Abandonment is essentially just potential revenue that didn't materialize. To make the most of this unfortunate occurrence, CartFlows offers the option to automatically send an email to someone (if they provided their email address) if they didn't complete checkout. You will first have to integrate your CRM with CartFlows to enable this functionality.
---
Do You Need CartFlows Pro?
The free version offers the core functionality of CartFlows, i.e., creating a simple sales funnel with checkout and thank you page.
If your needs are limited to just that, then enjoy using the free plan. If you want to create advanced funnels and add bumps, upsells, downsells, you need to become part of the vibrant CartFlows pro community. Any established online store can easily maximize its profit by using CartFlows pro.
---
CartFlows Pro Pricing Plans
CartFlows only offers two pricing plans. These are listed below:
CartFlows Pro: $299/year
This is an all-inclusive annual subscription. Create unlimited carts, flows with their full range of premium templates. Top tier features such as One Click Order Bump and One Click Upsell Downsell pages, along with premier customer support, await you on the other side of CartFlows pro.
CartFlows Pro Lifetime: $999/year
This is essentially a lifetime deal on CartFlows pro, which offers unlimited functionality with a one-time payment.
---
🌟 CartFlows FAQ
🙄What is CartFlows?
CartFlows is a WordPress sales funnel builder. It enables you to quickly & easily create sales funnels using your preferred page builder.
🤔Is WooCommerce required for CartFlows?
CartFlows is built on top of WooCommerce, so you must first have WooCommerce installed and a product created in WooCommerce. After you've installed WooCommerce, you'll need to install CartFlows and select the templates for your flow.
🔎What is WordPress CartFlows?
CartFlows is your design team, with an extensive library of conversion-optimized templates at your disposal. Pre-made Templates Import with a single click. Created for well-known page builders. Templates that are Conversion Optimized.
🙄 How do I activate CartFlows pro?
– Navigate to the Plugins menu > Add New in the network admin dashboard.
– Download and install the CartFlows plugin.
– Return to Plugin Installer from the Installing Plugin screen.
– Navigate to the site admin screen where you want the plugin to be activated.
– Select CartFlows from the Plugins menu.
– Click the Activate button.
🤔Is CartFlows compatible with Divi?
It works with WooCommerce and several of the most popular page builders on the market, including Divi. You can easily customize these pre-built sales funnels to fit your needs and style.
🤔Is CartFlows free?
CartFlows' free version has enough features to help you create a simple sales funnel with a checkout page and a thank you page.
---
Conclusion: CartFlows Review 2023 | Should you go for this sales funnel builder?
The Internet is a hyper-competitive space. There are millions of online stores, all of whom are trying to get customers to have a good experience, so they come back. In such a scenario, it would be very unwise to stick with the default WooCommerce page or build a subpar checkout page because you didn't have the technical skills to create one.
For a lot of you, hiring an expensive professional to create one doesn't seem so ideal. The ideal solution is for you to create the perfect user experience yourself because you know your users. And CartFlows is your bridge to implementing this ideal solution. There is no other funnel builder tool that is as intuitive while being so easy to use as CartFlows. Using it from right within WordPress and retaining complete ownership of your store solves both the major complaints people have with their funnel builders.
The developers will soon be adding split A/B testing, countdowns, and many more features, which will further increase the value you get from this tool. A convenient, powerful platform like CartFlows ensures that the perfect user experience is just one subscription away.🏅
Affiliate Disclosure: This post may contain some affiliate links, which means we may receive a commission if you purchase something that we recommend at no additional cost for you (none whatsoever!)