Frustrated by how cluttered your inbox is? Want to sort through the junk sitting in your inbox? Organize your inbox in a single click? In today's day and age, when the number of emails we get is so massive that we create different emails for our work and personal purposes, yet end up with cluttered mailboxes on both an Email Cleaner app seems like a necessity.
Clean Email is an intuitive email management tool that can help you manage thousands of emails with a single click.
Designed with that specific purpose of keeping your inbox spruced up, whether it be for personal or professional reasons, Clean Email will keep your mail from being a cluttered database where you can't find anything. Read this ✅Clean Email Review, which is all about CleanEmail's plans, pricing, features, security, and more.
---
Detailed Clean Email Review
A Clean Email is a tool that helps you streamline your mail inbox and make it easy for you to find what you want faster there. In a few clicks, you can sort your emails by sender, type (important or unread emails), and delete old emails while maintaining the integrity of the cloud storage system.
You also don't have to worry about losing any email address as they have an auto-save feature for that. Catering to all major email providers, you can clean all your email accounts using a single service. Forget about marketing emails cluttering your inbox and sorting through hundreds to find that one email with the attachment you need with Clean Email.
---
✅Exclusive Clean Email Discount Coupon Codes [100% Working]
70% OFF
---
Key Features of Clean Email Features
Before we go over the various features which allow Clean Email to keep out unwanted emails, you should know that it takes the data it needs to automate commands.
After it gathers sufficient data on your needs, it automates your inbox's unique sorting mechanism to get you a clean experience every time you open your mail.
🚀Quick Clean:
Quick Clean is a solution to something we all regret, i.e., not cleaning our inboxes on time and then the clutter just piling up, making it harder and harder to clean that inbox. With Quick Clean, the most common categories of emails (such as social media mails and emails older than three years) are grouped and can be deleted in one click. These categories can be personalized according to your requirements.
🏅Smart Views:
Even with all-in-one services like Yahoo Mail and Gmail, getting lost in our inboxes is very easy.
Haven't you thought that what if I could filter through this inbox to see the particular set of emails linked to what I'm currently working on?
Smart View is just that. You can apply filters to your entire inbox to find the emails you want to see quicker and sideline the nonsense you don't need. This service is available for all major email service providers.
📧Email Groups:
This is a vital feature for users who operate business accounts on their mail. You can group all the emails you receive from a particular sender or a subject or even by date and size. This is particularly useful for users who receive business-related mails so they can track their professional communications well. Many users also use this feature to group their newsletters for proper differentiation between the various mails in their inboxes.
These innovative groups can help you optimize your workflow on your business email.
⚙️Filters and Sorting:
A large variety of filters are available to sort your email in a more personalized manner. You can filter through by:
Status (read or unread)
Age(amount of time since the email arrived in your inbox)
Sender
Age
Size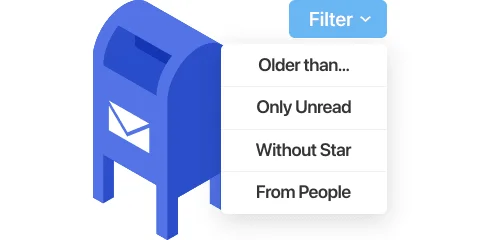 Right under the search bar, you can find these options. If used effectively, you will never see an unwanted email in your life (or as long as you are using Clean Email)
Unsubscribe options not working on annoying emails is something we have all been irritated by. The custom unsubscribe functionality on Clean Email solves this problem once and for all.
It sends unsubscribe requests and pauses subscriptions according to your set preferences and sorting options. If either of those commands fails, it automatically blocks the sender's email, thus resolving the issue with some sales emails which do not have a unsubscribe option.
Many functions make the automated tasks feature very diverse. For example, you can move all emails from particular senders to "read later," so when your email cleans up to keep only the essentials, other emails which could have gotten lost in this process are retrieved.
You can also use the "keep newest" function only to keep the latest magazines and newsletters you get in your mail and archive the rest. Email management software generally fails at this, but Clean Email's simple approach has helped them build an elegant solution.
Create different criteria for different kinds of emails. These criteria can help Clean Email decide which emails to archive directly, delete or store safely. Simple and Advanced Auto Cleaning options are available given your use of their filtering options.
---
Can Clean Email Help You Secure Your Email?
It is known that hackers provide confidential information about users from their email to large organizations, banks, websites, and others to help them manipulate their users.
This could be anything from a seller looking at a product you were emailing a friend about and trying to sell it to you to someone taking your documents and committing identity fraud. This is a severe problem that there was no solution to until now.
Clean Email provides you with information on if your email has been breached by a hacker or had a lapse in security. It tells you of any data that has been leaked so you can take appropriate action before anyone can commit any malpractice using your data.
Every year major international security firms, namely Lexington and Bishop Fox, audit Clean Email and make sure that this feature remains up to date.
---
Can Clean Email Work with My Email Provider?
Clean Email supports every major email provider. Users with Gmail, Yahoo Mail, AOL, iCloud, and Outlook email can join Clean Email today without facing any issues.
Support is provided for basically any email provider based on IMAP technology. It is also worth noting that Google itself has verified Clean Email.
---
Is My Data Safe with Clean Email?
Clean Email's developers have stressed multiple times that their entire software is based on their priority being users' security and privacy. All your email is stored in an encrypted manner, and the terms and conditions you sign while joining Clean Email clearly state that Clean Email will never sell, share, analyze or anonymize your data.
To sort away your emails, Clean Email does access the subject line, sender info, date of sending, and email size, but never access an email attachment in the mail or the text in the actual email. The software is secure by design and even protects against any of their employees trying to access a user's email. You can head over to Clean Email and read their Terms of Use and Privacy Policy if you want more details.
---
Clean Email Pricing Plans
The pricing plans of Clean Email are essentially divided by the number of accounts you can access. This means all of the following plans give you access to the top features we mentioned above and many more.
You will also be a part of all the updates as they come. The pricing plans are detailed below:
1 Account: $9.99/month
5 Accounts: $19.99/month (nearly $4 per account)
10 Accounts: $29.99/month (nearly $3 per account)
(all of these plans are a fraction of their cost if you purchase an annual plan)
They also offer a free trial without having to input any credit card information.
---
🌟 Clean Email FAQ
🙄What is Clean Email?
Clean Email is the #1 online bulk email cleaner that allows you to sort and delete thousands of unnecessary emails quickly. Easily manage all new ones, leaving your inbox sparkling clean.
🔎Is Clean Email safe?
All of your Email is encrypted, and the terms and conditions you sign when you join Clean Email state conclusively that Clean Email will never sell, share, analyze, or anonymize your data.
😎Is Clean Email free?
A clean Email is a free tool that allows you to clean, move, remove, move to trash, apply labels, and more to 1000 emails. To clean more than 1000 emails, a subscription is required.
🤔Does Clean Email unsubscribe?
Clean Email has a variety of unsubscribe options. We all change our minds, which is why Clean Email allows you to not only unsubscribe from marketing emails and newsletters but also temporarily Pause specific emails to keep them out of your inbox.
🙄How much can I save on Clean Email?
You can save upto 70% on the Clean Email yearly plan.
---
Conclusion: Clean Email Review + 70% OFF Clean Email Discount Coupon 2023
In today's day and age, I don't think it would be an exaggeration to say that every working professional starts their day by checking their email. No one wants to start their day looking at a clutter of unwanted newsletters, social notifications and not find the email you opened your inbox to check.
This is why many email clients have been made, but none of them have been developed with enough features to make a cluttered email inbox manageable.
Issues with privacy (email monitoring), inadequate filtering, unresponsive auto-clean feature(s), and a host of issues like this have always plagued every email client app. The developers of Clean Email understand the quantity of emails a person juggles busy work and personal lives get. Understanding the particular needs of someone struggling to manage their incoming mail and giving the user the ability to customize the tool to their convenience makes Clean Email stand out from the rest.
Marketing newsletters might be important to you, but you don't want to see them when you're looking to get work done. Your closest friends might be unwelcome senders when your boss is yelling at you to find that PowerPoint presentation. Become a Clean Email user today and have a peaceful morning tomorrow after you check your inbox.🚀🚀
Affiliate Disclosure: This post may contain some affiliate links, which means we may receive a commission if you purchase something that we recommend at no additional cost for you (none whatsoever!)