Namaste…. 🙏
New Indian bloggers are always looking for some new monetizing method for their blogs, and this time apart from Google Adsense we will Guide you how can an Indian Blogger/Webmaster earns a decent online Income with Clickbank in India.
There are numerous ways scattered over the web to earn with Affiliate marketing. Some of them use other Affiliate networks like info links, Viglink but Clickbank is one of the largest Affiliate network running since 10 years there are thousands of products and services which can be easily promoted through Clickbank.
Hence an internet marketer can give a new move to his monetizing plan by using Clickbank.
---
Earning with Clickbank in India
Indian Bloggers and Affiliate marketers didn't actually like l Clickbank earlier because first, they send two paper checks which take a lot of time for clearance but now Clickbank has eliminated the paper check system and now India is among the countries where Direct deposit is available for Clickbank Users you can get all your earnings directly into your Indian bank account in INR Currency. Hence now all Bloggers and affiliate marketers are addicted to Clickbank again.
What is Clickbank?
Clickbank is the largest affiliate network started in 1998. In my opnion, an Affiliate marketer is a fool if he/she does not choose Clickbank for earning with affiliates. Clickbank has lots of vendors and affiliate publishers. They pay huge commissions which makes Clickbank different from other affiliate networks.
Guide to start Earning with Clickbank in India
Here are the proven methods to earn money with Clickbank in India. Follow the below steps and strategies to monetize your Affiliate blog or websites with ClickBank.
1: Blogging
Blogging is the best way to promote anything or earn with advertisements online. Clickbank products can be easily promoted through a Blog or website. You just need to focus on its products and write a quality content related to it by having your affiliate link to the product website. This will go in lots of conversations, and your earnings will be boosted. There are numerous products that can be promoted by banner and affiliate links. It is always better to blog for earning with Affiliates rather than entirely Depending on Google Adsense.
Believe it: With even less number of visitors on your site, You can earn 10 times higher in affiliates marketing as compared to Adsense.
---
2: Email marketing
A little hard method but having lots of advantages. Millions of users use their emails daily. Products and online services can be promoted via email marketing. There are many free and premia email marketing services such as MailChimp or Aweber. You can build an email list and start advertising your campaign. If you get as low as 1% conversation, then even you can earn up to $1500 in a month.
You can also automate email marketing by using various email automation services like GetResponse, ConvertKit, MailChimp, etc. Email marketing works best on affiliate marketing as you can build a targeted audience email list and shoot them mail weekly by writing a quality email newsletter.
---
3: SEO Blog
Most of the products in Clickbank are related to SEO and blogging, Hence creating an SEO blog will generate a lot of income for you. There are many and many SEO related products available on ClickBank. Writing posts about those products and doing some white hat SEO techniques will be very beneficial for you. Don't worry there is not affiliate product or link in this post 🙂
---
4: Social media
Well, no doubt Social media is one of the best traffic sources for today. Social is not only limited to Facebook or Twitter but dozens of social traffic sources like Reddit, Tumblr, Pinterest, Google Plus, LinkedIn, etc. etc. are gem source of quality targeted traffic.
ClickBank products can be promoted heavily on social media via Facebook Groups, Twitters, by using posts and Hashtag, by using Landers and pre-landers and even one can invest in premium FB, Twitter Ads to get 100% convertible traffic for your Clickbank Affiliate offer or funnel.
---
How to Setup ClickBank Direct Deposit for India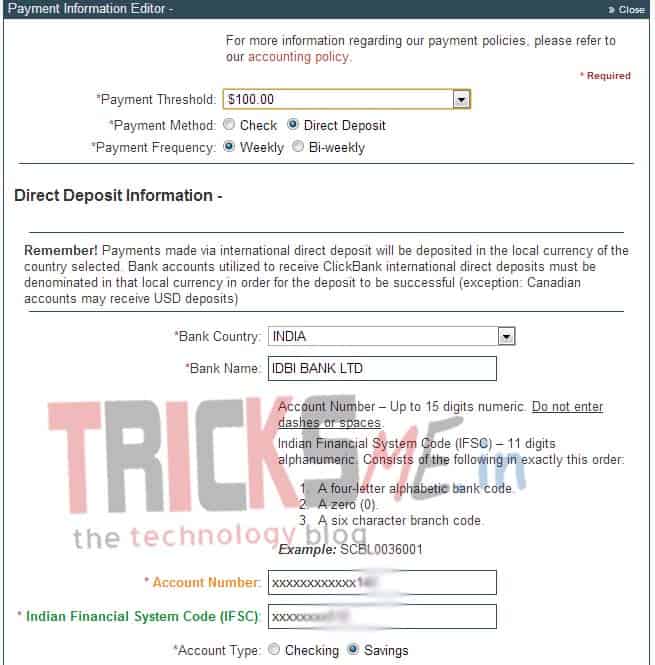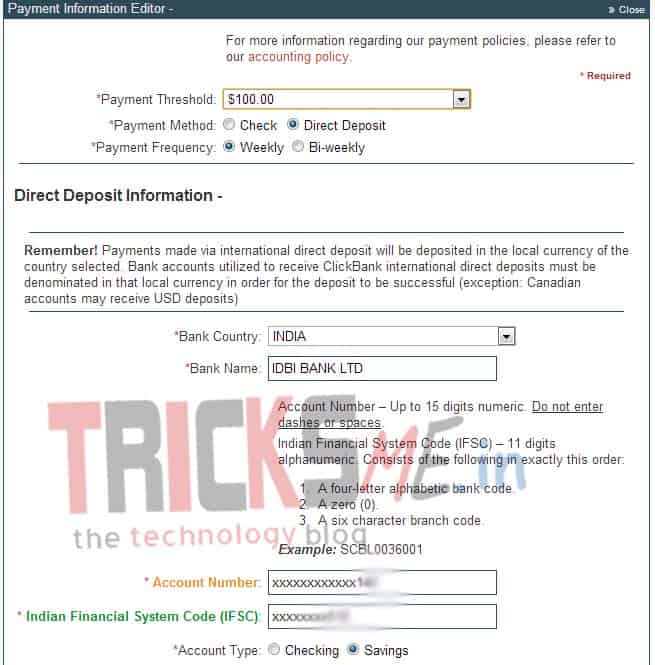 Clickbank has now eliminated the paper checks system and now the new affiliates can directly receive their first payment through direct deposit. The minimum payout is $10 which is low, so if you even earn a little, You don't have to wait as you will receive your payment.
Their payment cycles are Weekly, Bi-Weekly or monthly. It's up to you how fast you want to receive your payment.
After creating your account navigate to payment settings and select direct deposit and enter your Indian bank name, your Account Number and IFSC code of your branch, also you can set your Minimum payout. (Refer to above image for more details)
---
Top 8 tips for making with money with Clickbank in India
Recognize a Market:
Understand your niche, market or field in which you want to start promoting Clickbank products and serves. This is a very first step which you should consider, or there are more chances to get fail in affiliate marketing.
---
Discover an Item:
Clickbank is one of the largest marketplaces for Affiliate products. Most of the trending and highly converting products are from health niche like weight loss, beauty, stay fit and much more. So at first, you should discover a product to promote on your website and blog and make sure the product you are going to promote is relevant to your website audience.
---
Create a lot of Review websites:
Believe me, this is the best way to earn $$$$ from Clickbank. Create individual review blogs for a particular niche or product and Write amazing articles, reviews, how-to guides and coupons of the product. You can use KWFinder for finding hidden long-tail keywords for your product to rank on google. With this method, you will be getting a good number of organic traffic, and it will convert the most. Do not go for a very saturated niche in the initial stage. Look for medium or fewer competition products fist.
Read also: Get WordPress Hosting in $1/Mo from Godaddy with free domain
---
Building Email list & start Campaigning
Email marketing is one of the best ways to boost affiliate conversion. You can create your own email list of your blog visitors by using any third party email newsletter tool like MailChimp, getresponse, constant contact or any other to build an email list as you get targeted audience for promoting affiliate products. You can start campaigns via email and lot of Clickbank products have email marketing allowed. You need to analyze your audience before using email campaigns.
---
Use Social Media for Clickbank Marketing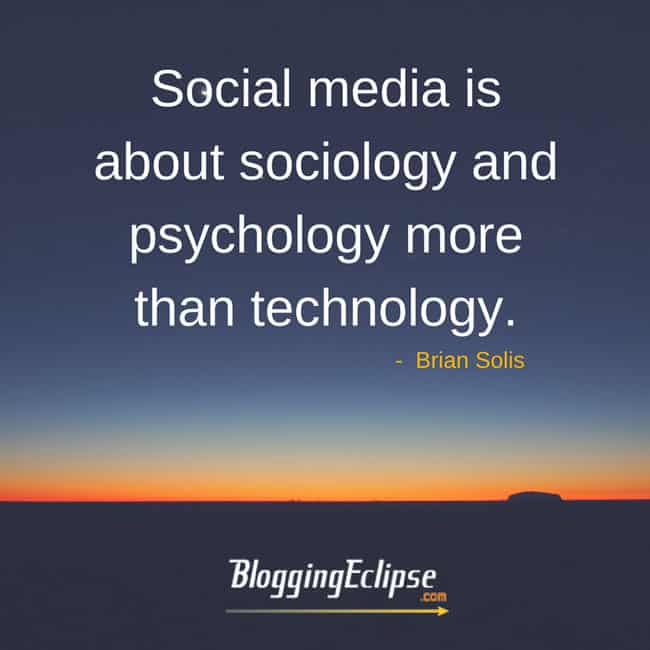 Social media have huge billion traffic which can convert to buyers. You need to post your Clickbank affiliate landing page or link to relevant Google + pages, Facebook groups of that niche, Retweet on Twitter by searching for the particular hashtag and create Instagram profiles and post photos with a link to your landing page using hashtags related to your product to attract a lot of social media traffic.
---
Run paid Campaigns
If you invest money in Affiliate marketing, the retires are much higher. This is a pro process so it will not recommend you to do it in the initial stage. When you are confident about the product, and it is good converting then you can create Facebook Ads, Google Ad-words and Instagram ads to get targeted paid traffic which will lead to tons of conversions. Running CPL or CPA offers are great on a paid medium of traffic.
---
Use Pro tips and strategy to dominate ClickBank
There are numerous ClickBank earnings methods revealed over the web, and some of them really make you learn the secret tweaks to maximize your affiliate income. On BloggingEclipse.com, I have mentioned few excellent affiliate marketing tips for newbies to help them to succeed in this internet marketing game.
Check out these guides in Affiliate marketing topic.
---
The secret for Indian Bloggers
To be honest, if you are promoting Clickbank products on Indian traffic blogs, then there will be almost NO conversations, and you are just wasting your time. Only Start promoting Clickbank products on international traffic blogs as the services offered in Clickbank are for international clients, and decidedly less Indian clients are part of it.
For Indian traffic, you can use Indian affiliate Network, Vcomssions or CPALEAd which will enable you to make money Indian users on your blog.
---
Recommended Hosting to start a blog for Clickbank
We recommend Godaddy for Web hosting as it is merely the best, reliable and cost-effective. You get a free domain with each annual plans.
Its hard to invest huge money in web hosting & domain for new affiliate marketers and blogger and hence here we are sharing this exclusive GoDaddy WordPress Hosting promo for India. This deal is the golden chance, and I can say it once in a lifetime deal for Indians as it offers the cheapest pricing and one free domain name.
Get 77% OFF on GoDaddy WP Hosting and also one free domain name for a year. Start at just Rs.99/Mo
---
Conclusion:
If you are serious to generate a decent ethical income using affiliate marketing, then let Clickbank look at your financial needs. If you work hard, you will be happy to see tons of conversations and funds flowing into your account. I have been promoting products of Clickbank in India, and I am happy to be a part of Clickbank.
Are you willing to start your monetizing career with Clickbank in India? Share us your views and suggestions towards it, so this will be helpful to our thousands of readers and new Bloggers. Check out our Blogging Section and Like us on Facebook to get yourself addicted towards latest Blogging tips.