Are you a hardcore gamer and spend a lot on buying gaming devices?
This post will help you save money by enlightening you about the ✅Best Cloud Gaming Services of 2023. Cloud gaming allows you to play games on the servers owned by the gaming services.
Cloud gaming or Gaming-as-a-service (GaaS) saves a lot of money spent on buying a separate console or PC, by only allowing you to log in into client-server from PC and play.
Online gaming entered the market some 40 years ago, bringing a huge shift from offline games and hand-held gaming devices to the digitized gaming experience. And now, we can see cloud gaming becoming a huge sensation in the online gaming industry.
Today, if we look at the exact numbers, then around 3 billion gamers play games online, making it a $20 billion industry in the US itself. It is expected that with this upcoming trend of cloud gaming, the gaming industry will jump to $204 in the year 2023.
---
What is Cloud Gaming?
The future of online gaming lies in the cloud. Games like PlayStation Now, GeForce, are the trending cloud gaming services offering a direct connection to your TV or computer without spending a single penny on a separate console or PC.
No doubt, they charge a fee for that, but the cost is nothing compared to buying an all-new PC, set-up box, or gaming console.
Besides, you do not require expensive hardware, and the games are put to your device through a speedy internet connection. A device can be
Your phone, tablet, iPad, TV, desktop, or laptop. Even Mac users can take advantage of cloud gaming for running those games which are not released on their platform.
You can experience cloud gaming just like a movie on your Netflix or Hulu account. You have to pay for monthly or yearly subscriptions and enjoy cloud gaming uninterrupted. A few games will need dedicated devices, while some will be free of cost, beating up the cost of next-gen gaming consoles.
Most of these cloud gaming services offer mobile apps so that gamers can play on any device irrespective of time and place. So, now let's go to the 5 top cloud gaming services of 2023.
---
✅Best Top 5 Cloud Gaming Services (Updated 2023)
---
PlayStation Now offers a huge collection of around 800 PS2, PS3, and PS4 games on PC or PS4 console. With a minimal cost of $9.99/mo, you get additional games updated regularly.
To purchase the subscription, you need a debit/credit card or a PayPal account. PS Now is a power-packed collection of games for those who love adventure, show up their skills online, or play with family & friends.
Blockbuster Hits includes stories adventurous of the open world, daring heists, the battle among warriors, or fighting amongst stars. PlayStation Exclusive games include heroes like mighty gods, hunters, survivors, or fortune seekers.
Family Friendly adventures include games for every age group. PS Now is the ultimate place where you can play PlayStation selected games like Bloodborne or the Uncharted series on PC.
---
GeForce cloud gaming offers 30 plus free cloud games to its users without making any purchase. It is active in Beat mode.
With over 400 cloud games, GeForce is easily available on digital stores like Uplay and Steam. You can get access to these games' private library or buy them in a jiffy for an uninterrupted experience.
It enables you to play games instantly as and when you download it with complete priority. The latest modification in patches will keep your games always updated in the cloud.
GFN games are available in high streaming mode of up to 120FPS, meaning that every game will run flawlessly on every device, whether it is PC, tablet, or Mac.
---
Vortex cloud games offer you an ultimate gaming experience everywhere with low-latency streaming. The convenient access to high performing hardware is available on all popular devices.
Its games don't demand any costly hardware, and all content is updated and downloaded on its own. With the minimal amount of $9.99/mo, it provides 50 hours of powerful gameplay.
Its powerful mechanism delivers full HD experience with 60 FPS. You don' need any GPU power for saving your games. All your sessions played will be stored on its cloud.
The Basic package will give access to 83 games in the library (HD quality only) and can be played on Android Window and macOS. And gaming license can be obtained in the Pro and Ultra plan.
---
Most of us have played Xbox games and experience an all-new world of action. Now you can play Xbox by Microsoft on your Android phone or tablet, streaming straight from the cloud over Wi-Fi or your mobile network.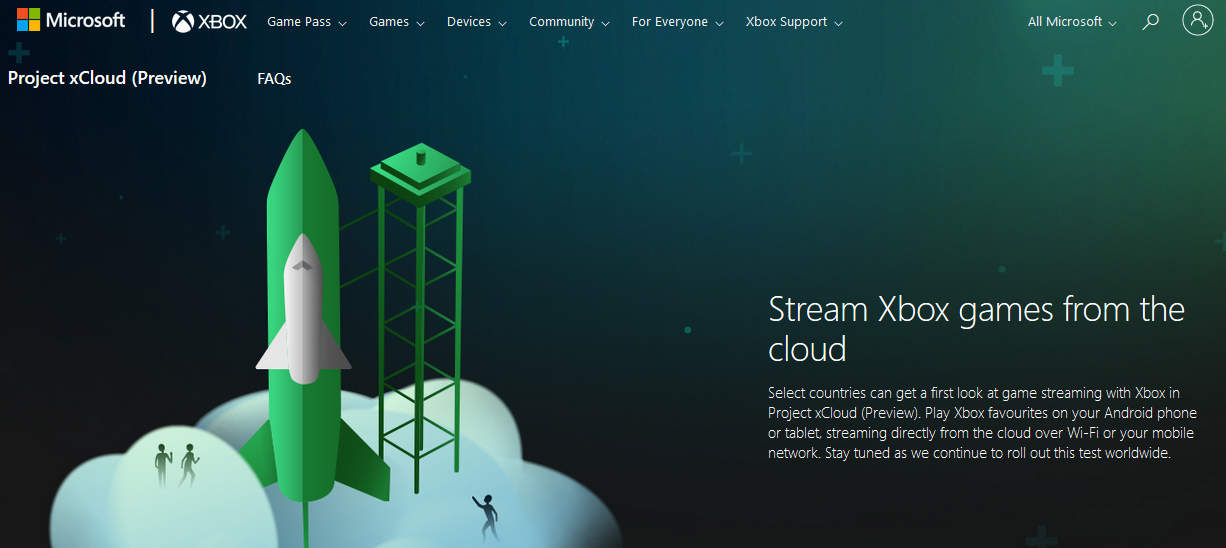 The games include Devil May Cry 5, Tekken 7, Gears 5, Forza Horizon 4, and many more with no waiting for downloads.
Xbox Console Streaming (Preview) involves an Xbox One console with games pre-installed, either maintained games or Xbox Game Pass titles for Xbox Game Pass memberships. While Project X Cloud doesn't need any console and can be played on any device via the cloud.
For touch control support, you will need an Xbox controller with Bluetooth. Also, only a few gamers will get access to the Preview period.
---
Shadow is feature-rich cloud computing games with dedicated storage to be obtained from any device anywhere. You can bring forward your own previously played games from GOG, Origin, Epic games store, etc. or download new games. With powerful and exclusive software, you can play games streaming at low latency.
All games will work on advanced Windows 10 versions so that you can use any software to play your downloaded games. Shadow allows using Microsoft Office Suite, edits videos up to 4K and you can watch your favorite shows just like other platforms.
To play games without interruptions, you must have an internet speed of 15Mb/s for the best performance. At $14.99/mo, you get far better technology to explore the cloud gaming world.
---
🌟 Cloud Gaming Services FAQ
What is a cloud gaming service?
Cloud gaming service is the best service that allows you to play games on any device like a phone, tablet, netbook, PC, or laptop. You can purchase a monthly subscription to access the cloud gaming service.
How does cloud-based gaming work?
A Cloud gaming server helps to run a game that you play. The server is used to do all the work while your PC is just streaming video. In general, term cloud gaming is like a streaming video service.
Does vortex cloud gaming cost money?
Currently, Vortex does not offer a free trial, but there is also a way do not allow to pay money to Vortex subscription. To earn money, you can easily join their affiliate program.
Is cloud gaming the future?
There is no perfect answer to this question as cloud gaming is growing tremendously, and it is that it has a massive audience in the coming five years. As we all know, Google has announced its entrance in Cloud gaming.
---
Final Verdict
You can choose games as per your preference, speed, and budget. Moreover, your internet speed is the most important factor that determines your gaming choice.
Vortex is best for newbies and less experienced players. Some games are for specific players like PlayStation Now (those who have a heart for PS2, PS3, or PS4) and Project X Cloud (for those who love more action and fun).
The cloud computing game Shadow is best for those who want to play games on-the-go and have trouble with internet speed as the minimum speed required is only 5Mbps. And GeForce is for those who love adventurous games along with free access to many more.
Now, the decision to select the best cloud gaming services is left on your shoulder. But dear friends, don't be in a hurry to buy membership as you have to check whether the game is available in your location or not. And also, does your system is capable of running that game or not. I am saying this because games like Shadow will work on Windows 10 only.
I hope you enjoyed his post on the best cloud gaming services. If you are a dedicated online game lover, you will go for one of the above options.
For any questions, please leave your comments below.😊
Affiliate Disclosure: This post may contain some affiliate links, which means we may receive a commission if you purchase something that we recommend at no additional cost for you (none whatsoever!)