Are you looking to attend a larget Cloud Event in India where you can achieve in-depth knowledge about cloud hosting, Domain registrars, Infrastructure, security & privacy, etc.?.
If yes, then don't roam around at any exhibitions, just register yourself at CloudFest India and get ready with your backpack to fill it with the most essential cloud event of the year 2018- CloudFest.
This year India's grand cloud, hosting and internet infrastructure event – CloudFest will be organized at The Grand Hyatt Mumbai Hotel on May 23, 2018.
In today's era, the cloud industry is not just limited to physical networks, space or bandwidth. Cloud is about reaching every designer, Affiliate marketers, agencies and SBM's all around this beautiful world covered with cloud opportunities.
CloudFest India 2018: FREE REGISTRATION Exclusive for Bloggingeclipse Readers
CloudFest is about spreading cloud and internet information to every niche by making it exciting!
FREE REGISTRATION COUPON FOR LIMITED TIME
BloggingEclipse is glad to offer free passes for CloudFest India which included all in Standard passes. However, this free registration is for a limited time and limited attendees. Hence act fast to grab your Free entry to CloufFest India.
Updated 17th May 2018: Free Registration is ended NOW
We have limited FREE PASSES for CloudFest India whcih enables you to save flat ₹1999, So click on below button to register completely free for this event.
The free registration code is sponsored by Bloggingeclipse.com. We will be happy to invite our readers who are interested in Cloud Business, Domains investing, Web hosting & cloud hosting, Software, cloud security, Infrastructure, blogging, content marketing, etc. This is a premium cloud Event in Mumbai India. Don't miss!
Use coupon code "BLOGGINGFREE" to get Standard pass free worth ₹1999.
Discover the latest innovations to hit the internet market at #CloudFest India. We invite you to join as our guest by using this free link: https://t.co/fxclhyZPci pic.twitter.com/mpysFB4VUt — ALiAKBAR FAKHRi (@aliakbarfakhri) April 30, 2018
Why you should attend CloudFest India?
You might be having many doubts in your mind and must be searching for the reasons to attend this grand event. We have some reasons that will help you decide whether this cloud event is worth attending or not.
If you are new to cloud infrastructure and want to learn about how exciting and transforming cloud is then this event will be a life-changing event for you.
You will find knowledgeable and enthusiastic people with high energy level. This event gives you the opportunity to meet this energetic person and learn from them and go back home with extensive cloud experience.
You need to spend just one day, and you will get all the internet technology that you have ever wanted at one place. You won't get bored and your day will be blissful.
You will meet experienced and influential keynote speakers face-to-face and gain knowledge from them. This sharing of experience with you has been a critical turning point for many newbies who didn't expect this event to be such a great one. But it is great!
You can have a look at the newest products to be launched in the market in an exhibition hall. See it before others know it!
It is essential to connect with everyone and keeping the fact that networking is an important factor of this event, you can join the ConnecXion Party and celebrate by networking with others as much as you want.
Meet world-class leaders from any niche and at the same time party hard with delicious food and drinks.
The entry fees are economical and include everything to entertain your day for just INR 1990. (Save 50% using coupon code BLOGECLIPSE)
Connect with Industry's leaders:
By attending this event, you will meet different verticals of internet infrastructure. These would be:
Infrastructure Cloud and Developers
Cloud & web hosting companies, etc..
Software and Services companies
Security and Privacy for cloud and digital infrastructure.
Telecoms
Domain Registries and Registrars
Website Builders and CMSs, etc.
This is not the end. There is an excellent chance that you'll find them in this event and this leads you to the opportunity to partner with them that will grow your business and embrace the clouds.
CloudFest India Registrations:
Well, this year CloudFest has launched its premium registration to restrict the event only to quality attendees and severe attendees of the industry. The Normal Registration costs Rs.1990 INR which includes whole day food at the luxury 5-star hotel at Mumbai along with entrance to main forums and cloudfest exhibition hall, conference speeches and ConneXion Party delivered by a high level of hospitality.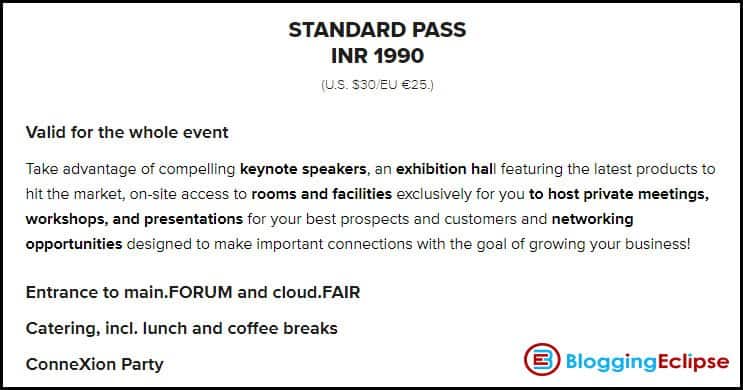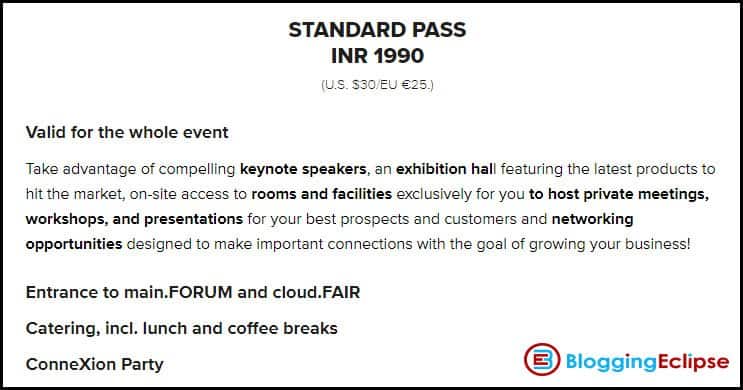 ---
Steps to Register at CLoudFest India
At first, visit the special CloudFest India Deal page by visiting here
On the cloudfest registration page enter the details of visitor including Name, company, Address, Sector and click next button
Now you can re-confirm your details and check the discount has been auto applied. Total cost would be INR. 1990 only
That's it, Payments are accepted via Credit/Debit card. You will instantly get confirmation and invoice on your registered email once the payment has been successfully processed.
---
Partners at CloudFest India 2018
CloudFest has three different categories of partners divided into Diamond Plus, Platinum, and Gold.
Diamond Plus Partners includes the most prominent domain registrar in the world, you all know the name. It's GoDaddy! GoDaddy is the #1 domain registrar in the world and provides cheapest domains and hosting solutions to every user around the world. GoDaddy also offers cloud hosting solutions with a gamut of features and robust cloud infrastructure.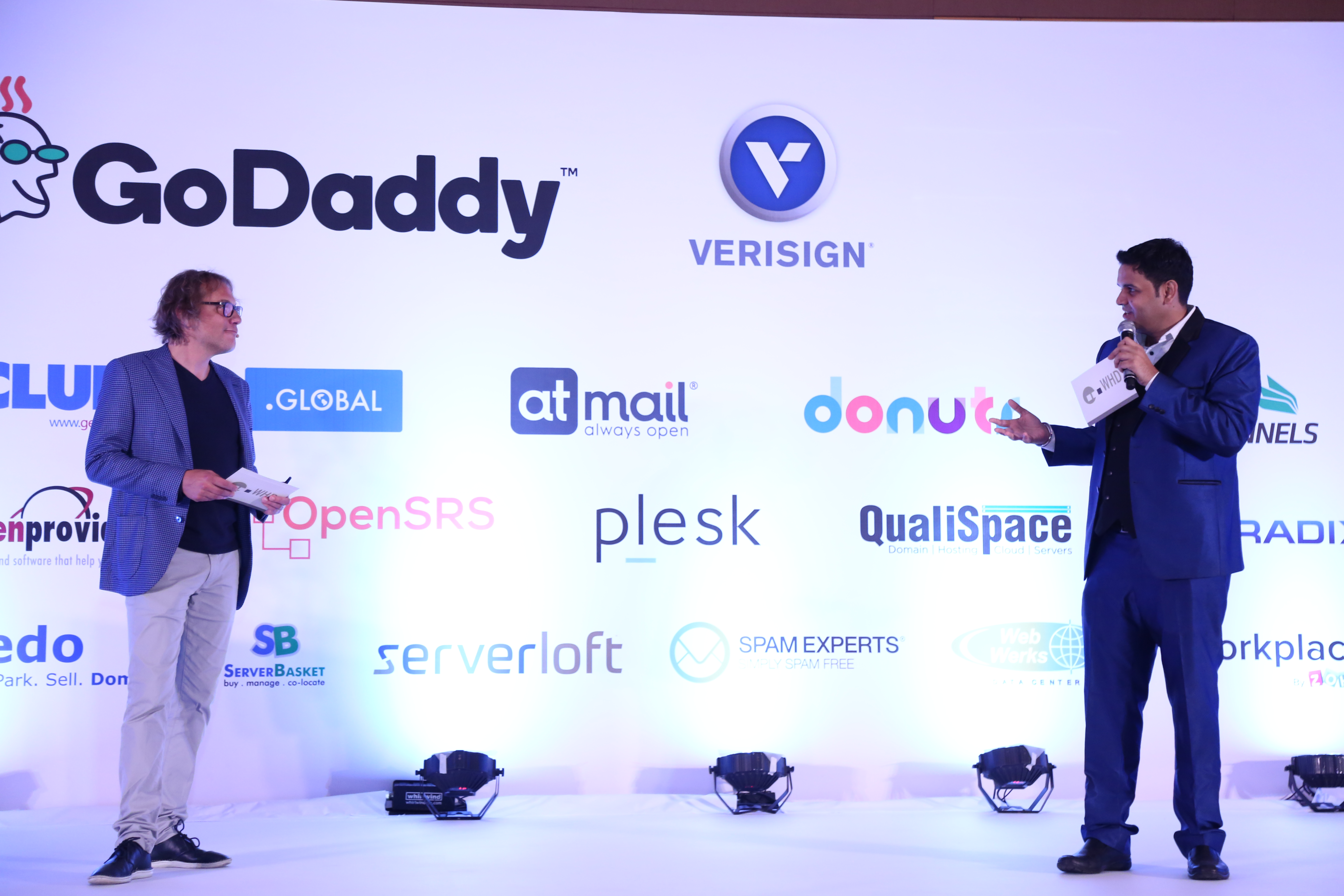 Platinum Partners include OpenSRS that provides a go-to platform for resellers of Domain Names, Hosted Email, SSL certificates, and Web Security Products. It is a Tucows company that deals in wholesale domain names of any extensions and other wholesale services.
Gold Partners include duda, serverloft, Spam Experts, zimbra zextras.
Duda provides easy website builder tool for agencies and professionals to give a beautiful and stunning look to their websites.
Serverloft provides bare metal servers to host your site with the most potent Dedicated Servers at the initial phase, so you don't face any downtime or failures like other website owners who choose cheap hosting and end up with losers.
Spam Experts secures your email by offering anti-spam email filtering to more than 2000 service providers in over 90 countries worldwide. It uses the latest technologies to stay ahead in the competitive industry.
Zimbra is an open source, and Zextras is a modular extension that improves the suite and takes it to the next level. It is an add-on for Zimbra Collaboration Server.
CloudFest 2018 India Agenda:
Each year cloudfest brings business leaders together on one stage to deliver the best knowledge, trends, ideas, market reports, etc.. On cloudfest business leaders form industries like infrastructure, cloud security, software, content, cloud deployment, etc deliver valuable insights, analysis and share exclusive data which makes the annual event compelling.
Here is the Agenda for Cloudfest 2018 for now. The Agenda is still in the process of event lineup and hence can be modified. One can follow ClodeFest India Facebook page or twitter handle to get the latest updates about this super cool Cloud Hosting event in India.
CloudFest 2018 India event Location
CloudFest is an event attended by thousands every year, and this time in India they wanted more talents to be a part of this event and celebrate together by networking with the big brands. Therefore, they decided to organize this event at Grand Hyatt, Mumbai which is economic capital of India.
It is a 5-star hotel with a modern conference facility, excellent dining experience, comfortable accommodations and other modern amenities. It is close to the international airport and also convenient to travel by rail or bus service.
Being located in the heart of the city makes it the most popular destination and hence a popular cloud event of this year in India.
Register now at CloudFest India to attend this event and make it an unforgettable learning experience.
I have been visiting the event since 2016 when it was at Bengaluru and then in 2017 at Mumbai again and will also be attending this year 2018.
Let's meet up at Mumbai @ CloudFest 18!
Affiliate Disclosure: This post may contain some affiliate links, which means we may receive a commission if you purchase something that we recommend at no additional cost for you (none whatsoever!)