Hello again. We are here yet again with a complete software review that all of you were eagerly waiting to peek at.
Yes, today we will be giving ✅CloudStick Review. Now there are two possibilities to this situation. Either you are familiar with what this software is about and came here to get a decent review, or you do not know anything and want to know what is CloudStick and how it works.
So, for those who are unfamiliar, read the following section carefully.
If you own a website for your business, then you can relate to this. Managing a server every time using an SSH terminal whenever you want to host a website is pretty much a daunting task. The results are satisfactory, but the process gets very messy.
But, what if we tell you that now you can easily host your website on a cloud server? With the involvement of a cloud control panel, you will never have to worry about storage capacity, data update, data security, and the list go on.
But if you try to manage a website using the SSH terminal, then there is a huge risk you are putting your business into.
No matter if you want to deploy a server on DigitalOcean, AWS, Vultr, Google Cloud, or any other cloud server, you can do this hassle-free. If you're going to use web applications and manage the server, you probably need a powerful control panel.
You will find many control panels like Plesk, Ajenti, OpenPanel, EHCP, and Kloxo in the market, but they all have certain limitations.
CloudStick is an excellent alternative to all that runs with a super-fast control panel.
It is time to learn a lot more about this excellent control panel.
---
Detailed CloudStick Review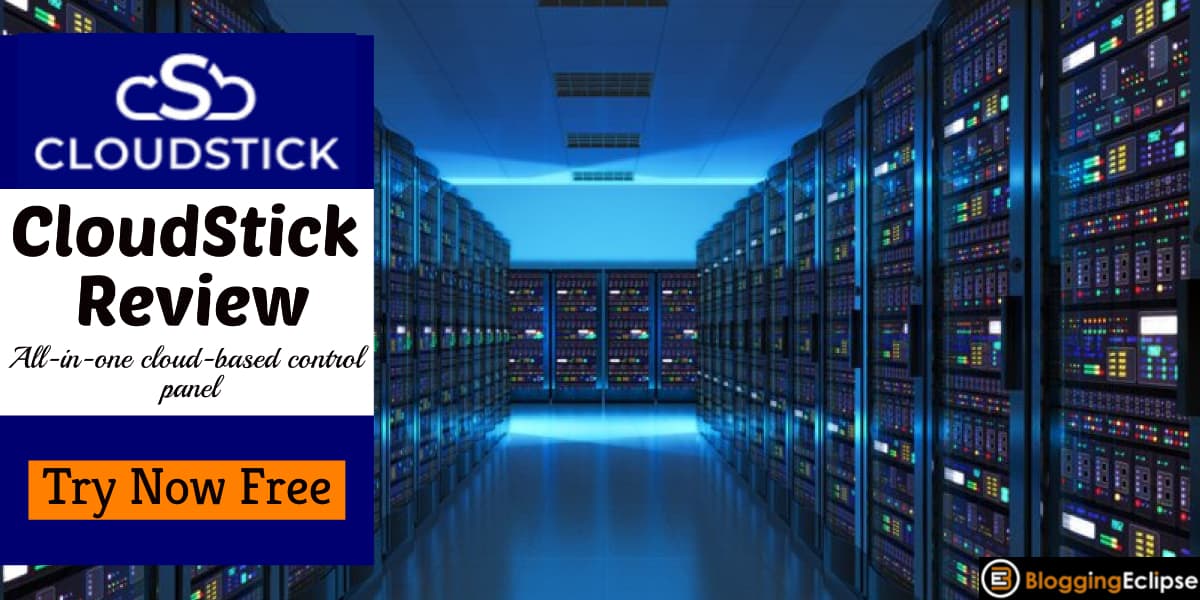 CloudStick is an excellent cloud-based control panel that allows you to manage your server hassle-free.
With CloudStick, users get full access to their flexible, top-quality, next-generation SaaS tool, making their life super-efficient.
The simplicity and efficiency of CloudStick are what make it a hit. Especially if you are a newbie, you won't need hardcore technical knowledge for accessing this platform. Everything is super easy and more straightforward to manage.
This specific tool empowers their customers with a perfect cloud mix and probably offers more than the other cloud panels. You will also not have to worry about maintaining the servers because CloudStick does that for you.
You will get a more comprehensive idea of this tool with the following features.
---
Key Features of CloudStick | CloudStick Review
Brace yourselves because the features list is pretty long and will make you want CloudStick right away!
#1. PHP Extensions
There is something that you can now do easily with CloudStick. You can easily install/uninstall PHP extensions with just a click.
This time, you will not have to worry about having Google or Tinker integration to have them installed. Everything is super-efficient that there is not even downtime in the installation of the PHP extensions. Everything will be done in just one click.
#2. Effective Service Management

You can easily manage all the services running on the server. You will not have to waste your time in the loading time.
With CloudStick, you can identify the source of your services. You can restart, start, stop, enable and disable these services in just one click!
#3. Server Monitoring

CloudStick keeps an eye on every server connected to its system. This enables them to collect relevant time-series data.
They offer intuitive dashboards for all their users. From this, the users can analyze the past performance of their servers. The users can see their server performance from the last 30 days, seven days, and 24 hours.
#4. Multiple PHP Versions
CloudStiick offers multiple PHP versions starting from PHP 5.5, 5.6, 7.0, 7.1, 7.2, 7.3, 7.4 to PHP 8.0.
Each of these PHP versions has its PHP settings. As they all are independent of each other, the performance doesn't affect the other. That means, if you are using any of the PHP versions and you customize its setting, it will not affect the configuration of other PHP versions.
#5. One-Click Installation

CloudStick also offers this unique feature in which their users can install any web application with just one click.
They offer a list of popular applications that users can deploy using popular integrations like WordPress, Joomla, PHPMyAdmin, Nextcloud, and more.
#6. Efficient Account Management
With Web Hosting account management, CloudStick makes it supper-easy to limit the resources for each server.
They offer a very portable system of assigning user quota of web applications. This feature also allows users to have the additional benefit of reselling the cloud-hosting.
We tell you, the perks list of CloudStick is endless!
#7. Traffic Analyzer
A user can dive into the meaningful insights of his website and other web applications with a traffic analyzer.
They can quickly gather the source of the traffic and the origination as well. Users can also get to know relevant information like from which browser or source their website is getting accessed, how much data is being utilized by each web application, etc.
#8. Safety & Security
CloudStick offers massive options to secure your website from external threats. Your website gets connected with a list of options like country-specific blocking, connection limit protection, IP-specific port restriction, anti DDOS shield.
With Cloudstick, you are getting more than any other cloud panel offers.
#9. Management Update
With CloudStick dashboard, you can easily manage the servers and applications package updates.
It is just one or two clicks from the dashboard, and the user gets a hassle-free update of all their servers.
#10. Reliable Database Management
With Cloud Stickk, users can create an unlimited number of servers and databases.
With centralized management, users can avoid the daunting process of selecting each server individually to perform database activities. Users get the privilege to set everything according to their needs.
Below is the list of all the features CloudStick offers:
Advanced database management
PHP extension installer
Multiple PHP versions
Advanced server firewall
One-click Installer for NextCloud
One-Click Installer for WordPress
One-click Installer for Joomla
Git deployment for web applications
User quota management
Service Management
Supervisor Jobs management
Advanced statistics for server health
Disk Cleanup Facility
Cron Job management
FTP service and Accounts
Subdomains
Inbuilt custom made the composer
---
CloudStick Pricing Plans
You can get the most affordable pricing plan in the industry if you choose to go with the annual billing plan.
Also, you can decide to go with the free plan. In that, you can manage a single server with unlimited hosting accounts.
The free plan is the most effective and will suit your business needs.
Other than that, CloudStick also offers paid programs, which are also cost-efficient.
Let us have a look at what they offer in terms of their economical pricing:
Free Plan: $0/Month
1 Server

Unlimited Hosting Accounts
Manual SSL
User Quota
Multiple PHP Versions
SFTP Only
Server Firewall
PHP-CLI
Auto Update
Database Management
Basic Plan (Most Popular): $6.67/Month
1 Server
Unlimited Hosting Accounts
One-click SSL
Server Firewall
Sub Domains
EasyPHP
User Quota
Multiple PHP Versions
Git deployment
SFTP & Additional FTP Accounts
Pro Plan: $12.50/Month
Unlimited Servers
Unlimited Hosting Accounts
One-click SSL
Server Firewall
Sub Domains
EasyPHP
User Quota
Multiple PHP Versions
Git deployment
SFTP & Additional FTP Account
---
Steps to Get Started with CloudStick
In this section, we will show you how to get started with Cloudtick. This will have all the steps to set up a cloud server and your WordPress website with CloudStick server.
For starters, you can go with the free plan that they offer. In that plan, you will get a single server but with unlimited hosting solutions.
It is a pretty risk-free process because you do not have to provide your credit or debit card information. So if anytime you feel you are not satisfied with the CloudStick services, you can immediately stop using it.
So, let us hop on creating your first WordPress website at CloudStick control panel without further due.
---
CloudStick Customer Support
With CloudStick, you get ultimate customer support. Their customer support executives are available 24*7 for a live chat.
If you want to send a ticket, you can easily do that too, and their support team will reach out to you in few hours.
---
🌟 CloudStick FAQ
🙄 What is CloudStick?
CloudStick is the cloud-based control panel that enables anyone to deploy their servers from Linode, Vultr, Google Cloud, Digital Ocean, etc. CloudStick allows easy server installations and offer unique server management features.
🔎 Does CloudStick offer a free trial?
Yes, If you are looking to enhance your business with CloudStick, you can even test CloudStick for free. Start CloudStick free trial to check this superfast cloud-based control panel.
😎 Does CloudStick offer free migration?
If you want to deploy your server with CloudStick, then it provides 100% free migration. In addition, CloudStick has a qualified support team that helps you with all types of migration.
🔥 Is there any working CloudStick coupon code?
If you want to save money on CloudStick pricing plans, use the above-mentioned CloudStick discount coupon code.
---
Conclusion: CloudStick Review 2023 | Should you go for this control panel?
Yes, the answer to the question you are looking for is a big YES!
Cloudstick is an alternative to cloudways, serverpilot, or bunnyshell, But it comes with more innovative features in cost-effective pricing. Try it risk-free.
You can rely on CloudStick if you want a safe, secured, and cost-efficient cloud server panel.
Other than that, CloudStick offers so much then just a cloud panel.
You can start using their free plan if you want to check the integration first. With this, it is time to wrap up our CloudStick review. We hope that all the newbies must have got to know everything they were looking for.
Got any suggestions? Comment down in the sections below!