Still on a search for an honest ContentForge review? Confused about whether ContentForge is the right choice for you? Read out the ContentForge review ahead to explore whether this AI writing tool is best for you or not!
As content marketing agency owners, we spend hours generating content from scratch. And let's not forget the time the whole optimization process takes – it's terrific! Sometimes even a 2000-word blog takes days to write. But the advent of AI is impressive, and AI writing tools available out there are here to save your time, save your day, for good. One such AI writing tool best popular in the market for the use cases offered is ContentForge.
With so many positive reviews across the internet, we wanted to try ContentForge, and we did it. Read out our whole ContentForge review ahead to explore what features the tool offers, how we used ContentForge for our content needs, and whether the output was really up to the mark.
Quick Summary on ContentForge Review
ContentForge is a revolutionary AI content-writing tool launched a year ago but is still used by thousands of marketers. The tool is best popular for the use cases it serves. And all of its pricing plans are super affordable as well, you can try ContentForge for free for 7 days to figure whether it's THE AI WRITING TOOL for you or not. Read out our Contentforge review ahead to explore the specific features we liked the most about the tool.
Tool name
ContentForge
Features
Blog content
Website content
Documents with AI
Ecommerce content
Digital Ad content
Marketing
Use Cases
Copywriters
Marketing Agencies
Business Owners
Indie Hackers
Pricing plan
Free Trial: 7-days
Standard plan: $29/month (monthly), $24/month (annually)
Unlimited plan: $99/month (monthly), $83/month (annually)
Benefits
Organized projects
Save your favourite content
Work together in projects
Save time
Generate in 24+ languages
Premium Community
What is ContentForge?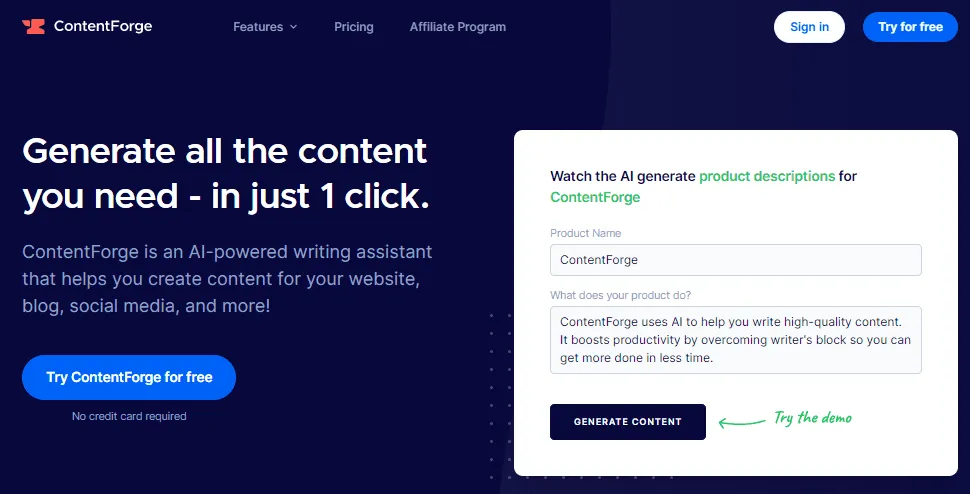 Writers struggling with writer's block is a real thing now, Lars Koole and Allan De Wit did understand this struggle back in 2021, hence they launched ContentForge.
ContentForge is an AI writing tool that can generate 1000 of words for you in just one click. The words generated by the tool are human-like and it doesn't sound robotic at all. That being said, whether you want short and crisp blog outlines or headlines that make people click on your blog – ContentForge can do anything for you.
It's an AI powered assistant you never knew you or your business needed. Reason being, even though it generates human-like content, it never really takes as much time as a human may take.
The best part about ContentForge is that it aces the ecommerce content creation game. It's an AI-powered assistant you never knew you or your business needed. Even though it generates human-like content, it never takes as much time as a human may take. So if you have just opened their ecommerce website and are looking forward to adding more products to your site but are struggling with product descriptions, ContentForge can do it all for you.
And, if you want to explore AIDA and PAS for marketing, this AI writing tool has got you covered with that as well. You simply have to describe your product to the AI, which will quickly generate relevant AIDA steps for you, the same goes with PAS.
For a year now, we have been playing around with ContentForge. And this is not your regular ContentForge review, instead, we have made sure to attach a few proofs of the words generated by the tool, so that you can make a wiser decision for yourself, let's get started!
How to Use ContentForge? A Step by Step Guide!
ContentForge is the perfect AI copywriting tool for creating any type of content, from short descriptions to long blog-posts. With ContentForge, you can generate content quickly and with little effort, all without sacrificing quality. With this cutting-edge tool, you can easily produce engaging and high-quality content that will help you stand out from the crowd.
Creating content with ContentForge is easy and straightforward. In just three simple steps you can get your content created and ready to go:
The first step is to Log in to your account to start your free trial. To begin with the free trial, you don't have to enter your credit card details.
Sign up by providing the details and start using the contentforge free trial.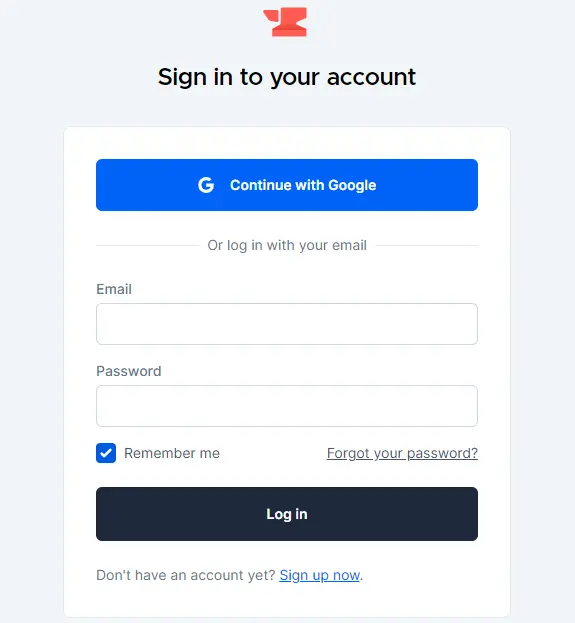 After signing in, you will be directed to the ContentForge dashboard.
Click on the tools and select the template type according to your content.
For example, I selected the blog post intro template and entered some details about the topic. You can even change the tone and output of the article according to your requirement. Click on generate and wait for results!
ContentForge gives the results in no time. Get the high-quality content in just a few clicks.
ContentForge Features at a Glance
There is nothing this AI copywriting tool cannot do for you. ContentForge offers a wide range of features, making it a one-stop platform to fulfill your content writing needs. With this tool, you can generate all types of content, from ecommerce content to blog posts, ads and long-form content. Let's discuss its features in detail.
1. Ecommerce Content
ContentForge has got you covered with all your Ecommerce needs, from brainstorming product name ideas for you, building optimized descriptions, to generating listings, multiple tools available here for your store.
You simply have to go to the ecommerce section available on the left hand corner, enter what your product does, pick up keywords, language options, and the number of outputs you want the AI to generate – hit the GENERATE button, to see the magic on your desktop.
2. Long-Form Blog Posts
Yet another amazing ContentForge feature is the blog writer tools available within the software. A blog post idea section is open to explore ideas you might have yet to consider. Next, a Blog post outline section, blog post title, and blog post intro available for you to craft your blog post just the way you want for your site.
The best part about generating blogs through ContentForge is it can choose your blog's tone, and the number of outputs you want the tool to generate.
3. Website Content
Are you considering launching your website but need to know what words to add to attract more visitors? Well worry not, ContentForge has got you covered with all the website content needs. The tool can do everything for you, be it the SEO meta title, SEO meta description, or the microcopy of any pages on your website.
For example, suppose you want to generate a Microcopy for your contact page. In that case, you must enter the page name and what you want to say to your audience, pick up one language from the options, the number of outputs, and simply hit the generate button.
4. Digital Ads Content
Do you want to explore the virtual ad space but are unsure about what type of content works really well on which social media platform? With ContentForge you really wouldn't have to think that much. From Facebook ad texts, Google Ad headline, to LinkedIn Ad descriptions – you can let the AI write the best words for you all according to what works best on which platform.
For example, ContentForge knows well that audience type and tone matters more on Facebook, hence you can choose it for yourself. But for Google and LinkedIn the tool automatically generates professional and assertive copies with high conversion chances..
5. Sentence Rewriter
There is a sentence rewriter feature available within the tool. You have to write your sentence, choose the language option and the number of outputs you want the AI to generate, hit the GENERATE button, and check out the results quickly at the right corner of the site.
6. Sentence Expander
Need help with what to write next on your blog? Have you already written half the blog but are getting bored writing the other half?
Well, the tool has a sentence expander feature available within the tool that can expand multiple sentences for you. And all the words generated here are meaningful because the AI reads all the words you shared before generating the newer ones.
7. Marketing Tools
By simply adding a little description about your product, ContentForge can create AIDA and PAS steps for you within seconds. You can generate these steps in multiple languages, and get as many outputs as possible.
8. Team Collaboration
The dashboard of ContentForge is super beginner friendly. Users can organize all their work in one place. They can create unlimited projects within the tool. They can even collaborate with others on any specific project and save a huge amount of time.
ContentForge Usecases
As we say, all AI writing tool is not truly for everyone, hence to help you make a wiser decision, you must give ContentForge a try if you are:

Managing multiple projects projects simultaneously can be a daunting task, we understand and even ContentForge does. A document section available for copywriters to manage all their work in one place. The advanced AI also comes with multiple tone options, so that no matter who your client is, you can always generate variations within seconds.
From blog generation to social media copy creation, the needs of marketing agencies are endless. Agency owners can stay organized better by collaborating with their team within the tool to generate content faster. And ContentForge has genuinely got agency users covered with all the marketing tools they will ever need.
If you are a business owner thinking of building a website from scratch or your business is all about ads and content creation, ContentForge can help you a lot more. You can write catchy product descriptions and ads to boost your business.
If you are a solopreneur, managing everything alone can be hectic. ContentForge can atleast help generate high-quality content to boost your business and save quality time.
ContentForge Pricing Plans
ContentForge offer all its users a free 7-day tool access with extreme limitations. The ContentForge provides two payment plans: monthly and annually, which users can choose according to their affordability. If you choose the annual bill payment mode, you can get 2 months for free. The other plans are the Standard and Unlimited plans, which offer exclusive features.
ContentForge Free Plan
Yes you can use Content Forge free for 7 days. But this free plan comes with extreme limitations. For example, with the free plan users can just generate 1000 words which is very little when you are someone who wants the AI to generate long-form articles. Hence, by that being said, if you are not so heavy on your budget, we would highly recommend you to go with the ContentForge paid plans.
ContentForge Standard Plan
The ContentForge standard plan can save you valuable time with its exclusive features. ContentForge Standard Plan costs $29 per month when billed monthly and $24 per month when billed annually. With the Standard plan, users can generate up to 20,000 words per month and get access to every exclusive ContentForge feature. You can work on unlimited projects and manage unlimited documents and allow unlimited people to generate content.
ContentForge Unlimited Plan
The ContentForge Unlimited plan costs $99 per month when billed monthly and $83 when billed annually. With the unlimited plan, you can access all the standard plan features and additional features, such as unlimited words per month. Access to unlimited projects and documents and access to all premium ContentForge features. For additional seats, users will have to pay $49 per month.
ContentForge Benefits
Using ContentForge can boost your copywriting skills and comes with several benefits. The benefits that ContentForge offers are:
Organize in Projects: You can organize several contents in projects and manage them properly. ContentForge allows you to work on projects and manage your content properly.
Save your favorite content: You can save your favorite content on ContentForge, so there is no need to revise and search for it for a long time.
Work together on projects: You can collaborate with your team on unlimited projects.
Save time: With ContentForge, you can generate content of your choice with its wide range of templates. You simply have to choose the template of your choice and let AI work for you.
Generate in 24+ languages: With ContentForge, you can move on to multiple languages. You can generate content in more than 24 languages.
Premium community: You can take help from ContentForge's premium community by sharing ideas, insights and prompts.
ContentForge Customer Support
Not just affordable pricing plan options, ContentForge even offers excellent customer support service. The team is super active on their social media channels. Every user is asked to join the community just after they have signed up for their services – and whenever any new feature drops in, the tool readily informs the existing users through the community groups. The team is super active on its social media channels.
Apart from this, there's a feature request section available within the tool for existing users to request any feature they want the team to add. There's a blog section available on the official dashboard, and even the team's email official id so that any user can reach out to them if they get stuck anywhere.
Top FAQs on ContentForge Review 2023
Is Articleforge and ContentForge the same? 
No, Articleforge and ContentForge are two different AI writing tools, each serving different use cases and offering different features.
Does ContentForge offer a free plan? 
Yes, ContentForge offers a free seven day trial period to its users, but doesn't offers a free forever plan.
Can I generate plagiarism-free content with ContentForge? 
Yes, ContentForge never scrapes content from the web, instead it generates content from scratch with the help of AI, hence the output is always plagiarism free.
What can I use ContentForge for? 
You can use ContentForge for blog post generation, website content creation, and social media post generation.
What are the best ContentForge alternative? 
ContentForge is the most affordable AI writing tool but some other best ContentForge alternatives are Article forge, Rytr, Jasper, and Writesonic.
What is Content Forge?
ContentForge is a platform that is built to help you generate ideas, plan out your content strategy, and create unique, high-quality content that is optimized for SEO and conversion. Whether you're writing blog posts, product descriptions, or social media updates, ContentForge has all the tools you need to get the job done.
Conclusion on ContentForge Review
If you are an online marketer and are looking to boost your online presence and content marketing efforts, then Contentforge is the ideal AI writing tool for you. ContentForge is an AI content writing tool that offers unique AI-powered content writing tools for your business. It works by analyzing the online content you create and automatically generates new content on your given input. It is similar to other AI writing tools like textcortex, Articleforge, and Rytr, however, comes with some unique features like workflow management and cost-effective pricing as compared to its Competitors.
We have used ContentForge personally, and we are genuinely love its UI. The whole SAAS tools are divided into two sections – tools and documents. With the help of the tools, users can generate content for their specific needs in more than 24 languages. And the documents tool is quite similar to Google Docs, but instead of you writing anything over here, the AI will write for you.
Overall, we are amazed by the use cases the tool covers. And even the content generation part is quite quick, it just takes a few seconds. To the last, how can we miss out on pricing? The AI writing software is a lot inexpensive compared to other writing tools available out there.
We tried and tested ContentForge for you so that you make a wiser decision, try the tool, step into the world of AI, and speed up your content game like never before!
ContentForge is the leading AI writing tool that helps copywriters, marketers, business owners, etc., to create content for a website, blog, social media, and more. This AI tool enables you to generate all kinds of content, starting from short-form content to blog posts. 🚀Try ContentForge for free today!
Quick Links:
Affiliate Disclosure: This post may contain some affiliate links, which means we may receive a commission if you purchase something that we recommend at no additional cost for you (none whatsoever!)