Are you frustrated by not grabbing traffic on your blog? Read our ContentStudio review to learn more and get out of this situation.
Not adhering to massive traffic on your site might be due to a lack of quality content. Social media is trending worldwide, and people fill their accounts with lots of quality articles, videos, images, quotes, etc. Why lag behind others?
Make your social channels filled with attractive and quality content in any industry. Let the trending articles be displayed on your blog and social channels making rounds before trending.
Everyone has more than one social media account/channel, and to post articles, images or videos on every channel requires logging in. How fascinating would it be if you could manage all the social channels from one platform?
It would be a dream come true if you could set up an automation campaign to publish the contents to your channels automatically. Get ready for a roller coaster ride to manage different social channels from one platform, i.e., ContentStudio.io.
---
Detailed ContentStudio Review
ContentStudio provides an excellent platform for content marketing and managing social media under one roof. It offers to exit features that make it easy to manage different social channels at one click with engaging content.
The tool can monitor, discover, and share engaging content in any industry. With years of expertise and dedication, it has strived to provide a platform that doesn't need any technical skills for managing the account, and with 1-click, you are ready to go.
What ContentStudio Offers?
It allows you to discover the web and social media to monitor content by creating your own feeds using relevant search terms and domains. Doesn't matter how many social channels you are active in. This tool allows you to discover the web and social media to monitor content simply by creating your own feeds using relevant search terms and domains. ContentStudio is easy to use and allows you to publish your content on whichever social channels you choose. It is also flexible in how often it publishes content according to your needs, from once a day to daily schedules. It also makes it easy for content creators to choose the best publishing time for their content across popular media channels.
You can publish and schedule content to different blogging and social channels instantly hassle-free with a single platform. Increase the engagement up to 3x using amplification tools such as hashtag suggestions, post recycling, and image enhancer.
ContentStudio also offers you social networking management and content marketing platform that helps you find, create, and upload the right things. ContentStudio provides social media management features that allow users to review daily posts and add photos, videos, and links to their profiles. ContentStudio also has a built-in toolset for content marketing with industry-specific solutions for SEO, email marketing optimization, and website content promotion. It can also be integrated across all your social networks to help with content marketing campaign planning and provide a richer experience on your website.
ContentStudio offers world-class products such as Discovery, Curation, Automation, Planner, Publisher and Analytics, which are soon to be launched. All this on a dime. No need to contemplate what you need to manage your various social and blogging channels is right here.
---
ContentStudio Features at a Glance
There is no doubt about the world-class features ContentStudio has offered its customers for so many years. Features are always updated, and utmost care is taken to ensure that you are satisfied with its services.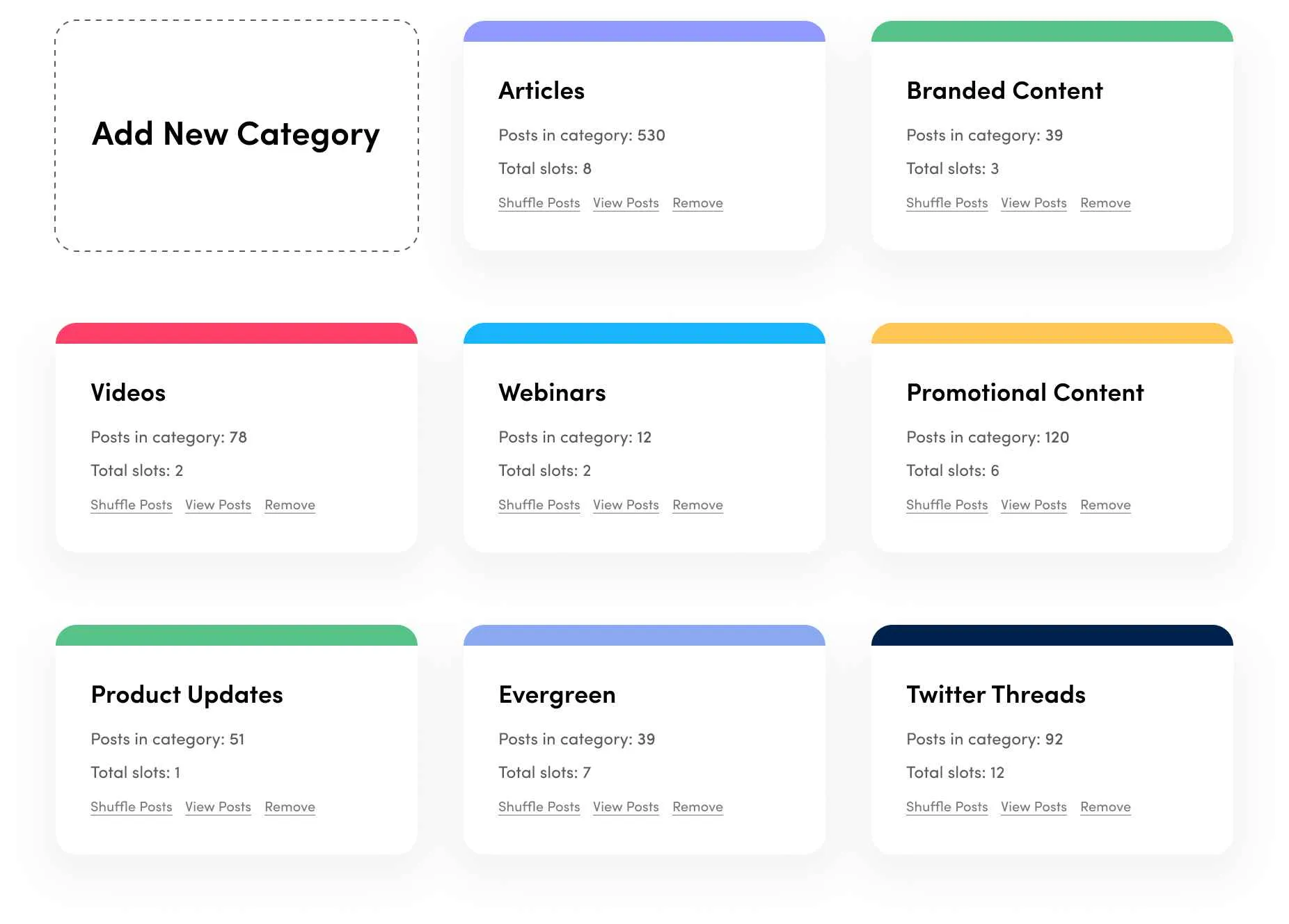 How many of you are dicey about what sort of material you should post to target audiences? Well, don't worry. ContentStudio is there to help you with that. It actually acts like a research engine that would browse the internet to get the best relevant stuff for your content. Even though it is run by artificial intelligence, you are not obligated to use the tool's algorithms. This is because the program will still produce quality content for various tasks.
You can create complex questions to find the best blogs for your content from all over the web. ContentStudio can even find out the most popular discussion happening in the field in which you plan to role out your content. ContentStudio can also help you produce Captions from other resources, which you can insert into your personal content. With this content discovery function, you can certainly save much of your countless hours of Google searching.
With ContentStudio, you get 9+ major content sources that generally monitor a massive database of various sights, including Twitter, YouTube, Facebook, Giphy, Pixabay and Imgur.
ContentStudio is a content-management system that offers more than just articles. Here you can also find videos from Facebook, Dailymotion and YouTube. It offers high-quality images and GIFs in a variety of formats. You also get a Keyword & Domain Filter by which you can select your keywords along with domains so that it can pass specific types of content which you require. You can exclude the irrelevant part of the content that would boost your accuracy.
With the Advanced Filter function provided by ContentStudio, you can easily filter content by length, language, region, postage and engagement level. You also get Smart Suggestions with this tool by getting related keyword suggestions that can help you expand or limit your content. With this feature, you can also include or exclude any suggested keyword.
Easiest Multi-Social Media Management
Make your content engaging and update your blogs and social channels with the best content that people love to read and share. Trend content before it trends anywhere and fill your account with images, videos and much more to get many likes.
A lot of time is wasted logging in to different social accounts and uploading the same content, image or videos.
But with ContentStudio's intuitive tool, you can save the time that was wasted logging in to different accounts. Instead, with a click of a button, manage all the accounts, groups and pages using a single platform. With this intuitive platform, managing social media is easy and worry-free.
Discover Inspiring Content in a Click
The intuitive search design helps you find the most relevant content on any trending topic on social media pages or blogs. You can hand-pick any popular content and is ranked high by social media. Though Instagram is often regarded as the hub for finding out famous bloggers/influencers, ContentStudio can help you recognize other influential personalities on both Twitter as well as YouTube.
ContentStudio also shows you established influencers and gives you insights like:
Engagement Analytics
Demographic insights
Insights from Specific categories
This allows you to dig into the content gems hidden beneath the sea of contents. With your own set of keywords, you can set up topics that help fetch suitable content.
Powerful Automation & Planner
ContentStudio is a powerful publishing tool that doesn't require you to spend hours upon hours writing new posts and updating them daily. ContentStudio has a function that allows you to schedule your posts, and as long as you don't want to interrupt your schedule, you can pick a time and forget about them. It's even possible for specific departments to use it for publishing all content on their schedules.
You can either let the software choose the appropriate time and date for online publication, or you can just build your unique plan by picking up the best dates and times for publication according to your preference.
So the tool is not just limited to contents but also images and videos that can be searched. You can get a history of the trending content in the past few hours or days and engage your customers with the best content in your niche or field.
Multiple Language Support
It supports various languages to fetch new content from the most popular websites or blogs. You can also add sources irrespective of the language and the country. By adding an RSS feed, you can discover the contents from the most popular sources loved by you. The text for each content can be viewed fully, making it easy to decide whether the content is relevant to your niche or industry.
This real-time syndication (RSS) feeds is typically used by most forums that pique your interest. Be sure to take a look at the options available in ContentStudio, which will allow you to merge all of your favorite feeds into a single location and track them as they happen.
Furthermore, the application allows you to post content straight from RSS feeds on social networking sites. Additionally, it has built-in tools that allow you to attach a few comments and post the material directly on social media platforms like Instagram, Facebook, Twitter, and LinkedIn. Well, if you are someone who subscribes to numerous channels. You can manage mass feed uploads with ContentStudio. You can build an OPML file and then upload all the inputs simultaneously.
Also Read: GoDaddy WordPress Hosting @ 87% DIsoucnt + Free Domain
Craft New Contents with Composer
The composer module helps you create fresh content taking less time for your blogs or social media pages. With too much competition in the market, people update articles very frequently. ContentStudio specializes in utilizing advanced statistics to help you find the best and most enforceable ideas to implement. Doing so provides a more efficient and effective process for creativity, submission, and success.
This tool will suggest what to post next on your social account or blog page. With drag & drop editor, you can easily add photos, videos and articles to your social accounts, saving much of your precious time.
After this, ContentStudio would show the top-performing online content categories from which you can discover that video by which you can connect more viewers. Though for this, you might have to create more media content. With ContentStudio, you also get a unique sentimental analysis from the application, which can help you gain a sense of how people feel or think about a subject. This tool would also recommend you the perfect day on which you can post or advertise your content.
It would also show you the most popular domains and writers for a given subject. This would help you gain a perspective and help you figure out who can model your content plan after. ContentStudio will also examine the length of your blog articles and informs you how your post is in terms of word counts.
SEO Optimized Contents Forever
ContentStudio also assists with Search Engine Optimization (SEO) as well. It does so by implementing a real-time ranking which is in turn developed by content creators who can choose to have their content ranked on the first page of the search engine results. Real-time SEO is applied while composing a blog post and optimized to save time wasted on on-page SEO.
The SEO Toolbox is a tool that is used to help guide you as you create SEO-friendly content. After loading your content into the tool, you can immediately see how your content stacks up against others in the SERPS. The score will be displayed on the right-hand side of the screen and should help provide some guidance as to where your site could stand to improve.
You can schedule some posts to repeat on your social pages with a few clicks. This grabs more audiences and engages them to spend more time on your posts. If your target audience belongs to another region/country, your content can be translated to the specific country/region language.
ContentStudio also supports Drip Feed Publication which would help you to post your content to a blog and later spread it to other blog platforms. You also don't have to worry about repeated content problems as this software can apply canonical labels to your post.
ContentStudio even helps you to track your content and assist in creating one. You get a content calendar that would help you and assure you that your homepage always has some or the other new content. If you don't have any posting schedule, there are high chances that your marketing campaigns can end abruptly. With ContentStudio, you can build a posting schedule with an intuitive user interface that would resemble a calendar. You can click on a button and select the post or piece of your content that you would like to publish on a specific date.
You can also deal with a list layout rather than a calendar version. With the use of the posting schedule, you can quickly and easily locate content. You could use your profile, name, teammate, status, or type of post to find what you need. With the Interactive content calendar, you can manage and plan your content from an interactive calendar by which you can review and edit the post before publishing them. With Team Workflows and Collaboration, you can easily interact with your team and create the best content.
ContentStudio has made content management more straightforward and hassle-free. The content marketing study gives you information that can help you deal with various issues. You can use some surveys to find the relevant post that is common. You can also check the total interaction and audience development with ContentStudio. With ContentStudio, you can make your articles more appealing by decorating them. You also get automated reports which are delivered to your customers on a regular basis.
In ContentStudio's online app, you can even practice customer service via different networks right from a centralized dashboard. This function is highly effective as help desk software. It also keeps a record of social media interactions and helps you keep records of your tickets. ContentStudio can even send emails with responses and feedback that you receive on your social media platforms. This platform currently supports Twitter, Facebook, YouTube and Instagram interactions.
Integrate Third-Party Extensions in a Click
Some best third-party tools such as WordAi, Spin Rewriter and ChimpRewriter have been integrated for spinning the contents quickly. Platforms such as WordPress, Tumblr, and Medium have been integrated for blog curation.
This helps publish the content on different blogging platforms and social media like Facebook, Twitter, LinkedIn and Pinterest effortlessly.
One Dashboard for Everything
Seamlessly organize everything from one place. All the puzzles are connected to help you organize and increase productivity. You can review and edit posts before being published with the help of the interactive content calendar.
The whole week or month's content is in front of you, and you can control it as you want. Easily collaborate the work from team members with authority to accept or reject posts and automate campaigns from within the calendar. You can manage publishing content on a blog or social media in a calendar view or list view from a single place.
Sharing new contents daily is a tough task and not everyone's cup of tea. This tool ensures that your audiences are updated with new content regularly, giving them what they are looking for.
By creating campaigns, relevant content will be auto-posted to your desired channels, and you can sleep headache-free. A set of keywords and domains can be added to the exclusion list to stop posting irrelevant content.
So whenever any irrelevant content matches the keywords, it won't be allowed to pass through to your audiences. Advance filters such as length, region, language, age, and social engagement have been added to filter the content and provide suitable content for every post shared. The minute you start typing, keyword suggestions will pop up, and you can decide which has to be included or excluded with a single click. Choose your own time and day for posting for each campaign.
Works with the Collaboration of Numerous Online Apps
Plenty of third-party integrations is available to ensure your new leads to the tools already used by you. Variety of integrations such as Facebook, Twitter, Linkedin, Tumblr, Pinterest, Medium, WordPress, Pocket, YouTube, Dailymotion, Pixabay, Flickr, Imgur, Giphy, Adobe Creative, Bit.ly, Goo.Gl, Replug, ChimpRewriter, SpinRewriter, and WordAi.
---
ContentStudio.io Pricing Plans
All the plans can be chosen monthly or annually, but annual plans save up to 20% off, so it is smarter to choose annual plans. You can use the tool for free without any credit card, but the free version has restricted features.
To upgrade to more advanced features, you need to purchase any other plans available to suit all kinds of businesses. During some exclusive shopping seasons such as Black Friday, Cyber Monday, Christmas, etc., you will get a huge discount on Contentstudio.io plans, so make sure you check in these days to save up to 90% on its billing.
Social accounts: 0
Blogs: 0
Automation Campaigns: 0
Team Members: 0
Post Per Month (Social): 500
Post Per Month (Blog): 0
Searches per Day: Limited
Custom Topic Feeds: 1
Social Accounts- 10
Blogs: 1 per platform
Automation Campaigns: 10
Team Members: 0
Post Per Month (Social): Unlimited
Post Per Month (Blog): Unlimited
Custom Topic Feeds: Unlimited
Searches per Day: Unlimited
Social Accounts- 25
Blogs: Total 10
Automation Campaigns: Unlimited
Team Members: 5
Post Per Month (Social): Unlimited
Post Per Month (Blog): Unlimited
Custom Topic Feeds: Unlimited
Searches Per Day- Unlimited
Social Accounts- 50
Blogs: Total 20
Automation Campaigns: Unlimited
Team Members: 10
Post Per Month (Social): Unlimited
Post Per Month (Blog): Unlimited
Custom Topic Feeds: Unlimited
Searches Per Day- Unlimited
Social Accounts- 150
Blogs: 50
Automation Campaigns: Unlimited
Team Members: 20
Post Per Month (Social): Unlimited
Post Per Month (Blog): Unlimited
Custom Topic Feeds: Unlimited
Searches Per Day- Unlimited
Now that you have the plans they are offering; you can contact them and go for a more scalable Enterprise plan if you have specific needs that require this. We would recommend that if you are a beginner. Just begin with the Free Plan. Once you get familiar with the platform, you can later upgrade.
To avail, any plans, click on Get Started and fill in the details. Enter the coupon code to avail more discounts or continue with the payment process by choosing any payment method such as Visa, MasterCard, etc. Click on Pay USD and enjoy the services to organize your content marketing needs.
ContentStudio Support Center
ContentStudio.io offers 100% human-based support round the clock via chat, tickets, and email. Their tech professionals always help you beyond the limit for any queries and urgent issues.
Apart from the support, when you log in to Contentstudio.io, you can start a quick tour which shows you each product feature and all the steps to start content marketing and social media optimization. So to understand all elements of the cloud-based content studio program, It is highly recommended to go through the quick product tour to get started.
---
ContentStudio Partner Program
If you are in SEO or digital marketing and promoting SEO programs, then joining Content Studio Affiliate Program can make you extra money. Content Studio Partner Program enables a 30% recurring commission on every single referrer.
The company have their affiliate program hosted on Impact Radius Network and can be joined by Webmasters, Affiliate Marketers, SEO Professionals.
To make money with content Studio is simple. All you need to join its partner program on impactradius.com.
Once you are approved, you will get the unique referral URL and partner dashboard where you can promote ContentStudio. You will earn a 30% recurring commission for every single user that signup via your link for a lifetime. To avail, any plans, click on Get Started and fill in the details.
Enter the coupon code to avail more discounts or continue with the payment process by choosing any payment method such as Visa, MasterCard, etc. Click on Pay USD and enjoy the services to organize your content marketing needs.
---
🌟 ContentStudio FAQ
What is ContentStudio?
ContentStudio is the best content marketing and social media marketing tool that allows publishers, brands, agencies, etc., to share the best content with their audiences.
Does ContentStudio offer a free trial?
Yes, ContentStudio provides 14 days free trial to all its new users. Get started with ContentStudio's free trial and streamline your content marketing and social media.
How safe is my data with ContentStudio?
You do not need to worry about your data because ContentStudio uses top-class data centers like AWS with SSL encryption.
Can you schedule your social media post with ContentStudio?
With ContentStudio, you can schedule your posts and automate your content publishing. It can also be used to do things such as automatically post your content through your content schedule regularly. You can let the software choose the appropriate time and date for online publication depending upon its algorithm, or you could choose your specific moment by picking the best dates and times.
Can you do Social media analytics in ContentStudio?
ContentStudio helps you gain insight into your content marketing strategy. You can use the survey to see which posts are most popular and how often they are shared. You can also see total interaction and audience development metrics. You also get access to other valuable social media insights and get automated reports that would be delivered to the customers regularly.
Is ContentStudio suited for small businesses and startups?
Yes! ContentStudio is a user-friendly cloud-based digital marketing and content marketing platform. It's an all-in-one solution for entrepreneurs and businesses, which gives both individuals and corporations the ability to efficiently create content for their websites without much effort. The technology has been designed to be flexible and suitable for businesses of all sizes, from startups to medium-sized enterprises. The tool is also capable of being used for marketing, editing, creation, publishing, monitoring, and optimization.
Does ContentStudio help you with SEO?
Yes, ContentStudio is able to do not only SEO but a wide range of content marketing projects. It does so thanks to its real-time ranking feature that allows you to see where your content ranks against your competition. If your ranking starts to drop, take a look at what you've been doing recently on your platform and make some alterations to boost your SEO in the search engine results pages.
Can I get any active ContentStudio coupon codes?
If you want to save maximum money on its paid plan, grab the above-mentioned ContentStudio discount coupon for maximum savings.
What are some of the alternatives to ContentStudio?
ContentStudio, OneUp, HootSuite, Buffer, SocialAnimal, Elink and Buzzsumo could be some of your best options if you are looking for management and scheduling alternatives.
---
ContentStudio Facebook Group
---
ContentStudio Twitter Group
---
Conclusion: ContentStudio Review 2023 | Should you go for this tool?
Our ContentStudio review found the tool to be an all-in-one platform where you can quickly get high-quality content search, images, video, and GIFS. With many other social media automation platforms coming into the market, ContentStudio is known to provide more flexible features, functionality and pricing, as well as it being much easier to support.
You can contemplate as many places as you want, but the content gem will be found only on ContentStudio. More than 5000+ professionals and 2500+ businesses already trust ContentStudio for publishing high-quality articles and managing their social media accounts & blogs from its intuitive platform.
Don't forget to use ContentStudio coupons from this page to save extra bucks on your purchase.
Choose the best Content Marketing tool and engage audiences to your blog or social media page with gem content.
Managing your social media channels can be a daunting task – time-consuming, frustrating, and often expensive. ContentStudio is designed to make life easier for business owners, bloggers, and entrepreneurs who struggle with social media. ContentStudio is the complete social media management system for all your marketing needs. It's a powerful tool for creating and scheduling posts, analyzing your performance, and gathering customer insights. It is easy to use, and it integrates with most other platforms to save you time.
Affiliate Disclosure: This post may contain some affiliate links, which means we may receive a commission if you purchase something that we recommend at no additional cost for you (none whatsoever!)