Conversion Club is delighted to introduce the launch of Conversion Conf, the premier multi-vertical affiliate conference taking place in Warsaw, Poland on April 19-20, 2023. This two-day event will feature 20 dynamic speakers, offering valuable insights and strategies from their areas of expertise — finance, Nutra, dating, iGaming, and e-commerce. Whether you're an established affiliate marketer or just starting out, Conversion Conf is the one-stop event that can take your business to the next level.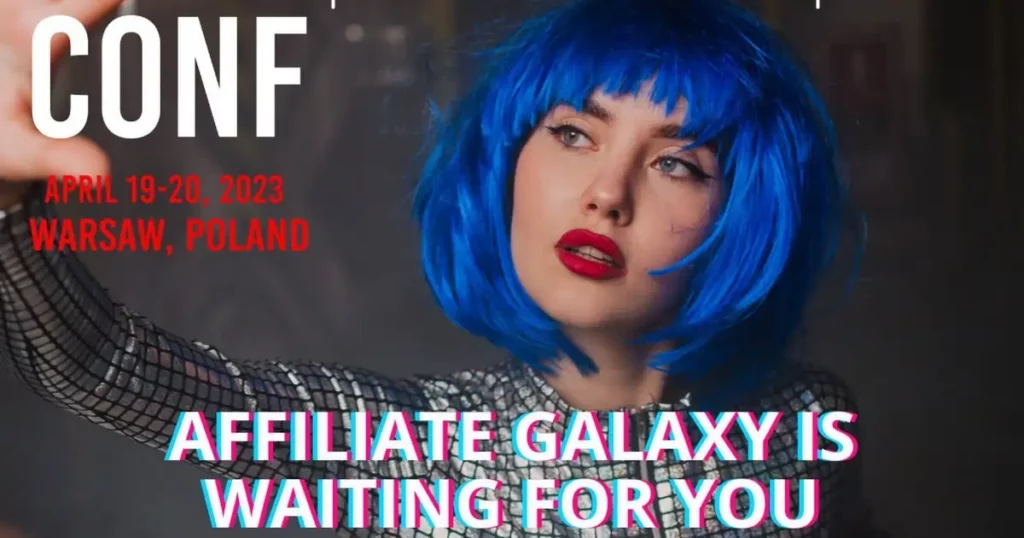 At Conversion Conf, attendees will gain a wealth of knowledge from renowned industry leaders, with four discussion panels providing the opportunity to learn from experts in various fields. With the chance to network with like-minded professionals and make invaluable connections, Conversion Conf is an unmissable event for anyone in the affiliate marketing industry. So, don't miss out — join Conversion Conf in Warsaw and take your business to the next level!
Conversion Conf is the perfect opportunity for affiliate marketers from around the world to connect and learn from the most experienced and dynamic speakers in the field. With 1500 attendees expected, it's the perfect chance to network and build relationships with other professionals. Additionally, attendees can take part in the official afterparty, providing a great chance to relax and network with some of the most influential leaders in the industry.
Don't miss out on this unique opportunity to grow your business and make valuable connections!
Conversion Club is devoted to furnishing delegates with a first-rate conference experience. Boasting eminent speakers, insightful panel debates, and priceless networking chances, Conversion Conf is an event that must not be missed by anyone in the affiliate marketing sector.
Event Agenda: Conversion Conf Poland
For a two-day event, the Conversion Conf will be having the following things to take place:
Day 1 of Conversion Conf
Registration: 10 AM to 11 AM
Networking at the event: 11 AM to 6 PM
Speakers Speeches: 11 AM to 6 PM
Day 2 of Conversion Conf
Registration: 10 AM to 11 AM
Networking at the exhibition: 11 AM to 6 PM
Speakers Speeches: 11 AM to 5 PM
Official Afterparty: 9 PM to 1 AM
Free Tickets at Conversion Conf Poland
Giving affiliates free access to Conversion Conf can open up fresh possibilities for participants. By offering complimentary tickets, people can take part in an exceptional conference without having to bear the cost of buying a ticket. This is especially advantageous for new affiliates who may not have the funds to attend such an event.
Attending the conference at no cost can allow individuals to put their funds towards networking and making connections with other experts in the industry, which could result in potential business opportunities and partnerships. Ultimately, giving out complimentary tickets to affiliates can be a useful tool to assist in the advancement and accomplishment of those in the affiliate marketing sector.
Currently, Conversion Conf has two different models for tickets and passes, one is for the sponsors and the other one is for the affiliates.
Are you a representative of an affiliate network, traffic sources, direct advertisers, etc? Conversion Conf has got you covered.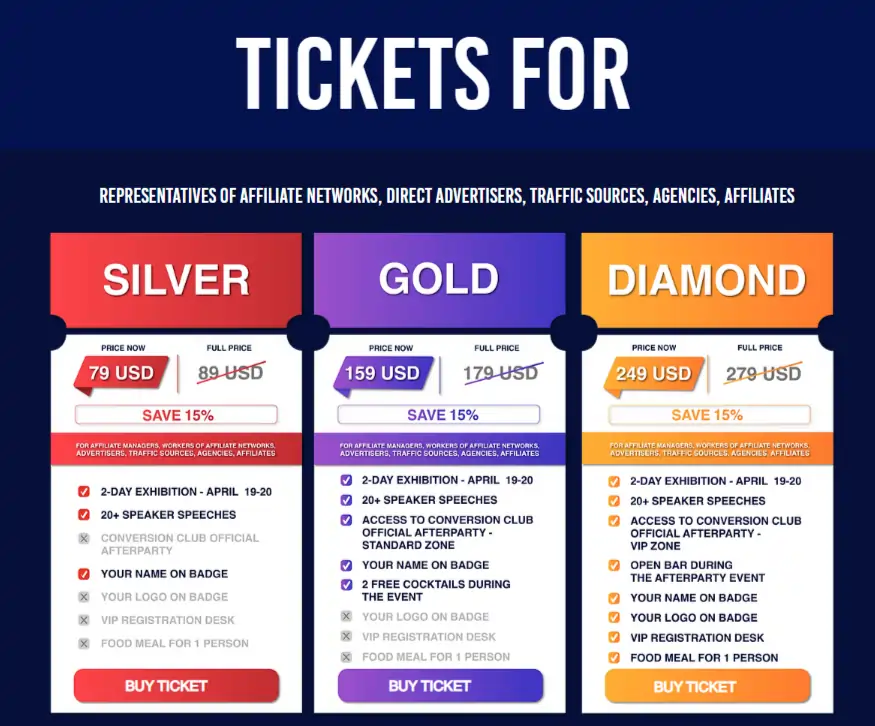 How does attending affiliate events and conferences help you?
Attending events such as Conversion Conf can be really advantageous for those in the affiliate marketing industry. These conferences offer the opportunity to meet other professionals in the same industry, potentially leading to new partnerships and collaborations. Moreover, attending affiliate events can help keep professionals informed about current trends and practices, which can help them thrive in the field. In sum, taking part in affiliate events can be a great way to build one's network, gain knowledge, and find prospects for progress and accomplishment.
About Conversion Club
Conversion Club is a renowned affiliate marketing firm that aids enterprises and individuals to accomplish their objectives in the affiliate marketing sector. They offer a variety of services, such as managing affiliate programs, creating marketing plans, and optimizing them. For more information, please visit the Conversion Conf website.