Are you in search of an excellent lead-generating tool? How about a powerful tool to exponentially improve your visitors' conversion rate? With the significant changes the online media is going through, it is imperative that the marketing and promotional aspects of a business adapts to it.
Delivering on the required customization of CRM and lead generation tools demanded by businesses is a niche market in itself. To come up with inventive and exciting marketing solutions is highly incentivized. The major businesses are investing resources to gain customer attention through various modes. Planning and executing strategies to entice the audience and have increased market share.
To achieve this, online stores are opening up to connect with customers on the internet. The physical presence is now becoming irrelevant in the modern age. But since there is a need to get your audience acquainted with your business, the online stores are linked with various other social media platforms to draw the crowd to the online store and encourage them to purchase.
The absence of tangibility does create doubts regarding the business in the mind of the customer. This shows effect in the low sales volume for business that is unable to gain the audience's confidence. To cope with this issue, experts found a way of online marketing about the product and services while directly linking it to the online store and platforms.
Creating online stores and strategizing the promotion of the service and product requires extensive precision and knowledge to execute those successfully. But many business owners have no clue about how to get on with it. And they lose upon the opportunity to build something astounding.

Growing a brand and attracting new customers requires a thorough deep in the mud data extraction to make well-informed decisions focused on the promotional strategies. Hence, the task is daunting for individuals to achieve while concentrating on various other day-to-day aspects of the business. There are many tools in the market that claim to have a really high conversion rate but, while researching for this review, we noticed that many claims were found to be undelivered by those tools. Hence, we were looking for a tool to suggest to our audience which fulfilled its promises.
We gladly introduce you to ConvertBox, a powerful lead-generating and conversion improving online tool that delivers interesting techniques to convert site visitors to loyal customers. It enables a user to design lead capture forms, audience segmentation funnels, target specific offers, and more. ConvertBox also helps you build mesmerizing high-converting templates for each segment of the sales process.
ConvertBox is such a fantastic conversion tool that you'll need to precisely target and re-approach your existing traffic with personalized content and exciting offer inflow to sustain your online business. Begin your audience-to-customer conversion journey by choosing from one of the pre-built ready-to-use gorgeous templates or creating customized templates as per your requirements from scratch.
---
Detailed ConvertBox Review
ConvertBox is an all-in-one lead-generation tool, opt-in tool, list-building tool, and behavior-based on-site retargeting solution that help you improve the conversion rate of your website visitors. By connecting and interacting with a niche audience at the opportune time, you can generate more leads and increase sales with this tool.
With innovative, highly conversive on-site interactions, ConvertBox allows your website to have a personalized experience for the visiting audience. ConvertBox has developed highly responsive and enticing pop-ups that collect addresses of incoming traffic, Special promo coupons, and discounts and introduce relevant information, all of which help generate more leads for your business.
ConvertBox can help with sales segmentation funnels, lead capture forms, and launch personalized offers to conversion prospects at the opportune time with their on-site engagement tools available.
Drive more leads and sales by delivering a personalized experience with thoughtful high-converting on-site messages to your potential customers. Combine priority targeting rules to deliver messages at the right time to your audience. Over 50% of web traffic is through mobile devices in present times. Therefore, ConvertBox has been designed to be highly responsive and maximize your conversions no matter what device your audience is using.
---
Some Exciting Ways to Grab the Attention of the General Market
Easily create surveys and quizzes to segment, capture, and convert your prospects. ConvertBox makes it easy to launch engaging on-site surveys in a fraction.
Guide by conditional actions: Show meticulously organized steps, relevant pages or instantly fire pixels placed perfectly via selected buttons, fields, or overall score.
Integrations: Apply contacts to lists/tags in your Customer Relations Management segment.
Quiz scoring: Apply relevant score values to your surveys and drive the incoming traffic to conditional actions based on individual audience overall survey score.
Analyze screens: Throttle conversions by engaging the audience with a visual representation of result analysis to have a personalized touch.
Progress bars: Engage the site visitors with animated progress bars as they proceed through the steps in your designed survey.
User guiding information is showcased to help further changes and customizations needed to improve conversions.

The relevant information is categorized as:
The number of visits
See page
ESP Lists
Location
Referring site
Inactive on page
Device type
Goals
URL parameters
ESP Tags
CB activity
Exit intent
WordPress category
Time on page
Percentage scrolled
---
Key Features of ConvertBox
Create, customize and launch in minutes: Easy to build high-converting templates or choose from pre-loaded templates. Customize everything to best suit your product, services, offer, or website brand.
Target audience with personalized messages depending on the collected CRM data, site activity, referring site, and other variables accounted for.
Create multiple audience interests and goals-specific choice funnels to segment, tag, and deliver offers specific to the visitor niche.
Capture the visitor data you need with custom fields and integrate the data with your CRM using effective automation available with the tool.
Create and customize every inch of your ConvertBox generated pages relevant to your website brand and offer an easy-to-use drag-and-drop powerful visual editor.
Create multiple test variations with the visual editor and get real-time data to know which variation converts the best and utilize that for the funnels.
Real-time data availability across your sites with in-depth analytics and insights for each element and conditional steps in your site and funnels.
Generate smart funnels with inventive multiple steps to precisely segment and convert audiences.
Create a mobile-specific version of sales funnels with ConvertBox via mobile editor with just a few taps.
Easily revert through previous edits and customizations with smart undo and redo features.
For specific steps of your funnel, use custom scripts to track and retarget pixels.
Increase conversions by progressive data collection from contacts across multiple steps. ConvertBox enables you to quickly and easily create engaging on-site messages for every type of offer and sales process.
Additionally,
Notify and mark abandoning visitors leaving your shopping cart, boost sales with limited time offers for your products and services, Guide visitors to take action, segment visitors and leads, Promote various multiple workshops and online events, Prompt visitors to like and follow your social media, Earn commissions promoting other services.
Build a huge number of leads, and announce new products and services to visitors.
---
Special ConvertBox Features | ConvertBox Review
On-click trigger: Link up to specific popups and messages from normal text or specific tabs on your page.
Yes / No options: Create high-converting Yes or No options to deliver action implicative messages.
Easy website manager: Quick transition between all ConvertBox dashboards with a click.
Countdown timer redirects: Redirect the audience to another page when the specific deadline comes to an end.
Multiple integrations: Easily connect and manage multiple ESP accounts to use across all your sites.
Custom HTML elements: Add custom code inside your ConvertBox using our custom HTML elements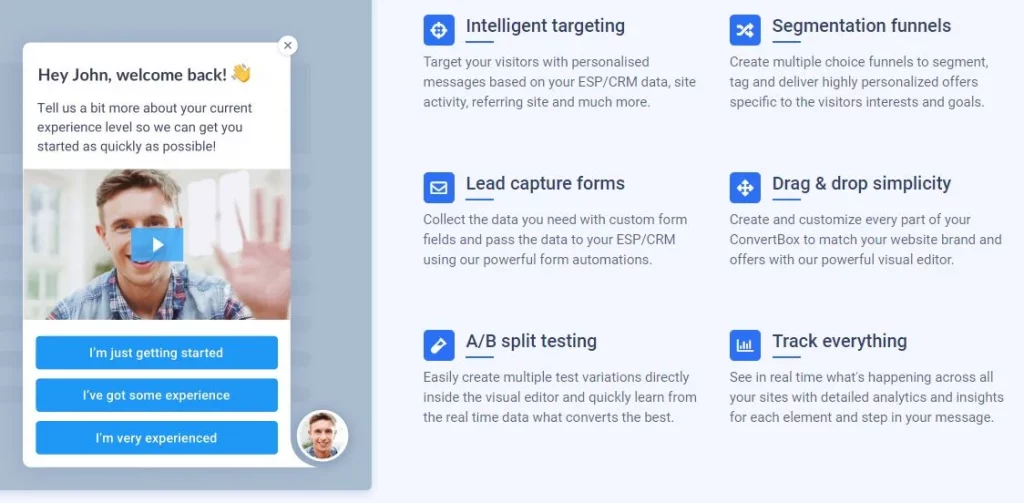 Engage visitors addressing them personally; easily create multi-choice and multi-step funnels.
Create a feeling of urgency for your offers with timers embedded in call-to-action tabs. ConvertBox makes it simple to launch deadline promotions with just a click.

ConvertBox enables you to easily create and launch any style of on-site message, from slide-in notifications to a full-page takeover. Have clear statistics about how ConvertBox performs across all your sites, quickly switch between your dashboards, and manage everything with easy drag & drop.
---
Benefits of ConvertBox
Generate leads based on the site activities.
Personalized wishes and incentives.
Develop attractive pop-up messages, video messages, drop-downs, and much more.
Customize segmentation funnels to analyze niche traffic inflow.
Capture real-time activity data of visitors on the site.
Customize segment form fields, checkboxes, and dropdowns to collect lead-generating data.
Embed all marketing tools you wish to.
No technical knowledge is required.
Powerful, fast, and ready to use, user-friendly.
No coding is required for Upsells.
High conversion rate with comparatively less effort.
Manage your conversions and revenue using data-powered tools. ConvertBox enables you
to create funnels with customized text and images. Run Tests.
Agile segmentation is based on the audience's demography, location, and much more.
---
ConvertBox Pricing Plans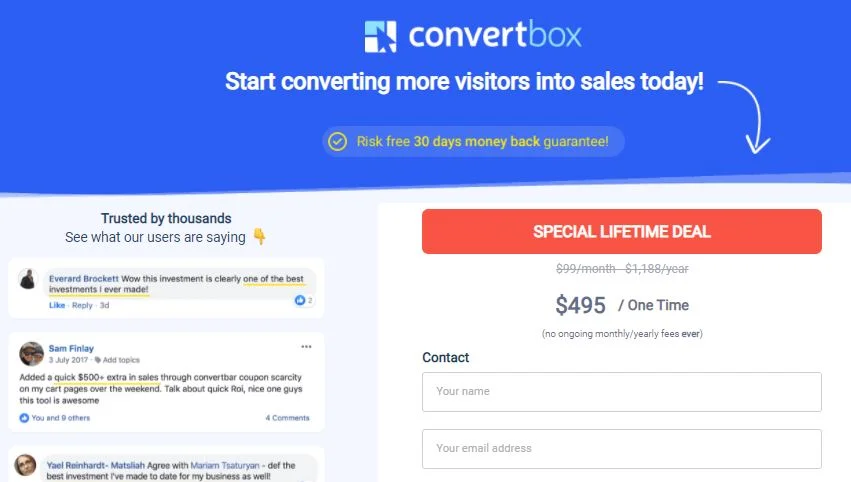 ConvertBox Standard lifetime plan: $495/one time ($99/month – $1,188/year)
250k views/monthly
No monthly/yearly fees
No branding
First-class support
10 websites
Unlimited ConvertBox's
Free platform updates
ConvertBox Pro Lifetime Upgrade: $590 ($495 + $95)
500k views/monthly
50 websites
5 – User single subscription
ConvertBox for clients,
Note: 30 days Money Back Guarantee on ConvertBox.
The plans include the enlisted video tutorials to guide the user through the exciting ways to work with ConvertBox.
---
Getting started with ConvertBox
1 – Welcome to ConvertBox
2 – Connecting your ESP/CRM integrations
3 – Installing ConvertBox on your site
4 – Creating an embedded ConvertBox
5 – Split testing your ConvertBox
And many more.
Advanced training
How to collect form fields across multiple steps
How to generate a form with a consent checkbox
How to create a discovery segmentation survey (no opt-in form)
And many more.
---
🌟 ConvertBox FAQ
✔What is ConvertBox?
ConvertBox is a powerful tool designed for creating and managing virtually any website-based Opt-In form and Call-to-Action.
✔What is the function of ConvertBox?
It is used to send targeted messages, create segmentation funnels, collect lead forms, and track real-time site activity, among other things.
✔Is ConvertBox mobile device friendly?
Yes. It works with both Android & iPhone devices.
✔Is ConvertBox free?
There are no free plans available from ConvertBox. Every plan, on the other hand, includes a 14-day free trial. So you can put it to the test to see if it meets your requirements.
✔Which operating systems are ConvertBox compatible with?
ConvertBox supports the operating systems Windows and iOS.
✔Is there a ConvertBox affiliate program?
ConvertBox does have an affiliate program. This is an excellent opportunity to make a lot of money by promoting a high-quality platform and a no-brainer offer. Their current affiliate program pays a whopping 50% commission on all sales directed to their offer.
---
Conclusion: ConvertBox Review + ConvertBox Lifetime Deal 2023 | Should you go for this tool?
The first factor to try out ConvertBox is the easy setup: Simply install our WordPress plug-in or add a small code snippet to your site, and Voila!! All set to begin targeting, tracking, and converting your visitors.
ConvertBox provides seamless integration with major autoresponders, funnel builders, check-out cart platforms and is constantly adding new integrations based on users' requests. To summarize this ConvertBox review and present you with the closing thoughts, We strongly believe that ConvertBox is the tool that shall, when launched will deliver on its promises.
The features are exciting for any business looking to grow its market share. The competitively priced online tool is worthy of an investment. New businesses can definitely avail this tool to quickly grow their market share. While the existing business can re-target their audience for a better profit margin.
As we have covered a lot of lead-generating online tools before, but ConvertBox does seem to be special. Our team completed extensive research to substantiate the claims made by ConvertBox. The tool is designed to promote a seamless, user-friendly interface on any screening device. This adds to the attractiveness of ConvertBox.
So, in our opinion, the ConvertBox has the advantages like packed with features smart on-site conversion funnel management tool and built to leverage conversational algorithms to optimize performance in the eCommerce market. Effectively segment visitors based on personal data, including email address, demographics, and location, to capture leads and upscale your business.
ConvertBox eliminates guesswork from converting your audience and allows you the freedom to do it better than ever done before!!! Overall, ConvertBox wipes the floor with all the options available in the market for lead generation. And we hope that it works miracles for you as it does for various other businesses and their loyal patrons.
We hope that this review helps you to decide to go for ConvertBox and start your conversion to actual sales.🏅
Until next time!! Cheers!!
Affiliate Disclosure: This post may contain some affiliate links, which means we may receive a commission if you purchase something that we recommend at no additional cost for you (none whatsoever!)