If you are on the hunt for the best email marketing tool, we are confident that you have come across multiple platforms till now! There are so many tools and platforms that say they are the best.
And all ensure to help you ramp up your audience engagement, deliverability, targeted traffic, and increased conversions. That you can use the most reliable email marketing software to nurture leads gradually, deliver timely updates, and upsell current clients is so common now.
We will advise you in the following article that it is not only best in the performance. But, it will offer a perfectly automated service. Consider this, if you have a small business, and instead of scrutinizing every email, if you are getting an automated email marketing tool, then why do go for it? Huh?
But, are you sure you are chasing the right one? If you have even a little doubt about this, we are here to recommend you the best. You can either go with these tools that we are going to cover in this article. Keep reading ✅ConvertKit Vs. MailerLite till the end, and choose the best.
---
ConvertKit Vs. MailerLite | Overview
ConvertKit Review
Unlike MailerLite, ConvertKit primarily supports bloggers and content writers. MailerLit mainly supports small businesses. But the needs of bloggers and content creators are entirely different than business people. ConvertKit happens to offer all the features which bloggers will love to have!
Also read: ConvertKit Review: All in one Email Marketing tool for Entrepreneurs
Below are some of the aspects which set it apart from MailerLitr to an extent:
📨 Automated Email Marketing Features
ConvertKit offers more unique features to help you organize your list. According to different parameters, one of ConvertKit's automation features' best features is taking each step of subscribers.
You can select from the Event, Action, and Condition to help you send targeted emails to your subscribers. For example, if you need to send an email to subscribers depending on which action they demand, Click on Condition to identify which tag or custom field receives which email in your automation workflow. If you need to hop to a part in your workflow, you must choose Event and determine the trigger that the workflow will comply with (tag is removed or added, date occurred).
🚀 Content Upgrades to Grow Your List
One of the excellent ways to build your subscriber email list is to provide incentives to your subscribers.
"Receive my newsletter" or "Sign up to my weekly emails" are not sufficient anymore to grow your list. If you send out state emails time in and out, you still need to go out of your way to propose something of added value to your audience.
That is where content upgrades start working. It is the same as a "tripwire," content upgrades support to tip the scales to fully advise your blog visitors to sign up and be the subscribers. ConvertKit offers visitors to incentivize the opt-in forms by attaching the content upgrade to the form. Once people sign up, the file will then be free for download.
📧 Natural Text-Based Emails
We have aid in some of our articles that people often prefer visual aids or a video to an article. That Condition is not applicable here; while dealing with emails, people prefer organic handwritten emails to automated emails.
With handwritten emails, they get a feeling of intimacy and safety, which will further loyal customers. ConvertKit makes the process easy by sending only text-based emails. Here, you won't be able to create visual emails to your subscribers. However, if you want to show off as a considerate friend to your subscribers instead of a polished, corporate brand, text-based is the way to go.
However, there are limited options to the type of emails you can send to help to eliminate analysis paralysis so you can concentrate on crafting the most trustworthy email you can send to your subscribers.
Some of the additional features of CovertKit include:
It helps you integrate with third-party apps to assist you in simplifying your workflow and enhancing efficiency.
For those who require to move their email list from other platforms to ConvertKit, there is a concierge migration service offered for FREE of cost to people with around 5,000 subscribers and more.
Growing your list is made simple with the ability to create unlimited forms and landing pages. You can also break down the appearance of each by referring to the reports feature that shows open rates, CTR, and other things.
Also read: ConvertKit Vs ActiveCampaign: The Ultimate Comparison
---
MailerLite Review
Do not let the name throw you off. MailerLite is far from being a light version of an email marketing tool. It has some features, which will you surprised.
The reason behind the popularity of this tool is the integration of this tool. It has a rabid number of clients and is increasing day-to-day. Other than this, this software offers you great features to get engaged with your customers and build a commercial relationship with them by gaining their trust.
To know what separates MailerLite from CovertKit, let us list its unique features below:
🏅 Most Affordable
There is no need to argue on this one. MailerLite is indeed one of the most affordable email marketing tools you wind to find the market.
Your first 1,000 subscribers are from their side. Until you've passed over a thousand subscribers, you don't have to pay a cent. Better yet, you get access to all of its features. There are some tools out there that offer a free trial and let you use certain features, but MailerLite enables you to use the form builder, landing page builder, automation rules, A/B testing, and more to assist you in building a list much more lenient!
Once you have 1000+ subscribers, you will merely have to pay $10/month until you reach 2,500 subscribers. For 2,501-5,000 subscribers, you will have to strip out $20. 5,001-10,000 subscribers only cost $35. Last but not least, 10,001-15,000 subscribers amount to $50/month. If you are looking for a cost-efficient marketing tool, then you will not get anything better than this one.
🎯 People Can Subscribe to Your List Offline
If your business depends upon the look, then MailerLite could be the best option to go for. The idea of setting up an automated booth in these types of events is to draw your audience to see your products and know more about your business.
Simultaneously, you want to keep in touch with them and not just let them slip from your fingers after browsing through the pages in your booth. One way to do this is to request them to leave their name and email so you can join them on your mailing list later.
📩 Drag and Drop Email Builder
Unlike ConverKit, you can send visual emails to your subscribers. Sometimes, it is better to hold on to images and videos rather than long emails.
It is a proven fact that people tend to engage more in visual aids than go through a long text. You can communicate your ideas better when choosing the graphic option. Mailerlite's drag and drop builder makes it easier for businesses to send emails that are engaging enough to their subscribers without compromising its message content. Mailerlite is ideal even for those without any design expertise. When creating emails using the platform, you can use drag and drop options like a trained designer.
Some of the additional features of MailerLite includes:
You can track your campaign results by looking at the number of clicks, opens, and unsubscribers, among others.
You can set up email marketing automation workflows using events, triggers, and conditions. Also, build an email campaign using your RSS feed. Analyze diverse headlines for your campaign by running an A/B test.
You can grow a subscriber list by using landing pages, embedded optin forms, and popups.
---
ConvertKit Vs. MailerLite: Major Differences
The critical differences between these two tools are:
MailerLite provides a fully featured free version, whereas ConvertKit does not.
MailerLite includes countdown timers, where ConvertKit does not.
MailerLite has drag-and-drop email templates, whereas ConvertKit does not.
MailerLite does not provide advanced tagging of subscribers, whereas ConvertKit does have.
---
ConvertKit Vs. MailerLite: Tale Of The Tape
MailerLite was found in 2005, and since then, it is continuously building its image as a cost-effective email marketing platform. Founded in 2015, CovertKit also has almost equal integration, thanks to the array of email services that have attracted a large audience in a shorter period.
Both are equally good marketing platforms, but the real question is which one fulfills your business's needs. Many say that he finds ConvertKit super easy to use, and vice versa. To comprehend which of the two you should go with, let's delve into the uncommon features that each tool boasts, starting with ConvertKit.
---
ConvertKit Vs. MailerLite: Pricing
Pricing plans are one of the most important battles between these two.While ConvertKit has more robust features than MailerLite, there is a vast difference between these two pricing plans.
CovertKit Pricing Plans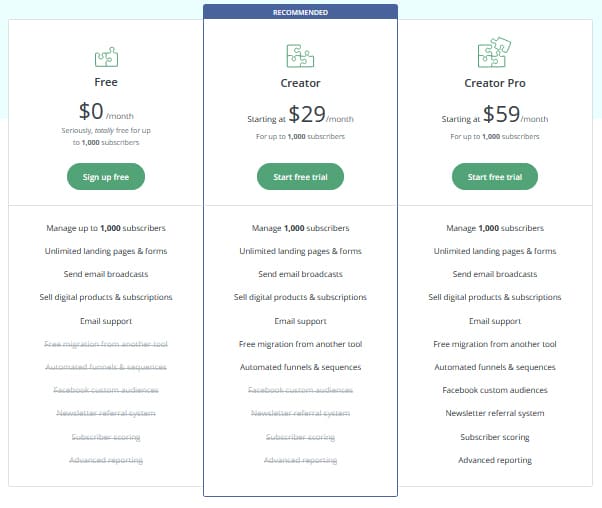 ConvertKit now offers a free basic version; it is disappointing that the workflow automation features are not available. That is a shame for people who are just starting. Especially considering the workflow features in ConvertKit are a delight to use. Their premium plan starts at $29 a month.
MailerLite Pricing Plans
MailerLite is much cheaper than ConvertKit.
It's great for entrepreneurs and low-scale businesses looking to buy an email marketing suite without breaking their banks. MailerLite provides you 1,000 contacts or subscribers and 12,000 emails per month. You can also upgrade your plans to include more subscribers, email counts, and the live chat option.
---
🌟 ConvertKit Vs. MailerLite FAQ
✔ What is ConvertKit?
ConvertKit is the fastest-growing email marketing platform that Nathan Barry creates. It offers various features, including a customizable signup form and beautiful landing pages that help you get more email subscribers.
✔ What is MailerLite?
MailerLite is the full-featured email marketing service provider for mid-sized to large size businesses. The thing that makes MailerLite different from other email marketing software because it offers a user-friendly content editor, advanced integration, simple pricing, etc.
✔ Does ConvertKit offer a free version?
Yes, the Free plan of ConvertKit enables you to sign up for free without the need for any credit card. The free plan of ConvertKit allows you to manage 1000 subscribers. Use our exclusive ConvertKit coupon code if you want to purchase its paid plan.
✔ Does MailerLite offer a free trial?
Yes, MailerLite provides a 14-day free trial to all its new users to test all its premium features for free.
---
Conclusion: ConvertKit Vs. MailerLite 2023 | Which one should you choose?
Now, we have come again to the concluding part, where you expect to hear which email marketing tool is better than the other? Well, we say that both email marketing platforms are best in their places. You will have to choose the correct option according to your needs in the business.
CoverKit offers branching automation to encourage individual subscribers to take the next step in your email marketing funnel. While MailerLite provides new email and landing page templates. So, you can see both the options are good. Also, there are some significant differences in terms of their pricing plans. MailerLite is a much affordable option than ConvertKit. It offers customized plans according to the business's needs.
If you ask us, our choice would be both, depending on the type of platform we are looking for. With this said, we conclude our ConvertKit Vs. MailerLite article right here. Which tool suits your business the most? We would love to know.
What else would we love to know? Is how much you liked our article! Do not forget to leave your thoughts in the comments section below. We always love to hear from our audience!
Until then, Sayonara!🖐
Affiliate Disclosure: This post may contain some affiliate links, which means we may receive a commission if you purchase something that we recommend at no additional cost for you (none whatsoever!)